Abstract
Data on medical treatment of children and adolescents with tic disorders are scarce. This study examined the administrative prevalence of psychopharmacological prescriptions in this patient group in Germany. Data of the largest German health insurance fund were analysed. In outpatients aged 0–19 years with diagnosed tic disorder, psychotropic prescriptions were evaluated for the years 2006 and 2011. In 2011, the percentage of psychotropic prescriptions was slightly higher than in 2006 (21.2 vs. 18.6 %). The highest prescription prevalence was found in Tourette syndrome (51.5 and 53.0 %, respectively). ADHD drugs were most frequently prescribed, followed by antipsychotics. In 2011, prescriptions of second generation antipsychotics (SGA) were higher and prescriptions of first generation antipsychotics (FGA) lower than in 2006. Concerning prescribed antipsychotic substances, in 2011 risperidone prescriptions were higher and tiapride prescriptions lower. Paediatricians issued 37.4 %, and child and adolescent psychiatrists issued 37.1 % of psychotropic prescriptions. The FGA/SGA ratio was highest in GPs (1.25) and lowest in child and adolescent psychiatrists (0.96). From 2006 to 2011, there was only a slight increase in psychotropic prescriptions for children and adolescents with a diagnosis of tic disorder in Germany, which stands in contrast towards the significant increase in psychotropic prescriptions in other child and adolescent psychiatric disorders (e.g. ADHD). There were marked differences in treatment patterns by tic disorder subgroups, with Tourette syndrome patients receiving most frequently psychopharmacotherapy. Risperidone prescriptions increased, probably reflecting a switch in prescribing practice towards up-to-date treatment guidelines. In primary care physicians, dissemination of current tic disorder treatment guidelines might constitute an important educational goal.
This is a preview of subscription content, log in to check access.
Access options
Buy single article
Instant access to the full article PDF.
US$ 39.95
Price includes VAT for USA
Subscribe to journal
Immediate online access to all issues from 2019. Subscription will auto renew annually.
US$ 199
This is the net price. Taxes to be calculated in checkout.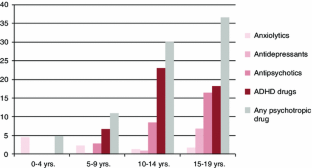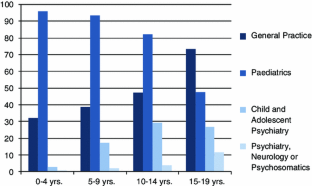 References
1.

Knight T, Steeves T, Day L et al (2012) Prevalence of tic disorders: a systematic review and meta-analysis. Pediatr Neurol 47:77–90

2.

Khalifa N, von Knorring A-L (2006) Psychopathology in a Swedish population of school children with tic disorders. J Am Acad Child Adolesc Psychiatry 45:1346–1353

3.

Scharf JM, Miller LL, Mathews CA, Ben-Shlomo Y (2012) Prevalence of Tourette syndrome and chronic tics in the population-based Avon longitudinal study of parents and children cohort. J Am Acad Child Adolesc Psychiatry 51(192–201):e5

4.

Freeman RD, Fast DK, Burd L et al (2000) An international perspective on Tourette syndrome: selected findings from 3,500 individuals in 22 countries. Dev Med Child Neurol 42:436–447

5.

Ludolph AG, Roessner V, Münchau A, Müller-Vahl K (2012) Tourette syndrome and other tic disorders in childhood, adolescence and adulthood. Dtsch Arztebl Int 109(48):821–828. doi:10.3238/arztebl.2012.0821

6.

Roessner V, Plessen KJ, Rothenberger A et al (2011) European clinical guidelines for Tourette syndrome and other tic disorders. Part II: pharmacological treatment. Eur Child Adolesc Psychiatry 20:173–196

7.

Wile DJ, Pringsheim TM (2013) Behavior therapy for Tourette syndrome: a systematic review and meta-analysis. Curr Treat Options Neurol 15:385–395

8.

Verdellen C, van de Griendt J, Hartmann A, Murphy T (2011) European clinical guidelines for Tourette syndrome and other tic disorders. Part III: behavioural and psychosocial interventions. Eur Child Adolesc Psychiatry 20:197–207. doi:10.1007/s00787-011-0167-3

9.

Scahill L, Woods DW, Himle MB et al (2013) Current controversies on the role of behavior therapy in Tourette syndrome. Mov Disord 28:1179–1183

10.

Deutsche Gesellschaft für Kinder- und Jugendpsychiatrie und Psychotherapie (2007) Ticstörungen (F95). Leitlinien zur Diagnostik und Therapie von psychischen Störungen im Säuglings-, Kindes- und Jugendalter. Deutscher Ärzte Verlag, pp 319–325

11.

Debes NM, Hjalgrim H, Skov L (2009) The presence of comorbidity in Tourette syndrome increases the need for pharmacological treatment. J Child Neurol 24:1504–1512

12.

Olfson M, Crystal S, Gerhard T et al (2011) Patterns and correlates of tic disorder diagnoses in privately and publicly insured youth. J Am Acad Child Adolesc Psychiatry 50:119–131. doi:10.1016/j.jaac.2010.11.009

13.

Bitsko RH, Danielson M, King M et al (2013) Health care needs of children with Tourette syndrome. J Child Neurol 28:1626–1636

14.

Zito JM, Safer DJ, de Jong-van den Berg LTW et al. (2008) A three-country comparison of psychotropic medication prevalence in youth. Child Adolesc Psychiatry Ment Health 2:26

15.

Arbeitsgruppe Erhebung und Nutzung von Sekundärdaten (AGENS) (2012) Gute Praxis Sekundärdatenanalyse (GPS) Leitlinien und Empfehlungen (3. Fassung). http://dgepi.de/fileadmin/pdf/leitlinien/GPS_fassung3.pdf

16.

Kalverdijk LJ, Tobi H, van den Berg PB et al (2008) Use of antipsychotic drugs among Dutch youths between 1997 and 2005. Psychiatr Serv 59:554–560

17.

Schubert I, Lehmkuhl G (2009) Increased antipsychotic prescribing to youths in Germany. Psychiatr Serv 60:269

18.

Bachmann CJ, Lempp T, Glaeske G, Hoffmann F (2014) Antipsychotic prescription in children and adolescents: an analysis of data from a german statutory health insurance company from 2005 to 2012. Dtsch Arztebl Int 111:25–34

19.

Bachmann CJ, Manthey T, Kamp-Becker I et al (2013) Psychopharmacological treatment in children and adolescents with autism spectrum disorders in Germany. Res Dev Disabil 34:2551–2563

20.

Schlander M, Schwarz O, Rothenberger A, Roessner V (2011) Tic disorders: administrative prevalence and co-occurrence with attention-deficit/hyperactivity disorder in a German community sample. Eur Psychiatry 26:370–374

21.

Hoffmann F, Bachmann CJ (2014) Unterschiede in den soziodemografischen Merkmalen, der Gesundheit und Inanspruchnahme bei Kindern und Jugendlichen nach ihrer Krankenkassenzugehörigkeit (Differences in sociodemographic characteristics, health, and health service use of children and adolescents according to their health insurance funds). Bundesgesundheitsblatt Gesundheitsforschung Gesundheitsschutz 57:455–463

22.

Paszek J, Pollok B, Biermann-Ruben K et al (2010) Is it a tic?—Twenty seconds to make a diagnosis. Mov Disord 25:1106–1108

23.

Roessner V, Hoekstra PJ, Rothenberger A (2011) Tourette's disorder and other tic disorders in DSM-5: a comment. Eur Child Adolesc Psychiatry 20:71–74

24.

Robertson MM (2008) The prevalence and epidemiology of Gilles de la Tourette syndrome. Part 2: tentative explanations for differing prevalence figures in GTS, including the possible effects of psychopathology, aetiology, cultural differences, and differing phenotypes. J Psychosom Res 65:473–486

25.

Lewin AB, Murphy TK, Storch EA et al (2012) A phenomenological investigation of women with Tourette or other chronic tic disorders. Compr Psychiatry 53:525–534

26.

Roessner V, Becker A, Banaschewski T, Rothenberger A (2007) Psychopathological profile in children with chronic tic disorder and co-existing ADHD: additive effects. J Abnorm Child Psychol 35:79–85

27.

Roessner V, Becker A, Banaschewski T, Rothenberger A (2007) Executive functions in children with chronic tic disorders with/without ADHD: new insights. Eur Child Adolesc Psychiatry 16(Suppl 1):36–44

28.

Gadow KD, Sverd J, Sprafkin J et al (1999) Long-term methylphenidate therapy in children with comorbid attention-deficit hyperactivity disorder and chronic multiple tic disorder. Arch Gen Psychiatry 56:330–336

29.

Roessner V, Robatzek M, Knapp G et al (2006) First-onset tics in patients with attention-deficit-hyperactivity disorder: impact of stimulants. Dev Med Child Neurol 48:616–621

30.

Hinshaw SP, Scheffler RM, Fulton BD et al (2011) International variation in treatment procedures for ADHD: social context and recent trends. Psychiatr Serv 62:459–464

31.

Zoëga H, Baldursson G, Hrafnkelsson B et al (2009) Psychotropic drug use among Icelandic children: a nationwide population-based study. J Child Adolesc Psychopharmacol 19:757–764

32.

Olfson M, Blanco C, Liu S-M et al (2012) National trends in the office-based treatment of children, adolescents, and adults with antipsychotics. Arch Gen Psychiatry 69:1247–1256

33.

Dion Y, Annable L, Sandor P, Chouinard G (2002) Risperidone in the treatment of Tourette syndrome: a double-blind, placebo-controlled trial. J Clin Psychopharmacol 22:31–39

34.

Roessner V, Schoenefeld K, Buse J et al. (2012) Therapy of tic disorders. Z Kinder Jugendpsychiatr Psychother 40:217–236

35.

Scahill L, Leckman JF, Schultz RT et al (2003) A placebo-controlled trial of risperidone in Tourette syndrome. Neurology 60:1130–1135

36.

Rickards H, Cavanna AE, Worrall R (2012) Treatment practices in Tourette syndrome: the European perspective. Eur J Paediatr Neurol 16:361–364

37.

Hoffmann F, Glaeske G, Petermann F, Bachmann CJ (2012) Outpatient treatment in German adolescents with depression: an analysis of nationwide health insurance data. Pharmacoepidemiol Drug Saf 21:972–979

38.

Jaite C, Hoffmann F, Glaeske G, Bachmann CJ (2013) Prevalence, comorbidities and outpatient treatment of anorexia and bulimia nervosa in German children and adolescents. Eat Weight Disord 18:157–165

39.

Schneeweiss S, Avorn J (2005) A review of uses of health care utilization databases for epidemiologic research on therapeutics. J Clin Epidemiol 58:323–337
Acknowledgments
The data presented in this manuscript was partially obtained during a study funded by the BARMER GEK. The funders have no involvement with the research. The authors and the research are completely independent of the funders. The corresponding author had full access to all data in the study and had final responsibility for submitting the article for publication.
Conflict of interest
CB has received speaker honoraria from Actelion, Medice, Ferring and Novartis, and author honoraria from BARMER GEK health insurance fund. He has worked as an investigator in clinical trials sponsored by Novartis and Shire. VR has acted as a consultant or member of advisory board for Lilly, Novartis and Shire. He has received honoraria for lectures from Lilly, Medice, Novartis and Shire, and has worked as an investigator in clinical trials sponsored by Novartis, Otsuka and Shire. GG is on the advisory board of the DAK health insurance fund. He has received honoraria from the BKK, BARMER GEK, DAK and TK health insurance funds. FH has received speaker and author honoraria from Apothekerkammer Westfalen-Lippe and BARMER GEK.
Additional information
Christian J. Bachmann and Veit Roessner have contributed equally to this work.
About this article
Cite this article
Bachmann, C.J., Roessner, V., Glaeske, G. et al. Trends in psychopharmacologic treatment of tic disorders in children and adolescents in Germany. Eur Child Adolesc Psychiatry 24, 199–207 (2015). https://doi.org/10.1007/s00787-014-0563-6
Received:

Accepted:

Published:

Issue Date:
Keywords
Children

Health services research

Pharmacoepidemiology

Psychopharmacology

Tic disorders