Abstract
Indicated prevention of mental illness is an important public health concern among youth. The aim of this study was to establish a European school-based professional screening among adolescents, which included variables on both a broad range of risk-behaviours and psychopathology; and to investigate the indicative value of adolescent risk-behaviour and self-reported psychopathology on help-seeking and psychological problems that required subsequent mental healthcare. A two-stage professional screening approach was developed and performed within the multi-centre study "Saving and Empowering Young Lives in Europe" (SEYLE). The first stage of screening comprised a self-report questionnaire on a representative sample of 3,070 adolescents from 11 European countries. In the second stage, students deemed at-risk for mental health problems were evaluated using a semi-structured clinical interview performed by healthcare professionals. 61 % of participants (n = 1,865) were identified as being at-risk in stage one. In stage two, 384 participants (12.5 % of the original sample) were found to require subsequent mental healthcare during semi-structured, clinical assessment. Among those, 18.5 % of pupils were identified due to screening for psychopathology alone; 29.4 % due to screening for risk-behaviours alone; and 52.1 % by a combination of both. Young age and peer victimization increased help-seeking, while very low body mass index, depression, suicidal behaviour and substance abuse were the best predictors of referral to mental healthcare. Screening of risk-behaviours significantly increased the number of detected students requiring subsequent mental healthcare. Screening of risk-behaviours added significant value in identifying the significant amount of European pupils with mental health problems. Therefore, attention to adolescent risk-behaviours in addition to psychopathology is critical in facilitating prevention and early intervention. Identifying factors that increase compliance to clinical interviews are crucial in improving screening procedures.
Access options
Buy single article
Instant access to the full article PDF.
USD 39.95
Price excludes VAT (USA)
Tax calculation will be finalised during checkout.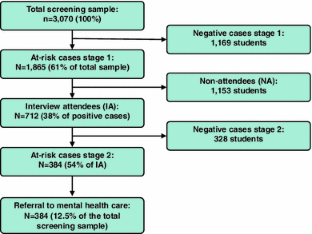 References
Afifi TO, Cox BJ, Katz LY (2007) The associations between health risk behaviours and suicidal ideation and attempts in a nationally representative sample of young adolescents. Can J Psychiatry 52:666–674

Beck AT, Steer RA, Ball R, Ranieri W (1996) Comparison of Beck Depression Inventories-IA and -II in psychiatric outpatients. J Pers Assess 67:588–597

Brown MM, Grumet JG (2009) School-based suicide prevention with African American youth in an urban setting. Prof Psychol Res Pract 40:111–117

Brunner R, Kaess M, Parzer P, Fischer G, Carli V, Hoven CW, Wasserman C, Sarchiapone M, Resch F, Apter A, Balazs J, Barzilay S, Bobes J, Corcoran P, Cosman D, Haring C, Iosue M, Kahn JP, Keeley H, Meszaros G, Nemes B, Podlogar T, Postuvan V, Saiz PA, Sisask M, Tubiana A, Varnik A, Wasserman D (2013) Life-time prevalence and psychosocial correlates of adolescent direct self-injurious behaviour: a comparative study of findings in 11 European countries. J Child Psychol Psychiatr. doi:10.1111/jcpp.12166

Carli V, Wasserman C, Wasserman D, Sarchiapone M, Apter A, Balazs J, Bobes J, Brunner R, Corcoran P, Cosman D, Guillemin F, Haring C, Kaess M, Kahn JP, Keeley H, Keresztény A, Iosue M, Mars U, Musa G, Nemes B, Postuvan V, Reiter-Theil S, Saiz P, Varnik P, Varnik A, Hoven C (2013) The Saving and Empowering Young Lives in Europe (SEYLE) randomized controlled trial (RCT): methodological issues and participant characteristics. BMC Public Health 13:479

Deliberto TL, Nock MK (2008) An exploratory study of correlates, onset, and offset of non-suicidal self-injury. Arch Suicide Res 12:219–231

Eaton DK, Kann L, Kinchen S, Shanklin S, Ross J, Hawkins J, Harris WA, Lowry R, McManus T, Chyen D, Lim C, Whittle L, Brener ND, Wechsler H (2010) Youth risk behaviour surveillance—United States, 2009. MMWR Surveill Summ 59:1–142

Gore FM, Bloem PJ, Patton GC, Ferguson J, Joseph V, Coffey C, Sawyer SM, Mathers CD (2011) Global burden of disease in young people aged 10–24 years: a systematic analysis. Lancet 377:2093–2102

Gould MS, Marrocco FA, Hoagwood K, Kleinman M, Amakawa L, Altschuler E (2009) Service use by at-risk youths after school-based suicide screening. J Am Acad Child Adolesc Psychiatry 48:1193–1201

Gratz K (2001) Measurement of deliberate self-harm: preliminary data on the Deliberate Self-Harm Inventory. J Psychopathol Behav Assess 23:253–263

Gulliver A, Griffiths KM, Christensen H (2010) Perceived barriers and facilitators to mental health help-seeking in young people: a systematic review. BMC Psychiatry 10:113

Haller DM, Sanci LA, Sawyer SM, Patton GC (2009) The identification of young people's emotional distress: a study in primary care. Br J Gen Pract 59:e61–e70

Hallfors D, Brodish PH, Khatapoush S, Sanchez V, Cho H, Steckler A (2006) Feasibility of screening adolescents for suicide risk in "real-world" high school settings. Am J Public Health 96:282–287

Husky MM, McGuire L, Flynn L, Chrostowski C, Olfson M (2009) Correlates of help-seeking behaviour among at-risk adolescents. Child Psychiatry Hum Dev 40:15–24

Husky MM, Sheridan M, McGuire L, Olfson M (2011) Mental health screening and follow-up care in public high schools. J Am Acad Child Adolesc Psychiatry 50:881–891

Jacobson CM, Muehlenkamp JJ, Miller AL, Turner JB (2008) Psychiatric impairment among adolescents engaging in different types of deliberate self-harm. J Clin Child Adolesc Psychol 37:363–375

Jessor R (1991) Risk behaviour in adolescence: a psychosocial framework for understanding and action. J Adolesc Health 12:597–605

Jessor R (2007) Problem behaviour theory: a brief overview. http://www.colorado.edu/ibs/jessor/pb_theory.html/

Katon W, Richardson L, Russo J, McCarty CA, Rockhill C, McCauley E, Richards J, Grossman DC (2010) Depressive symptoms in adolescence: the association with multiple health risk behaviours. Gen Hosp Psychiatry 32:233–239

Kaufman J, Birhamer B, Brend D, Rao U, Flynn C, Moreci P, Williamson D, Ryan N (1997) The schedule for affective disorders and schizophrenia for school-age-children—present and lifetime version (K-SADS): initial reliability and validity data. J Am Acad Child Adolesc Psychiatry 36:980–988

King RA, Schwab-Stone M, Flisher AJ, Greenwald S, Kramer RA, Goodman SH, Lahey BB, Shaffer D, Gould MS (2001) Psychosocial and risk behaviour correlates of youth suicide attempts and suicidal ideation. J Am Acad Child Adolesc Psychiatry 40:837–846

Klonsky ED (2007) The functions of deliberate self-injury: a review of the evidence. Clin Psychol Rev 27:226–239

Mann JJ, Apter A, Bertolote J, Beautrais A, Currier D, Haas A, Hegerl U, Lonnqvist J, Malone K, Marusic A, Mehlum L, Patton G, Phillips M, Rutz W, Rihmer Z, Schmidtke A, Shaffer D, Silverman M, Takahashi Y, Varnik A, Wasserman D, Yip P, Hendin H (2005) Suicide prevention strategies: a systematic review. JAMA 294:2064–2074

McGue M, Iacono WG, Krueger R (2006) The association of early adolescent problem behaviour and adult psychopathology: a multivariate behavioural genetic perspective. Behav Genet 36:591–602

Muehlenkamp JJ, Walsh BW, McDade M (2010) Preventing non-suicidal self-injury in adolescents: the signs of self-injury program. J Youth Adolesc 39:306–314

Patel V, Flisher AJ, Hetrick S, McGorry P (2007) Mental health of young people: a global public-health challenge. Lancet 369:1302–1313

Paykel, ES, Myers JK, Lindenthal JJ, Tanner J (1972) Suicidal feelings in the general population: a prevalence study. Br J Psychiatry, pp 380–406

Reynolds WM (1991) A school-based procedure for the identification of adolescents at risk for suicidal behaviours. Family Community Health 14:64–75

Sanci L, Lewis D, Patton G (2010) Detecting emotional disorder in young people in primary care. Curr Opin Psychiatry 23:318–323

Schwarz G (1978) Estimating the dimension of a model. Ann Stat 6:461–464

Scott MA, Wilcox HC, Schonfeld IS, Davies M, Hicks RC, Turner JB, Shaffer D (2009) School-based screening to identify at-risk students not already known to school professionals: the Columbia suicide screen. Am J Public Health 99:334–339

Shaffer D, Scott M, Wilcox H, Maslow C, Hicks R, Lucas CP, Garfinkel R, Greenwald S (2004) The Columbia Suicide Screen: validity and reliability of a screen for youth suicide and depression. J Am Acad Child Adolesc Psychiatry 43:71–79

Tylee A, Haller DM, Graham T, Churchill R, Sanci LA (2007) Youth-friendly primary-care services: how are we doing and what more needs to be done? Lancet 369:1565–1573

Viglione V, Muratori F, Maestro S, Brunori E, Picchi L (2006) Denial of symptoms and psychopathology in adolescent anorexia nervosa. Psychopathology 39:255–260

Wasserman D, Carli V, Wasserman C, Apter A, Balazs J, Bobes J, Bracale R, Brunner R, Bursztein-Lipsicas C, Corcoran P, Cosman D, Durkee T, Feldman D, Gadoros J, Guillemin F, Haring C, Kahn JP, Kaess M, Keeley H, Marusic D, Nemes B, Postuvan V, Reiter-Theil S, Resch F, Saiz P, Sarchiapone M, Sisask M, Varnik A, Hoven CW (2010) Saving and empowering young lives in Europe (SEYLE): a randomized controlled trial. BMC Public Health 10:192

WHO (2009) Global School-Based Student Health Survey. World Health Organisation, Geneva

Ystgaard M, Arensman E, Hawton K, Madge N, van Heeringen K, Hewitt A, de Wilde EJ, De Leo D, Fekete S (2009) Deliberate self-harm in adolescents: comparison between those who receive help following self-harm and those who do not. J Adolesc 32:875–891

Zung WW (1971) A rating instrument for anxiety disorders. Psychosomatics 12:371–379
Acknowledgments
The SEYLE project is supported by the European Union through the Seventh Framework Program (FP7), Grant agreement number HEALTH-F2-2009-223091. SEYLE Project Leader and Principal Investigator is Professor in Psychiatry and Suicidology Danuta Wasserman, National Centre for Suicide Research and Prevention of Mental Ill-Health (NASP) at Karolinska Institutet (KI), Stockholm, Sweden. The Executive Committee comprises Professor Danuta Wasserman and Senior Lecturer Vladimir Carli, both from NASP, KI, Sweden; Professor Marco Sarchiapone from the University of Molise, Italy; Professor Christina W. Hoven, and Anthropologist Camilla Wasserman, both from the Department of Child and Adolescent Psychiatry, Columbia University and New York State Psychiatric Institute, New York, US; the SEYLE Consortium comprises sites in twelve European countries. Site leaders are Danuta Wasserman (NASP, Coordinating Centre), Christian Haring (Austria), Airi Varnik (Estonia), Jean-Pierre Kahn (France), Romuald Brunner (Germany), Judit Balazs (Hungary), Paul Corcoran (Ireland), Alan Apter (Israel), Marco Sarchiapone (Italy), Doina Cosman (Romania), Vita Postuvan (Slovenia) and Julio Bobes (Spain). Special thanks regarding this manuscript go to Katja Klug, Gloria Fischer and Lisa Göbelbecker from the University of Heidelberg, Germany, for their extensive help in the development and evaluation of the professional screening procedure during the SEYLE study.
Conflict of interest
The authors declare that they have no conflict of interest.
Ethical standards
The study has been approved by the appropriate ethics committee of each study centre and has therefore been performed in accordance with the ethical standards laid down in the 1964 Declaration of Helsinki and its later amendments.
Electronic supplementary material
Below is the link to the electronic supplementary material.
About this article
Cite this article
Kaess, M., Brunner, R., Parzer, P. et al. Risk-behaviour screening for identifying adolescents with mental health problems in Europe. Eur Child Adolesc Psychiatry 23, 611–620 (2014). https://doi.org/10.1007/s00787-013-0490-y
Received:

Accepted:

Published:

Issue Date:

DOI: https://doi.org/10.1007/s00787-013-0490-y
Keywords