Abstract
In adolescence, the number of depressive symptoms is rising notably. Individuals may have relevant depressive symptoms without meeting the full criteria of a major depressive episode (MDE), a condition referred to as subthreshold depression (sD). This article presents a review on adolescent sD examining the prevalence, the quality of life (QoL), the risk of developing MDE, and preventive programs available for adolescents living with sD. A systematic literature search from the year of the introduction of Diagnostic and Statistic Manual for Mental Disorders Fourth Edition (DSM-IV) until 2012 (18 years) was conducted with a special focus on adolescent sD. Data from 27 studies were included into this review. The results show high prevalence of sD among adolescents, with a negative impact on QoL, and provide evidence that sD is a significant risk indicator of later MDE; therefore, individuals with sD represent good targets for preventive interventions. Our review highlights the fact that sD is a significant health problem among adolescents indeed, and adolescents with sD could be a subgroup of youth, who need further help to reduce their clinically significant depressive symptoms for the successful prevention of a later MDE.
Access options
Buy single article
Instant access to the full article PDF.
USD 39.95
Price excludes VAT (USA)
Tax calculation will be finalised during checkout.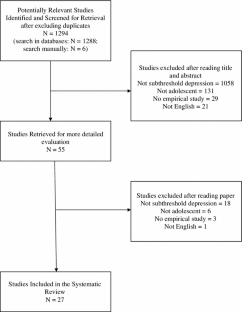 References
American Psychiatric Association (1994) Diagnostic and statistical manual of mental disorders, 4th edn. American Psychiatric Association, Washington

World Health Organization (1993) ICD-10, The international classification of diseases. Classification of mental and behavioural disorders. Diagnostic criteria for research. World Health Organization, Geneva

Georgiades K, Lewinshon PM, Monroe SM, Seeley JR (2006) Major depressive disorder in adolescence: the role of subthreshold symptoms. J Am Acad Child Adolesc Psychiatr 45:936–944

Pincus HA, Davis WW, McQueen LE (1999) Subthreshold mental disorders. A review and synthesis of studies on minor depression and other brand names. Brit J Psychiatr 174:288–296

Sadek N, Bona J (2000) Subsyndromal symptomatic depression: a new concept. Depress Anxiety 12:30–39

Gotlib IH, Lewinsohn PM, Seeley JR (1995) Symptoms versus a diagnosis of depression: differences in psychosocial functioning. J Consult Clin Psychol 63:90–100

Angst J, Merikangas K (1997) The depressive spectrum: diagnostic classification and course. J Affect Disord 45:31–39

Cuijpers P, De Graaf R, Van Dorsselaer S (2004) Minor depression: risk profiles, functional disability, health care use and risk of developing major depression. J Affect Disord 79:71–79

Eaton WW, Badawi M, Melton B (1995) Prodomes and precursors: epidemiologic data for primary prevention of disorders with slow onset. Am J Psychiat 152:967–972

Goldney RD, Fisher LJ, Dal Grande E, Taylor AW (2004) Subsyndromal depression: prevalence, use of health services and quality of life in an Australian population. Arch Gen Psychiatr 52:11–19

Horwarth E, Johnson J, Klerman GL, Weissman MM (1992) Depressive symptoms as relative and attributable risk factors for first-onset major depression. Arch Gen Psychiatr 49:817–823

Lewinsohn PM, Solomon A, Seeley JR, Zeiss A (2000) Clinical implications of "subthreshold" depressive symptoms. J Abnorm Psychol 109:345–351

Rapaport MH, Judd LL (1998) Minor depressive disorder and subsyndromal depressive symptoms: functional impairment and response to treatment. J Affect Disord 48:227–232

Solomon A, Haaga DAF, Arnow BA (2001) Clinical depression distinct from subthreshold depressive symptoms? A review of the continuity issue in depression Research. J Nerv Ment Dis 189:498–506

Wagner HR, Burns BJ, Broadhead WE, Yarnall KSH, Sigmon A, Gaynes BN (2000) Minor depression in family practice: functional morbidity, co-morbidity, service utilization and outcomes. Psychol Med 30:1377–1390

Wells KB, Burnam A, Rogers W, Hays R (1992) The course of depression in adult outpatients. Arch Gen Psychiatr 49:788–794

Seligman MEP, Schulman P, Derubeis RJ (1999) The prevention of depression and anxiety. Prev Treat 2, Art no 8

Hankin BL, Abramson LY, Moffitt TE, Silva PA, McGee R, Angell KE (1998) Development of depression from preadolescence to young adulthood: emerging gender differences in a 10-year longitudinal study. J Abnorm Psychol 107:128–140

Lewinsohn PM, Rohde P, Seeley JR (1998) Major depressive disorder in older adolescents: prevalence, risk factors, and clinical implications. Clin Psychol Rev 18:765–794

Kessler RC, Avenevoli S, Merikangas KS (2001) Mood disorders in children and adolescents: an epidemiologic perspective. Biol Psychiatr 49:1002–1014

Costello EJ, Pine DS, Hammen C, March JS, Plotsky PM, Weissman MM, Biederman J, Goldsmith HH, Kaufman J, Lewinsohn PM, Hellander M, Hoagwood K, Koretz DS, Nelson CA, Leckman JF (2005) Development and natural history of mood disorders. Biol Psychiatr 52:529–542

World Health Organization (1986) Young people's health – a challenge for Society Report of a Study Group on young people and health for all by the year 2000, Technical Report Series, No 731. World Health Organization, Geneva

Allgaier AK, Pietsch K, Frühe B, Prast E, Sigl-Glöckner J, Schulte-Körne J (2012) Depression in pediatric care: is the WHO-five well-being index a valid screening instrument for children and adolescents? Gen Hosp Psychiatr 34:234–241

Brent DA, Birmaher B, Kolko D, Baugher M, Bridge J (2001) Subsyndromal depression in adolescents after a brief psychotherapy trial: course and outcome. J Affect Disord 63:51–58

Clarke GN, Hornbrook M, Lynch F, Polen M, Gale J, Beardslee W, O'Connor E, Seeley J (2001) A randomized trial of a group cognitive intervention for preventing depression in adolescent offspring of depressed parents. Arch Gen Psychiatr 58:1127–1134

Cuijpers P, Boluijt P, van Straten A (2008) Screening of depression in adolescents through the internet. Sensitivity and specificity of two screening questionnaires. Eur Child Adolesc Psychiatr 17:32–38

Fergusson DM, Horwood LJ, Ridder EM, Beautrais AL (2005) Subthreshold depression in adolescence and mental health outcomes in adulthood. Arch Gen Psychiatr 62:66–72

Gallerani CM, Garber J, Martin NC (2010) The temporal relation between depression and comorbid psychopathology in adolescents at varied risk for depression. J Child Psychol Psychiatr 51:242–249

Garber J, Clarke GN, Weersing VR, Beardslee WR, Brent DA, Gladstone TR, DeBar LL, Lynch FL, D'Angelo E, Hollon SD, Shamseddeen W, Iyengar S (2009) Prevention of depression in at-risk adolescents. A randomized controlled trial. JAMA 301:2215–2224

Gonzáles-Tejera G, Canino G, Ramírez R, Chávez L, Shrout P, Bird H, Bravo M, Martínez-Taboas A, Ribera J, Bauermeister J (2005) Examining minor and major depression in adolescents. J Child Psychol Psychiatr 46:888–899

Hoek W, Schuurmans J, Koot HM, Cuijpers P (2009) Prevention of depression and anxiety in adolescents: a randomized controlled trial testing the efficacy and mechanisms of Internet-based self-help problem-solving therapy. Trial 10:93

Hughes EK, Gullone E, Watson SD (2011) Emotional functioning in children and adolescents with elevated depressive symptoms. J Psychopathol Behav Assess 33:335–345

Johnson JG, Cohen P, Kasen S (2009) Minor depression during adolescence and mental health outcomes during adulthood. BJP 195:264–265

Jonsson U, Bohman H, von Knorring L, Olsson G, Paaren A, von Knorring AL (2011) Mental health outcome of long-term and episodic adolescent depression: 15-year follow-up of a community sample. J Affect Disord 130:395–404

Kessler RC, Walters EE (1998) Epidemiology of DSM-III-R major depression and minor depression among adolescents and young adults in the National comorbidity survey. Depress Anxiety 7:3–14

Klein DN, Shankman SA, Lewinsohn PM, Seeley JR (2009) Subthreshold depressive disorder in adolescents: predictors of escalation to full-syndrome depressive disorders. J Am Acad Child Adolesc Psychiatr 48:703–710

McClure E, Rogeness GA, Thompson NM (1997) Characteristics of adolescent girls with depressive symptoms in a so-called 'normal' sample. J Affect Disord 42:187–197

Oldehinkel AJ, Wittchen HU, Schuster P (1999) Prevalence, 20-month incidence and outcome of unipolar depressive disorder in a community sample of adolescents. Psychol Med 29:655–668

Pine DS, Cohen E, Cohen P, Brook J (1999) Adolescent depressive symptoms as predictors of adult depression: moodiness or mood disorder? Am J Psychiatr 156:133–135

Pössel P, Horn A, Greon G, Hautzinger M (2004) School-based prevention of depressive symptoms in adolescents: a 6-month follow-up. J Am Acad Child Adolesc Psychiatr 43:1003–1010

Rohde P, Beevers CG, Stice E, O'Neil K (2009) Major and minor depression in female adolescents: onset, course, symptom presentation, and demographic associations. J Clin Psychol 65:1339–1349

Santinello M, Vieno A (2006) Prevalence and risk factors for subsyndromal depression in Italian early adolescents. Minerv Psychiatr 2:165–173

Shankman SA, Lewinsohn PM, Klein DN, Small JW, Seeley JR, Altman SE (2009) Subthreshold conditions as precursors for full-syndrome disorders: a 15-year longitudinal study of multiple diagnostic classes. J Child Psychol Psychiatr 50:1485–1494

Sihvola E, Keski-Rahkonen A, Dick DM, Pulkkinen L, Rose RJ, Marttunen M, Kaprio J (2007) Minor depression in adolescence: phenomenology and clinical correlates. J Affect Disord 97:211–218

Stewart SM, Lewinsohn PM, Lee PW, Ho LM, Kennard B, Hughes CW, Emslie GJ (2002) Symptom patterns in depression and "subthreshold" depression among adolescents in Hong Kong and the United States. J Cross Cult Psychol 33:559–576

Stice E, Rohde P, Gau JM, Wade E (2010) Efficacy trial of a brief cognitive-behavioral depression prevention program for high-risk adolescents: effects at 1- and 2-year follow-up. J Consult Clin Psychol 78:856–867

Yang J, Yao S, Zhu X, Zhang C, Ling Y, Abela JR, Esseling PG, McWhinnie C (2010) The impact of stress on depressive symptoms is moderated by social support in Chinese adolescents with subthreshold depression: a multi-wave longitudinal study. J Affect Disord 127:113–121

Young JF, Mufson L, Davies M (2006) Efficacy of interpersonal psychotherapy-adolescent skills training: an indicated preventive intervention for depression. J Child Psychol Psychiatr 47:1254–1262

Kaufman J, Birmaher B, Brent D, Rao U, Flynn C, Moreci P, Williamson D, Ryan N (1997) Schedule for affective disorders and schizophrenia for school-age children-present and lifetime version (K-SADS-PL): initial reliability and validity data. J Am Acad Child Adolesc Psychiatr 36:980–988

Welner Z, Reich W, Herjanic B, Jung KG, Amado H (1987) Reliability, validity, and parent-child agreement studies of the diagnostic interview for children and adolescents. J Am Acad Child Adolesc Psychiatr 26:649–653

Costello EJ, Edelbrock CS, Costello AJ (1985) Validity of the NIMH Diagnostic Interview Schedule for Children: a comparison between psychiatric and pediatric referrals. J Abnorm Child Psychol 13:579–595

World Health Organization (1993) Composite International Diagnostic Interview. Switzerland, Geneva

Radloff LS (1977) The CES-D scale: a self-report depression scale for research in the general population. Appl Psychol Meas 1:385–401

Beck AT, Ward CH, Mendelson M, Mock J, Erbaugh J (1961) An inventory for measuring depression. Arch Gen Psychiatr 4:561–571

Kovacs M (1985) The children's depression, inventory (CDI). Psychopharmacol Bull 21:995–998

Shaffer D, Gould MS, Brasic J, Ambrosini P, Fisher P, Bird H, Aluwahlia S (1983) A children's global assessment scale (CGAS). Arch Gen Psychiatr 40:1228–1231

Tangney JP, Wagner PE, Gavlas J, Gramzow R (1991) The test of self-conscious affect for adolescents (TOSCA-A). George Mason University, Fairfax

MacDermott ST, Gullone E, Allen JS, King NJ, Tonge B (2010) The emotion regulation index for children and adolescents (ERICA): a psychometric investigation. J Psychopathol Behav Assess 32:301–314

Bird HR, Andrews H, Schwab-Stone M, Goodman SH, Dulcan M, Richters J, Rubio-Stipec M, Moore RE, Chiang PH, Hoven C, Canino G, Fisher P, Gould MS (1996) Global measures of impairment for epidemiologic and clinical use with children and adolescents. Int J Met Psychiatr Res 6:295–307

Kessler RC, Petukhova M, Sampson NA, Zaslavsky AM, Wittchen HU (2012) Twelve-month and lifetime prevalence and lifetime morbid risk of anxiety and mood disorders in the United States. Int J Methods Psychiatr Res 21:169–184

WHOQOL-Group (1995) The World Health quality of life assessment (WHOQOL): position paper from the World Health Organization. Soc Sci Med 41:1403–1409

Zimmerman M, Chelminski I, Young D (2004) On the threshold of disorder: a study of the impact of the DSM-IV clinical significance criterion on diagnosing depressive and anxiety disorders in clinical practice. J Clin Psychiat 65:1400–1405

Pincus HA, McQueen LE, Elinson L (2003) Subthreshold mental disorders: Nosological and research recommendations. In: Phillips KA, First MB, Pincus HA (eds) Advancing DSM: dilemmas in psychiatric diagnosis. American Psychiatric Association, Washington, pp 129–144

Paykel ES, Ramana R, Cooper Z, Hayhurst H, Kerr J, Barocka A (1995) Residual symptoms after partial remission: an important outcome in depression. Psychol Med 25:1171–1180

Okasha A (2009) Would the use of dimensions instead of categories remove problems related to subthreshold disorders? Eur Arch Psychiatr Clin Neurosci 259(Suppl 2):129–133

Philipp M, Delmo CD, Buller R, Schwarze H, Winter P, Maier W, Benkert O (1992) Differentiation between major and minor depression. Psychopharmacology 106:75–78

Lewinsohn PM, Klein DN, Durbin EC, Seeley JR, Rohde P (2003) Family study of subthreshold depressive symptoms: risk factor for MDD? J Affect Disord 77:149–157
Acknowledgments
The authors wish to thank Agnes Kereszteny for her diligent help with literature search.
Conflict of interest
On behalf of all authors, the corresponding author states that there is no conflict of interest.
About this article
Cite this article
Bertha, E.A., Balázs, J. Subthreshold depression in adolescence: a systematic review. Eur Child Adolesc Psychiatry 22, 589–603 (2013). https://doi.org/10.1007/s00787-013-0411-0
Received:

Accepted:

Published:

Issue Date:

DOI: https://doi.org/10.1007/s00787-013-0411-0
Keywords