Abstract
High-functioning autism (HFA) is characterized by persistent impairment in social interaction despite the absence of mental retardation. Although an increasing number of group-based programs for the improvement of social skills have been described, randomized controlled trials are needed to evaluate their efficacy. To compare the effect of a Social Skills Training Group-based Program (SST-GP) and a Leisure Activities Group-based Program (LA-GP) on the perception of facial emotions and quality of life (QoL) in young people with HFA. Eligible patients were children and adolescents with HFA. Participants were randomized to the SST or LA group. The primary outcome was defined as an improvement of 2 points in error rates for facial emotion labeling (DANVA2) from baseline. After the 6-month training period, the SST Group made fewer errors in labeling anger on adult faces, whereas error rates in the LA Group remained stable. Progress in the ability to recognize anger in the SST Group was due to better recognition of low intensity stimuli on adult faces. QoL increased in the SST Group in the dimension of school environment, as a marker of the transfer of skills acquired in the treatment setting to their use in the community. The SST-GP had higher efficacy than the LA-GP. Data justify replication using larger samples.
Access options
Buy single article
Instant access to the full article PDF.
USD 39.95
Price excludes VAT (USA)
Tax calculation will be finalised during checkout.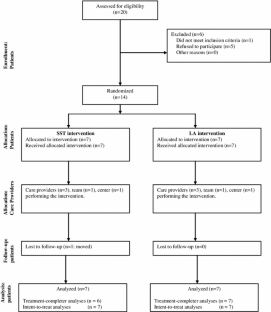 References
Rao PA, Beidel DC, Murray MJ (2008) Social skills interventions for children with Asperger's syndrome or high-functioning autism: a review and recommendations. J Autism Dev Disord 38(2):353–361

Barnhill GP, Cook KT, Tebbenkamp K, Myles BS (2002) The effectiveness of social skills intervention targeting nonverbal communication for adolescents with Asperger syndrome and related pervasive developmental delays. Focus Autism Other Dev Disabl 17(2):112–118

Meyer JA, Mundy PC, Van Hecke AV, Durocher JS (2006) Social attribution processes and comorbid psychiatric symptoms in children with Asperger syndrome. Autism 10(4):383–402

Tsatsanis KD (2003) Outcome research in Asperger syndrome and autism. Child Adolesc Psychiatr Clin N Am 12(1):47

Cottenceau H, Roux S, Blanc R, Lenoir P, Bonnet-Brilhault F, Barthélémy C (2012) Quality of life of adolescents with autism spectrum disorders: comparison to adolescents with diabetes. Eur Child Adolesc Psychiatry 21(5):289–296. doi:10.1007/s00787-012-0263-z

Koning C, Magill-Evans J (2001) Social and language skills in adolescent boys with Asperger syndrome. Autism 5(1):23–36

Castelli F (2005) Understanding emotions from standardized facial expressions in autism and normal development. Autism 9(4):428–449

Simion F, Leo I, Turati C, Valenza E, Dalla Barba B (2007) How face specialization emerges in the first months of life. Prog Brain Res 164:169–185

Turati C, Macchi Cassia V, Simion F, Leo I (2006) Newborns' face recognition: role of inner and outer facial features. Child Dev 77(2):297–311. doi:10.1111/j.1467-8624.2006.00871.x

Schwartz GM, Izard CE, Ansul SE (1985) The 5-month-old's ability to discriminate facial expressions of emotion. Infant Behav Dev 8(1):65–77. doi:10.1016/S0163-6383(85)80017-5

Serrano JM, Iglesias J, Loeches A (1992) Visual discrimination and recognition of facial expressions of anger, fear, and surprise in 4- to 6-month-old infants. Dev Psychobiol 25(6):411–425. doi:10.1002/dev.420250603

Székely E, Tiemeier H, Arends LR, Jaddoe VWV, Hofman A, Verhulst FC, Herba CM (2011) Recognition of facial expressions of emotions by 3-year-olds. Emotion 11(2):425

Widen SC, Russell JA (2008) Children acquire emotion categories gradually. Cognit Dev 23(2):291–312

Gao X, Maurer D, Nishimura M (2010) Similarities and differences in the perceptual structure of facial expressions of children and adults. J Exp Child Psychol 105(1–2):98–115

Lindner JL, Rosen LA (2006) Decoding of emotion through facial expression, prosody and verbal content in children and adolescents with Asperger's syndrome. J Autism Dev Disord 36(6):769–777

Mazefsky CA, Oswald DP (2007) Emotion perception in Asperger's syndrome and high-functioning autism: the importance of diagnostic criteria and cue intensity. J Autism Dev Disord 37(6):1086–1095

Baron-cohen S, Spitz A, Cross P (1993) Do children with autism recognise surprise? A research note. Cognit Emot 7(6):507–516

Kuusikko S, Haapsamo H, Jansson-Verkasalo E, Hurtig T, Mattila ML, Ebeling H, Jussila K, Balte S, Moilanen I (2009) Emotion recognition in children and adolescents with autism spectrum disorders. J Autism Dev Disord 39(6):938–945

Ryan C, Charraga¡in CN (2010) Teaching emotion recognition skills to children with autism. J Autism Dev Disord 40(12):1505–1511

Ozonoff S, Miller JN (1995) Teaching theory of mind: a new approach to social skills training for individuals with autism. J Autism Dev Disord 25(4):415–433

Bauminger N (2002) The facilitation of social-emotional understanding and social interaction in high-functioning children with autism: intervention outcomes. J Autism Dev Disord 32(4):283–298

Solomon M, Goodlin-Jones BL, Anders TF (2004) A social adjustment enhancement intervention for high functioning autism, Asperger's syndrome, and pervasive developmental disorder NOS. J Autism Dev Disord 34(6):649–668

World Health Organization (1993) The ICD-10 classification of mental and behavioural disorders: diagnostic criteria for research. World Health Organization

Couteur A, Rutter M, Lord C, Rios P, Robertson S, Holdgrafer M, McLennan J (1989) Autism diagnostic interview: a standardized investigator-based instrument. J Autism Dev Disord 19(3):363–387

Lord C, Rutter M, Couteur A (1994) Autism diagnostic interview-revised: a revised version of a diagnostic interview for caregivers of individuals with possible pervasive developmental disorders. J Autism Dev Disord 24(5):659–685

Lord C, Risi S, Lambrecht L, Cook EH, Leventhal BL, DiLavore PC, Pickles A, Rutter M (2000) The autism diagnostic observation schedule—generic: a standard measure of social and communication deficits associated with the spectrum of autism. J Autism Dev Disord 30(3):205–223

Wechsler D (2003) WISC-IV: administration and scoring manual. Psychological Corporation

Kaufman AS, Kaufman NL (1983) K-ABC administration and scoring manual. American Guidance Service, Circle Pines

Owens G, Granader Y, Humphrey A, Baron-Cohen S (2008) LEGO® therapy and the social use of language programme: an evaluation of two social skills interventions for children with high functioning autism and Asperger syndrome. J Autism Dev Disord 38(10):1944–1957

Konstantareas M (2006) Social skills training in high functioning autism and asperger disorders. Hellenic J Psychol 3(1):39–56

Krasny L, Williams BJ, Provencal S, Ozonoff S (2003) Social skills interventions for the autism spectrum: essential ingredients and a model curriculum. Child Adolesc Psychiatr Clin N Am 12(1):107

Paul R (2003) Promoting social communication in high functioning individuals with autistic spectrum disorders. Child Adolesc Psychiatr Clin N Am 12(1):87

Baghdadli A, Brisot-Dubois J (2011) Entraînement aux habiletés sociales appliqué à l'autisme. Elsevier Masson

Nowicki S, Duke MP (1994) Individual differences in the nonverbal communication of affect: the diagnostic analysis of nonverbal accuracy scale. J Nonverbal Behav 18(1):9–35

Ravens-Sieberer U, Auquier P, Erhart M, Gosch A, Rajmil L, Bruil J, Power M, Duer W, Cloetta B, Czemy L (2007) The KIDSCREEN-27 quality of life measure for children and adolescents: psychometric results from a cross-cultural survey in 13 European countries. Qual Life Res 16(8):1347–1356

Berthoz S, Hill EL (2005) The validity of using self-reports to assess emotion regulation abilities in adults with autism spectrum disorder. Eur Psychiatry 20(3):291–298

Mazefsky C, Kao J, Oswald D (2011) Preliminary evidence suggesting caution in the use of psychiatric self-report measures with adolescents with high-functioning autism spectrum disorders. Res Autism Spectr Disord 5(1):164–174

Vogels T, Verrips G, Verloove-Vanhorick S, Fekkes M, Kamphuis R, Koopman H, Theunissen N, Wit J (1998) Measuring health-related quality of life in children: the development of the TACQOL parent form. Qual Life Res 7(5):457–465

Ravens-Sieberer U, Gosch A, Abel T, Auquier P, Bellach BM, Bruil J, Dur W, Power M, Rajmil L (2001) European Kidscreen Group. Quality of life in children and adolescents: a European public health perspective. Soc Prev Med 46:297–302

Cohen J (1988) Set correlation and contingency tables. Appl Psychol Meas 12(4):425–434

Wood JJ, Drahota A, Sze K, Van Dyke M, Decker K, Fujii C, Bahng C, Renno P, Hwang WC, Spiker M (2009) Brief report: effects of cognitive behavioral therapy on parent-reported autism symptoms in school-age children with high-functioning autism. J Autism Dev Disord 39(11):1608–1612

Rump KM, Giovannelli JL, Minshew NJ, Strauss MS (2009) The development of emotion recognition in individuals with autism. Child Dev 80(5):1434–1447

Wolf JM, Tanaka JW, Klaiman C, Cockburn J, Herlihy L, Brown C, South M, McPartland J, Kaiser MD, Phillips R (2008) Specific impairment of face and processing abilities in children with autism spectrum disorder using the Let's Face It! skills battery. Autism Res 1(6):329–340

Law Smith MJ, Montagne B, Perrett DI, Gill M, Gallagher L (2010) Detecting subtle facial emotion recognition deficits in high-functioning Autism using dynamic stimuli of varying intensities. Neuropsychologia 48(9):2777–2781

Lee LC, Harrington RA, Louie BB, Newschaffer CJ (2008) Children with autism: quality of life and parental concerns. J Autism Dev Disord 38(6):1147–1160

Renty JO, Roeyers H (2006) Quality of life in high-functioning adults with autism spectrum disorder: the predictive value of disability and support characteristics. Autism 10(5):511
Acknowledgments
This work was partially supported by a grant awarded by the first author of this paper from Pfizer Foundation. The authors are very grateful to the participating families and they also thank S. Nowicki for his valuable comments. Special thanks are extended to C. Boy and P. Antoine for their help with the bibliographical research, to Valerie Macioce for her careful reading of the draft and to C. Souche, F Séganti, and M Liratni for the collection of the data.
Conflict of interest
None.
Appendix
Appendix
See Appendix Table 5.
About this article
Cite this article
Baghdadli, A., Brisot, J., Henry, V. et al. Social skills improvement in children with high-functioning autism: a pilot randomized controlled trial. Eur Child Adolesc Psychiatry 22, 433–442 (2013). https://doi.org/10.1007/s00787-013-0388-8
Received:

Accepted:

Published:

Issue Date:

DOI: https://doi.org/10.1007/s00787-013-0388-8
Keywords