Abstract
Unaccompanied asylum-seeking children (UASC) are considered at high risk for mental health problems, yet few studies focus on single ethnic populations. This study presents results from the largest Afghan UASC mental health survey in the UK. Specifically, the study aims to estimate the prevalence of emotional and behavioural problems and to investigate the associations of these problems with demographic variables, cumulative traumatic events, and care and migration variables. A census sample of 222 Afghan UASC was interviewed using validated self-report screening measures. Emotional and behavioural problems were screened using the Hopkins Symptoms Checklist 37A (HSCL-37A). Pre-migration stressful life events were screened using the Stressful Life Events Questionnaire. Administrative data on care and asylum were provided by the local authority social services and the UK Border Agency. Approximately one-third (31.4 %) scored above cut-offs for emotional and behavioural problems, 34.6 % for anxiety and 23.4 % for depression. Ordinary least squares regression indicated a significant dose–response relationship between total pre-migration traumatic events and distress as well as between increased time in the country and greater behavioural problems. Compound traumatic events in the pre-migration stages of forced migration have a deleterious association with UASC well-being. Increased time in country suggests a possible peer effect for these children. Consistent with other studies on refugee children, it should be stressed that the majority of UASC scored below suggested cut-offs, thus displaying a marked resilience despite the experience of adverse events.
Access options
Buy single article
Instant access to the full article PDF.
USD 39.95
Price excludes VAT (USA)
Tax calculation will be finalised during checkout.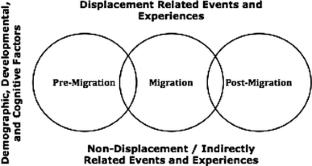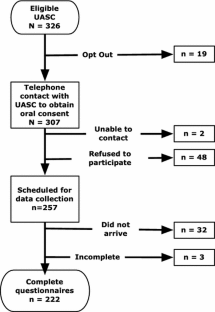 Notes
There is further research suggesting that there are potentially another 2,000 separated young people who claim asylum every year whose age is disputed by the government and are therefore not documented in the UASC statistics [37].
References
UNHCR (2011) Global trends 2010. United Nations High Commissioner for Refugees, Geneva

Crisp J (2003) A new asylum paradigm? Globalisation, migration and the uncertain future of the international refugee regime. New Issues in Refugee Research. Working Paper no.100, United Nations High Commissioner for Refugees Evaluation and Policy Analysis Unit, Geneva

UNHCR (2010) 2009 UNHCR statistical yearbook. United Nations High Commissioner for Refugees, Geneva

Thomas S, Thomas S, Nafees B, Bhugra D (2004) 'I was running away from death'—the pre-flight experiences of unaccompanied asylum seeking children in the UK. Child Care Health Dev 30:113–122. doi:0.1111/j.1365-2214.2003.00404.x

Garmezy N (1988) Stressors of childhood. In: Rutter M, Garmezy N (eds) Stress, coping, and development in children, 2nd edn. Johns Hopkins University Press, Baltimore

Rutter M (1999) Resilience concepts and findings: implications for family therapy. J Fam Ther 21:119–144. doi:10.1111/1467-6427.00108

Appleyard K, Egeland B, van Dulmen MH, Sroufe LA (2005) When more is not better: the role of cumulative risk in child behavior outcomes. J Child Psychol Psychiatry 46:235–245. doi:10.1111/j.1469-7610.2004.00351.x

Bronstein I, Montgomery P (2011) Psychological distress in refugee children: a systematic review. Clin Child Fam Psychol 14:44–56. doi:10.1007/s10567-010-0081-0

Miller KE, Rasmussen A (2010) War exposure, daily stressors, and mental health in conflict and post-conflict settings: bridging the divide between trauma-focused and psychosocial frameworks. Soc Sci Med 70:7–16. doi:10.1016/j.socscimed.2009.09.029

Van Ommeren M (2003) Validity issues in transcultural epidemiology. Brit J Psychiatry 182:376–378. doi:10.1192/bjp.02.194

Fazel M, Stein A (2002) The mental health of refugee children. Arch Dis Child 87:366–370. doi:10.1136/adc.87.5.366

Hodes M (2000) Psychologically distressed refugee children in the United Kingdom. Child Adolesc Ment Health 5:57–68. doi:10.1111/camh.2000.5.issue-2

Lustig SL, Kia-Keating M, Knight WG, Geltman P, Ellis H, Kinzie JD, Keane T, Saxe GN (2004) Review of child and adolescent refugee mental health. J Am Acad Child Psychiatry 43:24–36. doi:10.1097/00004583-200401000-00012

Miller KE, Rasco LM (2004) An ecological framework for addressing the mental health needs of refugee communities. In: Miller KE, Rasco LM (eds) The mental health of refugees: ecological approaches to healing and adaptation. Lawrence Erlbaum Associates, London

Pumariega AJ, Rothe E, Pumariega JAB (2005) Mental health of immigrants and refugees. Community Ment Health J 41:581–597. doi:10.1007/s10597-005-6363-1

Bronfenbrenner U (1979) The ecology of human development: experiments by nature and design. Harvard University Press, Cambridge

Mougne C (2010) Trees only move in the wind: a study of unaccompanied Afghan children in Europe. United Nations High Commissioner for Refugees Policy Development and Evaluation Service, Geneva

Loyn D (2008) Butcher and Bolt. Hutchinson, London

Rashid A (2008) Descent into chaos: The US and the disaster in Pakistan, Afghanistan, and Central Asia. Viking, New York

Catani C, Schauer E, Elbert T, Missmahl I, Bette JP, Neuner F (2009) War trauma, child labor, and family violence: life adversities and PTSD in a sample of school children in Kabul. J Trauma Stress 22:163–171. doi:10.1002/jts.20415

Gupta L (2005) Children exposed to war in Afghanistan. Bereavement Care 24:31–34. doi:10.1080/02682620508657630

Panter-Brick C, Eggerman M, Gonzalez V, Safdar S (2009) Violence, suffering, and mental health in Afghanistan: a school-based survey. Lancet 374:807–816. doi:10.1016/S0140-6736(09)61080-1

Boland K (2010) Children on the move: a report on children of Afghan origin moving to western countries. UNICEF, Geneva

Home Office (2011) Control of immigration: quarterly statistical summary, United Kingdom—fourth quarter 2010: Home Office

Home Office (2010) Control of immigration: Statistics United Kingdom 2009, vol 15, issue 10. Crown Copyright, London

Morris J (2005) Children on the edge of care. Joseph Rowntree Foundation, New York

Wade J, Mitchell F, Baylis G (2005) Unaccompanied asylum seeking children: the response of social work services. British Association for Adoption and Fostering, London

Chase E, Knight A, Statham J (2008) The emotional well-being of young people seeking asylum in the UK. British Association for Adoption and Fostering, London

Hodes M, Jagdev D, Chandra N, Cunniff A (2008) Risk and resilience for psychological distress amongst unaccompanied asylum seeking adolescents. J Child Psychol Psychiatry 49:723–732. doi:10.1111/j.1469-7610.2008.01912.x

Wade J, Sirriyeh A, Kohli R, Simmonds J (2012) Fostering unaccompanied asylum-seeking and refugee children: a research project (Summary). British Association for Adoption and Fostering, London

Rice L, Poppleton S (2010) Policies on reception, return, integration arrangement for, and numbers of, unaccompanied minors, UK report of an EU comparative study. UK Border Agency, Home Office, London

Home Office (2011) Briefings—immigration statistics July–September 2011. http://www.homeoffice.gov.uk/publications/science-research-statistics/research-statistics/immigration-asylum-research/immigration-brief-q3-2011/asylum

O'Higgins A (2011) The destitution of young refugees in the UK. Oxf Monit Forced Migr 1:8011

Hollins K, Heydari H, Grayson K, Leavey G (2007) The mental health and social circumstances of Kosovan Albanian and Albanian unaccompanied refugee adolescents living in London. Div Health Soc Care 4:277–285

Heptinstall E, Sethna V, Taylor E (2004) PTSD and depression in refugee children: associations with pre-migration trauma and post-migration stress. Eur Child Adolesc Psychiatry 13:373–380. doi:10.1007/s00787-004-0422-y

Steel Z, Silove D, Brooks R, Momartin S, Alzuhairi B, Susljik I (2006) Impact of immigration detention and temporary protection on the mental health of refugees. Br J Psychiatry 188:58–64. doi:10.1192/bjp.bp.104.007864

Crawley H (2007) When is a child not a child. Immigration Law Practitioners Association, London

STROBE Statement (2008) STROBE Statement: strengthening the reporting of observational studies in epidemiology. http://www.strobe-statement.org/

Bean T, Eurelings-Bontekoe E, Derluyn I, Spinhoven P (2004) Hopkins Symptom Checklist-37 for Adolescents (Hscl-37a): User's Manual. Centrum'45, Oegstgeest

Sandanger I, Moum T, Ingebrigtsen G, Dalgard OS, Sorensen T, Bruusgaard D (1998) Concordance between symptom screening and diagnostic procedure: the Hopkins Symptom Checklist-25 and the Composite International Diagnostic Interview I. Soc Psychiatry Psych Epidemiol 33:345–354. doi:10.1007/s001270050064

Bean T, Derluyn I, Eurelings-Bontekoe E, Broekaert E, Spinhoven P (2007) Validation of the multiple language versions of the Hopkins Symptom Checklist-37 for refugee adolescents. Adolescence 42:51–71

Bean T, Eurelings-Bontekoe E, Derluyn I, Spinhoven P (2004) Stressful life events (Sle): User's Manual. Centrum'45, Oegstgeest

Bean T, Derluyn I, Eurelings-Bontekoe E, Broekaert E, Spinhoven P (2007) Comparing psychological distress, traumatic stress reactions, and experiences of unaccompanied refugee minors with experiences of adolescents accompanied by parents. J Nerv Ment Dis 195:288–297. doi:10.1097/01.nmd.0000243751.49499.93

Field A (2006) Discovering statistics using SPSS (introducing statistical methods series). Sage Publications Ltd., London

Bronstein I, Montgomery P, Dobrowolski S (2012) PTSD in asylum-seeking male adolescents from Afghanistan. J Trauma Stress 25:551–557. doi:10.1002/jts.21740

Feir-Walsh BJ, Toothaker LE (1974) An empirical comparison of the Anova F-test, normal scores test and Kruskal–Wallis test under violation of assumptions. Educ Psychol Meas 34:789–799. doi:10.1177/001316447403400406

Fox PG, Cowell JM, Montgomery AC (1994) The effects of violence on health and adjustment of Southeast Asian refugee children: an integrative review. Public Health Nurs 11:195–201. doi:10.1111/j.1525-1446.1994.tb00401.x

Huemer J, Karnik NS, Voelkl-Kernstock S, Granditsch E, Dervic K, Friedrich MH, Steiner H (2009) Mental health issues in unaccompanied refugee minors. Child Adolesc Psychiatry Ment Health 3:13. doi:10.1186/1753-2000-3-13

Porter M, Haslam N (2005) Predisplacement and postdisplacement factors associated with mental health of refugees and internally displaced persons: a meta-analysis. J Am Med Assoc 294:602–612. doi:10.1001/jama.294.5.602

Bean TM, Eurelings-Bontekoe E, Spinhoven P (2007) Course and predictors of mental health of unaccompanied refugee minors in the Netherlands: one year follow-up. Soc Sci Med 64:1204–1215. doi:10.1016/j.socscimed.2006.11.010

Barnes M, Morris K (2008) Strategies for the prevention of social exclusion: an analysis of the Children's Fund. J Soc Pol 37:251–270. doi:10.1017/S0047279407001730

Birman D, Trickett EJ, Vinokurov A (2002) Acculturation and adaptation of Soviet Jewish refugee adolescents: predictors of adjustment across life domains. Am J Commun Psychol 30:585–607. doi:10.1023/A:1016323213871

Stanley K (2001) Cold comfort: young separated refugees in England. Save the Children, London

Dishion TJ, McCord J, Poulin F (1999) When interventions harm. Peer groups and problem behaviour. Am Psychol 54:755–764. doi:10.1037/0003-066X.54.9.755

McCord J (2003) Cures that harm: unanticipated outcomes of crime prevention programs. Ann Am Acad Polit Soc Sci 587:16–30. doi:10.1177/0002716202250781

Groark C, Sclare I, Raval H (2011) Understanding the experiences and emotional needs of unaccompanied asylum-seeking adolescents in the UK. Clin Child Psychol Psychiatry 16:421–442. doi:10.1177/1359104510370405

Turner VW (1969) The ritual process: structure and anti-structure. Aldine Publishing Company, Chicago

de Boer JB, Korfker DG, Reijneveld SA (2004) Effects of reception centres on health and care for AMAs (report: PG/JGD 2004.010). Dutch National Medical Organisaiton for Asylum-Seekers (MOA), Leiden

Reijneveld SA, de Boer JB, Bean T, Korfker DG (2005) Unaccompanied adolescents seeking asylum: poorer mental health under a restrictive reception. J Nerv Ment Dis 193:759–761. doi:10.1097/01.nmd.0000185870.55678.82

Bonita R (2007) Basic epidemiology. World Health Organisation, Geneva

Fernando S, Campling J (2002) Mental health, race and culture, 2nd edn. Palgrave, Basingstoke

Nederhof AJ (1984) Methods of coping with social desirability bias: a review. Euro J Soc Psychol 15:263–280. doi:10.1002/ejsp.2420150303

Fischer J, Corcoran K (2007) Measures for clinical practice and research. Oxford University Press, Oxford

Collishaw S, Goodman R, Ford T, Rabe-Hesketh S, Pickles A (2009) How far are associations between child, family and community factors and child psychopathology informant-specific and informant-general? J Child Psychol Psychol 50:571–580. doi:10.1111/j.1469-7610.2008.02026.x

Riphenburg CJ (2005) Ethnicity and civil society in contemporary Afghanistan. Middle East J 59:31–51

Hobfoll SE (2001) The influence of culture, community, and the nested-self in the stress process: advancing conservation of resources theory. Appl Psychol Int Rev 50:337–421. doi:10.1111/1464-0597.00062

Layne CM, Beck CJ, Rimmasch H, Southwisk JS, Moreno MA, Hobfoll SE (2009) Promoting "Resilient" posttraumatic adjustment in childhood and beyond. In: Brom D, Horenczyk P, Ford J (eds) Treating traumatized children. Routledge, London, pp 13–47

Bean T (2006) Assessing the psychological distress and mental healthcare needs of unaccompanied refugee minors in the Netherlands. Ph.D. thesis, Leiden University, Leiden
Acknowledgments
This study was funded by the John Fell Oxford University Fund Unaccompanied Asylum-Seeking Children Project. A special debt of gratitude goes to Lindsay Shepard for all her care and assistance with the data collection, to the dedicated team of social workers and interpreters, and to all the young people.
Conflict of interest
The authors declare that they have no conflict of interest.
About this article
Cite this article
Bronstein, I., Montgomery, P. & Ott, E. Emotional and behavioural problems amongst Afghan unaccompanied asylum-seeking children: results from a large-scale cross-sectional study. Eur Child Adolesc Psychiatry 22, 285–294 (2013). https://doi.org/10.1007/s00787-012-0344-z
Received:

Accepted:

Published:

Issue Date:

DOI: https://doi.org/10.1007/s00787-012-0344-z
Keywords
Refugee children

Mental health

Asylum

Afghan