Abstract
There is evidence to suggest that both psychological characteristics and stressful life events are contributory factors in deliberate self-harm among young people. These links, and the possibility of a dose–response relationship between self-harm and both psychological health and life events, were investigated in the context of a seven-country school-based study. Over 30,000, mainly 15 and 16 year olds, completed anonymous questionnaires at secondary schools in Belgium, England, Hungary, Ireland, the Netherlands, Norway and Australia. Pupils were asked to report on thoughts and episodes of self-harm, complete scales on depression and anxiety symptoms, impulsivity and self-esteem and indicate stressful events in their lives. Level and frequency of self-harm was judged according to whether they had thought about harming themselves or reported single or multiple self-harm episodes. Multinomial logistic regression assessed the extent to which psychological characteristics and stressful life events distinguished between adolescents with different self-harm histories. Increased severity of self-harm history was associated with greater depression, anxiety and impulsivity and lower self-esteem and an increased prevalence of all ten life event categories. Female gender, higher impulsivity and experiencing the suicide or self-harm of others, physical or sexual abuse and worries about sexual orientation independently differentiated single-episode self-harmers from adolescents with self-harm thoughts only. Female gender, higher depression, lower self-esteem, experiencing the suicide or self-harm of others, and trouble with the police independently distinguished multiple- from single-episode self-harmers. The findings reinforce the importance of psychological characteristics and stressful life events in adolescent self-harm but nonetheless suggest that some factors are more likely than others to be implicated.
This is a preview of subscription content, log in to check access.
Access options
Buy single article
Instant access to the full article PDF.
US$ 39.95
Price includes VAT for USA
Subscribe to journal
Immediate online access to all issues from 2019. Subscription will auto renew annually.
US$ 199
This is the net price. Taxes to be calculated in checkout.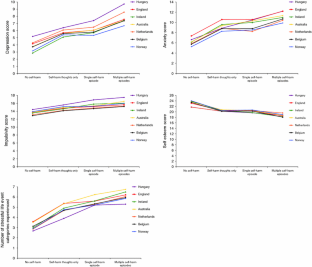 References
1.

Andrews JA, Lewinsohn PM (1992) Suicidal attempts among older adolescents: prevalence and co-occurrence with psychiatric disorders. J Am Acad Child Adolesc Psychiatry 31:655–662

2.

Baldry AC, Winkel WF (2003) Direct and vicarious victimization at school and at home as risk factors for suicidal cognition among Italian adolescents. J Adolesc 26:703–716

3.

Bearman PS, Moody J (2004) Adolescent suicidality. Am J Pub Health 94:89–95

4.

Bensley LS, Van Eenwyk J, Spieker SJ, Schoder MN (1999) Self-reported abuse history and adolescent problem behaviours. I: antisocial and suicidal behaviours. J Adolesc Health 24:163–172

5.

Brent D, Mann JJ (2006) Familial pathways to suicidal behavior. N Engl J Med 355:2719–2721

6.

Bridge J, Goldstein T, Brent D (2006) Adolescent suicide and suicidal behaviour. J Child Psychol Psychiatry 47:372–394

7.

Byrne S, Morgan S, Fitzpatrick C, Boylan C, Crowley S, Gahan H, Howley J, Staunton D, Guerin S (2008) Deliberate self-harm in children and adolescents: a qualitative study exploring the needs of parents and carers. Clin Child Psychol Psychiatry 13:493–504

8.

Coggan C, Bennett S, Hooper R, Dickinson P (2003) Association between bullying and mental health status in New Zealand adolescents. Int J Mental Health Promotion 5:16–22

9.

Cohen J (1988) Statistical power analysis for the behavioural sciences. Erlbaum, Hillsdale, NJ

10.

Conner KR, Meldrum S, Wieczorek WF, Duberstein PR, Welte JW (2004) The association of irritability and impulsivity with suicidal ideation among 15- to 20-year-old males. Suicide Life Threat Behav 34:363–373

11.

Dimmock M, Grieves S, Place M (2008) Young people who cut themselves—a growing challenge for educational settings. Br J Spec Edu 35:42–48

12.

Eisenberg ME, Resnick MD (2006) Suicidality among gay, lesbian and bisexual youth: the role of protective factors. J Adolesc Health 39:662–668

13.

Esposito C, Spirito A, Boergers J, Donaldson D (2003) Affective, behavioural, and cognitive functioning in adolescents with multiple suicide attempts. Suicide Life Threat Behav 33:389–399

14.

Evans E, Hawton K, Rodham K (2004) Factors associated with suicidal phenomena in adolescents: a systematic review of population-based studies. Clin Psychol Rev 24:957–979

15.

Evans E, Hawton K, Rodham K (2005) Suicidal phenomena and abuse in adolescents: a review of epidemiological studies. Child Abuse Negl 29:45–58

16.

Fergusson DM, Horwood LJ, Ridder EM, Beautrais AL (2005) Suicidal behaviour in adolescence and subsequent mental health outcomes in young adulthood. Psychol Med 35:983–993

17.

Flisher AJ (1999) Annotation: mood disorder in suicidal children and adolescents: recent developments. J Child Psychol Psychiatry 40:315–324

18.

Foley D, Goldston D, Costello E, Angold A (2006) Proximal psychiatric risk factors for suicidality in youth. Arch Gen Psychiatry 63:1017–1024

19.

Harrington R, Pickles A, Aglan A, Harrington V, Burroughs H, Kerfoot M (2006) Early adult outcomes of adolescents who deliberately poisoned themselves. J Am Acad Child Adolesc Psychiatry 45:337–345

20.

Hawton K, Harriss L (2008) Deliberate self-harm by under-15-year-olds: characteristics, trends and outcome. J Child Psychol Psychiatry 49:441–448

21.

Hawton K, Cole D, O'Grady J, Osborn M (1982) Motivational aspects of deliberate self-poisoning in adolescents. Br J Psychiatry 141:286–291

22.

Hawton K, Kingsbury S, Steinhardt K, James A, Fagg J (1999) Repetition of deliberate self-harm by adolescents: the role of psychological factors. J Adolesc 22:369–378

23.

Hawton K, Hall S, Simkin S, Bale L, Bond A, Codd S, Stewart A (2003) Deliberate self-harm in adolescents: a study of characteristics and trends in Oxford, 1990–2000. J Child Psychol Psychiatry 44:1191–1198

24.

Horowitz LM, Ballard ED (2009) Suicide screening in schools, primary care and emergency departments. Curr Opin Pediatr 21:620–627

25.

Hull-Blanks EA, Kerr BA, Robinson Kurpius SE (2004) Risk factors of suicidal ideations and attempts in talented, at-risk girls. Suicide Life Threat Behav 34:267–276

26.

Kerfoot M, Dyer E, Harrington V, Woodham A, Harrington R (1996) Correlates and short-term course of self-poisoning in adolescents. Br J Psychiatry 168:38–42

27.

Lieb R, Bronisch T, Hofler M et al (2005) Maternal suicidality and risk of suicidality in offspring: findings from a community study. Am J Psychiatry 162:1665–1671

28.

Madge N, Hewitt A, Hawton K, de Wilde EJ, Corcoran P, Fekete S, van Heeringen K, De Leo D, Ystgaard M (2008) Deliberate self-harm within an international community sample of young people: findings from the Child & Adolescent Self-harm in Europe (CASE) Study. J Child Psychol Psychiatry 49:667–677

29.

Martin G, Bergen HA, Richardson AS, Roeger L, Allison S (2004) Sexual abuse and suicidality: gender differences in a large community sample of adolescents. Child Abuse Negl 28:491–503

30.

Martin G, Richardson AS, Bergen HA, Roeger L, Allison S (2005) Perceived academic performance, self-esteem and locus of control as indicators of need for assessment of adolescent suicide risk: implications for teachers. J Adolesc 28:75–87

31.

McDonald G, O'Brien L, Jackson D (2007) Guilt and shame: experiences of parents of self-harming adolescents. J Child Health Care 11:298–310

32.

Melhem NM, Day N, Shear MK, Day R, Reynolds CF, Brent D (2004) Traumatic grief among adolescents exposed to a peer's suicide. Am J Psychiatry 161:1411–1416

33.

Naylor PB, Cowie HA, Walters SJ, Talamelli L, Dawkins J (2009) Impact of a mental health teaching programme on adolescents. Br J Psychiatry 194:365–370

34.

O'Connor RC (2011) Toward an integrated motivational-volitional model of suicidal behaviour. In: O'Connor RC, Platt S, Gordon J (eds) International handbook of suicide prevention: research, policy and practice, 1st edn. John Wiley & Sons Ltd., London, pp 181–198

35.

Olfson M, Gameroff MJ, Marcus SC, Greenberg T, Shaffer D (2005) Emergency treatment of young people following deliberate self-harm. Arch Gen Psychiatry 62:1122–1128

36.

Pelkonen M, Marttunen M, Kaprio J, Huurre T, Aro H (2008) Adolescent risk factors for episodic and persistent depression in adulthood. A 16-year prospective follow-up study of adolescents. J Affect Disord 106:123–131

37.

Plutchik R, Van Praag HM (1986) The measurement of suicidality, aggressivity and impulsivity. Clin Neuropharmacol 9:380–382

38.

Reinherz H, Tanner J, Berger S et al (2006) Adolescent suicidal ideation as predictive of psychopathology, suicidal behavior, and compromised functioning at age 30. Am J Psychiatry 163:1126–1232

39.

Remafedi G, French S, Story M, Resnick M, Blum R (1998) The relationship between suicide risk and sexual orientation: results of a population-based study. Am J Public Health 88:57–60

40.

Robson P (1989) Development of a new self-report questionnaire to measure self-esteem. Psychol Med 19:513–518

41.

Ross S, Heath NL (2003) Two models of adolescent self-mutilation. Suicide Life Threat Behav 33:277–287

42.

Rossow I, Ystgaard M, Hawton K, Madge N, van Heeringen K, de Wilde EJ, De Leo D, Fekete S, Morey C (2007) Cross-national comparisons of the association between alcohol consumption and deliberate self-harm in adolescents. Suicide Life Threat Behav 37:605–615

43.

Stanford S, Jones MP (2009) Psychological subtyping finds pathological, impulsive, and 'normal' groups among adolescents who self-harm. J Child Psychol Psychiatry 50:807–815

44.

Steinhausen H-C, Haslimeier C, Winkler Metzke C (2006) The outcome of episodic versus persistent adolescent depression in young adulthood. J Affect Disord 96:49–57

45.

Storey P, Hurry J, Jowitt S, Owens D, House A (2005) Supporting young people who repeatedly self-harm. J Royal Soc Promotion Health 125:71–75

46.

Wild LG, Flisher AJ, Lombard C (2004) Suicidal ideation and attempts in adolescents: associations with depression and six domains of self-esteem. J Adolesc 27:611–624

47.

Ystgaard M, Arensman E, Hawton K, Madge N, van Heeringen K, Hewitt A, de Wilde EJ, De Leo D, Fekete S (2009) Deliberate self-harm in adolescents: comparison between those who receive help following self-harm and those who do not. J Adolesc 32:875–891

48.

Ystgaard M, Hestetun I, Loeb M, Mehlum L (2004) Is there a specific relationship between chilhood sexual and physical abuse and repeated suicidal behavior? Child Abuse Negl 28:863–876

49.

Zigmond AS, Snaith RP (1983) The hospital anxiety and depression scale. Acta Psychiatr Scand 67:361–370
Acknowledgments
The authors thank the European Commission Daphne Programme for providing funding for the coordination of this research, as well as the Community Fund in England, the Irish National Suicide Review Group, the National Office for Suicide Prevention and the Ireland Funds, QLD-Health and the Commonwealth of Australia, Department of Health and Ageing, and the Norwegian Foundation for Health and Rehabilitation, for funding national studies. We also acknowledge colleagues in the national centres who contributed to the work undertaken, including Udo Reulbach and Tony Fitzgerald for statistical advice, and pupils and schools that participated in the study.
Conflict of interest
The authors declare that they have no conflict of interest.
About this article
Cite this article
Madge, N., Hawton, K., McMahon, E.M. et al. Psychological characteristics, stressful life events and deliberate self-harm: findings from the Child & Adolescent Self-harm in Europe (CASE) Study. Eur Child Adolesc Psychiatry 20, 499 (2011). https://doi.org/10.1007/s00787-011-0210-4
Received:

Accepted:

Published:
Keywords
Adolescence

Cross-cultural

Self-harm

Depression

Anxiety

Impulsivity

Self-esteem

Stressful life events

Psychological characteristics