Abstract
The aim of this study is to assess the efficacy of a restricted elimination diet in reducing symptoms in an unselected group of children with Attention deficit/hyperactivity disorder (ADHD). Dietary studies have already shown evidence of efficacy in selected subgroups. Twenty-seven children (mean age 6.2) who all met the DSM-IV criteria for ADHD, were assigned randomly to either an intervention group (15/27) or a waiting-list control group (12/27). Primary endpoint was the clinical response, i.e. a decrease in the symptom scores by 50% or more, at week 9 based on parent and teacher ratings on the abbreviated ten-item Conners Scale and the ADHD-DSM-IV Rating Scale. The intention-to-treat analysis showed that the number of clinical responders in the intervention group was significantly larger than that in the control group [parent ratings 11/15 (73%) versus 0/12 (0%); teacher ratings, 7/10 (70%) versus 0/7 (0%)]. The Number of ADHD criteria on the ADHD Rating Scale showed an effect size of 2.1 (cohen's d) and a scale reduction of 69.4%. Comorbid symptoms of oppositional defiant disorder also showed a significantly greater decrease in the intervention group than it did in the control group (cohens's d 1.1, scale reduction 45.3%). A strictly supervised elimination diet may be a valuable instrument in testing young children with ADHD on whether dietary factors may contribute to the manifestation of the disorder and may have a beneficial effect on the children's behaviour.
Access options
Buy single article
Instant access to the full article PDF.
USD 39.95
Price excludes VAT (USA)
Tax calculation will be finalised during checkout.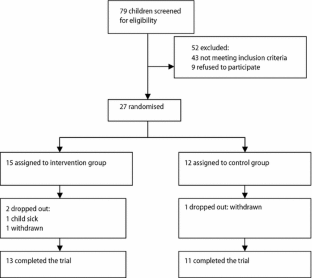 References
American Psychiatric Association (1994) Diagnostic and statistical manual of mental disorders, 4th edn. APA, Washington

Arnold LE (1999) Treatment alternatives for ADHD. J Atten Disord 3:30–48

Barkley RA (1998) Attention-deficit hyperactivity disorder: a handbook for diagnosis and treatment. Guilford Press, New York

Bateman B, Warner JO, Hutchinson E, Dean T, Rowlandson P, Gant C, Grundy J, Fitzgerald C, Stevenson J (2004) The effects of a double blind, placebo controlled, artificial food colourings and benzoate preservative challenge on hyperactivity in a general population sample of preschool children. Arch Dis Child 89:506–511

Biederman J, Faraone SV (2005) Attention-deficit hyperactivity disorder. Lancet 366:237–248

Bockting CL, Schene AH, Spinhoven P, Koeter MW, Wouters LF, Huyser J, Kamphuis JH (2005) Preventing relapse/recurrence in recurrent depression with cognitive therapy: a randomized controlled trial. J Consult Clin Psychol 73:647–657

Boris M, Mandel FS (1994) Food and additives are common causes of the attention deficit hyperactive disorder in children. Ann Allergy 72:462–468

Carter CM, Urbanowicz M, Hemsley R, Mantilla L, Strobel S, Graham PJ, Taylor E (1993) Effects of a few food diet in attention deficit disorder. Arch Dis Child 69:564–568

Conners CK, Goyette CH, Southwick DA, Lees JM, Andrulonis PA (1976) Food additives and hyperkinesis: a controlled double-blind experiment. Pediatrics 58:154–166

Cruz NV, Bahna SL (2006) Do food or additives cause behavior disorders? Pediatr Ann 35:744–745, 748–754

Deale A, Chalder T, Marks I, Wessely S (1997) Cognitive behavior therapy for chronic fatigue syndrome: a randomized controlled trial. Am J Psychiatry 154:408–414

Dulcan M (1997) Practice parameters for the assessment and treatment of children, adolescents, and adults with attention-deficit/hyperactivity disorder. American Academy of Child and Adolescent Psychiatry. J Am Acad Child Adolesc Psychiatry 36:85S–121S

Dupaul GR (1991) Parent and teacher ratings of ADHD symptoms: Psychometric properties in a community-based sample. J Clin Child Psychol 20:242–253

Egger J, Carter CM, Graham PJ, Gumley D, Soothill JF (1985) Controlled trial of oligo-antigenic treatment in the hyperkinetic syndrome. Lancet 1:540–545

Hill P, Taylor E (2001) An auditable protocol for treating attention deficit/hyperactivity disorder. Arch Dis Child 84:404–409

Hill P (2005) Attention deficit/hyperactivity disorder. Arch Dis Child 90:i1

Kaplan BJ, McNicol J, Conte RA, Moghadam HK (1989) Dietary replacement in preschool-aged hyperactive boys. Pediatrics 83:7–17

Kutcher S, Aman M, Brooks SJ, Buitelaar J, van Daalen E, Fegert J, Findling RL, Fisman S, Greenhill LL, Huss M, Kusumakar V, Pine D, Taylor E, Tyano S (2004) International consensus statement on attention-deficit/hyperactivity disorder (ADHD) and disruptive behaviour disorders (DBDs): clinical implications and treatment practice suggestions. Eur Neuropsychopharmacol 14:11–28

Mannuzza S, Klein RG, Bessler A, Malloy P, LaPadula M (1993) Adult outcome of hyperactive boys. Educational achievement, occupational rank, and psychiatric status. Arch Gen Psychiatry 50:565–576

McCann D, Barrett A, Cooper A, Crumpler D, Dalen L, Grimshaw K, Kitchin E, Lok K, Porteous L, Prince E, Sonuga-Barke E, Warner JO, Stevenson J (2007) Food additives and hyperactive behaviour in 3-year-old and 8/9-year-old children in the community: a randomised, double-blinded, placebo-controlled trial. Lancet 370:1560–1567

Michelson D, Faries D, Wernicke J, Kelsey D, Kendrick K, Sallee FR, Spencer T, Atomoxetine ADHD Study Group (2001) Atomoxetine in the treatment of children and adolescents with attention-deficit/hyperactivity disorder: a randomized, placebo-controlled, dose-response study. Pediatrics 108:E83

National Institutes of Health Consensus Development Conference Statement: diagnosis and treatment of attention-deficit/hyperactivity disorder (ADHD) (2000) J Am Acad Child Adolesc Psychiatry 39:182–193

Pelsser LMJ, Buitelaar JK (2002) Gunstige invloed van een standaardeliminatiedieet op het gedrag van jonge kinderen met aandachtstekort-hyperactiviteitsstoornis (ADHD), een verkennend onderzoek. Ned Tijdschr Geneeskd 146:2543–2547

Prins JB, Bleijenberg G, Bazelmans E, Elving LD, de Boo TM, Severens JL, van der Wilt GJ, Spinhoven P, van der Meer JW (2001) Cognitive behaviour therapy for chronic fatigue syndrome: a multicentre randomised controlled trial. Lancet 357:841–847

Schmidt MH, Mocks P, Lay B, Eisert HG, Fojkar R, Fritz-sigmund D, Marcus A, Musaeus B (1997) Does oligoantigenic diet influence hyperactive/conduct-disordered children, a controlled trial. Eur Child Adolesc Psychiatry 6:88–95

Schulte-Korne G, Deimel W, Guttenbrunner C, Hennighausen K, Blank R, Rieger C, Remschmidt H (1996) Effect of an oligo-antigen diet on the behavior of hyperkinetic children. Z Kinder Jugendpsychiatr Psychother 24:176–183

Smithuis F, Kyaw MK, Phe O, Aye KZ, Htet L, Barends M, Lindegardh N, Singtoroj T, Ashley E, Lwin S, Stepniewska K, White NJ (2006) Efficacy and effectiveness of dihydroartemisinin-piperaquine versus artesunate-mefloquine in falciparum malaria: an open-label randomised comparison. Lancet 367:2075–2085

Staab D, Diepgen TL, Fartasch M, Kupfer J, Lob-Corzilius T, Ring J, Scheewe S, Scheidt R, Schmid-Ott G, Schnopp C, Szczepanski R, Werfel T, Wittenmeier M, Wahn U, Gieler U (2006) Age related, structured educational programmes for the management of atopic dermatitis in children and adolescents: multicentre, randomised controlled trial. Br Med J 332:933–938

Steer CR (2005) Managing attention deficit/hyperactivity disorder: unmet needs and future directions. Arch Dis Child 90:19–25

Stulemeijer M, de Jong LW, Fiselier TJ, Hoogveld SW, Bleijenberg G (2005) Cognitive behaviour therapy for adolescents with chronic fatigue syndrome: randomised controlled trial. Br Med J 330:14–19

Taylor E, Dopfner M, Sergeant J, Asherson P, Banaschewski T, Buitelaar J, Coghill D, Danckaerts M, Rothenberger A, Sonuga-Barke E, Steinhausen HC, Zuddas A (2004) European clinical guidelines for hyperkinetic disorder—first upgrade. Eur Child Adolesc Psychiatry 13:17–30

Taylor E, Rogers JW (2005) Practitioner review: early adversity and developmental disorders. J Child Psychol Psychiatry 46:451–467

Van Wijck AJ, Opstelten W, Moons KG, van Essen GA, Stolker RJ, Kalkman CJ, Verheij TJ (2006) The PINE study of epidural steroids and local anaesthetics to prevent postherpetic neuralgia: a randomised controlled trial. Lancet 367:219–224

Wilson DC, Cairns P, Halliday HL, Reid M, McClure G, Dodge JA (1997) Randomised controlled trial of an aggressive nutritional regimen in sick very low birthweight infants. Arch Dis Child Fetal Neonatal Ed 77:F4–F11
Acknowledgments
We acknowledge the support for this study by the Foundation for Children's Welfare Stamps Netherlands; Foundation Nuts Ohra; Matty Brand Foundation; and the Foundation of Child and Behaviour. The funding sources had no role in the study design, data collection, analysis or interpretation of the data, had no input into the writing of the report, or in the decision to submit for publication.
Conflict of interest We declare that we have no conflict of interest.
About this article
Cite this article
Pelsser, L.M.J., Frankena, K., Toorman, J. et al. A randomised controlled trial into the effects of food on ADHD. Eur Child Adolesc Psychiatry 18, 12–19 (2009). https://doi.org/10.1007/s00787-008-0695-7
Accepted:

Published:

Issue Date:

DOI: https://doi.org/10.1007/s00787-008-0695-7
Keywords