Abstract
Objective
Increased plasma kynurenine has been reported in tic disorder patients, and this observation has been suggested to be indicative of immune dysregulation. In the present study, we examined plasma levels of kynurenine and related molecules in a group of tic disorder patients.
Methods
Plasma concentrations of tryptophan, kynurenine, cortisol, and neopterin were determined in Dutch tic disorder patients (N = 59), and healthy volunteers (N = 32). Group means were compared and age-controlled intra-individual correlations between tic severity and plasma levels of these molecules were examined.
Results
No significant differences were found between patient and control groups in plasma levels of tryptophan, kynurenine, and cortisol concentrations, nor in the kynurenine/tryptophan ratio. However, neopterin was significantly (p = 0.035) higher in patients (mean = 5.13 nmol/l) than in controls (mean = 3.30 nmol/l). Plasma levels of these molecules did not correlate with tic severity, with the exception of tryptophan (r = −0.289, p = 0.049). In patients, plasma neopterin correlated with kynurenine (r = 0.438, p = 0.002); in healthy subjects, tryptophan correlated with kynurenine (r = 0.670, p < 0.001).
Conclusion
While the observed elevation in plasma neopterin is consistent with immune activation in a subset of tic disorder patients, metabolism of tryptophan through the kynurenine pathway appears to be unaltered in tic disorder patients.
Access options
Buy single article
Instant access to the full article PDF.
USD 39.95
Price excludes VAT (USA)
Tax calculation will be finalised during checkout.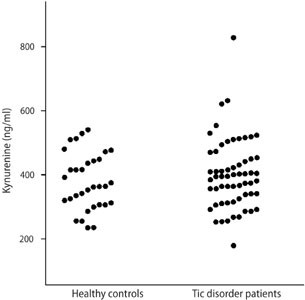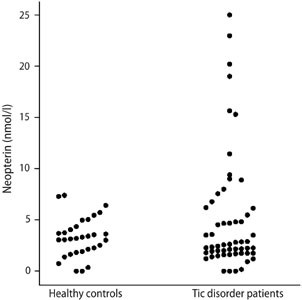 Abbreviations
IDO:

indoleamine 2,3-dioxygenase

K/T ratio:

kynurenine to tryptophan ratio

TDO:

tryptophan 2,3-dioxygenase
References
American Psychiatric Association (1994) Diagnostic and statistical manual of mental disorders, 4th edn. American Psychiatric Press, Washington

Bender DA, Njagi ENM, Danielian PS (1991) Comparison of tryptophan metabolism in vivo and in isolated hepatocytes from vitamin B6 deficient mice. Adv Exp Med Biol 294:359–368

Cardona F, Orefici G (2001) Group A streptococcal infections and tic disorders in an Italian pediatric population. J Pediatr 38(1):71–75

Church AJ, Dale RC, Lees AJ, Giovannoni G, Robertson MM (2003) Tourette's syndrome: a cross sectional study to examine the PANDAS hypothesis. J Neurol Neurosurg Psychiatry 74(5):602–607

Comings DE (1990) Blood serotonin and tryptophan in Tourette syndrome. Am J Med Genet 36(4):418–430

Dale RC, Candler PM, Church AJ, Wait R, Pocock JM, Giovannoni G (2006a) Neuronal surface glycolytic enzymes are autoantigen targets in post-streptococcal autoimmune CNS disease. J Neuroimmunol 172(1–2):187–197

Dale RC, Church AJ, Candler PM, Chapman M, Martino D, Giovannoni G (2006b) Serum autoantibodies do not differentiate PANDAS and Tourette syndrome from controls. Neurology 66(10):1612

Dursun SM, Farrar G, Handley SL, Rickards H, Betts T, Corbett JA (1994) Elevated plasma kynurenine in Tourette syndrome. Mol Chem Neuropathol 21(1):55–60

Gaynor CM, Rickards EHG, Kariyawasam SH, Sidey FM, Robertson MM, Corbett JA (1997) Increased plasma kynurenine in Tourette syndrome may be due to induction of IDO. J Psychopharmacol 11:A23

Gaynor CM, Handley SL (2001) Effects of nicotine on head-shakes and tryptophan metabolites. Psychopharmacology (Berl.) 153(3):327–333

Heyes MP, Brew BJ, Saito K, Quearry BJ, Price RW, Lee K, Bhalla RB, Der M, Markey SP (1992) Inter-relationships between quinolinic acid, neuroactive kynurenines, neopterin and β2 microglobulin in cerebrospinal fluid and serum of HIV-1-infected patients. J Neuroimmunol 40(1):71–80

Hoekstra PJ, Anderson GM, Limburg PC, Korf J, Kallenberg CG, Minderaa RB (2004a) Neurobiology and neuroimmunology of Tourette's syndrome: an update. Cell Mol Life Sci 61(7–8):886–898

Hoekstra PJ, Steenhuis MP, Troost PW, Korf J, Kallenberg CG, Minderaa RB (2004b) Relative contribution of attention-deficit hyperactivity disorder, obsessive-compulsive disorder, and tic severity to social and behavioural problems in tic disorders. J Dev Behav Pediatr 25(4):272–279

Hoekstra PJ, Minderaa RB (2005) Tic disorders and obsessive-compulsive disorder: is autoimmunity involved? Int Rev Psychiatry 17(6):497–502

Kirvan CA, Swedo SE, Kurahara D, Cunningham MW (2006) Streptococcal mimicry and antibody-mediated cell signaling in the pathogenesis of Sydenham's chorea. Autoimmunity 39(1):21–29

Kurlan R (2004) The PANDAS hypothesis: losing its bite? Mov Disord 19(4):371–374

Leckman JF, Anderson GM, Cohen DJ, Ort S, Harcherik DF, Hoder EL, Shaywitz BA (1984) Whole blood serotonin and tryptophan levels in Tourette's disorder: effects of acute and chronic clonidine treatment. Life Sci 35(25):2497–2503

Leckman JF, Riddle MA, Hardin MT, Ort SI, Swartz KL, Stevenson J, Cohen DJ (1989) The Yale Global Tic Severity Scale: initial testing of a clinician-rated scale of tic severity. J Am Acad Child Adolesc Psychiatry 28(4):566–573

Lepage N, McDonald N, Dallaire L, Lambert M (1997) Age-specific distribution of plasma amino acid concentrations in a healthy pediatric population. Clin Chem 43(12):2397–2402

Luo F, Leckman JF, Katsovich L, Findley D, Grantz H, Tucker DM, Lombroso PJ, King RA, Bessen DE (2004) Prospective longitudinal study of children with tic disorders and/or obsessive-compulsive disorder: relationship of symptom exacerbations to newly acquired streptococcal infections. Pediatrics 113(6):e578–e585

Maes M, Verkerk R, Bonaccorso S, Ombelet W, Bosmans E, Scharpe S (2002) Depressive and anxiety symptoms in the early puerperium are related to increased degradation of tryptophan into kynurenine, a phenomenon which is related to immune activation. Life Sci 71(16):1837–1848

McCreary AC, Handley SL (1995) Kynurenine potentiates the DOI headshake in mice. J Psychopharmacol 9:68–69

Mell LK, Davis RL, Owens D (2005) Association between streptococcal infection and obsessive-compulsive disorder, Tourette's syndrome, and tic disorder. Pediatrics 116(1):56–60

Millner MM, Franthal W, Thalhammer GH, Berghold A, Aigner RM, Fuger GF, Reibnegger G (1998) Neopterin concentrations in cerebrospinal fluid and serum as an aid in differentiating central nervous system and peripheral infections in children. Clin Chem 44(1):161–167

Muller N, Riedel M, Straube A, Gunther W, Wilske B (2000) Increased anti-streptococcal antibodies in patients with Tourette's syndrome. Psychiatry Res 94(1):43–49

Murphy TK, Goodman WK, Ayoub EM, Voeller KK (2000) On defining Sydenham's chorea: where do we draw the line? Biol Psychiatry 47(10):851–857

Peterson BS, Leckman JF, Tucker D, Scahill L, Staib L, Zhang H, King R, Cohen DJ, Gore JC, Lombroso P (2000) Preliminary findings of antistreptococcal antibody titers and basal ganglia volumes in tic, obsessive-compulsive, and attention deficit/hyperactivity disorders. Arch Gen Psychiatry 57(4):364–372

Rickards H, Dursun SM, Farrar G, Betts T, Corbett JA, Handley SL (1996) Increased plasma kynurenine and its relationship to neopterin and tryptophan in Tourette's syndrome. Psychol Med 26(4):857–862

Schennach H, Murr C, Gachter E, Mayersbach P, Schonitzer D, Fuchs D (2002) Factors influencing serum neopterin concentrations in a population of blood donors. Clin Chem 48(4):643–645

Singer HS, Hong JJ, Yoon DY, Williams PN (2005) Serum autoantibodies do not differentiate PANDAS and Tourette syndrome from controls. Neurology 65(11):1701–1717

Swedo SE, Leonard HL, Garvey M, Mittleman B, Allen AJ, Perlmutter S, Lougee L, Dow S, Zamkoff J, Dubbert BK (1998) Pediatric autoimmune neuropsychiatric disorders associated with streptococcal infections: clinical description of the first 50 cases. Am J Psychiatry 155(2):264–271

Waldrep DA (2002) Two cases of ADHD following GABHS infection: a PANDAS subgroup? J Am Acad Child Adolesc Psychiatry 41(11):1273–1274

Walker KG, Lawrenson J, Wilmshurst JM (2005) Neuropsychiatric movement disorders following streptococcal infection. Dev Med Child Neurol 47(11):771–775

Widner B, Werner ER, Schennach H, Wachter H, Fuchs D (1997) Simultaneous measurement of serum tryptophan and kynurenine by HPLC. Clin Chem 43(12):2424–2426

Widner B, Laich A, Sperner-Unterweger B, Ledochowski M, Fuchs D (2002) Neopterin production, tryptophan degradation, and mental depression-What is the link? Brain, Behav Immun 16(5):590–595

Yamazaki F, Kuroiwa T, Takikawa T, Kido R (1985) Human indoleamine 2,3 dioxygenase, its tissue distribution, and characterization of the placental enzyme. Biochem J 230(3):635–638

Yasui H, Takai K, Yoshida R, Hayaishi O (1986) Interferon enhances tryptophan metabolism by inducing pulmonary indoleamine 2,3-dioxygenase: its possible occurrence in cancer patients. Proc Natl Acad Sci U S A 83(17):6622–6626
About this article
Cite this article
Hoekstra, P.J., Anderson, G.M., Troost, P.W. et al. Plasma kynurenine and related measures in tic disorder patients. Eur Child Adolesc Psychiatry 16 (Suppl 1), 71–77 (2007). https://doi.org/10.1007/s00787-007-1009-1
Published:

Issue Date:

DOI: https://doi.org/10.1007/s00787-007-1009-1
Keywords
tic disorders

kynurenine

tryptophan

neopterin

indoleamine 2,3-dioxygenase

cortisol