Abstract
Pellagra is a potentially fatal, nutritional disease with cutaneous, gastrointestinal, and neuropsychiatric manifestations. Because of the diversity of pellagra's signs and symptoms, diagnosis is difficult without an appropriate index of suspicion. A case of pellagra in a 14-year-old girl with anorexia nervosa is presented. Signs and symptoms of pellagra were resolved after niacin therapy and dietary treatment.
This is a preview of subscription content, log in to check access.
Access options
Buy single article
Instant access to the full article PDF.
US$ 39.95
Price includes VAT for USA
Subscribe to journal
Immediate online access to all issues from 2019. Subscription will auto renew annually.
US$ 199
This is the net price. Taxes to be calculated in checkout.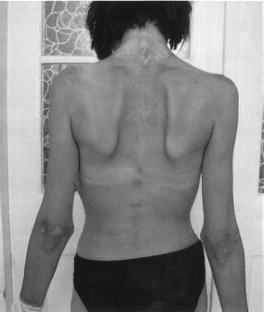 References
1.

Cleary MJ, Cleary JP (1989) Anorexia nervosa: a form of subclinical pellagra. Int Clin Nutr Rev 9:137–143

2.

Comerci GD (1990) Medical complications of anorexia nervosa and bulimia nervosa. Med Clin North Am 74(5):1293–1309

3.

Evans VL (1939) Pellagra with psychosis and minimal physical symptoms. JAMA 112:1249–1250

4.

Judd LE, Poskitt BL (1991) Pellagra in a patent with eating disorder. Brit J Dermatol 125:71–72

5.

Palla B, Litt I (1991) Medical complications of eating disorders in adolescents. Pediatrics 81(5):613–623

6.

Rapaport MJ (1985) Pellagra in patient with anorexia nervosa. Arch Dermatol 121:255–257

7.

Sauberlich HE (1984) Newer laboratory methods for assessing nutriture of selected B-complex vitamins. Annu Rev Nutr. 4:377–407

8.

Steinhausen HCh, Glanville K (1983) A long term follow-up of adolescent anorexia nervosa. Acta Psychiatr Scand 68(1):1–10

9.

Strumia R (2005) Dermatologic signs in patients with eating disorders. Am J Clin Dermatol 6(3):165–173

10.

Wilson JD (1985) Vitamin deficiency and excess. In: Fauci AS, Braunwald E, Isselbacher KJ, et al. (eds) Harrison's principles of internal medicine, vol 1,14th edn. McGraw-ill Co, Inc, New York, NY, pp 480–489
Acknowledgement
This work was supported by grant 2M7/N/2005 from The Medical University of Warszaw.
About this article
Cite this article
Jagielska, G., Tomaszewicz-Libudzic, C. & Brzozowska, A. Pellagra: a rare complication of anorexia nervosa. Eur Child Adolesc Psychiatry 16, 417–420 (2007). https://doi.org/10.1007/s00787-007-0613-4
Accepted:

Published:

Issue Date:
Keywords
anorexia nervosa

pellagra

niacin