Abstract
Objectives
Knowledge about the impact of gastroplasty on oral health and salivary biomarkers is limited. The aim was to prospectively evaluate oral health status, salivary inflammatory markers, and microbiota in patients undergoing gastroplasty compared with a control group undergoing a dietary program.
Materials and methods
Forty participants with obesity class II/III were included (20 individuals in each sex-matched group; 23–44 years). Dental status, salivary flow, buffering capacity, inflammatory cytokines, and uric acid were assessed. Salivary microbiological analysis (16S-rRNA sequencing) assessed the abundance of genus, species, and alpha diversity. Cluster analysis and mixed-model ANOVA were applied.
Results
Oral health status, waist-to-hip ratio, and salivary alpha diversity were associated at baseline. A subtle improvement in food consumption markers was observed, although caries activity increased in both groups, and the gastroplasty group showed worse periodontal status after three months. IFNγ and IL10 levels decreased in the gastroplasty group at 3 months, while a decrease was observed in the control group at 6 months; IL6 decreased in both groups (p < 0.001). Salivary flow and buffering capacity did not change. Significant changes in Prevotella nigrescens and Porphyromonas endodontalis abundance were observed in both groups, while alpha diversity (Sobs, Chao1, Ace, Shannon, and Simpson) increased in the gastroplasty group.
Conclusions
Both interventions changed in different degrees the salivary inflammatory biomarkers and microbiota, but did not improve the periodontal status after 6 months.
Clinical relevance
Although the observed discrete improvement in dietary habits, caries activity increased with no clinical improvement in the periodontal status, emphasizing the need of oral health monitoring during obesity treatment.
This is a preview of subscription content,
to check access.
Access this article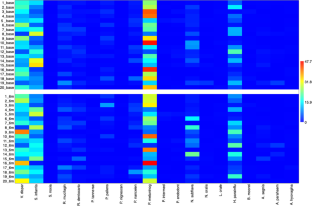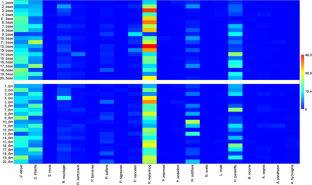 Data availability
Data will be made available upon reasonable request to the corresponding author.
Abbreviations
BMI:

Body mass index

CPI:

Community Periodontal Index

DMFT:

Decayed, missed, and filled teeth

OUT:

Operational taxonomic units

ANOVA:

Analysis of variance
References
NCD Risk Factor Collaboration (NCD-RisC) (2017) Worldwide trends in body-mass index, underweight, overweight, and obesity from 1975 to 2016: a pooled analysis of 2416 population-based measurement studies in 128·9 million children, adolescents, and adults. Lancet 390(10113):2627–2642. https://doi.org/10.1016/S0140-6736(17)32129-3

Brasil. Ministério da Saúde (2020) Vigitel Brasil 2019: vigilância de fatores de risco e proteção para doenças crônicas por inquérito telefônico. Ministério da Saúde, Brasília

Ricci MA, De Vuono S, Scavizzi M, Gentili A, Lupattelli G (2016) Facing morbid obesity: how to approach it. Angiology 67:391–397. https://doi.org/10.1177/0003319715595735

Hales CM, Fryar CD, Carroll MD, Freedman DS, Ogden CL (2018) Trends in obesity and severe obesity prevalence in US youth and adults by sex and age, 2007–2008 to 2015–2016. JAMA 319:1723–1725. https://doi.org/10.1001/jama.2018.3060

Malta DC, Silva AGD, Tonaco LAB, Freitas MIF, Velasquez-Melendez G (2019) Time trends in morbid obesity prevalence in the Brazilian adult population from 2006 to 2017. Cad Saude Publica 35:e00223518. https://doi.org/10.1590/0102-311X00223518

Rosa SC, Macedo JLS, Canedo LR, Casulari LA (2019) Quality of life and predictive factors for complications in patients undergoing abdominoplasty after gastric bypass: a retrospective cohort. Surg Obes Relat Dis 15:447–455. https://doi.org/10.1016/j.soard.2018.12.034

Madan AK, Orth W, Ternovits CA, Tichansky DS (2006) Metabolic syndrome: yet another co-morbidity gastric bypass helps cure. Surg Obes Relat Dis 2:48–51. https://doi.org/10.1016/j.soard.2005.09.014. (discussion 51)

de Moura-Grec PG, Yamashita JM, Marsicano JA, Ceneviva R, de Souza Leite CV, de Brito GB et al (2014) Impact of bariatric surgery on oral health conditions: 6-months cohort study. Int Dent J 64:144–149. https://doi.org/10.1111/idj.12090

Marquezin MCS, Scudine KGO, Lamy E, Finassi CM, Carreira L, Segura WD et al (2022) Impact of gastroplasty on salivary characteristics, dental health status and oral sensory aspects: a controlled clinical study. J Oral Rehabil 25. https://doi.org/10.1111/joor.13353

Alves MSC, Silva FACC, Araújo SG, Carvalho ACA, Santos AM, Carvalho ALA (2012) Tooth wear in patients submitted to bariatric surgery. Braz Dental J 23:160–166. https://doi.org/10.1590/S0103-64402012000200012

Castilho AVSS, Foratori-Junior GA, Sales-Peres SHC (2019) Bariatric surgery impact on gastroesophageal reflux and dental wear: a systematic review. ABCD Arq Bras Cir Dig 32:e1466. https://doi.org/10.1590/0102-672020190001e1466

Miranda-Rius J, Brunet-Llobet L, Lahor-Soler E, Farré M (2015) Salivary secretory disorders, inducing drugs, and clinical management. Int J Med Sci 12:811–824. https://doi.org/10.7150/ijms.12912

Turner MD (2016) Hyposalivation and xerostomia: etiology, complications, and medical management. Dent Clin North Am 60:435–443. https://doi.org/10.1016/j.cden.2015.11.003

Hashizume LN, Bastos LF, Cardozo DD, Hilgert JB, Hugo FN, Stein AT et al (2015) Impact of bariatric surgery on the saliva of patients with morbid obesity. Obes Surg 25:1550–1555. https://doi.org/10.1007/s11695-015-1741-4

Yamashita Y, Takeshita T (2017) The oral microbiome and human health. J Oral Sci 59:201–206. https://doi.org/10.2334/josnusd.16-0856

Belstrøm D (2020) The salivary microbiota in health and disease. J Oral Microbiol 12:1723975. https://doi.org/10.1080/20002297.2020.1723975

Socransky SS, Haffajee AD (2005) Periodontal microbial ecology. Periodontol 2000 38:135–187. https://doi.org/10.1111/j.1600-0757.2005.00107.x

Raju SC, Lagström S, Ellonen P, de Vos WM, Eriksson JG, Weiderpass E et al (2019) Gender-specific associations between saliva microbiota and body size. Front Microbiol 10:767. https://doi.org/10.3389/fmicb.2019.00767

Koliarakis I, Messaritakis I, Nikolouzakis TK, Hamilos G, Souglakos J, Tsiaoussis J (2019) Oral bacteria and intestinal dysbiosis in colorectal cancer. Int J Mol Sci 20:4146. https://doi.org/10.3390/ijms20174146

Dupim Souza AC, Franco CF, Pataro AL, Guerra T, de Oliveira CF, da Costa JE (2013) Halitosis in obese patients and those undergoing bariatric surgery. Surg Obes Relat Dis 9:315–321. https://doi.org/10.1016/j.soard.2011.10.020

Brasil (2015) Orientações para avaliação de marcadores de consumo alimentar na atenção básica. Ministério da Saúde, Secretaria de Atenção à Saúde, Departamento de Atenção Básica. Brasília: Ministério da Saúde. Available online at: http://bvsms.saude.gov.br/bvs/publicacoes/marcadores_consumo_alimentar_atencao_basica.pdf . Last access 10 Aug 2022

Marquezin MCS, Chaves-Júnior SC, Rasera I Jr, Pacheco ERP, Gavião MBD, Lamy E et al (2020) Oral health and nutritional characteristics of adults with morbid obesity: a multivariate analysis. Front Nutr 7:589510. https://doi.org/10.3389/fnut.2020.589510

World Health Organization (2013) Oral health surveys: basic methods. World Health Organization, Geneva

Araujo DS, Scudine KGO, Pedroni-Pereira A, Gavião MBD, Pereira EC, Fonseca FLA et al (2020) Salivary uric acid is a predictive marker of body fat percentage in adolescents. Nutr Res 74:62–70. https://doi.org/10.1016/j.nutres.2019.11.007

Vakh C, Koronkiewicz S, Kalinowski S, Moskvin L, Bulatov A (2017) An automatic chemiluminescence method based on the multi-pumping flow system coupled with the fluidized reactor and direct-injection detector: determination of uric acid in saliva samples. Talanta 15(167):725–732. https://doi.org/10.1016/j.talanta.2017.02.009

Griffen AL, Beall CJ, Campbell JH, Firestone ND, Kumar PS, Yang ZK et al (2012) Distinct and complex bacterial profiles in human periodontitis and health revealed by 16S pyrosequencing. ISME J 6:1176–1185. https://doi.org/10.1038/ismej.2011.191

Chen H, Liu Y, Zhang M, Wang G, Qi Z, Bridgewater L et al (2015) A Filifactor alocis-centered co-occurrence group associates with periodontitis across different oral habitats. Sci Rep 12(5):9053. https://doi.org/10.1038/srep09053

Genco RJ, LaMonte MJ, McSkimming DI, Buck MJ, Li L, Hovey KM et al (2019) The subgingival microbiome relationship to periodontal disease in older women. J Dent Res 98:975–984. https://doi.org/10.1177/0022034519860449

Takeshita T, Kageyama S, Furuta M, Tsuboi H, Takeuchi K, Shibata Y et al (2016) Bacterial diversity in saliva and oral health-related conditions: the Hisayama Study. Sci Rep 24(6):22164. https://doi.org/10.1038/srep22164

Marsicano JA, Sales-Peres A, Ceneviva R, de C Sales-Peres SH (2012) Evaluation of oral health status and salivary flow rate in obese patients after bariatric surgery. Eur J Dent 6:191–192

Doğan GE, Toraman A, Şebin SÖ, Doğan Ç, Güngör A, Aksoy H et al (2016) Salivary IL-6 and IL-10 levels in subjects with obesity and gingivitis. Am J Dent 29:261–265

İnanir M (2020) Serum uric acid (SUA) in morbidly obese patients and its relationship with metabolic syndrome. Aging male 23:1165–1169. https://doi.org/10.1080/13685538.2020.1713742

Soukup M, Biesiada I, Henderson A, Idowu B, Rodeback D, Ridpath L et al (2012) Salivary uric acid as a noninvasive biomarker of metabolic syndrome. Diabetol Metab Syndr 19(4):14. https://doi.org/10.1186/1758-5996-4-14

Troisi J, Belmonte F, Bisogno A, Lausi O, Marciano F, Cavallo P et al (2019) Salivary markers of hepato-metabolic comorbidities in pediatric obesity. Dig Liver Dis 51:516–523. https://doi.org/10.1016/j.dld.2018.11.009

Fontanille I, Boillot A, Rangé H, Carra MC, Sales-Peres SHC, Czernichow S et al (2018) Bariatric surgery and periodontal status: a systematic review with meta-analysis. Surg Obes Relat Dis 14:1618–1631. https://doi.org/10.1016/j.soard.2018.07.017

Serpa Neto A, Rossi FM, Valle LG, Teixeira GK, Rossi M (2011) Relation of uric acid with components of metabolic syndrome before and after Roux-en-Y gastric bypass in morbidly obese subjects. Arq Bras Endocrinol Metabol 55:38–45. https://doi.org/10.1590/s0004-27302011000100005

Menenakos E, Doulami G, Tzanetakou IP, Natoudi M, Kokoroskos N, Almpanopoulos K et al (2015) The use of serum uric acid concentration as an indicator of laparoscopic sleeve gastrectomy success. Int Surg 100:173–179. https://doi.org/10.9738/INTSURG-D-13-00186.1

Oberbach A, Neuhaus J, Schlichting N, Kugler J, Baumann S, Till H (2014) Sleeve gastrectomy reduces xanthine oxidase and uric acid in a rat model of morbid obesity. Surg Obes Relat Dis 10:684–690. https://doi.org/10.1016/j.soard.2013.12.010

Lu C, Li Y, Li L, Kong Y, Shi T, Xiao H et al (2020) Alterations of serum uric acid level and gut microbiota after Roux-en-Y gastric bypass and sleeve gastrectomy in a hyperuricemic rat model. Obes Surg 30:1799–1807. https://doi.org/10.1007/s11695-019-04328-y

Valm AM (2019) The structure of dental plaque microbial communities in the transition from health to dental caries and periodontal disease. J Mol Biol 26(431):2957–2969. https://doi.org/10.1016/j.jmb.2019.05.016

Maitre I, Lourtioux F, Picouet P, Braud A (2020) Oral health-related food selectivity among French independently living elders. J Oral Rehabil 47:511–522. https://doi.org/10.1111/joor.12931

Northridge ME, Kumar A, Kaur R (2020) Disparities in access to oral health care. Annu Rev Public Health 2(41):513–535. https://doi.org/10.1146/annurev-publhealth-040119-094318

Paes Leme AF, Koo H, Bellato CM, Bedi G, Cury JA (2006) The role of sucrose in cariogenic dental biofilm formation–new insight. J Dent Res 85:878–887. https://doi.org/10.1177/154405910608501002

Araujo DS, Klein MI, Scudine KGO, de Sales LL, Parisotto TM, Ferreira CM et al (2020) Salivary microbiological and gingival health status evaluation of adolescents with overweight and obesity: a cluster analysis. Front Pediatr 31(8):429. https://doi.org/10.3389/fped.2020.00429

Piombino P, Genovese A, Esposito S, Moio L, Cutolo PP, Chambery A et al (2014) Saliva from obese individuals suppresses the release of aroma compounds from wine. PLoS One 9:e85611. https://doi.org/10.1371/journal.pone.0085611

Bombin A, Yan S, Bombin S, Mosley JD, Ferguson JF (2022) Obesity influences composition of salivary and fecal microbiota and impacts the interactions between bacterial taxa. Physiol Rep 10:e15254. https://doi.org/10.14814/phy2.15254

Bartold PM, Cantley MD, Haynes DR (2010) Mechanisms and control of pathologic bone loss in periodontitis. Periodontol 2000 53:55–69. https://doi.org/10.1111/j.1600-0757.2010.00347.x

Costalonga M, Herzberg MC (2014) The oral microbiome and the immunobiology of periodontal disease and caries. Immunol Lett 162:22–38. https://doi.org/10.1016/j.imlet.2014.08.017

Hajishengallis G, Lamont RJ (2012) Beyond the red complex and into more complexity: the polymicrobial synergy and dysbiosis (PSD) model of periodontal disease etiology. Mol Oral Microbiol 27:409–419. https://doi.org/10.1111/j.2041-1014.2012.00663.x

Moraes LC, Fatturi-Parolo CC, Ferreira MB, Só MV, Montagner F (2015) Saliva, supragingival biofilm and root canals can harbor gene associated with resistance to lactamic agents. Braz Oral Res 29:52

Vancauwenberghe F, Dadamio J, Laleman I, Van Tornout M, Teughels W, Coucke W et al (2013) The role of Solobacterium moorei in oral malodour. J Breath Res 7:046006

Wilmanski T, Rappaport N, Earls JC, Magis AT, Manor O, Lovejoy J et al (2019) Blood metabolome predicts gut microbiome α-diversity in humans. Nat Biotechnol 37:1217–1228. https://doi.org/10.1038/s41587-019-0233-9

Chumponsuk T, Gruneck L, Gentekaki E et al (2021) The salivary microbiota of Thai adults with metabolic disorders and association with diet. Arch Oral Biol 122:105036. https://doi.org/10.1016/j.archoralbio.2020.105036
Funding
This work was supported by the State of São Paulo Research Foundation (FAPESP, SP, Brazil, grants number 2016/10940-9, 2017/26400-6 and 2020/16020-4) and the Coordenação de Aperfeiçoamento de Pessoal de Nível Superior (CAPES/financial code 001 - scholarship). The funding sources were not involved in the data collection, analysis, and interpretation; neither in the manuscript writing and in the decision to submit it for publication.
Ethics declarations
Ethical approval
This study was approved by the Research Ethics Committee of the Universidade Federal de São Paulo (CAAE 78018517.1.0000.5505). All procedures performed were in accordance with the ethical standards of the institutional and national research committees and with the latest version of the Helsinki Declaration.
Informed consent
Written free and informed consent was obtained from all participants included in the study.
Conflict of interest
The authors declare no competing interests.
Additional information
Publisher's note
Springer Nature remains neutral with regard to jurisdictional claims in published maps and institutional affiliations.
Supplementary Information
Below is the link to the electronic supplementary material.
Rights and permissions
Springer Nature or its licensor (e.g. a society or other partner) holds exclusive rights to this article under a publishing agreement with the author(s) or other rightsholder(s); author self-archiving of the accepted manuscript version of this article is solely governed by the terms of such publishing agreement and applicable law.
About this article
Cite this article
Ribeiro, A.S.P., Marquezin, M.C.S., Pacheco, E.R.P. et al. Bypass gastroplasty impacts oral health, salivary inflammatory biomarkers, and microbiota: a controlled study. Clin Oral Invest 27, 4735–4746 (2023). https://doi.org/10.1007/s00784-023-05101-3
Received:

Accepted:

Published:

Issue Date:

DOI: https://doi.org/10.1007/s00784-023-05101-3
Keywords