Abstract
Objectives
This study aimed to determine if standardized palpations of the temporalis muscle evoke referred pain and/or sensations in individuals without TMD.
Materials and methods
This was a randomized, single-blinded study. The mechanical sensitivity of the right temporalis muscle was assessed in 32 participants without TMD with nine different stimulations to 15 test sites using palpometers (different stimulus intensities (0.5, 1.0, and 2.0 kg) and durations (2, 5, and 10 s). After each stimulus, participants were asked to score perceived pain intensity and intensity of unpleasantness on a 0–100 numeric rating scale as an indicator of mechanical sensitivity in the temporalis muscle and to indicate any areas of referred pain/sensations on a body chart.
Results
Pain intensity significantly differed between palpation durations, intensities, and test sites (P < 0.001). In contrast, unpleasantness significantly differed between palparation duration and intensities (P < 0.001), but not test sites. Participants more frequently reported referred pain/sensations evoked by the 10-s (34.4%) as opposed to the 2-s (6.3%) and 5-s (15.6%) palpation duration at the 2.0-kg stimulus intensity (P < 0.05).
Conclusions
Our present results indicate that referred pain/sensations in the orofacial region can be evoked by standardized palpation of the temporalis muscle and influenced by the palpation duration in individuals without TMD.
Clinical relevance
Referred pain/sensations from the temporalis muscle were duration- and intensity-dependent processes originating from local stimuli.
Access options
Buy single article
Instant access to the full article PDF.
USD 39.95
Price excludes VAT (USA)
Tax calculation will be finalised during checkout.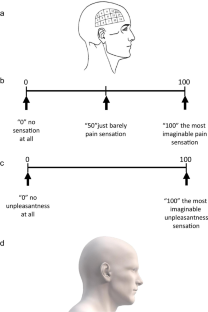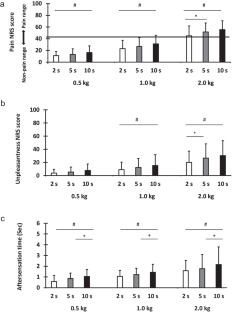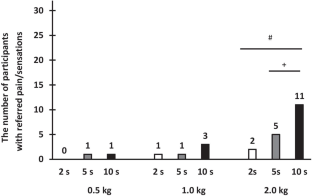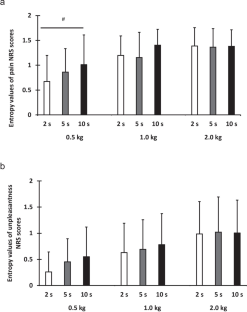 References
Fumal A, Schoenen J (2008) Tension-type headache: current research and clinical management. Lancet Neurol 7:70–83. https://doi.org/10.1016/S1474-4422(07)70325-3

Alonso-Blanco C, Fernández-de-las-Peñas C, Fernández-Mayoralas DM et al (2011) Prevalence and anatomical localization of muscle referred pain from active trigger points in head and neck musculature in adults and children with chronic tension-type headache. Pain Med 12:1453–1463. https://doi.org/10.1111/j.1526-4637.2011.01204

Bendtsen L, Fernández-De-La-Peñas C (2011) The role of muscles in tension-type headache. Curr Pain Headache Rep 15:451–458. https://doi.org/10.1007/s11916-011-0216-0

Fernández-De-Las-Peñas C, Alonso-Blanco C, Cuadrado ML et al (2006) Myofascial trigger points and their relationship to headache clinical parameters in chronic tension-type headache. Headache 46:1264–1272. https://doi.org/10.1111/j.1526-4610.2006.00440

Craig AD (2003) Pain mechanisms: Labeled lines versus convergence in central processing. Annu Rev Neurosci 26:1–30. https://doi.org/10.1146/annurev.neuro.26.041002.131022

Sessle BJ, Hu JW, Amano N, Zhong G (1986) Convergence of cutaneous, tooth pulp, visceral, neck and muscle afferents onto nociceptive and non-nociceptive neurones in trigeminal subnucleus caudalis (medullary dorsal horn) and its implications for referred pain. Pain 27:219–235. https://doi.org/10.1016/0304-3959(86)90213-7

Nugraha B, Gutenbrunner C, Barke A et al (2019) The IASP classification of chronic pain for ICD-11: Functioning properties of chronic pain. Pain 160:88–94. https://doi.org/10.1097/j.pain.0000000000001433

Schiffman E, Ohrbach R, List T et al (2012) Diagnostic criteria for headache attributed to temporomandibular disorders. Cephalalgia 32:683–692. https://doi.org/10.1177/0333102412446312

Conti PCR, Costa YM, Gonçalves DA, Svensson P (2016) Headaches and myofascial temporomandibular disorders: overlapping entities, separate managements? J Oral Rehabil 43:702–715. https://doi.org/10.1111/joor.12410

Masuda M, Iida T, Exposto F et al (2018) Referred pain and sensations evoked by standardized palpation of the masseter muscle in healthy participants. J Oral Facial Pain Headache 32:159–166. https://doi.org/10.11607/ofph.2019

Cohen J (1989) Statistical power analysis for the behavioural sciences (2nd ed). J Am Stat Assoc 84

Dupont WD, Plummer WD (1998) Power and sample size calculations for studies involving linear regression. Control Clin Trials 19:589–601. https://doi.org/10.1016/S0197-2456(98)00037-3

Schiffman E, Ohrbach R, Truelove E et al (2014) Diagnostic criteria for temporomandibular disorders (DC/TMD) for clinical and research applications: recommendations of the International RDC/TMD Consortium Network* and Orofacial Pain Special Interest Group†. J Oral Facial Pain Headache 28:6–27. https://doi.org/10.11607/jop.1151

Kroenke K, Spitzer RL, Williams JBW, Löwe B (2009) An ultra-brief screening scale for anxiety and depression: The PHQ–4. Psychosomatics 50:613–621. https://doi.org/10.1016/s0033-3182(09)70864-3

Kothari SF, Kothari M, Zambra RF et al (2014) Standardization of muscle palpation - methodological considerations. Clin J Pain 30:174–182. https://doi.org/10.1097/AJP.0b013e31828c893d

Svensson P, Graven-Nielsen T, Arendt-Nielsen L (1998) Mechanical hyperesthesia of human facial skin induced by tonic painful stimulation of jaw muscles. Pain 74:93–100. https://doi.org/10.1016/S0304-3959(97)00156-5

Zagury JG, Eliav E, Heir GM et al (2011) Prolonged gingival cold allodynia: a novel finding in patients with atypical odontalgia. Oral Surg Oral Med Oral Pathol Oral Radiol Endod 111:312–319. https://doi.org/10.1016/j.tripleo.2010.10.008

Boudreau SA, Badsberg S, Christensen SW, Egsgaard LL (2016) Digital pain drawings: assessing touch-screen technology and 3D body schemas. Clin J Pain 32:139–145. https://doi.org/10.1097/AJP.0000000000000230

Castrillon E, Exposto F, Sato H et al (2017) Entropy of masseter muscle pain sensitivity: a new technique for pain assessment. J Oral Facial Pain Headache 31:87–94. https://doi.org/10.11607/ofph.1756

Exposto FG, Udagawa G, Naganawa T, Svensson P (2018) Comparison of masseter muscle referred sensations after mechanical and glutamate stimulation: a randomized, double-blind, controlled, cross-over study. Pain 159:2649–2657. https://doi.org/10.1097/j.pain.0000000000001379

Torebjörk HE, Ochoa JL, Schady W (1984) Referred pain from intraneural stimulation of muscle fascicles in the median nerve. Pain 18:145–156. https://doi.org/10.1016/0304-3959(84)90882-0

Wang YQ, Wang J, Xia S et al (2020) Neuropathic pain generates silent synapses in thalamic projection to anterior cingulate cortex. Pain Publish Ah. https://doi.org/10.1097/j.pain.0000000000002149

Hoheisel U, Mense S, Simons DG, Yu XM (1993) Appearance of new receptive fields in rat dorsal horn neurons following noxious stimulation of skeletal muscle: a model for referral of muscle pain? Neurosci Lett 153:9–12. https://doi.org/10.1016/0304-3940(93)90064-R

Graven-Nielsen T (2006) Fundamentals of muscle pain, referred pain, and deep tissue hyperalgesia. Scand J Rheumatol 35:1–43. https://doi.org/10.1080/03009740600865980

Castrillon EE, Cairns BE, Wang K et al (2012) Comparison of glutamate-evoked pain between the temporalis and masseter muscles in men and women. Pain 153:823–829. https://doi.org/10.1016/j.pain.2012.01.003

Lobbezoo F, Ahlberg J, Glaros AG et al (2013) Bruxism defined and graded: an international consensus. J Oral Rehabil 40:2–4. https://doi.org/10.1111/joor.12011
Funding
This work was supported by JSPS KAKENHI Grant Number JP19K19106.
Ethics declarations
Ethical approval
All procedures performed in studies involving human participants were in accordance with the ethical standards of the institutional and/or national research committee and with the 1964 Helsinki declaration and its later amendments or comparable ethical standards. The study was approved by the Ethics Committee of Nihon University School of Dentistry at Matsudo (EC18-024).
Informed consent
All participants gave their informed consent prior to their inclusion in the study.
Conflict of interest
The authors declare no competing interests.
Additional information
Publisher's Note
Springer Nature remains neutral with regard to jurisdictional claims in published maps and institutional affiliations.
Manabu Masuda and Hidetoshi Hayakawa contributed equally to this study and share first authoership.
About this article
Cite this article
Masuda, M., Hayakawa, H., Boudreau, S.A. et al. Standardized palpation of the temporalis muscle evoke referred pain and sensations in individuals without TMD. Clin Oral Invest 26, 1241–1249 (2022). https://doi.org/10.1007/s00784-021-04096-z
Received:

Accepted:

Published:

Issue Date:

DOI: https://doi.org/10.1007/s00784-021-04096-z
Keywords