Abstract
Objectives
Mandibular advancement device (MAD) therapy is the most commonly used second-line treatment for obstructive sleep apnea (OSA), but MAD may be ineffective in a subgroup of patients. We describe the use of a trial of a titratable thermoplastic MAD to predict treatment outcomes with a custom-made MAD.
Materials and methods
Patients treated with a thermoplastic MAD as a trial before custom-made MAD manufacturing were included in the study. Sleep recordings and clinical outcomes assessed after 6 months of treatment with each device were compared. Predictive utility of thermoplastic MAD to identify custom-made MAD treatment success defined as a reduction greater than 50% and final apnea-hypopnea index (AHI) less than 10 events/h was evaluated.
Results
Thermoplastic MADs were installed in 111 patients, but only 36 patients were finally treated with both devices and were included in the analysis. A significant correlation was observed between the impact of the two devices on the AHI (r=0.85, p<0.0001), oxygen desaturation index (r=0.73, p<0.0001), snoring index (r=0.85, p<0.0001), and Epworth sleepiness scale (r=0.77, p<0.0001). A high positive predictive value (86%) but a low negative predictive value (46%) was observed regarding AHI decrease.
Conclusions
Similar impacts of both MADs were observed on major OSA severity markers and symptoms. The ability of thermoplastic MAD to indicate likelihood of success with custom-made MAD will require further controlled studies.
Clinical relevance
Thermoplastic MADs could represent a useful and easily implemented tool to predict the likelihood of success of a custom-made MAD as treatment for OSA.
Access options
Buy single article
Instant access to the full article PDF.
US$ 39.95
Tax calculation will be finalised during checkout.
Subscribe to journal
Immediate online access to all issues from 2019. Subscription will auto renew annually.
US$ 79
Tax calculation will be finalised during checkout.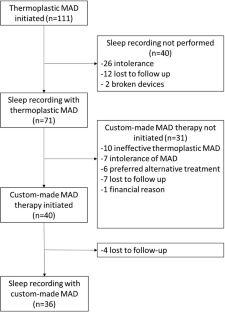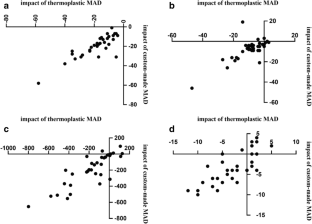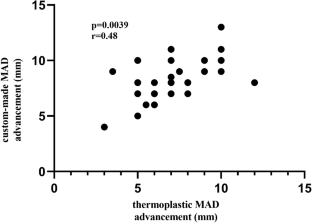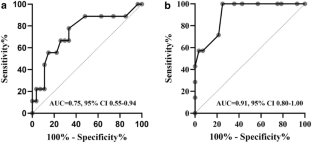 Funding
This work was funded by the Institut de Recherche en Santé Respiratoire (IRSR) des Pays de la Loire (9 rue du landreau – BP 77132 – 49071 Beaucouze cedex, France). The content of this manuscript is solely the responsibility of the authors.
Ethics declarations
Ethics approval
All procedures performed in studies involving human participants were in accordance with the ethical standards of the institutional and national research committee and with the 1964 Helsinki declaration and its later amendments or comparable ethical standards. Approval was obtained from the University of Angers Ethics Committee and the "Comité Consultatif sur le Traitement de l'Information en matière de Recherche dans le domaine de la Santé" (07.207bis).
Informed consent
Informed consent was obtained from all individual participants included in the study.
Conflict of Interest
WT and NM report non-financial support from ASTEN. FG reports grants and personal fees from RESMED, personal fees and non-financial support from SEFAM, personal fees from CIDELEC, personal fees and non-financial support from NOVARTIS, personal fees from ACTELION, non-financial support from BOEHRINGER INGELHEIM, personal fees and non-financial support from AIR LIQUIDE SANTE, non-financial support from ASTEN, and personal fees and non-financial support from NYXOAH unrelated to the submitted work.
Additional information
Publisher's note
Springer Nature remains neutral with regard to jurisdictional claims in published maps and institutional affiliations.
About this article
Cite this article
Trzepizur, W., Adrian, B., Le Vaillant, M. et al. Predicting treatment response to mandibular advancement therapy using a titratable thermoplastic device. Clin Oral Invest (2021). https://doi.org/10.1007/s00784-021-03865-0
Received:

Accepted:

Published:
Keywords
Sleep apnea

Custom-made mandibular advancement device

Thermoplastic mandibular advancement device