Abstract
Objective
To evaluate the efficiency of depigmentation, patient perceptions, and the recurrence rates of physiological gingival pigments during a 2-year follow-up after ablative depigmentation using two laser wavelengths: diode 940 nm and Er,Cr:YSGG 2780 nm.
Materials and methods
Sixty patients exhibiting physiological melanin hyperpigmentation in the buccal maxillary gingiva were randomly divided into two equal groups treated with an Er,Cr:YSGG laser at 2780 nm, and a 940 nm diode laser, respectively. The depigmentation procedure essentially involves the ablation of epithelial tissue exhibiting melanin pigmentation. The intensity and extensity indices of gingival pigments were evaluated at baseline, 1 month, 1 year, and 2 years.
Results
At all time points following depigmentation treatment, oral pigmentation index (OPI) and melanin pigmentation index (MPI) scores were less significantly (p <0.05) compared to the baseline in both groups. Treatment was significantly faster with Er,Cr:YSGG laser and required no anesthesia, with faster healing and less postoperative discomfort after 1-week of treatment, compared to the diode laser treatment (p <0.001). The re-pigmentation intensity and extensity were higher significantly in the Er,Cr:YSGG group than in the diode group at 1 year and 2 years (p <0.05).
Conclusion
Both lasers efficiently removed gingival pigments with comparable clinical outcomes and overall positive patient experience. Diode laser treatment exhibited better long-term stability of gingival color, with a lower incidence of re-pigmentation.
Clinical relevance
The color of the gingiva plays an important role in the esthetics of oral soft tissues and the overall ideal smile. Laser-assisted gingival depigmentation is an effective, comfortable, and reliable technique with good esthetical outcomes. The rate of re-pigmentation was affected by the laser wavelength and the technique used.
Access options
Buy single article
Instant access to the full article PDF.
USD 39.95
Price excludes VAT (USA)
Tax calculation will be finalised during checkout.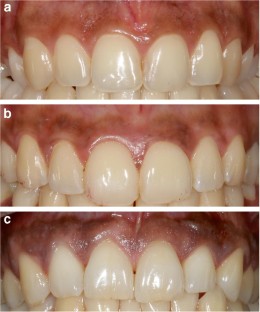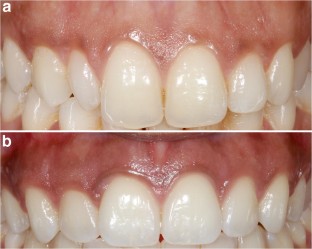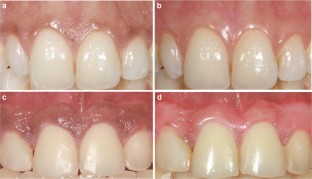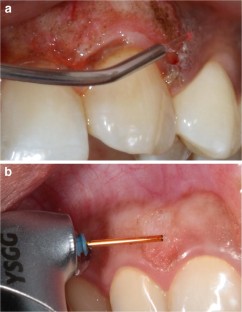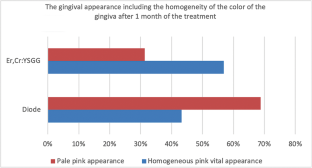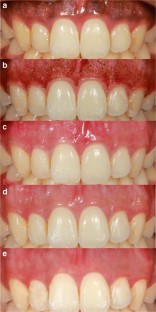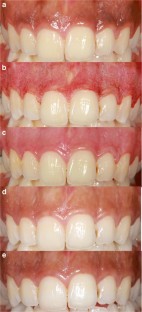 Notes
Iplus Waterlase, Biolase, Irvine, CA, USA.

Epic X, Biolase, Irvine, CA, USA.

Ubistesin™ 1/200,000, 3M ESPE AG, Germany.
References
Feller L, Masilana A, Khammissa RAG, Altini M, Jadwat Y, Lemmer J (2014) Melanin: the biophysiology of oral melanocytes and physiological oral pigmentation. Head Face Med 10:1–7. https://doi.org/10.1186/1746-160X-10-8

Squier CA, Kremer MJ (2001) Biology of oral mucosa and esophagus. J Natl Cancer Inst Monogr 2001:7–15. https://doi.org/10.1093/oxfordjournals.jncimonographs.a003443

Jones J, McFall WTJ (1977) A photometric study of the color of health gingiva. J Periodontol 48:21–26. https://doi.org/10.1902/jop.1977.48.1.21

Batra P, Daing A, Azam I et al (2018) Impact of altered gingival characteristics on smile esthetics: Laypersons' perspectives by Q sort methodology. Am J Orthod Dentofac Orthop 154:82–90.e2. https://doi.org/10.1016/j.ajodo.2017.12.010

Müller S (2010) Melanin-associated pigmented lesions of the oral mucosa: presentation, differential diagnosis, and treatment. Dermatol Ther 23:220–229. https://doi.org/10.1111/j.1529-8019.2010.01319.x

Breathnach AS (1981) Differentiation of Human Oral Stratified Epithelia. J Anat 133:460

Kathariya R, Pradeep AR (2011) Split mouth de-epithelization techniques for gingival depigmentation: a case series and review of literature. J Indian Soc Periodontol 15:161–168

Murthy MB, Kaur J, Das R (2012) Treatment of gingival hyperpigmentation with rotary abrasive, scalpel, and laser techniques: a case series. J Indian Soc Periodontol 16:614–619. https://doi.org/10.4103/0972-124X.106933

Gufran K (2016) A comparative evaluation of two different techniques for esthetic management of gingival melanin hyperpigmentation: a clinical study. J Dent Res Rev 3:13. https://doi.org/10.4103/2348-2915.180109

Narayankar SD, Deshpande NC, Dave DH, Thakkar DJ (2017) Comparative evaluation of gingival depigmentation by tetrafluroethane cryosurgery and surgical scalpel technique. a randomized clinical study. Contemp Clin Dent 8:90–95. https://doi.org/10.4103/ccd.ccd_1017_16

Mahesh H, Harish M, Shashikumar B, Ramya K (2012) Gingival pigmentation reduction: a novel therapeutic modality. J Cutan Aesthet Surg 5:137–140. https://doi.org/10.4103/0974-2077.99458

Shimada Y, Tai H, Tanaka A, Ikezawa-Suzuki I, Takagi K, Yoshida Y, Yoshie H (2009) Effects of ascorbic acid on gingival melanin pigmentation in vitro and in vivo. J Periodontol 80:317–323. https://doi.org/10.1902/jop.2009.080409

Luk K, Anagnostaki E (2017) Impact of laser dentistry in management of color in aesthetic zone. In: lasers in dentistry—current concepts. Springer International Publishing, Cham, pp 337–358

Taher Agha M, Polenik P (2020) Laser Treatment for melanin gingival pigmentations: a comparison study for 3 laser wavelengths 2780, 940, and 445 nm. Int J Dent 2020:1–11. https://doi.org/10.1155/2020/3896386

Ishikawa I, Aoki A, Takasaki AA, Mizutani K, Sasaki KM, Izumi Y (2009) Application of lasers in periodontics: true innovation or myth? Periodontol 2000(50):90–126. https://doi.org/10.1111/j.1600-0757.2008.00283.x

Bakhshi M, Rahmani S, Rahmani A (2015) Lasers in esthetic treatment of gingival melanin hyperpigmentation: a review article. Lasers Med Sci 30:2195–2203. https://doi.org/10.1007/s10103-015-1797-3

Suragimath G, Lohana MH, Varma S (2016) A split mouth randomized clinical comparative study to evaluate the efficacy of gingival depigmentation procedure using conventional scalpel technique or diode laser. J Lasers Med Sci 7:227–232. https://doi.org/10.15171/jlms.2016.40

Ribeiro FV, Cavaller CP, Casarin RCV, Casati MZ, Cirano FR, Dutra-Corrêa M, Pimentel SP (2014) Esthetic treatment of gingival hyperpigmentation with Nd:YAG laser or scalpel technique: a 6-month RCT of patient and professional assessment. Lasers Med Sci 29:537–544. https://doi.org/10.1007/s10103-012-1254-5

Kishore A, Kathariya R, Deshmukh V, Vaze S, Khalia N, Dandgaval R (2014) Effectiveness of Er:YAG and CO2 lasers in the management of gingival melanin hyperpigmentation. Oral Health Dent Manag 13:486–491

Gholami L, Moghaddam SA, Rigi Ladiz MA, Molai Manesh Z, Hashemzehi H, Fallah A, Gutknecht N (2018) Comparison of gingival depigmentation with Er,Cr:YSGG laser and surgical stripping, a 12-month follow-up. Lasers Med Sci 33:1647–1656. https://doi.org/10.1007/s10103-018-2501-1

Hegde R, Padhye A, Sumanth S, Jain AS, Thukral N (2013) Comparison of surgical stripping; erbium-doped:yttrium, aluminum, and garnet laser; and carbon dioxide laser techniques for gingival depigmentation: a clinical and histologic study. J Periodontol 84:738–748. https://doi.org/10.1902/jop.2012.120094

Muruppel AM, Jagadish Pai BS, Bhat S et al (2020) Laser-assisted depigmentation-an introspection of the science, techniques, and perceptions. Dent J 8. https://doi.org/10.3390/DJ8030088

Lin YH, Tu YK, Lu CT, Chung WC, Huang CF, Huang MS, Lu HK (2014) Systematic review of treatment modalities for gingival depigmentation: a random-effects poisson regression analysis. J Esthet Restor Dent 26:162–178. https://doi.org/10.1111/jerd.12087

Kaur H, Jain S, Sharma RL (2010) Duration of reappearance of gingival melanin pigmentation after surgical removal - a clinical study. J Indian Soc Periodontol 14:101–105. https://doi.org/10.4103/0972-124X.70828

Araki S, Murata K, Ushio K, Sakai R (1983) Dose-response relationship between tobacco consumption and melanin pigmentation in the attached gingiva. Arch Environ Health 38:375–378. https://doi.org/10.1080/00039896.1983.10545823

DUMMETT CO, GUPTA OP (1964) Estimating the epidemiology of oral pigmentation. J Natl Med Assoc 56:419–420

Hanioka T, Tanaka K, Ojima M, Yuuki K (2005) Association of melanin pigmentation in the gingiva of children with parents who smoke. Pediatrics 116:e186–e190. https://doi.org/10.1542/peds.2004-2628

Mun JY, Jeong SY, Kim JH, Han SS, Kim IH (2011) A low fluence Q-switched Nd:YAG laser modifies the 3D structure of melanocyte and ultrastructure of melanosome by subcellular-selective photothermolysis. J Electron Microsc 60:11–18. https://doi.org/10.1093/jmicro/dfq068

Rosa DSA, Aranha ACC, de Eduardo CP, Aoki A (2007) Esthetic treatment of gingival melanin hyperpigmentation with Er:YAG laser: short-term clinical observations and patient follow-up. J Periodontol 78:2018–2025. https://doi.org/10.1902/jop.2007.070041

Giannelli M, Formigli L, Bani D (2014) Comparative evaluation of photoablative efficacy of erbium: yttrium-aluminium-garnet and diode laser for the treatment of gingival hyperpigmentation. a randomized split-mouth clinical trial. J Periodontol 85:554–561. https://doi.org/10.1902/jop.2013.130219

Cercadillo-Ibarguren I, España-Tost A, Arnabat-Domínguez J et al (2010) Histologic evaluation of thermal damage produced on soft tissues by CO2, Er,Cr:YSGG and diode lasers. Med Oral Patol Oral Cir Bucal 15:e912–e918. https://doi.org/10.4317/medoral.15.e912

Kaya GŞ, Yavuz GY, Sümbüllü MA, Day E (2012) A comparison of diode laser and Er:YAG lasers in the treatment of gingival melanin pigmentation. Oral Surg Oral Med Oral Pathol Oral Radiol 113:293–299. https://doi.org/10.1016/j.tripleo.2011.03.005

Chandra GB, VinayKumar MB, Walavalkar NN et al (2020) Evaluation of surgical scalpel versus semiconductor diode laser techniques in the management of gingival melanin hyperpigmentation: a split-mouth randomized clinical comparative study. J Indian Soc Periodontol 24:47–53. https://doi.org/10.4103/jisp.jisp_186_19

Sohail K, Nawaz E, Durrani O et al (2016) Comparison of perceptions of laypersons, dentists and orthodontists to altered smile aesthetics. Pak Orthod J 7:76–82

Nammour S, El Mobadder M, Namour M et al (2020) A randomized comparative clinical study to evaluate the longevity of esthetic results of gingival melanin depigmentation treatment using different laser wavelengths (diode, CO2, and Er:YAG). Photobiomodulation Photomed Laser Surg 38:167–173. https://doi.org/10.1089/photob.2019.4672

Singh V, Giliyar SB, Kumar S, Bhat M (2012) Comparative evaluation of gingival depigmentation by diode laser and cryosurgery using tetrafluoroethane: 18-month follow-up. Clin Adv Periodontics 2:129–134. https://doi.org/10.1902/cap.2012.110008

Perlmutter S, Tal H (1986) Repigmentation of the gingiva following surgical injury. J Periodontol 57:48–50. https://doi.org/10.1902/jop.1986.57.1.48

Murphy GF, Shepard RS, Paul BS, Menkes A, Anderson RR, Parrish JA (1983) Organelle-specific injury to melanin-containing cells in human skin by pulsed laser irradiation. Lab Investig 49:680–685

Yamaguchi Y, Passeron T, Watabe H, Yasumoto KI, Rouzaud F, Hoashi T, Hearing VJ (2007) The effects of dickkopf 1 on gene expression and Wnt signaling by melanocytes: mechanisms underlying its suppression of melanocyte function and proliferation. J Invest Dermatol 127:1217–1225. https://doi.org/10.1038/sj.jid.5700629
Acknowledgements
The authors wish to thank Josep Arnabat-Domínguez, Kenneth Luk, and Sana Farista for their expertise and contribution as external examiners throughout all aspects of the study.
Ethics declarations
Ethics approval and consent to participate
All procedures performed in studies involving human participants were in accordance with the ethical standards of the institutional and/or national research committee and with the 1964 Helsinki Declaration and its later amendments or comparable ethical standards. This article does not contain any studies involving animals performed by any of the authors. Informed consent was obtained from all individual participants involved in the study.
Competing interests
The authors declare no competing interests.
Additional information
Summary
A randomized controlled trial to evaluate the effectiveness of two types of intraoral lasers in treating gingival hyperpigmentation and the rate of re-pigmentation.
Publisher's note
Springer Nature remains neutral with regard to jurisdictional claims in published maps and institutional affiliations.
About this article
Cite this article
Altayeb, W., Hamadah, O., Alhaffar, B.A. et al. Gingival depigmentation with diode and Er,Cr:YSGG laser: evaluating re-pigmentation rate and patient perceptions. Clin Oral Invest 25, 5351–5361 (2021). https://doi.org/10.1007/s00784-021-03843-6
Received:

Accepted:

Published:

Issue Date:

DOI: https://doi.org/10.1007/s00784-021-03843-6
Keywords
Ablation

Esthetic

Gingival hyperpigmentation

Laser

Melanin