Abstract
Objective
Our aim was to assess the anti-biofilm ability of previously unverified individual D-amino acids (DAAs), to produce plasma polymer encapsulated DAAs (PPEDAAs), to measure the shell thickness and subsequent release of DAAs, and to assess the effects of PPEDAAs on Enterococcus faecalis biofilms.
Materials and methods
Microtitre tray assays were used to evaluate the effect of individual DAAs (D-leucine, D-methionine, D-tryptophan, and D-tyrosine) on E. faecalis biofilms of different maturity. A mixture and individual DAAs were encapsulated with a plasma polymer for 10, 20, 40, and 60 min. The shell thickness of PPEDAAs was analyzed by ultra-high-resolution scanning electron microscopy. The release of DAAs from the PPEDAAs encapsulated for 60 min was measured over 7 days using high-performance liquid chromatography. Static biofilms were used to assess the effect of PPEDAAs on E. faecalis biofilms.
Results
Individual DAAs reduced biofilm formation to various degrees, according to the DAA and the experimental times. The shell thicknesses of the PPEDAAs ranged between 31 and 76 nm and increased with encapsulation time. Diffusion of DAAs from the PPEDAAs occurred over 60 min for encapsulated D-leucine, D-methionine, and D-tyrosine and up to 7 days for D-tryptophan. PPEDAAs disrupted biofilms at every experimental time.
Conclusions
PPEDAAs of various shell thickness can be produced with the proposed methodology, DAAs are subsequently released, and the anti-biofilm activity remains unaltered.
Clinical relevance
Individual DAAs and PPEDAAs have anti-biofilm ability and can be considered as part of a biological strategy in endodontics.
Access options
Buy single article
Instant access to the full article PDF.
USD 39.95
Price excludes VAT (USA)
Tax calculation will be finalised during checkout.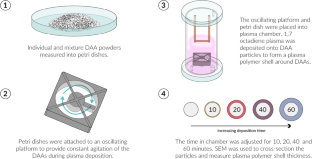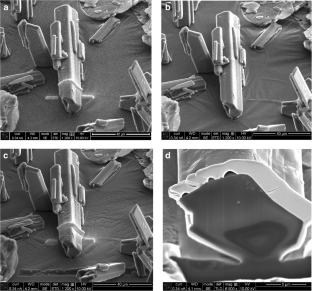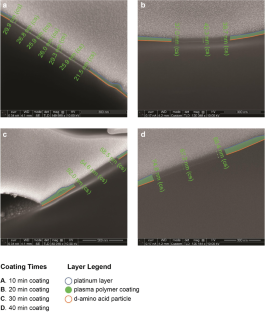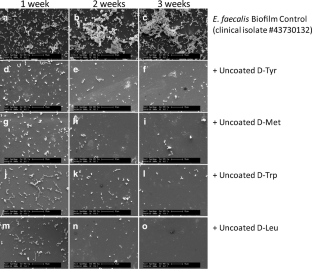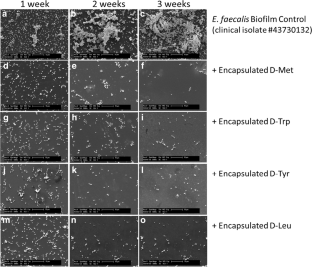 Funding
The authors acknowledge the funding for this project from the Australian Dental Research Foundation and the Australian Society of Endodontology.
Ethics declarations
Conflict of interest
The authors declare that they have no conflict of interest.
Ethical approval
For this type of study, ethical approval is not required.
Informed consent
For this type of study, formal consent is not required.
Additional information
Publisher's note
Springer Nature remains neutral with regard to jurisdictional claims in published maps and institutional affiliations.
About this article
Cite this article
Khider, D., Rossi-Fedele, G., Fitzsimmons, T. et al. Disruption of Enterococcus Faecalis biofilms using individual and plasma polymer encapsulated D-amino acids. Clin Oral Invest 25, 3305–3313 (2021). https://doi.org/10.1007/s00784-020-03663-0
Received:

Accepted:

Published:

Issue Date:

DOI: https://doi.org/10.1007/s00784-020-03663-0
Keywords
Biofilms

D-amino acids

Endodontics

Enterococcus faecalis

Nanotechnology

Polymer encapsulation