Abstract
Aims
The objective of this study is to compare size, enamel thickness and ion relative concentration in generalized megadontia (Ekman- Westborg and Julin trait) and a localized megadont upper third molar to normal teeth.
Materials and methods
The MD dimensions of permanent teeth were compared to controls. Tooth components of molars were measured from X-rays and compared to controls. The enamel and dentin relative amounts of elements of mandibular first permanent molar and deciduous canines of E-WJ trait girl, and megadont upper third molar were determined using ESD program of SEM and compared to match-paired normal teeth.
Results
The teeth of the girl diagnosed with E-WJ trait were true megadont (larger than mean ± 2SD). The ratio of enamel thickness to M-D dimension of molars of E-WJ trait and localized megadontia molars is reduced in comparison with normal similar teeth. In the enamel, carbon and silica concentrations were different in E-WJ trait teeth.
Conclusions
The enamel thickness was reduced in the E-WJ trait and megadont molars, but the relative amount of elements in enamel and dentin was similar to normal. The megadontia is due to a very large tooth germ, as determined by the DEJ, while the ratio of enamel apposition from the total M-D dimension is reduced.
Clinical relevance
Generalized megadontia, as observed in E-WJ trait, is due to large tooth germ, but the enamel thickness is similar to normal. Extractions of permanent teeth are necessary in order to allow normal eruption of teeth.
Access options
Buy single article
Instant access to the full article PDF.
US$ 39.95
Tax calculation will be finalised during checkout.
Subscribe to journal
Immediate online access to all issues from 2019. Subscription will auto renew annually.
US$ 79
Tax calculation will be finalised during checkout.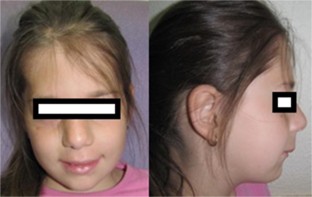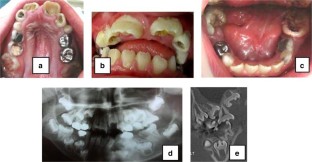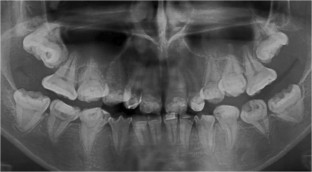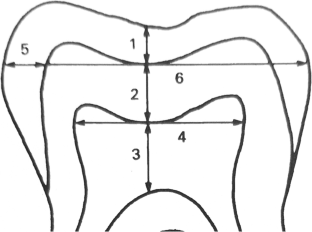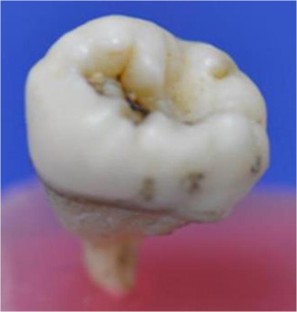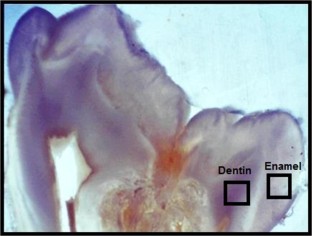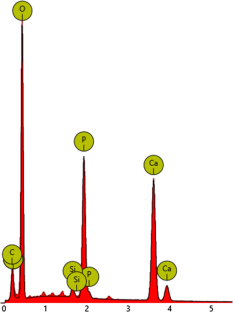 References
1.

Koch G, Thesleff I. Developmental disturbances in number and shape of teeth and their treatment. In: Koch G, Poulsen S (eds). Pediatric dentistry, a clinical approach. 2nd edition. p. 191. Chichester, UK: Wiley-Blackwell. 2013

2.

Bloch-Zupan A, Sedano H, Scully C (2012) Abnormalities of tooth shape and size. In Bloch-Zupan A, Sedano H, Scully C (eds). Dento/oro/craniofacial anomalies and genetics. pp 89–100. Elsevier Inc., London, Walthem

3.

Deshingkar SA, Barpande SR, Bhavthankar JD (2011) Congenital hemifacial hyperplasia. Contemp Clin Dent 2:261–264

4.

Kiriazidou A, Haider D, Mason C, Parekh S, Bloch-Zupan A (2013) Case report: macrodont mandibular second premolars, a hereditary dental anomaly. Eur Arch Paediatr Dent 14:411–416

5.

Canoglu E, Canoglu H, Aktas A, Cehreli ZC (2012) Isolated bilateral macrodontia of mandibular second premolars: a case report. Eur J Dent 6:330–334

6.

Gibson AC (1970) Bilateral macrodontism of mandibular third molars with impaction of second molars. Oral Surg Oral Med Oral Pathol 29:717–721

7.

Swols DM, Foster J II, Tekin M (2017) KBG syndrome. Orphanet J Rare Diseases 12:183–190

8.

Sirmaci A, Spiliopoulos M, Brancati F, Powell E, Duman D, Abrams A, Bademci G, Agolini E, Guo S, Konuk B, Kavaz A, Blanton S, Digilio MC, Dallapiccola B, Young J, Zuchner S, Tekin M (2011) Mutations in ANKRD11 causes KBG syndrome, characterized by intellectual disability, skeletal malformations and macrodontia. Am J Hum Genet 89:289–294

9.

Ockeloen CW, Willemsen MH, de Munnik S, van Bon BWM, de Leeuw N, Verrips A, Kant SG, Jones EA, Brunner HG, van Loon RLE, Smeets EEJ, van Haelst MM, van Haaften G, Nordgren A, Malmgren H, Grigelioniene G, Vermeer S, Louro P, Ramos L, Maal TJJ, van Heumen CC, Yntema HG, Carels CEL, Kleefstra T (2015) Further delineation of the KBG syndrome phenotype caused by ANKRD11 aberrations. Eur J Human Genet 23:1176–1185

10.

Brook A H, Griffin R C, Smith R N, et al (2009) Tooth size patterns in patients with hypodontia and supernumerary teeth. Arch Oral Biol 54 Suppl 1:s63-s70

11.

Ekman-Westborg B, Julin P (1974) Multiple anomalies in dental morphology: macrodontia, multituberculism, central cusps, and pulp invaginations. Report of a case. Oral Surg, Oral Med Oral Pathol 38:217–2021

12.

Ritzau M, Carlsen O, Kreiborg S, Brinch-Iversen J, Gorlin RJ, Rasmussen NH (1997) The Ekman-Westborg-Jukin trait: report of a case. Oral Surg Oral Med Oral Pathol Oral Radiol Endod 84:293–296

13.

Nakagawa T, Tagawa T, Inui M, Kageyama T, Murata T (1997) Ekman-Westborg-Julin trait. A case report. Int J Oral Maxillofac Surg 26:49–50

14.

Nemes JA, Alberth M (2006) The Ekman-Westborg and Julin trait: report of a case. Oral Surg Oral Med Oral Pathol Oral Radiol Endod 102:659–662

15.

Reardon G,T, Slayton L R, Norby C, Geneser T. (2012) Macrodontia, shovel-shaped incisors, and multituberculism: probable Ekman-Westborg-Julin trait. J Dent Child (Chic) 79:197–201

16.

Komatsu T, Kurihara T, Ito Y, Lee MC, Miyagi A, Ikeda M (2012) Oral characteristics of a patient with Ekman-Westborg-Julin trait: a case history. Spec Care Dentist 32:70–74

17.

Chaushu S, Sharabi S, Becker A (2003) Tooth size in dentitions with buccal canine ectopia. Eur J Orthodont 25:485–491

18.

Rosenzweig KA, Zilberman Y (1969) Dentition of Beduin in Israel. II Morphology Am J Phys Anthrop 31:199–204

19.

Acharya S, Mandal P K, Ghosh C. (2015) Bilateral molariform mandibular second premolars. Case Reports Dent ID 809463:3 pages

20.

Mangla N, Singh Khinda VI, Kallar S, Singh BG (2014) Molarization of mandibular second premolar. Int J Clin Pediatr Dent 7:137–139

21.

Babaji P, Chaurasia VR, Masamatti VK, Tiwari S, Malik S (2014) Unilateral molariform macrodont mandibular second premolar: an unusual case report in a nonsyndromic patient. J Clin Diag Res 8:ZD08–ZD09

22.

Kyriazidou A, Haider D, Mason C, Parekh S, Bloch-Zupan A (2013) Case report: Macrodont mandibular second premolars, a hereditary dental anomaly. Eur Arch Paediatr Dent 14:411–416

23.

Peker I, Kayaoglu G (2009) A case of Ekman-Westborg-Julin trait: endodontic treatment of a macrodontic incisor. Oral Surg, Oral Med, Oral Pathol, Oral Radiol, Endod 107:e89–e92

24.

Guvenc D, Gokbuget AY, Cintan S, Seymen F (2012) A variant of the Ekman–Westborg and Julin trait. Int J Oral Maxillofac Surg 41:42–45

25.

Colakoglu G, Kazak M, Buyukbayram IK, Elcin MA, Nadeloglu E (2019) A case of multiple dental anomalies: a variant of Ekman–Westborg and Julin trait. Eur Oral Res 52:55–58

26.

Keinan D, Smith P, Zilberman U (2006) Microstructure and chemical composition of primary teeth in children with down syndrome and cerebral palsy. Arch Oral Biol 51:836–843

27.

Mass E, Hassan A, Zilberman U (2017) Long term in-vivo effects of various restorative materials on enamel and dentin of primary molars. Quintessence Int 48:633–638

28.

Mc Henry HM. New estimates of body weight in early hominids and their significance to encephalization and megadontia in Robust Austropithecus. In Grine FE (ed) The Evolutionary History of the Robust Australopithecines. pp. 133–148, Aldyne de Gruiter, 1988

29.

Lacruz RS, Dean MC, Ramirez-Rozzi F, Bromage TG (2008) Megadontia, striae periodicity and patterns of enamel secretion in Plio-Pleistocene fossil hominins. J Anat 213:148–158

30.

Zilberman U, Smith P, Sperber GH (1990) Components of australopithecine teeth: a radiographic study. J Hum Evol 5:515–529

31.

Zilberman U, Smith P, Alvesalo L (2000) Crown components of mandibular molar teeth in 45, X females (Turner Syndrome). Arch Oral Biol 45:217–225
Funding
The work was supported by the Pediatric Dental Clinic, Barzilai Medical University Center, Ashkelon, Israel.
Ethics declarations
Conflict of interest
The authors declare that they have no conflict of interest.
Ethical approval
This article does not contain any studies with human participants or animal performed by any of the authors.
Informed consent
For this type of study, formal consent is not required.
Additional information
Publisher's note
Springer Nature remains neutral with regard to jurisdictional claims in published maps and institutional affiliations.
About this article
Cite this article
Leibovitz, S., Haviv, Y. & Zilberman, U. The effect of Ekman–Westborg and Julin trait (generalized megadontia) and localized megadontia on tooth components size and ion content. Clin Oral Invest 25, 833–839 (2021). https://doi.org/10.1007/s00784-020-03368-4
Received:

Accepted:

Published:

Issue Date:
Keywords
E-WJ trait

Megadontia

Enamel

Dentin

Tooth development

Ion content