Abstract
Objective
The aim of this longitudinal study was to characterize the dento-osseous phenotype of eleven familial adenomatous polyposis (FAP) patients and twenty-two family members from four Brazilian families who were followed over nine years and to investigate adenomatous polyposis coli (APC) gene variants using a targeted next-generation sequencing approach.
Materials and methods
Medical and dental history, oral examination, and panoramic radiography were performed to diagnose and follow up the dento-osseous anomalies. The anomalies were evaluated following the validated diagnostic tool dental panoramic radiographic score (DPRS), a system developed for high-risk FAP patients. Patients diagnosed with dento-osseous anomalies underwent cone-beam computed tomography. For genetic analysis, DNA was isolated from patients' saliva.
Results
Dento-osseous anomalies were identified in ten of the eleven FAP patients by panoramic radiograph evaluation. DPRS ≥ 7 (significant changes) was found in 81.8% (9/11) of FAP patients. The follow-up showed an increase in osseous jaw lesions in two young patients during adolescence. Dento-osseous anomalies were not found in non-FAP patients. A novel heterozygous nonsense pathogenic variant in APC exon 5 (c.481C > T; p.Gln161*) was identified in family 2, and a heterozygous splice-site pathogenic variant was identified in family 1 (c.532-1G > A).
Conclusion
Our study expands the mutation spectrum of the APC gene and provides evidence that dento-osseous screening by imaging is a putative tool for early diagnosis of FAP. Also, the detection of dento-osseous anomalies in young patients with increasing osseous lesions during adolescence highlights the need for dental follow-up of high-risk FAP children.
Clinical relevance
Dental radiographs are important for the screening and the follow-up of dento-osseous anomalies associated with FAP. It can also contribute to the early diagnosis of the disease.
Access options
Buy single article
Instant access to the full article PDF.
US$ 39.95
Tax calculation will be finalised during checkout.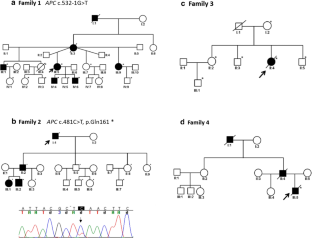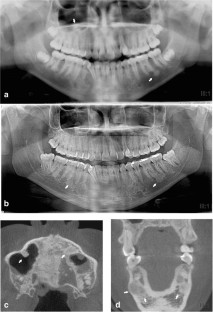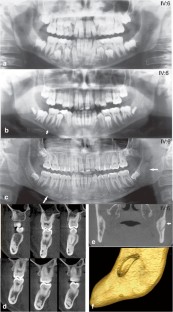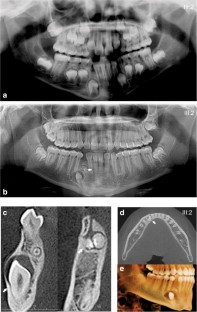 References
1.

Bisgaard ML, Fenger K, Bülow S, Niebuhr E, Mohr J (1994) Familial adenomatous polyposis (FAP): frequency, penetrance, and mutation rate. Hum Mutat 3:121–125

2.

Cruz-Correa M, Giardiello FM (2002) Diagnosis and management of hereditary colon cancer. Gastroenterol Clin N Am 31:537–549

3.

Half E, Bercovich D, Rozen P (2009) Familial adenomatous polyposis. Orphanet J Rare Dis 12:4–22. https://doi.org/10.1186/1750-1172-4-22

4.

Galiatsatos P, Foulkes WD (2006) Familial adenomatous polyposis. Am J Gastroenterol 101:385–398

5.

Jasperson KW, Tuohy TM, Neklason DW, Burt RW (2010) Hereditary and familial colon cancer. Gastroenterology 138:2044–2058. https://doi.org/10.1053/j.gastro.2010.01.054

6.

Gardner EJ (1962) Follow-up study of a family group exhibiting dominant inheritance for a syndrome including intestinal polyps, osteomas, fibromas and epidermal cysts. Am J Hum Genet 14:376–390

7.

Wijn MA, Keller JJ, Giardiello FM, Brand HS (2007) Oral and maxillofacial manifestations of familial adenomatous polyposis. Oral Dis 13:360–365

8.

Almeida FT, Leite AF, de Souza Figueiredo PT, Melo NS, Sousa JB, Almeida R, Acevedo AC, Silva Guerra EM (2012) Dento-osseous anomalies associated to familial adenomatous polyposis mimicking florid cemento-osseous dysplasia. J Craniomaxillofac Surg 40:e498–e502. https://doi.org/10.1016/j.jcms.2012.03.012

9.

Almeida FT, Pachêco-Pereira C, Porporatti AL, Flores-Mir C, Leite AF, De Luca CG, Guerra EN (2016) Oral manifestations in patients with familial adenomatous polyposis: a systematic review and meta-analysis. J Gastroenterol Hepatol 31:527–540. https://doi.org/10.1111/jgh.13149

10.

Septer S, Bohaty B, Onikul R, Kumar V, Williams KB, Attard TM, Friesen CA, Friesen LR (2018) Dental anomalies in pediatric patients with familial adenomatous polyposis. Familial Cancer 17:229–234. https://doi.org/10.1007/s10689-017-0035-5

11.

Aggarwal VR, Sloan P, Horner K, Mcfarlane TV, Clancy T, Evans G, Thakker N (2003) Dento-osseous changes as diagnostic markers in familial adenomatous polyposis families. Oral Dis 9:29–33

12.

Thakker N, Davies R, Horner K, Armstrong J, Clancy T, Guy S, Harris R, Sloan P, Evans G (1995) The dental phenotype in familial adenomatous polyposis: diagnostic application of a weighted scoring system for changes on dental panoramic radiographs. J Med Genet 32:458–464

13.

Groden J, Thliveris A, Samowitz W, Carlson M, Gelbert L, Albersten H, Joslyn G, Stevens J, Spirio L, Robertson M (1991) Identification and characterization on the familial adenomatous polyposis coli gene. Cell 66:589–600

14.

Kinzler KW, Nilbert MC, Su LK, Vogelstein B, Bryan TM, Levy DB, Smith KJ, Preisinger AC, Hedge P, McKechnie D et al (1991) Identification of FAP locus gene from chromosome 5q21. Science 253:661–665

15.

Goss KH, Groden J (2000) Biology of the adenomatous polyposis coli tumor supressor. J Clin Oncol 18:1967–1979

16.

Lesko AC, Goss KH, Prosperi JR (2014) Exploiting APC function as a novel cancer therapy. Curr Drug Targets 15:90–102

17.

Buecher B (2016) Colorectal adenomatous polyposis syndromes: genetic determinism, clinical presentation and recommendations for care. Bull Cancer 103:199–209. https://doi.org/10.1016/j.bulcan.2015.10.019

18.

Nieuwenhuis MH, Vasen HF (2007) Correlations between mutation site in APC and phenotype of familial adenomatous polyposis (FAP): a review of the literature. Crit Rev Oncol Hematol 61:153–161

19.

Aidar M, Line SR (2007) A simple and cost-effective protocol for DNA isolation from buccal epithelial cells. Braz Dent J 18:148–152

20.

Richards S, Aziz N, Bale S, Bick D, Das S, Gastier-Foster J, Grody WW, Hegde M, Lyon E, Spector E, Voelkerding K, Rehm HL, ACMG Laboratory Quality Assurance Committee (2015) Standards and guidelines for the interpretation of sequence variants: a joint consensus recommendation of the American College of Medical Genetics and Genomics and the Association for Molecular Pathology. Genet Med 17:405–424. https://doi.org/10.1038/gim.2015.30

21.

Desmet FO, Hamroun D, Lalande M, Collod-Béroud G, Claustres M, Béroud C (2009) Human splicing finder: an online bioninformatics tool to predict splicing signals. Nucleic Acids Res 37:e67. https://doi.org/10.1093/nar/gkp215

22.

Vasen HF, Möslein G, Alonso A, Aretz S, Bernstein I, Bertario L, Blanco I, Bülow S, Burn J, Capella G, Colas C, Engel C, Frayling I, Friedl W, Hes FJ, Hodgson S, Järvinen H, Mecklin JP, Møller P, Myrhøi T, Nagengast FM, Parc Y, Phillips R, Clark SK, de Leon MP, Renkonen-Sinisalo L, Sampson JR, Stormorken A, Tejpar S, Thomas HJ, Wijnen J (2008) Guidelines for the clinical management of familial adenomatous polyposis (FAP). Gut 57:704–713. https://doi.org/10.1136/gut.2007.136127

23.

Takeuchi T, Takenoshita Y, Kubo K, Iida M (1993) Natural course of jaw lesions in patients with familial adenomatosis coli (Gardner's syndrome). Int J Oral Maxillofac Surg 22:226–230

24.

Vogelstein B, Fearon ER, Hamilton SR, Kern SE, Preisinger AC, Leppert M, Nakamura Y, White R, Smits AM, Bos JL (1988) Genetic alterations during colorectal-tumor development. N Engl J Med 319:525–532

25.

Davies DR, Armstrong JG, Thakker N, Horner K, Guy SP, Clancy T, Sloan P, Blair V, Dodd C, Warnes TW et al (1995) Severe Gardner syndrome in families with mutations restricted to a specific region of the APC gene. Am J Hum Genet 57:1151–1158

26.

Liu F, Chu EY, Watt B, Zhang Y, Gallant NM, Andl T, Yang SH, Lu MM, Piccolo S, Schmidt-Ullrich R, Taketo MM, Morrisey EE, Atit R, Dlugosz AA, Millar SE (2008) Wnt/beta-catenin signaling multiple stages of tooth morphogenesis. Dev Biol 313:210–224

27.

Liu F, Millar SE (2010) Wnt/β-catenin signaling in oral tissue development and disease. J Dent Res 89:318–330. https://doi.org/10.1177/0022034510363373

28.

Miclea RL, Karperien M, Bosch CA, van der Horst G, van der Valk MA, Kobayashi T, Kronenberg HM, Rawadi G, Akçakaya P, Löwik CW, Fodde R, Wit JM, Robanus-Maandag EC (2009) Adenomatous polyposis coli-mediated control of beta-catenin is essential for both chondrogenic and osteogenic differentiation of skeletal precursors. BMC Dev Biol 9:26. https://doi.org/10.1186/1471-213X-9-26

29.

Miclea RL, Karperien M, Langers AM, Robanus-Maandag EC, van Lierop A, van der Hiel B, Stokkel MP, Ballieux BE, Oostdijk W, Wit JM, Vasen HF, Hamdy NA (2010) APC mutations are associated with increased bone mineral density in patients with familial adenomatous polyposis. J Bone Miner Res 25:2624–2632. https://doi.org/10.1002/jbmr.153

30.

Chew S, Dastani Z, Brown SJ, Lewis JR, Dudbridge F, Soranzo N, Surdulescu GL, Richards JB, Spector TD, Wilson SG (2012) Copy number variation of the APC gene is associated with regulation of bone mineral density. Bone 51:939–943. https://doi.org/10.1016/j.bone.2012.07.022

31.

Wallis YL, Morton DG, McKeown CM, Macdonald F (1999) Molecular analysis of the APC gene in 205 families: extended genotype-phenotype correlations in FAP and evidence for the role of APC amino acid changes in colorectal cancer predisposition. J Med Genet 36:14–20

32.

Nykamp K, Anderson M, Powers M, Garcia J, Herrera B, Ho YY, Kobayashi Y, Patil N, Thusberg J, Westbrook M, Invitae Clinical Genomics Group, Topper S (2017) Sherloc: a comprehensive refinement of the ACMG-AMP variant classification criteria. Genet Med 19:1105–1117. https://doi.org/10.1038/gim.2017.37

33.

Torrezan GT, da Silva FC, Santos EM, Krepischi AC, Achatz MI, Aguiar S Jr, Rossi BM, Carraro DM (2013) Mutational spectrum of the APC and MUTYH genes and genotype -phenotype correlations in Brazilian FAP, AFAP and MAP patients. Orphanet J Rare Dis 8:54. https://doi.org/10.1186/1750-1172-8-54

34.

Spier I, Horpaopan S, Vogt S, Uhlhaas S, Morak M, Stienen D, Draaken M, Ludwig M, Holinski-Feder E, Nöthen MM, Hoffmann P, Aretz S (2012) Deep intronic APC mutations explain a substantial proportion of patients with familial or early-onset adenomatous polyposis. Hum Mutat 33:1045–1050. https://doi.org/10.1002/humu.22082

35.

Newton K, Mallinson EK, Bowen J, Lalloo F, Clancy T, Hill J, Evans DG (2012) Genotype – phenotype correlation in colorectal polyposis. Clin Genet 81:1–11. https://doi.org/10.1111/j.1399-0004.2011.01740.x

36.

Song G, Yuan Y, Zheng F, Yang N (2013) Novel insertion mutation p.Asp610GlyfsX23 in APC gene causes familial adenomatous polyposis in Chinese families. Gene 516:204–208. https://doi.org/10.1016/j.gene.2012.12.077

37.

Zhang Z, Liang S, Huang H, Wang D, Zhang X, Wu J, Chen H et al (2016) A novel pathogenic large germline deletion in adenomatous polyposis coli gene in Chinese family with familial adenomatous polyposis. Oncotarget 7:50392–50400. https://doi.org/10.18632/oncotarget.10408

38.

Araujo LF, Molfetta GA, Vincenzi OC, Huber J, Teixeira LA, Ferraz VE, Silva WA Jr (2019) Molecular basis of familial adenomatous polyposis in the southeast of Brazil: identification of six novel mutations. Int J Biol Markers 34:80–89. https://doi.org/10.1177/1724600818814462
Acknowledgments
We are grateful to the patients who agreed to participate in this study. The authors also thank Dr. Paulo Yamaguti for contributing to the genetic analysis.
Ethics declarations
Conflict of interest
The authors declare no conflicts of interest.
Ethical approval
The study was developed in compliance with the Declaration of Helsinki and was approved by the Ethics Committee of the Health Sciences Faculty, University of Brasília – CEP/FS under number 493.502.
Informed consent
Informed consent was obtained from all the patients included in the study.
Additional information
Publisher's note
Springer Nature remains neutral with regard to jurisdictional claims in published maps and institutional affiliations.
About this article
Cite this article
Almeida, F.T., Leite, A.F., de Souza Figueiredo, P.T. et al. Dento-osseous anomalies in patients with familial adenomatous polyposis: A follow-up study. Clin Oral Invest 24, 3501–3511 (2020). https://doi.org/10.1007/s00784-020-03220-9
Received:

Accepted:

Published:

Issue Date:
Keywords
Familial adenomatous polyposis

Adenomatous polyposis coli gene

Dento-osseous anomalies

Molecular genetics