Abstract
Objective
To evaluate the adhesion of Streptococcus mutans to preformed zirconia and stainless steel crowns and compare plaque accumulation and gingival inflammation over a period of 1 year.
Materials and methods
Thirty children between 6 to 9 years with pulpectomised bilateral mandibular primary second molars were randomly divided into zirconia/stainless steel groups. Plaque was collected from the crowns using swabs at 3, 6, 9, and 12 months. Gingival and plaque index were recorded at all follow-ups. S. mutans was cultured on tryptone-yeast-cysteine-sucrose-bacitracin agar, and organisms were expressed as colony-forming units. Within-group analysis was performed using repeated measures ANOVA and between-groups using the independent T test.
Results
S. mutans were found in significantly higher numbers on the stainless steel crowns as compared with zirconia crowns at all the follow-ups. Gingival inflammation and plaque index scores were also significantly higher around the stainless steel crowns as compared with zirconia at the end of 12 months follow-up.
Conclusion
Adhesion of S. mutans to stainless steel crowns was significantly greater when compared with zirconia, and minimal gingival inflammation and plaque accumulation was found in the tooth restored with zirconia crowns as compared with stainless steel crowns.
Clinical relevance
Preformed zirconia crowns prevents adhesion of S. mutans onto its surface, and reduces plaque accumulation around the crown, inflammation of surrounding gingiva compared to conventional stainless-steel crowns. Pediatric zirconia crowns could help in reducing the overall microbial density and prevalence in the oral cavity, thus reducing the caries risk in the long term.
Access options
Buy single article
Instant access to the full article PDF.
USD 39.95
Price excludes VAT (USA)
Tax calculation will be finalised during checkout.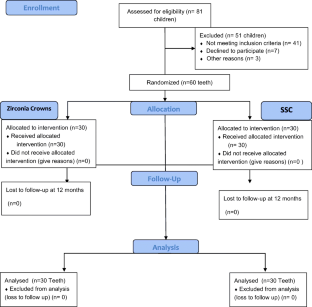 References
Seale NS, Randall R (2015) The use of stainless steel crowns: a systematic literature review. Pediatr Dent 37:145–160

Taran PK, Kaya MS (2018) A comparison of periodontal health in primary molars restored with prefabricated stainless steel and zirconia crowns. Pediatr Dent 40:334–339

Lee BC, Jung GY, Kim DJ, Han JS (2011) Initial bacterial adhesion on resin, titanium and zirconia in vitro. J Adv Prosthodont 3:81–84

Clark L, Wells MH, Harris EF, Lou J (2016) Comparison of amount of primary tooth reduction required for anterior and posterior zirconia and stainless steel crowns. Pediatr Dent 38:42–46

Townsend JA, Knoell P, Yu Q, Zhang JF, Wang Y, Zhu H, Beattie S, Xu X (2014) In vitro fracture resistance of three commercially available zirconia crowns for primary molars. Pediatr Dent 36:125–129

Lobo CIV, Rinaldi TB, Christiano CMS, Leite LS, Barbugli PA, Klein MI (2019) Dualspecies biofilms of Streptococcus mutans and Candida albicans exhibit more biomass and are mutually beneficial compared with single-species biofilms. J Oral Microbiol. https://doi.org/10.1080/20002297.2019.1581520

Bin AlShaibah WM, El-Shehaby FA, El-Dokky NA, Reda AR (2012) Comparative study on the microbial adhesion to preveneered and stainless steel crowns. J Indian Soc Pedod Prev Dent 30:206–211

Papaioannou W, Gizani S, Nassika M, Kontou E, Nakou M (2007) Adhesion of Streptococcus mutans to different types of brackets. Angle Orthod 77:1090–1095

Kim DH, Kwon TY (2017) In vitro study of Streptococcus mutans adhesion on composite resin coated with three surface sealants. Restor Dent Endod 42:39–47

Souza J, Mota RR, Sordi MB, Passoni BB (2016) Biofilm formation on different materials used in oral rehabilitation. Braz Dent J 27:141–147

Silness J, Löe H (1964) Periodontal disease in pregnancy II. Correlation between oral hygiene and periodontal condition. Acta Odontol Scand 24:747–759

Löe H, Silness J (1963) Periodontal disease in pregnancy I. Prevalence and severity. Acta Odontol Scand 21:533–551

Braff MH (1975) A comparison between stainless steel crowns and multisurface amalgams in primary molars. J Dent Child 42:474–478

Salami A, Walia T, Bashiri R (2015) Comparison of parental satisfaction with three tooth-colored full-coronal restorations in primary maxillary incisors. J Clin Pediatr Dent 39:423–428

Fukuda JT, Sonis AL, Platt OS, Kurth S (2005) Acquisition of mutans streptococci and caries prevalence in pediatric sickle cell anemia patients receiving long-term antibiotic therapy. Pediatr Dent 27:186–190

Cowan D, Hibbert J, Scott Brown R, Larygology and Head and Neck Surgery (1997) Otolarygology. Reed Educational and Professional Publishing, London

Chenicheri S, R U, Ramachandran R, Thomas V, Wood A (2017) Insight into oral biofilm: primary, secondary and residual caries and phyto-challenged solutions. Open Dent J 11:312–333

Ichikawa T, Hirota K, Kanitani H, Miyake Y, Matsumoto N (1998) In vitro adherence of Streptococcus constellatus to dense hydroxyapatite and titanium. J Oral Rehabil 25:125–127

Motisuki C, Lima LM, Spolidorio DM, Santos-Pinto L (2005) Influence of sample type and collection method on Streptococcus mutans and Lactobacillus spp. counts in the oral cavity. Arch Oral Biol 50:341–345

Wan A, Seow W, Walsh L, Bird P (2002) Comparison of five selective media for the growth and enumeration of Streptococcus mutans. Aust Dent J:4721–4726

Scheuerman TR, Camper AK, Hamilton MA (1998) Effects of substratum topography on bacterial adhesion. J Colloid Interface Sci 208:23–33

Myers DR, Schuster GS, Bell RA, Barenie JT, Mitchell R (1980) The effect of polishing technics on surface smoothness and plaque accumulation on stainless steel crowns. Pediatr Dent 2:275–278

Wang Z, Shen Y, Haapasalo M (2014) Dental materials with antibiofilm properties. Dent Mater 30:1–16

Flemming HC, Wingender J (2010) The biofilm matrix. Nat Rev Microbiol 8:623–633

Walia T, Salami AA, Bashiri R, Hamoodi OM, Rashid F (2014) A randomised controlled trial of three aesthetic full-coronal restorations in primary maxillary teeth. Eur J Paediatr Dent 15:113–118

Busscher HJ, Rinastiti M, Siswomihardjo W, van der Mei HC (2010) Biofilm formation on dental restorative and implant materials. J Dent Res 89:657–665
Ethics declarations
Conflict of interest
The authors declare that they have no conflict of interest.
Ethical approval
All procedures performed in studies involving human participants were in accordance with the ethical standards of the institutional and/or national research committee and with the 1964 Helsinki Declaration and its later amendments or comparable ethical standards.
Informed consent
Informed consent was obtained from all individual participants (parents) included in the study.
Additional information
Publisher's note
Springer Nature remains neutral with regard to jurisdictional claims in published maps and institutional affiliations.
About this article
Cite this article
Mathew, M.G., Samuel, S.R., Soni, A.J. et al. Evaluation of adhesion of Streptococcus mutans, plaque accumulation on zirconia and stainless steel crowns, and surrounding gingival inflammation in primary molars: randomized controlled trial. Clin Oral Invest 24, 3275–3280 (2020). https://doi.org/10.1007/s00784-020-03204-9
Received:

Accepted:

Published:

Issue Date:

DOI: https://doi.org/10.1007/s00784-020-03204-9
Keywords