Abstract
Objectives
To investigate the relationship between sleep disorders, morning hyposalivation, and subjective feeling of dry mouth.
Materials and methods
A cross-sectional, observational, clinical study was carried out in a homogenous population sample which consists of Greek male soldiers without any medical history. After the application of oral modified Schirmer test, the sample was divided into a study group (n = 63) (MST < 25 mm/3 min) and a control group (n = 110) (MST ≥ 25 mm/3 min). In order to assess daytime sleepiness, risk of obstructive sleep apnea (OSA), sleep quality, sleep bruxism (SB), and subjective feeling of dry mouth, all the participants filled in the following scales in Greek version: Epworth Sleepiness Scale (ESS), Pittsburgh Sleep Quality Index (PSQI), Berlin Questionnaire (BQ), a SB questionnaire, and Xerostomia Inventory (XI) respectively. In every subgroup that came of ESS, PSQI, BQ, and SB questionnaire scoring, subjective feeling of dry mouth was evaluated, based on XI values.
Results
Statistically significant difference (p < 0.001) through PSQI scores was found between the study and control group. In contrast, a statistically significant difference was not obtained for the scores of ESS (p = 0.293), BQ (p = 0.089), and SB questionnaire (p = 0.730). XI scores introduced statistically significant difference between the subgroups of PSQI (p < 0.001), BQ (p = 0.001), SB questionnaire (p = 0.004)  and statistically weak between the subgroups of ESS (p = 0.049).
Conclusions
This is the first research study so far suggesting that patients with morning hyposalivation exhibit poor sleep quality using an objective method. The present results have, also, shown that subjective feeling of dry mouth is related to excessive daytime sleepiness, poor sleep quality, high risk of obstructive sleep apnea, and sleep bruxism, but larger-scale studies are still needed.
Clinical Relevance
These findings should keep dentists aware of a possible association between xerostomia and sleep disorders and support larger-scale studies.
Access options
Buy single article
Instant access to the full article PDF.
US$ 39.95
Tax calculation will be finalised during checkout.
Subscribe to journal
Immediate online access to all issues from 2019. Subscription will auto renew annually.
US$ 79
Tax calculation will be finalised during checkout.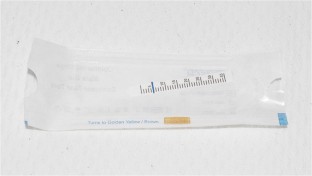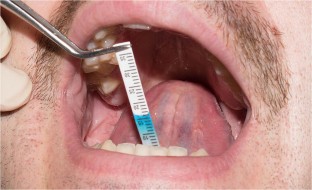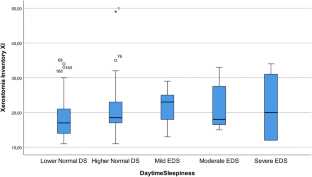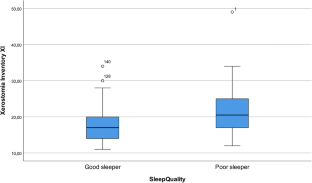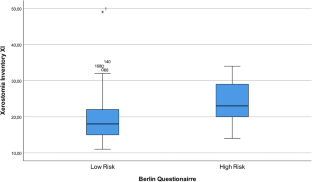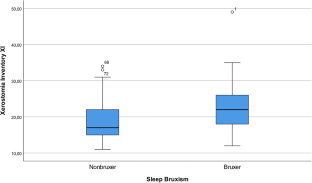 References
1.

Carskadon MA, Dement WC (2017) Normal human sleep: an overview. In: Principles and practice of sleep medicine, 6th edn. Elsevier, Philadelphia, pp 15–24

2.

American Academy of Sleep Medicine (2014) The International Classification of Sleep Disorders, 3rd edn

3.

Lobbezoo F, Kato T, Ahlberg J, et al (2018) International consensus on the assessment of bruxism : report of a work in progress. 1–8. https://doi.org/10.1111/joor.12663

4.

Klasser G, Rei N, Lavigne G (2015) Sleep bruxism etiology : the evolution of a changing paradigm sleep bruxism etiology : the evolution of a changing paradigm. J Can Dent Assoc 81:1–9

5.

Carra MC, Huynh N, Lavigne G (2012) Sleep bruxism: a comprehensive overview for the dental clinician interested in sleep medicine. Dent Clin N Am 56:387–413. https://doi.org/10.1016/j.cden.2012.01.003

6.

van der Putten G-J, Brand HS, Schols JMGA, de Baat C (2011) The diagnostic suitability of a xerostomia questionnaire and the association between xerostomia, hyposalivation and medication use in a group of nursing home residents. Clin Oral Investig 15:185–192

7.

Mizutani S, Ekuni D, Tomofuji T, Azuma T, Kataoka K, Yamane M, Iwasaki Y, Morita M (2015) Relationship between xerostomia and gingival condition in young adults. J Periodontal Res 50:74–79. https://doi.org/10.1111/jre.12183

8.

Flink H, Bergdahl M, Tegelberg Å, Rosenblad A, Lagerlöf F (2008) Prevalence of hyposalivation in relation to general health, body mass index and remaining teeth in different age groups of adults. Community Dent Oral Epidemiol 36:523–531. https://doi.org/10.1111/j.1600-0528.2008.00432.x

9.

Billings RJ, Proskin HM, Moss ME (1996) Xerostomia and associated factors in a community-dwelling adult population. Community Dent Oral Epidemiol 24:312–316

10.

Nederfors T, Isaksson R, Mörnstad H, Dahlöf C (1997) Prevalence of perceived symptoms of dry mouth in an adult Swedish population-relation to age, sex and pharmacotherapy. Community Dent Oral Epidemiol 25:211–216

11.

Saleh J, Figueiredo MAZ, Cherubini K, Salum FG (2014) Salivary hypofunction: an update on aetiology, diagnosis and therapeutics. Arch Oral Biol 60:242–255. https://doi.org/10.1016/j.archoralbio.2014.10.004

12.

Kakudate N, Muramatsu T, Endoh M, Satomura K (2012) Factors associated with dry mouth in dependent Japanese elderly. 1–8. https://doi.org/10.1111/j.1741-2358.2012.00685.x

13.

Przybylowska D, Mierzwinska-Nastalska E, Rubinsztajn R et al (2015) Influence of denture plaque biofilm on oral mucosal membrane in patients with chronic obstructive pulmonary disease. Adv Exp Med Biol 839:25–30. https://doi.org/10.1007/5584_2014_42

14.

Scully C (2013) Oral and maxillofacial medicine: the basis of diagnosis and treatment, 3rd edn. Churchill Livingstone Elsevier, London

15.

Jean-Louis G, Kripke DF, Ancoli-Israel S (2000) Sleep and quality of well-being. Sleep 23:1115–1121

16.

Zeitlhofer J, Schmeiser-Rieder A, Tribl G, Rosenberger A, Bolitschek J, Kapfhammer G, Saletu B, Katschnig H, Holzinger B, Popovic R, Kunze M (2000) Sleep and quality of life in the Austrian population. Acta Neurol Scand 102:249–257. https://doi.org/10.1034/j.1600-0404.2000.102004249.x

17.

Hahnel S, Schwarz S, Zeman F, Schäfer L, Behr M (2014) Prevalence of xerostomia and hyposalivation and their association with quality of life in elderly patients in dependence on dental status and prosthetic rehabilitation: a pilot study. J Dent 42:664–670. https://doi.org/10.1016/j.jdent.2014.03.003

18.

Hackett KL, Gotts ZM, Ellis J et al (2016) An investigation into the prevalence of sleep disturbances in primary Sjögren's syndrome: a systematic review of the literature. Rheumatology(Oxford) 56:570–580. https://doi.org/10.1093/rheumatology/kew443

19.

Lopez-Jornet P, Lucero Berdugo M, Fernandez-Pujante A et al (2016) Sleep quality in patients with xerostomia: a prospective and randomized case-control study. Acta Odontol Scand 74:224–228. https://doi.org/10.3109/00016357.2015.1099730

20.

Fontana M, Zunt S, Eckert GJ, Zero D (2005) A screening test for unstimulated salivary flow measurement. Oper Dent 30:3–8

21.

Kumar NN, Panchaksharappa MG, Annigeri RG (2014) Modified schirmer test–a screening tool for xerostomia among subjects on antidepressants. Arch Oral Biol 59:829–834. https://doi.org/10.1016/j.archoralbio.2014.05.008

22.

Tsara V, Serasli E, Amfilochiou A, Constantinidis T, Christaki P (2004) Greek version of the Epworth Sleepiness Scale. Sleep Breath 8:91–95. https://doi.org/10.1055/s-2004-829632

23.

Kotronoulas GC, Papadopoulou CN, Papapetrou A, Patiraki E (2011) Psychometric evaluation and feasibility of the Greek Pittsburgh sleep quality index (GR-PSQI) in patients with cancer receiving chemotherapy. Support Care Cancer 19:1831–1840. https://doi.org/10.1007/s00520-010-1025-4

24.

Bouloukaki I, Komninos ID, Mermigkis C, Micheli K, Komninou M, Moniaki V, Mauroudi E, Siafakas NM, Schiza SE (2013) Translation and validation of Berlin questionnaire in primary health care in Greece. BMC Pulm Med 13:1. https://doi.org/10.1186/1471-2466-13-6

25.

Winocur E, Uziel N, Lisha T et al (2011) Self-reported bruxism associations with perceived stress, motivation for control, dental anxiety and gagging. J Oral Rehabil 38:3–11. https://doi.org/10.1111/j.1365-2842.2010.02118.x

26.

Gkavela G, Kossioni A, Lyrakos G, Karkazis H, Volikas K (2015) Translation and preliminary validation of the Greek version of the Xerostomia Inventory in older people. Eur Geriatr Med 6:237–240. https://doi.org/10.1016/j.eurger.2015.03.010

27.

Johns MW (1991) A new method for measuring daytime sleepiness: the Epworth Sleepiness Scale. Sleep 14:540–545

28.

McDaid C, Duree KH, Griffin SC et al (2009) A systematic review of continuous positive airway pressure for obstructive sleep apnoea-hypopnoea syndrome. Sleep Med Rev 13:427–436. https://doi.org/10.1016/j.smrv.2009.02.004

29.

Johns MW (2002) Sleep propensity varies with behaviour and the situation in which it is measured: the concept of somnificity. J Sleep Res 11:61–67

30.

Buysse DJ, Reynolds CF, Monk TH et al (1989) The Pittsburgh Sleep Quality Index (PSQI): a new instrument for psychiatric research and practice. Psychiatry Res 28:193–213

31.

Netzer NC, Stoohs RA, Netzer CM, Clark K, Strohl KP (1999) Using the Berlin questionnaire to identify patients at risk for the sleep apnea syndrome. Ann Intern Med 131:485–491

32.

Thomson WM, Chalmers JM, Spencer J, Williams SM (1999) The Xerostomia Inventory: a multi-item approach to measuring dry mouth. Community Dent Health 16:12–17

33.

Oksenberg A, Froom P, Melamed S et al (2006) Dry mouth upon awakening in obstructive sleep apnea. J Sleep Res 15:317–320. https://doi.org/10.1111/j.1365-2869.2006.00527.x

34.

Walker J, Gordon T, Lester S, Downie-Doyle S, McEvoy D, Pile K, Waterman S, Rischmueller M (2003) Increased severity of lower urinary tract symptoms and daytime somnolence in primary Sjogren's syndrome. J Rheumatol 30:2406–2412

35.

Theander L, Strömbeck B, Mandl T, Theander E (2010) Sleepiness or fatigue? Can we detect treatable causes of tiredness in primary Sjögren's syndrome? Rheumatology 49:1177–1183. https://doi.org/10.1093/rheumatology/keq023

36.

Usmani ZA, Hlavac M, Rischmueller M, Heraganahally SS, Hilditch CJ, Lester S, Catcheside PG, Antic NA, Chai-Coetzer CL, Doug McEvoy R (2012) Sleep disordered breathing in patients with primary Sjogren's syndrome: a group controlled study. Sleep Med 13:1066–1070. https://doi.org/10.1016/j.sleep.2012.06.010

37.

Hilditch CJ, McEvoy RD, George KE et al (2008) Upper airway surface tension but not upper airway collapsibility is elevated in primary Sjogren's syndrome. Sleep 31:367–374

38.

Blanco Aguilera A, Gonzalez Lopez L, Blanco Aguilera E, de la Hoz Aizpurua JL, Rodriguez Torronteras A, Segura Saint-Gerons R, Blanco Hungría A (2014) Relationship between self-reported sleep bruxism and pain in patients with temporomandibular disorders. J Oral Rehabil 41:564–572. https://doi.org/10.1111/joor.12172

39.

Dias GM, Bonato LL, Guimarães JP, Silva JNN, Ferreira LA, Grossmann E, Carvalho ACP (2015) A study of the association between sleep bruxism, low quality of sleep, and degenerative changes of the temporomandibular joint. J Craniofac Surg 26:2347–2350. https://doi.org/10.1097/SCS.0000000000002084

40.

Berger M, Szalewski L, Szkutnik J, Ginszt M, Ginszt A (2017) Different association between specific manifestations of bruxism and temporomandibular disorder pain. Neurol Neurochir Pol 51:7–11. https://doi.org/10.1016/j.pjnns.2016.08.008

41.

Lobbezoo F, Ahlberg J, Glaros AG, Kato T, Koyano K, Lavigne GJ, de Leeuw R, Manfredini D, Svensson P, Winocur E (2013) Bruxism defined and graded: an international consensus. J Oral Rehabil 40:2–4. https://doi.org/10.1111/joor.12011

42.

Winck M, Drummond M, Viana P, Pinho JC, Winck JC (2017) Sleep bruxism associated with obstructive sleep apnoea syndrome - a pilot study using a new portable device. Rev Port Pneumol 23:22–26. https://doi.org/10.1016/j.rppnen.2016.07.001

43.

Thomson WM, Poulton R, Mark Broadbent J et al (2006) Xerostomia and medications among 32-year-olds. Acta Odontol Scand 64:249–254. https://doi.org/10.1080/00016350600633243

44.

Asplund R (2004) Nocturia in the elderly in relation to thirst, dry mouth and dry eyes. Can J Urol 11:2322–2326

45.

Lalonde B, Lavigne G, Goulet JP, Barbeau J (1997) Prevalence of reported salivary dysfunction symptoms in an adult northern population. J Dent Res 681

46.

Lande RG (2014) Stress in service members. Psychiatr Clin North Am 37:547–560. https://doi.org/10.1016/j.psc.2014.08.007

47.

Stephens MB, Attipoe S, Jones D, Ledford CJW, Deuster PA (2014) Energy drink and energy shot use in the military. Nutr Rev 72(Suppl 1):72–77. https://doi.org/10.1111/nure.12139

48.

Chiu HY, Chen PY, Chuang LP, Chen NH, Tu YK, Hsieh YJ, Wang YC, Guilleminault C (2017) Diagnostic accuracy of the Berlin questionnaire, STOP-BANG, STOP, and Epworth sleepiness scale in detecting obstructive sleep apnea: a bivariate meta-analysis. Sleep Med Rev 36:57–70. https://doi.org/10.1016/j.smrv.2016.10.004
Ethics declarations
Conflict of interest
The authors declare that they have no conflict of interest.
Ethical approval
All procedures in this research were performed in accordance with the ethical standards of the Sanitary Division of the Army General Staff by order Φ.040/72/955261/Σ.4721/29Νοε17/ΓΕΣ/ΔΥΓ of the Institutional Research standards of Medical School, Democritus University of Thrace, Alexandroupolis, and with 1964 Helsinki declaration and its later amendments or comparable ethical standards.
Informed consent
Informed consent was obtained from all individual participants included in the study.
Additional information
Publisher's note
Springer Nature remains neutral with regard to jurisdictional claims in published maps and institutional affiliations.
About this article
Cite this article
Apessos, I., Andreadis, D., Steiropoulos, P. et al. Investigation of the relationship between sleep disorders and xerostomia. Clin Oral Invest 24, 1709–1716 (2020). https://doi.org/10.1007/s00784-019-03029-1
Received:

Accepted:

Published:

Issue Date:
Keywords
Sleep disorders

Morning hyposalivation

Oral modified Schirmer test

Bruxism

Xerostomia