Abstract
Objectives
To test a smartphone-assisted wireless device for assessing electromyographic (EMG) activity of the masseter muscle in freely moving individuals undertaking routine activities.
Materials and Methods
EMG activity was detected unilaterally from the masseter muscle in 12 volunteers using surface electrodes connected to both a smartphone-assisted wireless EMG device and a fixed-wired EMG equipment (reference standard). After performing a series of standardized tasks in the laboratory, participants wore the wireless device for 8 h while performing their normal routine.
Results
The wireless device reliably detected masseter muscle contraction episodes under both laboratory and natural environment conditions. The intraclass correlation coefficients for the muscle contraction episode amplitude and duration detected by the wireless and the wired equipment ranged from 0.94–1.00 to 0.82–1.00, respectively. Most masseter contraction episodes during normal routine were of low amplitude (< 10% MVC) and short duration (< 10 s), with no significant differences between sexes or facial side.
Conclusions
Within the limitations of the study, smartphone-assisted monitoring of the jaw muscles represents a promising tool to investigate oral behavior patterns in free moving individuals.
Clinical relevance
Smartphone-assisted monitoring of masticatory muscle activity may enable possible associations between excessive muscle activity, bruxism, dysfunction, and pain to be investigated, and managed via biofeedback.
Access options
Buy single article
Instant access to the full article PDF.
USD 39.95
Price excludes VAT (USA)
Tax calculation will be finalised during checkout.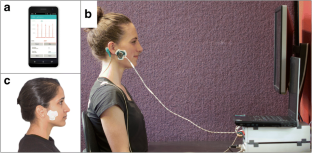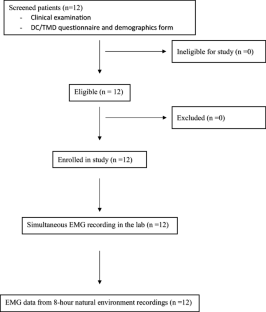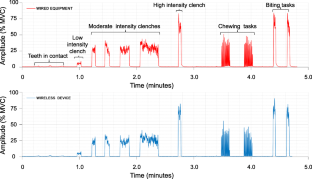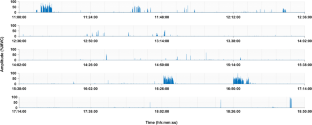 References
Campillo MJ, Miralles R, Santander H, Valenzuela S, Fresno MJ, Fuentes A, Zúñiga C (2008) Influence of laterotrusive occlusal scheme on bilateral masseter EMG activity during clenching and grinding. Cranio J Craniomandib Pract 26:263–273

Hugger S, Schindler HJ, Kordass B, Hugger A (2012) Clinical relevance of surface EMG of the masticatory muscles. (part 1): resting activity, maximal and submaximal voluntary contraction, symmetry of EMG activity. Int J Comput Dent 15:297–314

Lund JP, Widmer CG (1989) Evaluation of the use of surface electromyography in the diagnosis, documentation, and treatment of dental patients. J Craniomandib Disord 3:125–137

Jack HC, Kieser J, Antoun JS, Farella M (2014) The effect of incremental lower lip advancement on oral pressure and EMG activity of the lower lip. Eur J Orthod 36:672–677

Farella M, Michelotti A, Carbone G, Gallo LM, Palla S, Martina R (2005) Habitual daily masseter activity of subjects with different vertical craniofacial morphology. Eur J Oral Sci 113:380–385

Iwasaki LR, Gonzalez YM, Liu H, Marx DB, Gallo LM, Nickel JC (2015) A pilot study of ambulatory masticatory muscle activities in temporomandibular joint disorders diagnostic groups. Orthod Craniofacial Res 18:146–155

Castroflorio T, Mesin L, Tartaglia GM, Sforza C, Farina D (2013) Use of electromyographic and electrocardiographic signals to detect sleep bruxism episodes in a natural environment. IEEE J Biomed Heal Inform 17:994–1001

Walters TJ, Kaschinske KA, Strath SJ, Swartz AM, Keenan KG (2013) Validation of a portable EMG device to assess muscle activity during free-living situations. J Electromyogr Kinesiol 23:1012–1019

Yamaguchi T, Mikami S, Saito M, Okada K, Gotouda A (2018) A newly developed ultraminiature wearable electromyogram system useful for analyses of masseteric activity during the whole day. J Prosthodont Res 62:110–115

Yachida W, Arima T, Castrillon EE, Baad-Hansen L, Ohata N, Svensson P (2016) Diagnostic validity of self-reported measures of sleep bruxism using an ambulatory single-channel EMG device. Prosthodont Res 60:250–257

Palinkas M, Bataglion C, de Luca CG, Machado NC, Theodoro GT, Siéssere S, Semprini S, Regalo SCH (2016) Impact of sleep bruxism on masseter and temporalis muscles and bite force. Cranio - J Craniomandib Pract 34:309–315

Gallo LM, Gross SS, Palla S (1999) Nocturnal masseter EMG activity of healthy subjects in a natural environment. J Dent Res 78:1436–1444

Lavigne G, Guitard F, Rompré PH, Montplaisir JY (2001) Variability in sleep bruxism activity over time. J Sleep Res 10:237–244

Baba K, Haketa T, Sasaki Y, Ohyama T, Clark GT (2005) Association between masseter muscle activity levels recorded during sleep and signs and symptoms of temporomandibular disorders in healthy young adults. J Orofac Pain 19:226–231

Miyamoto K, Yamada K, Ishizuka Y, Morimoto N, Tanne K (1996) Masseter muscle activity during the whole day in young adults. Am J Orthod Dentofac Orthop 110:394–398

Ueda HM, Ishizuka Y, Miyamoto K, Morimoto N, Tanne K (1998) Relationship between masticatory muscle activity and vertical craniofacial morphology. Angle Orthod 68:233–238

Miyamoto K, Ishizuka Y, Ueda HM, Saifuddin M, Shikata N, Tanne K (1999) Masseter muscle activity during the whole day in children and young adults. J Oral Rehabil 26:858–864

Khawaja SN, Mccall W, Dunford R, Nickel JC, Iwasaki LR, Crow HC, Gonzalez Y (2015) Infield masticatory muscle activity in subjects with pain-related temporomandibular disorders diagnoses. Orthod Craniofacial Res 18:137–145

Khawaja S (2015) Association of masseter muscle activities during awake and sleep periods with self-reported anxiety, depression, and somatic symptoms. J Dent Heal Oral Disord Ther 2:0039

Khawaja SN, Nickel JC, Iwasaki LR, Crow HC, Gonzalez Y (2015) Association between waking-state oral parafunctional behaviours and bio-psychosocial characteristics. J Oral Rehabil 42:651–656

Goldstein RE, Auclair CW (2017) The clinical management of awake bruxism. J Am Dent Assoc 148:387–391

Glaros AG, Tabacchi KN, Glass EG (1998) Effect of parafunctional clenching on TMD pain. J Orofac Pain 12:145–152

Palla S, Farella M (2010) Masticatory muscle pain. In: Mense S, Gerwin RD (eds) Muscle Pain Diagnosis and Treatment. Springer-Verlag, Berlin Heidelberg, pp 193–227

Winter BB, Webster JB (1983) Driven-right-leg circuit design. IEEE Trans Biomed Eng BME-30:62–66

Po JMC, Kieser JA, Gallo LM, Tésenyi AJ, Herbison P, Farella M (2011) Time-frequency analysis of chewing activity in the natural environment. J Dent Res 90:1206–1210

White AK, Venn B, Lu LW, Rush E, Gallo LM, Yong JLC, Farella M (2015) A comparison of chewing rate between overweight and normal BMI individuals. Physiol Behav 145:8–13

Farella M, Palla S, Erni S, Michelotti A, Gallo LM (2008) Masticatory muscle activity during deliberately performed oral tasks. Physiol Meas 29:1397–1410

Markiewicz MR, Ohrbach R, McCall WD (2006) Oral behaviors checklist: reliability of performance in targeted waking-state behaviors. J Orofac Pain 20:306–316

Ohrbach R, Bair E, Fillingim RB, Gonzalez Y, Gordon SM, Lim PF, Ribeiro-Dasilva M, Diatchenko L, Dubner R, Greenspan JD, Knott C, Maixner W, Smith SB, Slade GD (2013) Clinical orofacial characteristics associated with risk of first-onset TMD: the OPPERA prospective cohort study. J Pain 14:T33–T50

Kortum P, Sorber M (2015) Measuring the usability of mobile applications for phones and tablets. Int J Hum Comput Interact 31:518–529

Bangor A, Kortum P, Miller J (2009) Determining what individual SUS scores mean: adding an adjective rating scale. J Usability Stud 4:114–123

McNee C, Kieser JK, Antoun JS, Bennani H, Gallo LM, Farella M (2013) Neck and shoulder muscle activity of orthodontists in natural environments. J Electromyogr Kinesiol 23:600–607

Cioffi I, Landino D, Donnarumma V, Castroflorio T, Lobbezoo F, Michelotti A (2017) Frequency of daytime tooth clenching episodes in individuals affected by masticatory muscle pain and pain-free controls during standardized ability tasks. Clin Oral Investig 21:1139–1148

Gonzalez Y, Iwasaki LR, Mccall WD, Ohrbach R, Lozier E, Nickel JC (2011) Reliability of electromyographic activity vs. bite-force from human masticatory muscles. Eur J Oral Sci 119:219–224

Nishi SE, Basri R, Alam MK (2016) Uses of electromyography in dentistry: an overview with meta-analysis. Eur J Dent 10:419–425

Endo H, Kanemura K, Tanabe N, Takebe J (2011) Clenching occurring during the day is influenced by psychological factors. J Prosthodont Res 55:159–164

Eriksson PO, Häggman-Henrikson B, Nordh E, Zafar H (2000) Co-ordinated mandibular and head-neck movements during rhythmic jaw activities in man. J Dent Res 79:1378–1384

Ishii T, Narita N, Endo H (2016) Evaluation of jaw and neck muscle activities while chewing using EMG-EMG transfer function and EMG-EMG coherence function analyses in healthy subjects. Physiol Behav 160:35–42

Giannakopoulos NN, Hellmann D, Schmitter M, Krüger B, Hauser T, Schindler HJ (2013) Neuromuscular interaction of jaw and neck muscles during jaw clenching. J Orofac Pain 27:61–71

Yamaguchi T, Mikami S, Okada K (2007) Validity of a newly developed ultraminiature cordless EMG measurement system. Oral Surgery Oral Med Oral Pathol Oral Radiol Endodontology 104:e22–e27

Shochat T, Gavish A, Arons E, Hadas N, Molotsky A, Lavie P, Oksenberg A (2007) Validation of the BiteStrip screener for sleep bruxism. Oral Surgery Oral Med Oral Pathol Oral Radiol Endodontology 104:e32–e39

Sato M, Iizuka T, Watanabe A, Iwase N, Otsuka H, Terada N, Fujisawa M (2015) Electromyogram biofeedback training for daytime clenching and its effect on sleep bruxism. J Oral Rehabil 42:83–89

Criado L, de La Fuente A, Heredia M, Montero J, Albaladejo A, Criado JM (2016) Electromyographic biofeedback training for reducing muscle pain and tension on masseter and temporal muscles: a pilot study. J Clin Exp Dent 8:e571–e576
Acknowledgments
We would like to thank engineers Max Farr, Max Allen, Kuang Ma, and Edwin Neiman from Kamahi Electronics, Dunedin for their support with the development and testing of the early prototypes of the wireless device. We also like to thank the team from AD Instruments (Dunedin, NZ) for providing the equipment for the research tests, Hamza Bennani for software support and students from the University of Otago for volunteering to participate in the research.
Funding
The development of the device was supported by research grants from the Lottery Health Research Grant, New Zealand Dental Association, and internal funding from the Discipline of Orthodontics at the University of Otago. This study was supported with funding from the New Zealand Dental Association and Pain@Otago research grants.
Ethics declarations
Conflict of interest
The authors declare that they have no conflict of interest.
Ethical approval
All procedures performed in the human participants were in accordance with the ethical standards of the institution and approval was obtained (H16/125).
Informed consent
Informed consent was obtained from all individual participants included in the study.
About this article
Cite this article
Prasad, S., Paulin, M., Cannon, R.D. et al. Smartphone-assisted monitoring of masticatory muscle activity in freely moving individuals. Clin Oral Invest 23, 3601–3611 (2019). https://doi.org/10.1007/s00784-018-2785-3
Received:

Accepted:

Published:

Issue Date:

DOI: https://doi.org/10.1007/s00784-018-2785-3
Keywords