Abstract
Objective
To identify salivary metabolite biomarkers to differentiate patients with oral squamous cell carcinoma and oral epithelial dysplasia (OSCC/OED) from those with persistent suspicious oral mucosal lesions (PSOML).
Subjects and methods
Whole unstimulated saliva samples were collected from age-, sex-, and race-matched patients who had a lesion in the oral cavity and for whom open biopsies were performed. The patients included OSCC (n = 6), OED (n = 10), and PSOML (n = 32). Hydrophilic metabolites in saliva samples were comprehensively analyzed using capillary electrophoresis mass spectrometry. To evaluate the discrimination ability of a combination of multiple markers, a multiple logistic regression (MLR) model was developed to differentiate OSCC/OED from PSOML.
Results
Six metabolites were significantly different in OSCC/OED compared with PSOML. From these six metabolites, ornithine, o-hydroxybenzoate, and ribose 5-phosphate (R5P) were used to develop the MLR model, which resulted in a high value for the area under receiver operating characteristic curve (AUC 0.871, 95% confidential interval (CI) 0.760–0.982; p < 0.001) to discriminate OSCC/OED from PSOML.
Conclusions
This is the first study to identify salivary metabolites that discriminate OSCC/OED from PSOML rather than from healthy controls. The profiles of salivary metabolites were significantly different between OSCC/OED and PSOML. The ability to discriminate OSCC/OED from PSOML is important for dentists who are not oral surgery specialists. These salivary metabolites showed potential for non-invasive screening to discriminate OSCC/OED from PSOML.
Clinical relevance
Salivary metabolites in this study showed potential for non-invasive screening to discriminate OSCC/OED from PSOML.
Access options
Buy single article
Instant access to the full article PDF.
US$ 39.95
Tax calculation will be finalised during checkout.
Subscribe to journal
Immediate online access to all issues from 2019. Subscription will auto renew annually.
US$ 79
Tax calculation will be finalised during checkout.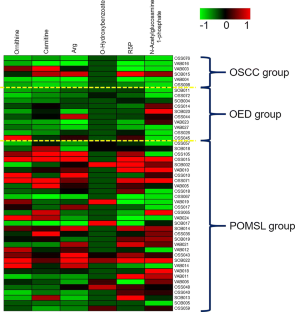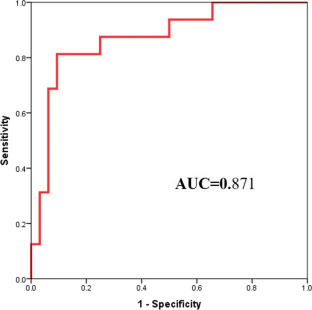 References
1.

Ferlay J, Soerjomataram I, Dikshit R, Eser S, Mathers C, Rebelo M, Parkin DM, Forman D, Bray F (2015) Cancer incidence and mortality worldwide: sources, methods and major patterns in GLOBOCAN 2012. Int J Cancer 136(5):E359–E386

2.

Malik UU, Zarina S, Pennington SR (2016) Oral squamous cell carcinoma: key clinical questions, biomarker discovery, and the role of proteomics. Arch Oral Biol 63:53–65

3.

Massano J, Regateiro FS, Januario G, Ferreira A (2006) Oral squamous cell carcinoma: review of prognostic and predictive factors. Oral Surg Oral Med Oral Pathol Oral Radiol Endod 102(1):67–76

4.

Balasundaram I, Payne KF, Al-Hadad I, Alibhai M, Thomas S, Bhandari R (2014) Is there any benefit in surgery for potentially malignant disorders of the oral cavity? J Oral Pathol Med 43(4):239–244

5.

Arduino PG, Surace A, Carbone M, Elia A, Massolini G, Gandolfo S, Broccoletti R (2009) Outcome of oral dysplasia: a retrospective hospital-based study of 207 patients with a long follow-up. J Oral Pathol Med 38(6):540–544

6.

Silverman S Jr, Gorsky M, Lozada F (1984) Oral leukoplakia and malignant transformation. A follow-up study of 257 patients. Cancer 53(3):563–568

7.

Schepman KP, van der Meij EH, Smeele LE, van der Waal I (1998) Malignant transformation of oral leukoplakia: a follow-up study of a hospital-based population of 166 patients with oral leukoplakia from the Netherlands. Oral Oncol 34(4):270–275

8.

Lind PO (1987) Malignant transformation in oral leukoplakia. Scand J Dent Res 95(6):449–455

9.

Rashid A, Warnakulasuriya S (2015) The use of light-based (optical) detection systems as adjuncts in the detection of oral cancer and oral potentially malignant disorders: a systematic review. J Oral Pathol Med 44(5):307–328

10.

Macey R, Walsh T, Brocklehurst P, Kerr AR, Liu JLY, Lingen MW, Ogden GR, Warnakulasuriya S, Scully C (2015) Diagnostic tests for oral cancer and potentially malignant disorders in patients presenting with clinically evident lesions. Cochrane Database Syst Rev. https://doi.org/10.1002/14651858.CD010276.pub2

11.

Rethman MP, Carpenter W, Cohen EE, Epstein J, Evans CA, Flaitz CM, Graham FJ, Hujoel PP, Kalmar JR, Koch WM, Lambert PM, Lingen MW, Oettmeier BW Jr, Patton LL, Perkins D, Reid BC, Sciubba JJ, Tomar SL, Wyatt AD Jr, Aravamudhan K, Frantsve-Hawley J, Cleveland JL, Meyer DM, American Dental C (2010) Association council on scientific affairs expert panel on screening for oral squamous cell, evidence-based clinical recommendations regarding screening for oral squamous cell carcinomas. J Am Dent Assoc 141(5):509–520

12.

Petruzzi M, Lucchese A, Baldoni E, Grassi FR, Serpico R (2010) Use of Lugol's iodine in oral cancer diagnosis: an overview. Oral Oncol 46(11):811–813

13.

Metgud R, Patel S (2014) Serum and salivary levels of albumin as diagnostic tools for oral pre-malignancy and oral malignancy. Biotech Histochem 89(1):8–13

14.

Punyani SR, Sathawane RS (2013) Salivary level of interleukin-8 in oral precancer and oral squamous cell carcinoma. Clin Oral Investig 17(2):517–524

15.

Wei J, Xie G, Zhou Z, Shi P, Qiu Y, Zheng X, Chen T, Su M, Zhao A, Jia W (2011) Salivary metabolite signatures of oral cancer and leukoplakia. Int J Cancer 129(9):2207–2217

16.

Ishikawa S, Sugimoto M, Kitabatake K, Sugano A, Nakamura M, Kaneko M, Ota S, Hiwatari K, Enomoto A, Soga T, Tomita M, Iino M (2016) Identification of salivary metabolomic biomarkers for oral cancer screening. Sci Rep 6:31520

17.

Henson BS, Wong DT (2010) Collection, storage, and processing of saliva samples for downstream molecular applications. Methods Mol Biol 666:21–30

18.

Ishikawa S, Sugimoto M, Kitabatake K, Tu M, Sugano A, Yamamori I, Iba A, Yusa K, Kaneko M, Ota S, Hiwatari K, Enomoto A, Masaru T, Iino M (2017) Effect of timing of collection of salivary metabolomic biomarkers on oral cancer detection. Amino Acids 49(4):761–770

19.

Sugimoto M, Wong DT, Hirayama A, Soga T, Tomita M (2010) Capillary electrophoresis mass spectrometry-based saliva metabolomics identified oral, breast and pancreatic cancer-specific profiles. Metabolomics 6(1):78–95

20.

Saeed AI, Bhagabati NK, Braisted JC, Liang W, Sharov V, Howe EA, Li J, Thiagarajan M, White JA, Quackenbush J (2006) TM4 microarray software suite. Methods Enzymol 411:134–193

21.

Caso G, McNurlan MA, McMillan ND, Eremin O, Garlick PJ (2004) Tumour cell growth in culture: dependence on arginine. Clin Sci 107(4):371–379

22.

Cynober L (1994) Can arginine and ornithine support gut functions? Gut 35(1 Suppl):S42–S45

23.

Liu R, Li Q, Ma R, Lin X, Xu H, Bi K (2013) Determination of polyamine metabolome in plasma and urine by ultrahigh performance liquid chromatography-tandem mass spectrometry method: application to identify potential markers for human hepatic cancer. Anal Chim Acta 791:36–45

24.

Giskeodegard GF, Bertilsson H, Selnaes KM, Wright AJ, Bathen TF, Viset T, Halgunset J, Angelsen A, Gribbestad IS, Tessem MB (2013) Spermine and citrate as metabolic biomarkers for assessing prostate cancer aggressiveness. PLoS One 8(4):e62375

25.

Takayama T, Tsutsui H, Shimizu I, Toyama T, Yoshimoto N, Endo Y, Inoue K, Todoroki K, Min JZ, Mizuno H, Toyo'Oka T (2016) Diagnostic approach to breast cancer patients based on target metabolomics in saliva by liquid chromatography with tandem mass spectrometry. Clin Chim Acta 452:18–26

26.

Levin VA, Uhm JH, Jaeckle KA, Choucair A, Flynn PJ, Yung WKA, Prados MD, Bruner JM, Chang SM, Kyritsis AP, Gleason MJ, Hess KR (2000) Phase III randomized study of postradiotherapy chemotherapy with alpha-difluoromethylornithine-procarbazine, N-(2-chloroethyl)-N'-cyclohexyl-N-nitrosurea, vincristine (DFMO-PCV) versus PCV for glioblastoma multiforme. Clin Cancer Res 6(10):3878–3884

27.

Jung YS, Najy AJ, Huang W, Sethi S, Snyder M, Sakr W, Dyson G, Huttemann M, Lee I, Ali-Fehmi R, Franceschi S, Struijk L, Kim HE, Kato I, Kim HC (2017) HPV-associated differential regulation of tumor metabolism in oropharyngeal head and neck cancer. Oncotarget 8(31):51530–51541

28.

Sethi S, Ali-Fehmi R, Franceschi S, Struijk L, van Doorn LJ, Quint W, Albashiti B, Ibrahim M, Kato I (2012) Characteristics and survival of head and neck cancer by HPV status: a cancer registry-based study. Int J Cancer 131(5):1179–1186

29.

Mellin H, Friesland S, Lewensohn R, Dalianis T, Munck-Wikland E (2000) Human papillomavirus (HPV) DNA in tonsillar cancer: clinical correlates, risk of relapse, and survival. Int J Cancer 89(3):300–304

30.

Sedaghat AR, Zhang Z, Begum S, Palermo R, Best S, Ulmer KM, Levine M, Zinreich E, Messing BP, Gold D, Wu AA, Niparko KJ, Kowalski J, Hirata RM, Saunders JR, Westra WH, Pai SI (2009) Prognostic significance of human papillomavirus in oropharyngeal squamous cell carcinomas. Laryngoscope 119(8):1542–1549

31.

Polz-Dacewicz M, Strycharz-Dudziak M, Dworzanski J, Stec A, Kocot J (2016) Salivary and serum IL-10, TNF-alpha, TGF-beta, VEGF levels in oropharyngeal squamous cell carcinoma and correlation with HPV and EBV infections. Infect Agent Cancer 11:45

32.

Wan Y, Vagenas D, Salazar C, Kenny L, Perry C, Calvopina D, Punyadeera C (2017) Salivary miRNA panel to detect HPV-positive and HPV-negative head and neck cancer patients. Oncotarget 8(59):99990–100001

33.

Tang KD, Kenny L, Perry C, Frazer I, Punyadeera C (2017) The overexpression of salivary cytokeratins as potential diagnostic biomarkers in head and neck squamous cell carcinomas. Oncotarget 8(42):72272–72280

34.

Wang Q, Gao P, Wang X, Duan Y (2014) Investigation and identification of potential biomarkers in human saliva for the early diagnosis of oral squamous cell carcinoma. Clin Chim Acta 427:79–85
Funding
This work was supported by grants from Yamagata Prefecture, Tsuruoka, Japan, and the Ministry of Education, Culture, Sports, Science, and Technology (MEXT) KAKENHI (16K11742 and 17K11897).
Ethics declarations
Conflict of interest
David Wong is co-founder of RNAmeTRIX Inc., a molecular diagnostic company. He holds equity in RNAmeTRIX, and serves as a company Director and Scientific Advisor. The University of California also holds equity in RNAmeTRIX. Intellectual property that David Wong invented and which was patented by the University of California has been licensed to RNAmeTRIX. Dr. Wong is consultant to GlaxoSmithKlein, Wrigley, and Colgate-Palmolive. Masahiro Sugimoto is a co-founder of SalivaTech Co. LTD.
Ethical approval
All procedures performed in studies involving human participants were in accordance with the ethical standards of the institutional and/or national research committee and with the 1964 Helsinki declaration and its later amendments or comparable ethical standards. The Ethics Committee of University of California, Los Angeles, Faculty (School) of Dentistry, approved this study protocol.
Informed consent
Informed consent was obtained from all individual participants included in the study.
Electronic supplementary material
About this article
Cite this article
Ishikawa, S., Wong, D.T.W., Sugimoto, M. et al. Identification of salivary metabolites for oral squamous cell carcinoma and oral epithelial dysplasia screening from persistent suspicious oral mucosal lesions. Clin Oral Invest 23, 3557–3563 (2019). https://doi.org/10.1007/s00784-018-2777-3
Received:

Accepted:

Published:

Issue Date:
Keywords
Metabolites

Oral squamous cell carcinoma

Oral epithelial dysplasia

Screening

Saliva