Abstract
Objectives
There are no studies that have assessed the oral soft tissue response to full-mouth ultrasonic scaling (FMUS) among cigarette-smokers (CS) (group 1), individuals vaping electronic-cigarettes (E-cigs) (group 2), and never-smokers (NS) (group 3). The aim was to assess the impact of cigarette smoking and vaping on periodontal tissues following FMUS.
Materials and methods
In a clinical prospective study, 89 male individuals were divided into three groups: CS (group 1), E-cig users (group 2), and NS (group 3). A questionnaire was used to gather demographic data and information regarding duration and daily frequency of CS and vaping. Full-mouth plaque index (PI), bleeding on probing (BOP), clinical attachment loss (AL), and probing depth (PD) were measured at baseline and 3 and 6 months after FMUS (without root surface debridement). Numbers of missing teeth (MT) were also recorded.
Results
In groups 1, 2, and 3, 30, 28, and 31 individuals, respectively were included. In group 1, there was no statistically significant difference in mean PI and PD and numbers of sites with PD ≥ 4 mm at 6 months' follow-up compared with baseline and 3 months' follow-up. In groups 2 and 3, there was no significant difference in PI, BOP, and PD at 3 months' (P > 0.05) and 6-months' (P > 0.05) follow-up. There were no pockets with PD ≥ 4 mm at 3 and 6 months' follow-up in groups 2 and 3. There was no difference in the numbers of MT and none of the individuals exhibited clinical AL in all groups.
Conclusion
Following FMUS, gingival inflammation is worse in CS compared with individuals vaping E-cigs and NS.
Clinical relevance
Periodontal inflammatory parameters are worse in cigarette-smokers than individuals vaping electronic cigarettes and never-smokers following FMUS. However, these findings should be interpreted with extreme caution as a number of factors may have influenced the present results.
This is a preview of subscription content, log in to check access.
Access options
Buy single article
Instant access to the full article PDF.
US$ 39.95
Price includes VAT for USA
Subscribe to journal
Immediate online access to all issues from 2019. Subscription will auto renew annually.
US$ 99
This is the net price. Taxes to be calculated in checkout.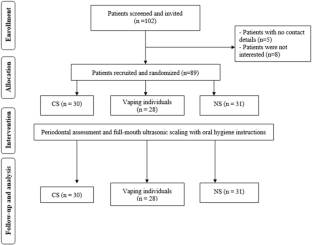 References
1.

Geisinger ML, Geurs NC, Ogdon D, Reddy MS (2017) Targeting Underlying Biologic Mechanisms in Selecting Adjunctive Therapies to Improve Periodontal Treatment in Smokers. A Commentary. J Periodontol:1–12. https://doi.org/10.1902/jop.2017.170098

2.

Papantonopoulos GH (1999) Smoking influences decision making in periodontal therapy: a retrospective clinical study. J Periodontol 70:1166–1173. https://doi.org/10.1902/jop.1999.70.10.1166

3.

Bunaes DF, Lie SA, Enersen M, Aastrom AN, Mustafa K, Leknes KN (2015) Site-specific treatment outcome in smokers following non-surgical and surgical periodontal therapy. J Clin Periodontol 42:933–942. https://doi.org/10.1111/jcpe.12462

4.

Kotsakis GA, Javed F, Hinrichs JE, Karoussis IK, Romanos GE (2015) Impact of cigarette smoking on clinical outcomes of periodontal flap surgical procedures: a systematic review and meta-analysis. J Periodontol 86:254–263. https://doi.org/10.1902/jop.2014.140452

5.

Takeuchi-Igarashi H, Kubota S, Tachibana T, Murakashi E, Takigawa M, Okabe M, Numabe Y (2016) Matrix remodeling response of human periodontal tissue cells toward fibrosis upon nicotine exposure. Odontology 104:35–43. https://doi.org/10.1007/s10266-014-0177-y

6.

Alamri A, Semlali A, Jacques E, Alanazi M, Zakrzewski A, Chmielewski W, Rouabhia M (2015) Long-term exposure of human gingival fibroblasts to cigarette smoke condensate reduces cell growth by modulating Bax, caspase-3 and p53 expression. J Periodontal Res 50:423–433. https://doi.org/10.1111/jre.12223

7.

Katz J, Yoon TY, Mao S, Lamont RJ, Caudle RM (2007) Expression of the receptor of advanced glycation end products in the gingival tissue of smokers with generalized periodontal disease and after nornicotine induction in primary gingival epithelial cells. J Periodontol 78:736–741. https://doi.org/10.1902/jop.2007.060381

8.

Katz J, Caudle RM, Bhattacharyya I, Stewart CM, Cohen DM (2005) Receptor for advanced glycation end product (RAGE) upregulation in human gingival fibroblasts incubated with nornicotine. J Periodontol 76:1171–1174. https://doi.org/10.1902/jop.2005.76.7.1171

9.

Yu S, Li H, Ma Y, Fu Y (2012) Matrix metalloproteinase-1 of gingival fibroblasts influenced by advanced glycation end products (AGEs) and their association with receptor for AGEs and nuclear factor-kappaB in gingival connective tissue. J Periodontol 83:119–126. https://doi.org/10.1902/jop.2011.100754

10.

Wendell KJ, Stein SH (2001) Regulation of cytokine production in human gingival fibroblasts following treatment with nicotine and lipopolysaccharide. J Periodontol 72:1038–1044. https://doi.org/10.1902/jop.2001.72.8.1038

11.

Zhang W, Fang M, Song F, Windsor LJ (2011) Effects of cigarette smoke condensate and nicotine on human gingival fibroblast-mediated collagen degradation. J Periodontol 82:1071–1079. https://doi.org/10.1902/jop.2010.100540

12.

Johnson GK, Hill M (2004) Cigarette smoking and the periodontal patient. J Periodontol 75:196–209. https://doi.org/10.1902/jop.2004.75.2.196

13.

Javed F, Al-Rasheed A, Almas K, Romanos GE, Al-Hezaimi K (2012) Effect of cigarette smoking on the clinical outcomes of periodontal surgical procedures. Am J Med Sci 343:78–84. https://doi.org/10.1097/MAJ.0b013e318228283b

14.

Sundar IK, Javed F, Romanos GE, Rahman I (2016) E-cigarettes and flavorings induce inflammatory and pro-senescence responses in oral epithelial cells and periodontal fibroblasts. Oncotarget 7:77196–77204. https://doi.org/10.18632/oncotarget.12857

15.

Schoenborn CA, Gindi RM (2015) Electronic cigarette use among adults: United States, 2014. NCHS Data Brief:1–8

16.

Ayers JW, Leas EC, Allem JP, Benton A, Dredze M, Althouse BM, Cruz TB, Unger JB (2017) Why do people use electronic nicotine delivery systems (electronic cigarettes)? A content analysis of Twitter, 2012-2015. PLoS One 12:e0170702. https://doi.org/10.1371/journal.pone.0170702

17.

Lei W, Lerner C, Sundar IK, Rahman I (2017) Myofibroblast differentiation and its functional properties are inhibited by nicotine and e-cigarette via mitochondrial OXPHOS complex III. Sci Rep 7:43213. https://doi.org/10.1038/srep43213

18.

Lerner CA, Rutagarama P, Ahmad T, Sundar IK, Elder A, Rahman I (2016) Electronic cigarette aerosols and copper nanoparticles induce mitochondrial stress and promote DNA fragmentation in lung fibroblasts. Biochem Biophys Res Commun 477:620–625. https://doi.org/10.1016/j.bbrc.2016.06.109

19.

Lerner CA, Sundar IK, Watson RM, Elder A, Jones R, Done D, Kurtzman R, Ossip DJ, Robinson R, McIntosh S, Rahman I (2015) Environmental health hazards of e-cigarettes and their components: oxidants and copper in e-cigarette aerosols. Environ Pollut 198:100–107. https://doi.org/10.1016/j.envpol.2014.12.033

20.

Javed F, Abduljabbar T, Vohra F, Malmstrom H, Rahman I, Romanos GE (2017) Comparison of periodontal parameters and self-perceived oral symptoms among cigarette-smokers, individuals vaping electronic-cigarettes and never-smokers: a pilot study. J Periodontol:1–9. https://doi.org/10.1902/jop.2017.170197

21.

Bjartveit K, Tverdal A (2005) Health consequences of smoking 1-4 cigarettes per day. Tob Control 14:315–320. https://doi.org/10.1136/tc.2005.011932

22.

Javed F, Nasstrom K, Benchimol D, Altamash M, Klinge B, Engstrom PE (2007) Comparison of periodontal and socioeconomic status between subjects with type 2 diabetes mellitus and non-diabetic controls. J Periodontol 78:2112–2119. https://doi.org/10.1902/jop.2007.070186

23.

Sunaga M, Minabe M, Inagaki K, Kinoshita A (2016) Effectiveness of a specially designed dental model for training, evaluation, and standardization of pocket probing. J Dent Educ 80:1430–1439

24.

Ainamo J, Bay I (1975) Problems and proposals for recording gingivitis and plaque. Int Dent J 25:229–235

25.

Genco RJ, Grossi SG, Ho A, Nishimura F, Murayama Y (2005) A proposed model linking inflammation to obesity, diabetes, and periodontal infections. J Periodontol 76:2075–2084. https://doi.org/10.1902/jop.2005.76.11-S.2075

26.

Qadri T, Javed F, Poddani P, Tuner J, Gustafsson A (2011) Long-term effects of a single application of a water-cooled pulsed Nd:YAG laser in supplement to scaling and root planing in patients with periodontal inflammation. Lasers Med Sci 26:763–766. https://doi.org/10.1007/s10103-010-0807-8

27.

Qadri T, Poddani P, Javed F, Tuner J, Gustafsson A (2010) A short-term evaluation of Nd:YAG laser as an adjunct to scaling and root planing in the treatment of periodontal inflammation. J Periodontol 81:1161–1166. https://doi.org/10.1902/jop.2010.090700

28.

Meulman T, Giorgetti AP, Gimenes J, Casarin RC, Peruzzo DC, Nociti FH Jr (2013) One stage, full-mouth, ultrasonic debridement in the treatment of severe chronic periodontitis in smokers: a preliminary, blind and randomized clinical trial. J Int Acad Periodontol 15:83–90

29.

Nassrawin NA (2010) Effect of smoking on the response to nonsurgical periodontal therapy. East Mediterr Health J 16:162–165

30.

Erdemir EO, Duran I, Haliloglu S (2004) Effects of smoking on clinical parameters and the gingival crevicular fluid levels of IL-6 and TNF-alpha in patients with chronic periodontitis. J Clin Periodontol 31:99–104. https://doi.org/10.1111/j.0303-6979.2004.00454.x

31.

Guntsch A, Erler M, Preshaw PM, Sigusch BW, Klinger G, Glockmann E (2006) Effect of smoking on crevicular polymorphonuclear neutrophil function in periodontally healthy subjects. J Periodontal Res 41:184–188. https://doi.org/10.1111/j.1600-0765.2005.00852.x

32.

Bagaitkar J, Daep CA, Patel CK, Renaud DE, Demuth DR, Scott DA (2011) Tobacco smoke augments Porphyromonas gingivalis-Streptococcus gordonii biofilm formation. PLoS One 6:e27386. https://doi.org/10.1371/journal.pone.0027386

33.

Bagaitkar J, Demuth DR, Daep CA, Renaud DE, Pierce DL, Scott DA (2010) Tobacco upregulates P. gingivalis fimbrial proteins which induce TLR2 hyposensitivity. PLoS One 5:e9323. https://doi.org/10.1371/journal.pone.0009323

34.

Dede FO, Ozden FO, Avci B (2013) 8-hydroxy-deoxyguanosine levels in gingival crevicular fluid and saliva in patients with chronic periodontitis after initial periodontal treatment. J Periodontol 84:821–828. https://doi.org/10.1902/jop.2012.120195

35.

Giannopoulou C, Kamma JJ, Mombelli A (2003) Effect of inflammation, smoking and stress on gingival crevicular fluid cytokine level. J Clin Periodontol 30:145–153

36.

Javed F, Al-Kheraif AA, Al Amri MD, Alshehri M, Vohra F, Al-Askar M, Malmstrom H, Romanos GE (2015) Periodontal status and whole salivary cytokine profile among smokers and never-smokers with and without prediabetes. J Periodontol 86:890–898. https://doi.org/10.1902/jop.2015.140593

37.

Dietrich T, Walter C, Oluwagbemigun K, Bergmann M, Pischon T, Pischon N, Boeing H (2015) Smoking, smoking cessation, and risk of tooth loss: the EPIC-Potsdam study. J Dent Res 94:1369–1375. https://doi.org/10.1177/0022034515598961

38.

Carson SJ, Burns J (2016) Impact of smoking on tooth loss in adults. Evid Based Dent 17:73–74. https://doi.org/10.1038/sj.ebd.6401182

39.

Pokhrel P, Herzog TA (2015) Reasons for quitting cigarette smoking and electronic cigarette use for cessation help. Psychol Addict Behav 29:114–121. https://doi.org/10.1037/adb0000025

40.

Zhu SH, Zhuang YL, Wong S, Cummins SE, Tedeschi GJ (2017) E-cigarette use and associated changes in population smoking cessation: evidence from US current population surveys. Bmj 358:j3262. https://doi.org/10.1136/bmj.j3262

41.

Grudianov AI, Kemulariia IV (2010) Laser doppler estimation of the influence of tobacco-smoking on the blood microcirculation in the periodont at the patients with the different stages of periodontal diseases. Stomatologiia (Mosk) 89:10–14

42.

Cyrino RM, Miranda Cota LO, Pereira Lages EJ, Bastos Lages EM, Costa FO (2011) Evaluation of self-reported measures for prediction of periodontitis in a sample of Brazilians. J Periodontol 82:1693–1704. https://doi.org/10.1902/jop.2011.110015

43.

Piuvezam G, de Lima KC (2012) Self-perceived oral health status in institutionalized elderly in Brazil. Arch Gerontol Geriatr 55:5–11. https://doi.org/10.1016/j.archger.2011.04.017

44.

Hartenbach F, Silva-Boghossian CM, Colombo APV (2018) The effect of supragingival biofilm re-development on the subgingival microbiota in chronic periodontitis. Arch Oral Biol 85:51–57. https://doi.org/10.1016/j.archoralbio.2017.10.007

45.

Ji S, Choi YS, Choi Y (2015) Bacterial invasion and persistence: critical events in the pathogenesis of periodontitis? J Periodontal Res 50:570–585. https://doi.org/10.1111/jre.12248
Ethics declarations
Conflict of interest
The authors declare that they have no conflict of interest.
Ethical approval
All procedures performed in the present study were in accordance with the ethical standards of the institutional and/or national research committee and with the 1964 Helsinki Declaration and its later amendments or comparable ethical standards.
Informed consent
Informed consent was obtained from all individual participants included in the present study.
About this article
Cite this article
ALHarthi, S.S., BinShabaib, M., Akram, Z. et al. Impact of cigarette smoking and vaping on the outcome of full-mouth ultrasonic scaling among patients with gingival inflammation: a prospective study. Clin Oral Invest 23, 2751–2758 (2019). https://doi.org/10.1007/s00784-018-2725-2
Received:

Accepted:

Published:

Issue Date:
Keywords
Dental plaque index

Dental scaling

Electronic cigarette

Periodontal index

Periodontal pocket

Smoking