Abstract
Objectives
A group of adolescents with oral piercings was studied to determine the presence of metallic particles in cells exfoliated from the mucosa surrounding their metal oral piercings and the association between such particles and the metal jewelry, and to evaluate subsequent tissue implications.
Materials and methods
Sixteen teenage patients who had tongue and/or lip piercings were included. The clinical features of the oral mucosa and lip skin were evaluated. Exfoliative cytology was performed in the area surrounding the piercing. The surface of used and unused jewelry was studied by scanning electron microscopy and energy dispersive X-ray analysis.
Results
Hyperplastic, leukoedematous, and lichenoid lesions were observed in the mucosa, as well as lesions associated with metallosis of the lip skin. Cytological smears showed the presence of particles inside the epithelial cells; the particles were found to contain aluminum, tungsten, and molybdenum. In one case requiring surgical removal of the piercing, histological examination of the tissue associated with the piece of jewelry showed the presence particles containing aluminum, iron, and tin inside multinucleated giant cells. Although surface finish defects were observed on both unused and used piercing jewelry, they were more evident on the used pieces.
Conclusions
Ion particles are released from the metal piercings and could have been adjuvant factors in the development of the observed lesions. Cells exfoliated from the oral mucosa surrounding metal piercings may serve as bioindicators of corrosion processes.
Clinical relevance
We propose the use of exfoliative cytology to monitor corrosion processes and for routine clinical follow up.
Access options
Buy single article
Instant access to the full article PDF.
US$ 39.95
Tax calculation will be finalised during checkout.
Subscribe to journal
Immediate online access to all issues from 2019. Subscription will auto renew annually.
US$ 79
Tax calculation will be finalised during checkout.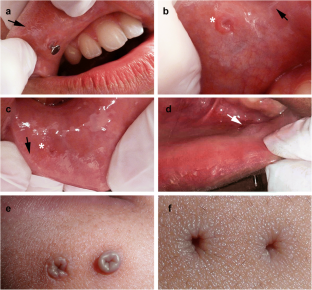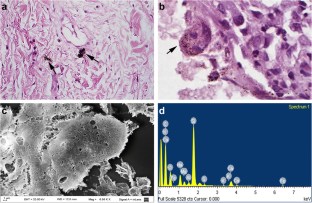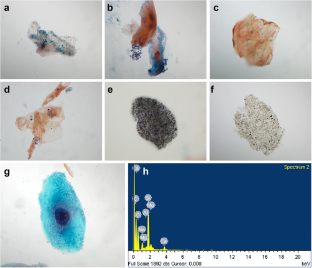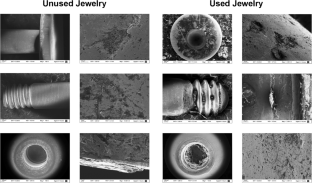 References
1.

Purim KS, Rosario BA, Rosario CS, Guimarães AT (2014) Piercings in medical students and their effects on the skin. An Bras Dermatol 89:905–910

2.

Hennequin-Hoenderdos NL, Slot DE, Van der Weijden GA (2016) The incidence of complications associated with lip and/or tongue piercings: a systematic review. Int J Dent Hyg 14:62–73

3.

López-Jornet P, Camacho-Alonso F (2006) Oral and dental complications of intra-oral piercing. J Adolesc Health 39:767–769

4.

Hennequin-Hoenderdos NL, Slot DE, Van der Weijden GA (2012) The prevalence of oral and peri-oral piercings in young adults: a systematic review. Int J Dent Hyg 10:223–228

5.

De Moor RJ, De Witte AM, Delmé KI et al (2005) Dental and oral complications of lip and tongue piercings. Br Dent J 199:506–509

6.

Bocca B, Caimi S, Senofonte O, Petrucci F, Feliciani R, Milana MR, De Berardis B, Paoletti L, Forte G (2009) The X-ray and SF-ICP-MS analysis of content and release of allergenic metals from body piercing. Open Chemical Biomedical Methods J 2:35–41

7.

Matusiewicz H (2014) Potential release of in vivo trace metals from metallic medical implants in the human body: from ions to nanoparticles - a systematic analytical review. Acta Biomater 10:2379–2403

8.

Olmedo D, Tasat D, Duffó G, Cabrini R, Guglielmotti M (2012) Systemic and local tissue response to titanium corrosion. In Bensalah N (ed) Pitting corrosion. Rijeka, In Tech, pp 94–118

9.

Jacobs JJ, Gilbert JL, Urban RM (1998) Corrosion of metal orthopaedic implants. J Bone Joint Surg Am 80:268–282

10.

Sajnóg A, Hanć A, Koczorowski R, Makuch K, Barałkiewicz D (2018) Usefulness of laser ablation ICP-MS for analysis of metallic particles released to oral mucosa after insertion of dental implants. J Trace Elem Med Biol 46:46–54

11.

Olmedo DG, Paparella ML, Spielberg M, Brandizzi D, Guglielmotti MB, Cabrini RL (2012) Oral mucosa tissue response to titanium cover screws. J Periodontol 83:973–980

12.

Olmedo DG, Nalli G, Verdú S, Paparella ML, Cabrini RL (2013) Exfoliative cytology and titanium dental implants: a pilot study. J Periodontol 84:78–83

13.

Olmedo DG, Paparella ML, Brandizzi D, Cabrini RL (2010) Reactive lesions of peri-implant mucosa associated with titanium dental implants: a report of 2 cases. J Oral Maxillofac Surg 39:503–507

14.

Guglielmotti MB, Domingo MG, Steimetz T, Ramos E, Paparella ML, Olmedo DG (2015) Migration of titanium dioxide microparticles and nanoparticles through the body and deposition in the gingiva: an experimental study in rats. Eur J Oral Sci 123:242–248

15.

Tasat DR, Domingo MG, Bruno ME, Guglielmotti MB, Olmedo DG (2017) Titanium nanoparticle size influences trace concentration levels in skin appendages. Toxicol Pathol 45:624–632

16.

Bruno ME, Tasat DR, Ramos E, Paparella ML, Evelson P, Rebagliati RJ, Cabrini RL, Guglielmotti MB, Olmedo DG (2014) Impact through time of different sized titanium dioxide particles on biochemical and histopathological parameters. J Biomed Mater Res A 102:1439–1448

17.

Lupi SM, Zaffe D, Rodriguez Y, Baena R, Rizzo S, Botticelli AR (2010) Cytopathological and chemico-physical analyses of smears of mucosa surrounding oral piercing. Oral Dis 16:160–166

18.

ISO 5832-1:2007, Implants for surgery - metallic materials part 1: wrought stainless steel (2007) Vernier, Geneva: International Organization for Standardization

19.

Olmedo DG, Fernández MM, Guglielmotti MB, Cabrini RL (2003) Macrophages related to dental implant failure. Implant Dent 12:75–80

20.

High WA, Ayers RA, Adams JR, Chang A, Fitzpatrick JE (2006) Granulomatous reaction to titanium alloy: an unusual reaction to ear piercing. J Am Acad Dermatol 55:716–720

21.

Watanabe R, Nanko H, Fukuda S (2006) Lymphocytoma cutis due to pierced earrings. J Cutan Pathol 33:16–19

22.

Brodbeck WG, Anderson JM (2009) Giant cell formation and function. Curr Opin Hematol 16:53–57

23.

Sheikh Z, Brooks PJ, Barzilay O, Fine N, Glogauer M (2015) Macrophages, foreign body giant cells and their response to implantable biomaterials. Materials Basel 28:5671–5701

24.

Azevedo CR (2003) Characterisation of metallic piercings. Eng Fail Anal 10:255–263

25.

Rogero SO, Higa OZ, Saiki M, Correa OV, Costa I (2000) Cytotoxicity due to corrosion of ear piercing studs. Toxicol in Vitro 14:497–404

26.

Costa I, De Melo HG, Saiki M, Correa OV, Rogero SO (2003) Evaluation of the corrosion resistance of ear piercing studs in a culture medium by electrochemical impedance spectroscopy. J Electroanal Chem 544:113–120

27.

ASTM F86–13, Standard practice for surface preparation and marking of metallic surgical implants (2013) West Conshohocken, PA: ASTM International

28.

Kulkarni N, Kalele K, Kulkarni M, Kathariya R (2014) Trace elements in oral health and disease: an updated review. J Dent Rev 1:100–104

29.

Ditrichova D, Kapralova S, Tichy M, Ticha V, Dobesova J, Justova E, Eber M, Pirek P (2007) Oral lichenoid lesions and allergy to dental materials. Biomed Pap Med Fac Univ Palacky Olomouc Czech Repub 151:333–339

30.

Yotova A, Di Gregorio MG, Pohl D, Scheer M, Niedermeier W (2010) Oral galvanic currents and their relation to oral leukoplakia. J Dent Res 89(Spec Iss B):726

31.

Nogi N (1989) Electric current around dental metals as a factor producing allergenic metal ions in the oral cavity. Nihon Hifuka Gakkai Zasshi 99:1243–1254

32.

Ziebolz D, Hildebrand A, Proff P, Rinke S, Hornecker E, Mausberg RF (2012) Long-term effects of tongue piercing -- a case control study. Clin Oral Investig 16:231–237

33.

Vozza I, Fusco F, Corridore D, Ottolenghi L (2015) Awareness of complications and maintenance mode of oral piercing in a group of adolescents and young Italian adults with intraoral piercing. Med Oral Patol Oral Cir Bucal 20:413–418

34.

Pejcic A, Kojovic D, Mirkovic D (2012) Oral piercing and its complications in two Serbian youths: a case report and review of the literature. West Indian Med J 61:838–843

35.

Inchingolo F, Tatullo M, Abenavoli FM, Marrelli M, Inchingolo AD, Palladino A, Inchingolo AM, Dipalma G (2011) Oral piercing and oral diseases: a short time retrospective study. Int J Med Sci 8:649–652
Funding
This study was funded by the University of Buenos Aires (UBACyT 20020150100032BA and 0020130100332BA) and the National Council for Scientific and Technological Research, Argentina, (PIP 11220130100091).
Ethics declarations
Conflict of interest
The authors declare that they have no conflict of interest.
Ethical approval
All procedures performed in this study were in accordance with the Statement of Ethics Principles of the School of Dentistry, University of Buenos Aires (Res (CD) 325/02).
Informed consent
Informed consent was obtained from all individual participants included in the study.
About this article
Cite this article
Domingo, M.G., Ferrari, L., Aguas, S. et al. Oral exfoliative cytology and corrosion of metal piercings. Tissue implications. Clin Oral Invest 23, 1895–1904 (2019). https://doi.org/10.1007/s00784-018-2626-4
Received:

Accepted:

Published:

Issue Date:
Keywords
Adolescents

Tongue and lip piercings

Metal jewelry

Corrosion

Metal surface finish

Exfoliative cytology