Abstract
Objectives
To determine the impact of general and oral health status of nursing home residents in Germany on efficacy and acceptance of professional dental cleaning performed by a dental nurse.
Materials and methods
Participants (N = 41; mean age 83 ± 8 years) living in a nursing home were included. Personal and general health, oral health, oral hygiene habits, and needs were investigated. Individual acceptance regarding professional dental cleaning via different devices (scaler, interdental brushes, ultrasonic cleaning) was assessed, as was the efficacy of this method using after-cleaning indices.
Results
Oral health among nursing home residents was impaired and independent from dementia status. Most residents (33/41) performed oral hygiene procedures independently and showed better index values than those in need of external help. Residents requiring help with oral hygiene showed increased risk profiles (higher age, more often immobile, demented, more xerostomia). The dental cleaning procedure required a mean time of 37 ± 11 min, was widely accepted (36/41), and achieved clean results (plaque index 0.1 ± 0.5, oral hygiene index 0.2 ± 1.6, Volpe-Manhold index 0.4 ± 1.6); food residues were reduced to 0 independent from cognitive status. Regarding the cleaning methods, scalers were accepted best without difference between demented and non-demented residents.
Conclusions
Professional dental cleaning in nursing homes is an accepted and efficacious oral hygiene procedure among nursing home residents.
Clinical relevance
Professional dental cleaning is an efficacious and accepted method as a first step in line with strategies to improve oral health and should be considered in nursing home residents.
Access options
Buy single article
Instant access to the full article PDF.
USD 39.95
Price excludes VAT (USA)
Tax calculation will be finalised during checkout.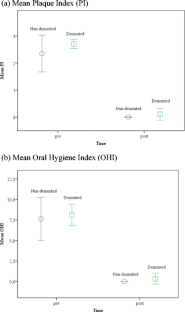 References
Zenthofer A, Dieke R, Dieke A, Wege KC, Rammelsberg P, Hassel AJ (2013) Improving oral hygiene in the long-term care of the elderly—a RCT. Community Dent Oral Epidemiol 41:261–268. https://doi.org/10.1111/cdoe.12007

Montal S, Tramini P, Triay JA, Valcarcel J (2006) Oral hygiene and the need for treatment of the dependent institutionalised elderly. Gerodontology 23:67–72. https://doi.org/10.1111/j.1741-2358.2006.00111.x

Wyatt CC (2002) Elderly Canadians residing in long-term care hospitals: part I. Medical and dental status. J Can Dent Assoc 68:353–358

Hoad-Reddick G, Grant AA, Griffiths CS (1990) Investigation into the cleanliness of dentures in an elderly population. J Prosthet Dent 64:48–52

Adams R (1996) Qualified nurses lack adequate knowledge related to oral health, resulting in inadequate oral care of patients on medical wards. J Adv Nurs 24:552–560

Zenthofer A, Baumgart D, Cabrera T, Rammelsberg P, Schroder J, Corcodel N, Hassel AJ (2017) Poor dental hygiene and periodontal health in nursing home residents with dementia: an observational study. Odontology 105:208–213. https://doi.org/10.1007/s10266-016-0246-5

Zenthofer A, Schroder J, Cabrera T, Rammelsberg P, Hassel AJ (2014) Comparison of oral health among older people with and without dementia. Community Dent Health 31:27–31

De Visschere LM, Grooten L, Theuniers G, Vanobbergen JN (2006) Oral hygiene of elderly people in long-term care institutions—a cross-sectional study. Gerodontology 23:195–204. https://doi.org/10.1111/j.1741-2358.2006.00139.x

Weeks JC, Fiske J (1994) Oral care of people with disability: a qualitative exploration of the views of nursing staff. Gerodontology 11:13–17

MacEntee MI, Thorne S, Kazanjian A (1999) Conflicting priorities: oral health in long-term care. Spec Care Dentist 19:164–172

Vanobbergen JN, De Visschere LM (2005) Factors contributing to the variation in oral hygiene practices and facilities in long-term care institutions for the elderly. Community Dent Health 22:260–265

Ainamo J, Barmes D, Beagrie G, Cutress T, Martin J, Sardo-Infirri J (1982) Development of the World Health Organization (WHO) community periodontal index of treatment needs (CPITN). Int Dent J 32:281–291

Baelum V, Manji F, Wanzala P, Fejerskov O (1995) Relationship between CPITN and periodontal attachment loss findings in an adult population. J Clin Periodontol 22:146–152

Loe H, Silness J (1963) Periodontal disease in pregnancy. I. Prevalence and severity. Acta Odontol Scand 21:533–551

Saxer UP, Muhlemann HR (1975) Motivation and education. SSO Schweiz Monatsschr Zahnheilkd 85:905–919

Beighton D, Lynch E, Heath MR (1993) A microbiological study of primary root-caries lesions with different treatment needs. J Dent Res 72:623–629. https://doi.org/10.1177/00220345930720031201

Greene JC (1960) Nutrition in a collegiate basic nursing curriculum. Nurs Outlook 8:314–315

Volpe AR, Manhold JH, Hazen SP (1965) In vivo calculus assessment. I. A method and its examiner reproducibility. J Periodontol 36:292–298

Dirix P, Nuyts S, Vander Poorten V, Delaere P, Van den Bogaert W (2007) Efficacy of the BioXtra dry mouth care system in the treatment of radiotherapy-induced xerostomia. Support Care Cancer 15:1429–1436. https://doi.org/10.1007/s00520-006-0210-y

Zenthofer A, Navratil SD, Rammelsberg P, Cabrera T, Gorenc L, Urbanowitsch N, Wetzel P, Schroder J, Hassel AJ (2015) Oral health and apraxia among institutionalized elderly people—a pilot study. Acta Odontol Scand 73:150–155. https://doi.org/10.3109/00016357.2014.961956

Ziebolz D, Werner C, Schmalz G, Nitschke I, Haak R, Mausberg RF, Chenot JF (2017) Oral health and nutritional status in nursing home residents-results of an explorative cross-sectional pilot study. BMC Geriatr 17:39. https://doi.org/10.1186/s12877-017-0429-0

Caplan DJ, Ghazal TS, Cowen HJ, Oliveira DC (2017) Dental status as a predictor of mortality among nursing facility residents in eastern Iowa. Gerodontology 34:257–263. https://doi.org/10.1111/ger.12260

Janssens B, Vanobbergen J, Lambert M, Schols JM, De Visschere L (2017) Effect of an oral healthcare programme on care staff knowledge and attitude regarding oral health: a non-randomised intervention trial. Clin Oral Investig 22:281–292. https://doi.org/10.1007/s00784-017-2110-6

Nicol R, Petrina Sweeney M, McHugh S, Bagg J (2005) Effectiveness of health care worker training on the oral health of elderly residents of nursing homes. Community Dent Oral Epidemiol 33:115–124. https://doi.org/10.1111/j.1600-0528.2004.00212.x

Zenthofer A, Cabrera T, Rammelsberg P, Hassel AJ (2016a) Improving oral health of institutionalized older people with diagnosed dementia. Aging Ment Health 20:303–308. https://doi.org/10.1080/13607863.2015.1008986

Zenthofer A, Meyer-Kuhling I, Hufeland AL, Schroder J, Cabrera T, Baumgart D, Rammelsberg P, Hassel AJ (2016b) Carers' education improves oral health of older people suffering from dementia—results of an intervention study. Clin Interv Aging 11:1755–1762. https://doi.org/10.2147/CIA.S118330
Ethics declarations
Conflict of interest
The authors declare that they have no conflict of interest.
Ethical approval
All procedures performed in studies involving human participants were in accordance with the ethical standards of the institutional research committee and with the 1964 Helsinki declaration and its later amendments or comparable ethical standards.
Informed consent
Informed consent was obtained from all individual participants included in the study or their legal guardians.
About this article
Cite this article
Barbe, A.G., Kottmann, H.E., Hamacher, S. et al. Efficacy and acceptance of professional dental cleaning among nursing home residents. Clin Oral Invest 23, 707–713 (2019). https://doi.org/10.1007/s00784-018-2487-x
Received:

Accepted:

Published:

Issue Date:

DOI: https://doi.org/10.1007/s00784-018-2487-x
Keywords