Abstract
Objectives
Determine the association between sialadenitis and osteonecrosis of the jaw (ONJ) in head and neck cancer (HNC) patients with varying severity of sialadenitis, treatment modalities, and cancer locations.
Materials and methods
A total of 40,168 HNC patients, including 1907 ONJ subjects and 7559 matched comparisons, were enrolled from a Longitudinal Health Insurance Database for Catastrophic Illness Patients of Taiwan between 2000 and 2006. The association with sialadenitis and ONJ was estimated by logic regression and presented as the odds ratio (OR) and 95% confidence intervals (CIs).
Results
The occurrence of sialadenitis increased the risk of ONJ by 2.55-fold in HNC patients (95% CI = 2.20–2.95). The ONJ incidence was proportion to sialadenitis severity (OR = 2.53 to 4.43). Irradiated HNC patients had a higher tendency to develop jaw necrosis (osteoradionecrosis, ORN) (OR = 5.05, 95% CI = 4.39–5.80). When combined with irradiation exposure, sialadenitis significantly induced the occurrence of ORN (OR = 8.94, 95% CI = 7.40–10.8), especially in oral cancer patients (OR = 15.9 95% CI = 12.5–20.3). The risk of ONJ increased with radiotherapy dosage and duration, except for nasopharyngeal cancer (NPC) patients.
Conclusions
There was a close association between sialadenitis and ONJ in the HNC population. The severity of sialadenitis was positive correlated to ONJ risk. Radiotherapy combined with sialadenitis significantly raised ORN incidence in HNC patients except for NPC patients.
Clinical relevance
HNC patients complained that xerostomia from sialadenitis might increase the risk to develop ONJ, especially among those who received radiotherapy.
This is a preview of subscription content, log in to check access.
Access options
Buy single article
Instant access to the full article PDF.
US$ 39.95
Price includes VAT for USA
Subscribe to journal
Immediate online access to all issues from 2019. Subscription will auto renew annually.
US$ 99
This is the net price. Taxes to be calculated in checkout.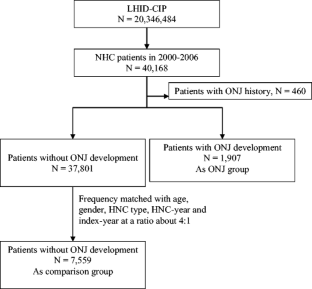 References
1.

Khan AA, Morrison A, Hanley DA, Felsenberg D, LK MC, O'Ryan F, Reid IR, Ruggiero SL, Taguchi A, Tetradis S, Watts NB, Brandi ML, Peters E, Guise T, Eastell R, Cheung AM, Morin SN, Masri B, Cooper C, Morgan SL, Obermayer-Pietsch B, Langdahl BL, Al Dabagh R, Davison KS, Kendler DL, Sandor GK, Josse RG, Bhandari M, El Rabbany M, Pierroz DD, Sulimani R, Saunders DP, Brown JP, Compston J and International Task Force on Osteonecrosis of the J (2015) Diagnosis and management of osteonecrosis of the jaw: a systematic review and international consensus. J Bone Miner Res 30:3–23. https://doi.org/10.1002/jbmr.2405

2.

Hinchy NV, Jayaprakash V, Rossitto RA, Anders PL, Korff KC, Canallatos P, Sullivan MA (2013) Osteonecrosis of the jaw—prevention and treatment strategies for oral health professionals. Oral Oncol 49:878–886. https://doi.org/10.1016/j.oraloncology.2013.06.008

3.

Loukota RA (2012) Osteonecrosis of the jaw is becoming more common. BMJ 345:e5988; author reply e5990. https://doi.org/10.1136/bmj.e5988

4.

Gaudin E, Seidel L, Bacevic M, Rompen E, Lambert F (2015) Occurrence and risk indicators of medication-related osteonecrosis of the jaw after dental extraction: a systematic review and meta-analysis. J Clin Periodontol 42:922–932. https://doi.org/10.1111/jcpe.12455

5.

Almazrooa SA, Woo S-B (2009) Bisphosphonate and nonbisphosphonate-associated osteonecrosis of the jaw. J Am Dent Assoc 140:864–875. https://doi.org/10.14219/jada.archive.2009.0280

6.

Schiodt M, Hermund NU (2002) Management of oral disease prior to radiation therapy. Support Care Cancer 10:40–43

7.

Huang YF, Chang CT, Muo CH, Tsai CH, Shen YF, Wu CZ (2015) Impact of bisphosphonate-related osteonecrosis of the jaw on osteoporotic patients after dental extraction: a population-based cohort study. PLoS One 10:e0120756. https://doi.org/10.1371/journal.pone.0120756

8.

Zolotukhin S (2013) Metabolic hormones in saliva: origins and functions. Oral Dis 19:219–229. https://doi.org/10.1111/odi.12015

9.

Proctor GB (2016) The physiology of salivary secretion. Periodontol 2000 70:11–25. https://doi.org/10.1111/prd.12116

10.

Dawes C (1987) Physiological factors affecting salivary flow rate, oral sugar clearance, and the sensation of dry mouth in man. J Dent Res 66 Spec No:648–653

11.

Bhayani MK, Acharya V, Kongkiatkamon S, Farah S, Roberts DB, Sterba J, Chambers MS, Lai SY (2015) Sialendoscopy for patients with radioiodine-induced sialadenitis and xerostomia. Thyroid 25:834–838. https://doi.org/10.1089/thy.2014.0572

12.

Mandel ID, Bennick A (1983) Quantitation of human salivary acidic proline-rich proteins in oral diseases. J Dent Res 62:943–945. https://doi.org/10.1177/00220345830620090501

13.

Vestergaard P, Schwartz K, Rejnmark L, Mosekilde L, Pinholt EM (2012) Oral bisphosphonate use increases the risk for inflammatory jaw disease: a cohort study. J Oral Maxillofac Surg 70:821–829. https://doi.org/10.1016/j.joms.2011.02.093

14.

Epstein JB, Emerton S, Kolbinson DA, Le ND, Phillips N, Stevenson-Moore P, Osoba D (1999) Quality of life and oral function following radiotherapy for head and neck cancer. Head Neck 21:1–11

15.

Chang CT, Liu SP, Muo CH, Tsai CH, Huang YF (2017) Dental prophylaxis and osteoradionecrosis. J Dent Res 22034516687282. https://doi.org/10.1177/0022034516687282

16.

Kuo TJ, Leung CM, Chang HS, Wu CN, Chen WL, Chen GJ, Lai YC, Huang WC (2016) Jaw osteoradionecrosis and dental extraction after head and neck radiotherapy: a nationwide population-based retrospective study in Taiwan. Oral Oncol 56:71–77. https://doi.org/10.1016/j.oraloncology.2016.03.005

17.

Fellows JL, Rindal DB, Barasch A, Gullion CM, Rush W, Pihlstrom DJ, Richman J, Group DC (2011) ONJ in two dental practice-based research network regions. J Dent Res 90:433–438. https://doi.org/10.1177/0022034510387795

18.

Mawardi H, Giro G, Kajiya M, Ohta K, Almazrooa S, Alshwaimi E, Woo SB, Nishimura I, Kawai T (2011) A role of oral bacteria in bisphosphonate-induced osteonecrosis of the jaw. J Dent Res 90:1339–1345. https://doi.org/10.1177/0022034511420430

19.

Ship JA (2002) Diagnosing, managing, and preventing salivary gland disorders. Oral Dis 8:77–89

20.

Work WP (1981) Non-neoplastic disorders of the parotid gland. J Otolaryngol 10:35–40

21.

McQuone SJ (1999) Acute viral and bacterial infections of the salivary glands. Otolaryngol Clin N Am 32:793–811

22.

Rogers JM, McCaffrey TV (2010) Cummings otolaryngology head and neck surgery, 5th edn. Mosby Elsevier, Philadelphia

23.

Sreebny LM, Vissink A (2010) Dry mouth. The malevolent symptom: a clinical guide. Wiley-Blackwell

24.

Xu J, Zheng Z, Fang D, Gao R, Liu Y, Fan ZP, Zhang CM, Wang SL (2012) Early-stage pathogenic sequence of jaw osteoradionecrosis in vivo. J Dent Res 91:702–708. https://doi.org/10.1177/0022034512448661

25.

Omolehinwa TT, Akintoye SO (2016) Chemical and radiation-associated jaw lesions. Dent Clin N Am 60:265–277. https://doi.org/10.1016/j.cden.2015.08.009

26.

Corraini P, Heide-Jorgensen U, Schiodt M, Norholt SE, Acquavella J, Sorensen HT, Ehrenstein V (2017) Osteonecrosis of the jaw and survival of patients with cancer: a nationwide cohort study in Denmark. Cancer Med 6:2271–2277. https://doi.org/10.1002/cam4.1173

27.

Cotrim AP, Sowers A, Mitchell JB, Baum BJ (2007) Prevention of irradiation-induced salivary hypofunction by microvessel protection in mouse salivary glands. Mol Ther 15:2101–2106. https://doi.org/10.1038/sj.mt.6300296

28.

Tsai CJ, Hofstede TM, Sturgis EM, Garden AS, Lindberg ME, Wei Q, Tucker SL, Dong L (2013) Osteoradionecrosis and radiation dose to the mandible in patients with oropharyngeal cancer. Int J Radiat Oncol Biol Phys 85:415–420. https://doi.org/10.1016/j.ijrobp.2012.05.032

29.

Strigari L, Benassi M, Arcangeli G, Bruzzaniti V, Giovinazzo G, Marucci L (2010) A novel dose constraint to reduce xerostomia in head-and-neck cancer patients treated with intensity-modulated radiotherapy. Int J Radiat Oncol Biol Phys 77:269–276. https://doi.org/10.1016/j.ijrobp.2009.07.1734

30.

Beumer J 3rd, Silverman S Jr, Benak SB Jr (1972) Hard and soft tissue necroses following radiation therapy for oral cancer. J Prosthet Dent 27:640–644

31.

Cassolato SF, Turnbull RS (2003) Xerostomia: clinical aspects and treatment. Gerodontology 20:64–77

32.

Rivero JA, Shamji O, Kolokythas A (2017) Osteoradionecrosis: a review of pathophysiology, prevention and pharmacologic management using pentoxifylline, alpha-tocopherol, and clodronate. Oral Surg Oral Med Oral Pathol Oral Radiol 124:464–471. https://doi.org/10.1016/j.oooo.2017.08.004

33.

Barasch A, Cunha-Cruz J, Curro F, DeRouen T, Gilbert GH, Hujoel P, Safford MM, Vena DA, Voinea-Griffin AE, Wu H (2013) Dental risk factors for osteonecrosis of the jaws: a CONDOR case-control study. Clin Oral Investig 17:1839–1845. https://doi.org/10.1007/s00784-012-0880-4

34.

Curi MM, Dib LL (1997) Osteoradionecrosis of the jaws: a retrospective study of the background factors and treatment in 104 cases. J Oral Maxillofac Surg 55:540–544 discussion 545-6

35.

Hutchinson I (1996) Complications of radiotherapy in the head and neck: an orofacial surgeon's view. In: Current radiation oncology. Arnold, London, pp 144–177

36.

Marx RE, Johnson RP (1987) Studies in the radiobiology of osteoradionecrosis and their clinical significance. Oral Surg Oral Med Oral Pathol 64:379–390

37.

Katsura K, Sasai K, Sato K, Saito M, Hoshina H, Hayashi T (2008) Relationship between oral health status and development of osteoradionecrosis of the mandible: a retrospective longitudinal study. Oral Surg Oral Med Oral Pathol Oral Radiol Endod 105:731–738. https://doi.org/10.1016/j.tripleo.2007.10.011
Funding
This study is supported in part by Taiwan Ministry of Health and Welfare Clinical Trial and Research Center of Excellence (MOHW105-TDU-B-212-133019), China Medical University Hospital, Academia Sinica Taiwan Biobank Stroke Biosignature Project (BM10501010037), NRPB Stroke Clinical Trial Consortium (MOST 104-2325-B-039-005), Chang Gung Memorial Hospital (CMRPG3C1791 and CMRPG3E1341), Far Eastern Memorial Hospital (FEMH-2016-C-036), Tseng-Lien Lin Foundation, Taichung, Taiwan, Taiwan Brain Disease Foundation, Taipei, Taiwan, and Katsuzo and Kiyo Aoshima Memorial Funds, Japan.
Ethics declarations
Conflict of interest
The authors declare that they have no conflict of interest.
Ethical approval
All procedures performed in studies involving human participants were in accordance with the ethical standards of the Research Ethics Committee of China Medical University and Hospital, Taiwan, and with the 1964 Helsinki declaration and its later amendments or comparable ethical standards.
Informed consent
For this type of study, formal consent is not required.
About this article
Cite this article
Huang, Y., Muo, C., Tsai, C. et al. The association with xerostomia from sialadenitis and the jaw osteonecrosis in head and neck cancer population: a nationwide cohort study. Clin Oral Invest 23, 585–593 (2019). https://doi.org/10.1007/s00784-018-2465-3
Received:

Accepted:

Published:

Issue Date:
Keywords
Sialadenitis

Osteonecrosis of the jaw

Osteoradionecrosis

Radiotherapy

Head and neck cancer

Population-based