Abstract
Objective
This study examined whether patients with myofascial temporomandibular disorder (mTMD) comorbid with fibromyalgia (FM) receive different treatments or respond differently to these treatments than mTMD-only patients.
Materials and methods
A total of 125 mTMD+ women were enrolled (26 FM+ and 98 FM−). mTMD and FM were assessed via clinical research examinations. Treatment histories and self-reported treatment-related improvement were obtained via interview.
Results
The top 3 most common treatments reported were oral appliances (59%), physical therapy (54%), and jaw exercises at home (34%). Use of alternative medicine was reported more frequently among FM+ women, but self-reported improvement did not differ by comorbid FM. Physical therapy was as likely reported by FM status but self-reported improvement scores trended higher for FM+ women.
Conclusions
Oral appliances were as likely to be reported by FM comorbid as FM− women. Oral appliances did not outperform self-management treatments on self-reported improvement of facial pain.
Clinical relevance
Results support the use of self-management as first-line treatment for mTMD and potential utility of inquiring about widespread pain for treatment planning.
Access options
Buy single article
Instant access to the full article PDF.
USD 39.95
Price excludes VAT (USA)
Tax calculation will be finalised during checkout.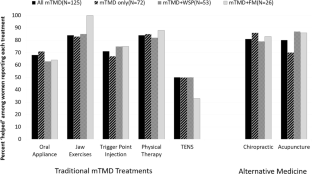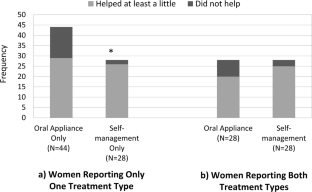 References
NIH (2017) Facial pain. National Institutes of Dental and Craniofacial Research and Office of Research on Women's Health. http://www.nidcr.nih.gov/DataStatistics/FindDataByTopic/FacialPain. Accessed 14 June 2017

Lobbezoo F, Drangsholt M, Peck C, Sato H, Kopp S, Svensson P (2004) Topical review: new insights into the pathology and diagnosis of disorders of the temporomandibular joint. J Orofac Pain 18:181–191

Janal MN, Raphael KG, Nayak S, Klausner J (2008) Prevalence of myofascial temporomandibular disorder in US community women. J Oral Rehabil 35:801–809. https://doi.org/10.1111/j.1365-2842.2008.01854.x

Croft P, Dunn KM, Von Korff M (2007) Chronic pain syndromes: you can't have one without another. Pain 131:237–238. https://doi.org/10.1016/j.pain.2007.07.013

Chen H, Slade G, Lim PF, Miller V, Maixner W, Diatchenko L (2012) Relationship between temporomandibular disorders, widespread palpation tenderness, and multiple pain conditions: a case-control study. J Pain 13:1016–1027. https://doi.org/10.1016/j.jpain.2012.07.011

Velly AM, Look JO, Schiffman E, Lenton PA, Kang W, Messner RP, Holcroft CA, Fricton JR (2010) The effect of fibromyalgia and widespread pain on the clinically significant temporomandibular muscle and joint pain disorders--a prospective 18-month cohort study. J Pain 11:1155–1164. https://doi.org/10.1016/j.jpain.2010.02.009

Aaron LA, Burke MM, Buchwald D (2000) Overlapping conditions among patients with chronic fatigue syndrome, fibromyalgia, and temporomandibular disorder. Arch Intern Med 160:221–227. https://doi.org/10.1001/archinte.160.2.221

Burris JL, Evans DR, Carlson CR (2010) Psychological correlates of medical comorbidities in patients with temporomandibular disorders. J Am Dent Assoc 141:22–31. https://doi.org/10.14219/jada.archive.2010.0017

Wolfe F, Smythe HA, Yunus MB, Bennett RM, Bombardier C, Goldenberg DL, Tugwell P, Campbell SM, Abeles M, Clark P, Fam AG, Farber SJ, Fiechtner JJ, Michael Franklin C, Gatter RA, Hamaty D, Lessard J, Lichtbroun AS, Masi AT, Mccain GA, John Reynolds W, Romano TJ, Jon Russell I, Sheon RP (1990) The American College of Rheumatology 1990 criteria for the classification of fibromyalgia. Report of the Multicenter Criteria Committee. Arthritis Rheumatol 33:160–172

Balasubramaniam R, de Leeuw R, Zhu H, Nickerson RB, Okeson JP, Carlson CR (2007) Prevalence of temporomandibular disorders in fibromyalgia and failed back syndrome patients: a blinded prospective comparison study. Oral Surg Oral Med Oral Pathol Oral Radiol Endod 104:204–216. https://doi.org/10.1016/j.tripleo.2007.01.012

Plesh O, Wolfe F, Lane N (1996) The relationship between fibromyalgia and temporomandibular disorders: prevalence and symptom severity. J Rheumatol 23:1948–1952

Pimentel MJ, Gui MS, Reimao R, Rizzatti-Barbosa CM (2015) Sleep quality and facial pain in fibromyalgia syndrome. Cranio 33:122–128. https://doi.org/10.1179/2151090314y.0000000014

Fraga BP, Santos EB, Farias Neto JP, Macieira JC, Quintans LJJ, Onofre ASC, De Santana JM, Martins-Filho PRS, Bonjardim LR (2012) Signs and symptoms of temporomandibular dysfunction in fibromyalgic patients. J Craniofac Surg 23:615–618. https://doi.org/10.1097/scs.0b013e31824cd81a

Schiffman E, Ohrbach R, Truelove E, Look J, Anderson G, Goulet JP, List T, Svensson P, Gonzalez Y, Lobbezoo F, Michelotti A, Brooks SL, Ceusters W, Drangsholt M, Ettlin D, Gaul C, Goldberg LJ, Haythornthwaite JA, Hollender L, Jensen R, John MT, De Laat A, de Leeuw R, Maixner W, van der Meulen M, Murray GM, Nixdorf DR, Palla S, Petersson A, Pionchon P, Smith B, Visscher CM, Zakrzewska J, Dworkin SF (2014) Diagnostic Criteria for Temporomandibular Disorders (DC/TMD) for clinical and research applications: recommendations of the International RDC/TMD Consortium Network* and Orofacial Pain Special Interest Group. J Orofac Pain 28:6–27. https://doi.org/10.11607/jop.1151

Al-Ani MZ, Davies Stephen J, Gray Robin JM, Sloan P, Glenny A-M (2009) Stabilisation splint therapy for temporomandibular pain dysfunction syndrome. Cochrane Database Syst Rev. https://doi.org/10.1002/14651858.CD002778.pub3

NIH (2013) Temporomandibular joint and muscle disorders. National Institiute of Dental and Craniofacial Research and Office of Research on Women's Health. http://www.nidcr.nih.gov/oralhealth/Topics/TMJ/TMJDisorders.htm. Accessed 18 April 2017

Glass EG, Glaros AG, McGlynn FD (1993) Myofascial pain dysfunction: treatments used by ADA members. Cranio 11:25–29. https://doi.org/10.1080/08869634.1993.11677937

Pierce CJ, Weyant RJ, Block HM, Nemir DC (1995) Dental splint prescription patterns: a survey. J Am Dent Assoc 126:248–254. https://doi.org/10.14219/jada.archive.1995.0153

Raphael KG, Marbach JJ (2001) Widespread pain and the effectiveness of oral splints in myofascial face pain. J Am Dent Assoc 132:305–316. https://doi.org/10.14219/jada.archive.2001.0173

Dworkin SF, LeResche L (1992) Research diagnostic criteria for temporomandibular disorders: review, criteria, examinations and specifications, critique. J Craniomandib Disord 6:301–355

Look JO, Schiffman EL, Truelove EL, Ahmad M (2010) Reliability and validity of Axis I of the Research Diagnostic Criteria for Temporomandibular Disorders (RDC/TMD) with proposed revisions. J Oral Rehabil 37:744–759. https://doi.org/10.1111/j.1365-2842.2010.02121.x

Dworkin SF, Von Korff M, Whitney CW, Le Resche L, Dicker BG, Barlow W (1990) Measurement of characteristic pain intensity in field research. Pain 41:S290. https://doi.org/10.1016/0304-3959(90)92696-N

Raselli C, Broderick JE (2007) The association of depression and neuroticism with pain reports: a comparison of momentary and recalled pain assessment. J Psychosom Res 62:313–320. https://doi.org/10.1016/j.jpsychores.2006.10.001

Derogatis LR (1983) SCL-90-R: administration, Scoring and procedures manual--II for the revised version. Clinical Psychometric Research, Baltimore

StataCorp (2015) Stata Statistical Software: Release 14. StataCorp LP, College Station

Ebrahim S, Montoya L, Busse JW, Carrasco-Labra A, Guyatt GH (2012) The effectiveness of splint therapy in patients with temporomandibular disorders: a systematic review and meta-analysis. J Am Dent Assoc 143:847–857

Dao TT, Lavigne G (1998) Oral splints: the crutches for temporomandibular disorders and bruxism? Crit Rev Oral Biol Med 9:345–361. https://doi.org/10.1177/10454411980090030701

Kotiranta U, Suvinen T, Forssell H (2014) Tailored treatments in temporomandibular disorders: where are we now? A systematic qualitative literature review. J Orofac Pain 28:28–37. https://doi.org/10.11607/jop.1121

Truelove E, Huggins KH, Mancl L, Dworkin SF (2006)) The efficacy of traditional, low-cost and nonsplint therapies for temporomandibular disorder: a randomized controlled trial. J Am Dent Assoc 137:1099–1107. https://doi.org/10.14219/jada.archive.2006.0348

Armijo-Olivo S, Pitance L, Singh V, Neto F, Thie N, Michelotti A (2016) Effectiveness of manual therapy and therapeutic exercise for temporomandibular disorders: systematic review and meta-analysis. Phys Ther 96:9–25. https://doi.org/10.2522/ptj.20140548

Calixtre LB, Moreira RF, Franchini GH, Alburquerque-Sendin F, Oliveira AB (2015) Manual therapy for the management of pain and limited range of motion in subjects with signs and symptoms of temporomandibular disorder: a systematic review of randomised controlled trials. J Oral Rehabil 42:847–861. https://doi.org/10.1111/joor.12321

Jung A, Shin BC, Lee MS, Sim H, Ernst E (2011) Acupuncture for treating temporomandibular joint disorders: a systematic review and meta-analysis of randomized, sham-controlled trials. J Dent 39:341–350. https://doi.org/10.1016/j.jdent.2011.02.006

Cho SH, Whang WW (2010) Acupuncture for temporomandibular disorders: a systematic review. J Orofac Pain 24:152–162

Lauche R, Cramer H, Hauser W, Dobos G, Langhorst J (2015) A systematic overview of reviews for complementary and alternative therapies in the treatment of the fibromyalgia syndrome. Evid Based Complement Alternat Med 2015:610–615. https://doi.org/10.1155/2015/610615

Nahin RL, Boineau R, Khalsa PS, Stussman BJ, Weber WJ (2016) Evidence-based evaluation of complementary health approaches for pain management in the United States. May Clin Proc 91:1292–1306. https://doi.org/10.1016/j.mayocp.2016.06.007

DeBar LL, Vuckovic N, Schneider J, Ritenbaugh C (2003) Use of complementary and alternative medicine for temporomandibular disorders. J Orofac Pain 17:224–236
Funding
This work was supported in part by the National Institutes of Health under grants R01DE018569 and R01DE024522-01S1.
Ethics declarations
Conflict of interest
The authors declare that they have no conflict of interest.
Ethical approval
This project underwent full ethics review and approval by the New York University School of Medicine Institutional Review Board (IRB#07-303).
Informed consent
All subjects underwent and signed a full informed consent procedure before enrollment.
Additional information
Publisher's Note Springer Nature remains neutral with regard to jurisdictional claims in published maps and institutional affiliations.
About this article
Cite this article
Santiago, V., Raphael, K.G. Perceived helpfulness of treatments for myofascial TMD as a function of comorbid widespread pain. Clin Oral Invest 23, 2929–2939 (2019). https://doi.org/10.1007/s00784-018-02797-6
Received:

Accepted:

Published:

Issue Date:

DOI: https://doi.org/10.1007/s00784-018-02797-6
Keywords