Abstract
Objectives
The aim of this study was to investigate the in-vitro performance and fracture resistance of a temporary computer-aided designed and computer-aided manufactured polymethylmethacrylate (CAD/CAM-PMMA) material as implant or tooth-supported single crown with respect to the clinical procedure (permanently bonded/temporarily cemented).
Materials and methods
Sixty-four crowns were fabricated on implants or human molar teeth simulating (a) labside procedure on prefabricated titanium-bonding base ([TiBase] implant crown bonded in laboratory, screwed chairside), (b) labside procedure ([LAB] standard abutment and implant crown bonded in laboratory, screwed chairside), (c) chairside procedure ([CHAIR] implant crown bonded to abutment), and (d) reference ([TOOTH] crowns luted on prepared human teeth). Crowns were made of a CAD/CAM-PMMA temporary material (TelioCAD, Ivoclar-Vivadent). For investigating the influence of fixation, half of the crowns were permanently (P) or temporarily (T) bonded. Combined thermal cycling and mechanical loading (TCML) was performed simulating a 5-year clinical situation. Fracture force was determined. Data were statistically analyzed (Kolmogorov-Smirnov test, one-way ANOVA; post hoc Bonferroni, α = 0.05).
Results
All restorations survived TCML without visible failures. Fracture results varied between 3034.3 (Tooth-P) and 1602.9 N (Tooth-T) [TOOTH], 1510.5 (TiBase-P) and 963.6 N (TiBase-T) [TiBase], 2691.1 (LAB-P) and 2064.5 N (LAB-T) [LAB], and 1609.4 (Chair-P) and 1253.0 N (Chair-T) [CHAIR]. Tested groups showed significantly (p < 0.001) different fracture values. Failure pattern was characterized by fractures in mesial-distal, buccal-oral, or mixed (mesial-distal/buccal-oral) directions, with differences for the individual groups.
Conclusions
Temporary CAD/CAM crowns showed no different in-vitro performance but provided different fracture results that depended on cementation, screw channel, and type of abutment.
Clinical relevance
All bonded and screwed PMMA crowns were in a range where clinical application seems not restricted.
This is a preview of subscription content, log in to check access.
Access options
Buy single article
Instant access to the full article PDF.
US$ 39.95
Price includes VAT for USA
Subscribe to journal
Immediate online access to all issues from 2019. Subscription will auto renew annually.
US$ 99
This is the net price. Taxes to be calculated in checkout.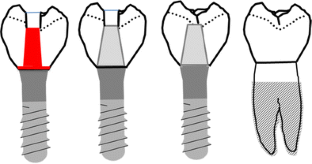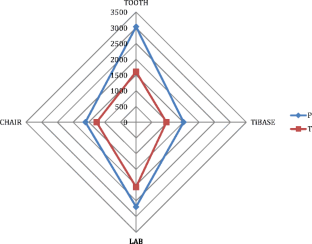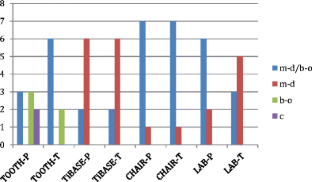 References
1.

Gratton DG, Aquilino SA (2004) Interim restorations. Dent Clin N Am 48:487–497

2.

Rayyan MM, Aboushelib M, Sayed NM, Ibrahim A, Jimbo R (2015) Comparison of interim restorations fabricated by CAD/CAM with those fabricated manually. J Prosthet Dent 114:414–419

3.

Lodding DW (1997) Long-term esthetic provisional restorations in dentistry. Curr Opin Cosmet Dent 4:16–21

4.

Wiegand A, Stucki L, Hoffmann R, Attin T, Stawarczyk B (2015) Repairability of CAD/CAM high-density PMMA- and composite-based polymers. Clin Oral Investig 19:2007–2013

5.

Keul C, Müller-Hahl M, Eichberger M, Liebermann A, Roos M, Edelhoff D, Stawarczyk B (2014) Impact of different adhesives on work of adhesion between CAD/CAM polymers and resin composite cements. J Dent 42:1105–1114

6.

Attia A, Abdelaziz KM, Freitag S, Kern M (2006) Fracture load of composite resin and feldspathic all-ceramic CAD/CAM crowns. J Prosthet Dent 95:117–123

7.

Wimmer T, Ender A, Roos M, Stawarczyk B (2013) Fracture load of milled polymeric fixed dental prostheses as a function of connector cross-sectional areas. J Prosthet Dent 110:288–295

8.

Stawarczyk B, Özcan M, Trottmann A, Schmutz F, Roos M, Hämmerle C (2013) Two-body wear rate of CAD/CAM resin blocks and their enamel antagonists. J Prosthet Dent 109:325–332

9.

Seiss M, Nitz S, Kleinsasser N, Buters JT, Behrendt H, Hickel R, Reichl FX (2007) Identification of 2,3-epoxymethacrylic acid as an intermediate in the metabolism of dental materials in human liver microsomes. Dent Mater 23:9–16

10.

Bähr N, Keul C, Edelhoff D, Eichberger M, Roos M, Gernet W, Stawarczyk B (2013) Effect of different adhesives combined with two resin composite cements on shear bond strength to polymeric CAD/CAM materials. Dent Mater J 32:492–501

11.

Keul C, Kohen D, Eichberger M, Roos M, Gernet W, Stawarczyk B (2015) The effect of different pretreatment methods of PMMA-based crowns on the long-term tensile bond strength to dentin abutments. Clin Oral Investig 19:35–43

12.

Stawarczyk B, Basler T, Ender A, Roos M, Ozcan M, Hämmerle C (2012) Effect of surface conditioning with airborne-particle abrasion on the tensile strength of polymeric CAD/CAM crowns luted with self-adhesive and conventional resin cements. J Prosthet Dent 107:94–101

13.

Güth JF, Almeida E, Silva JS, Ramberger M, Beuer F, Edelhoff D (2012) Treatment concept with CAD/CAM-fabricated high-density polymer temporary restorations. J Esthet Restor Dent 24:310–318

14.

Güth JF, Almeida E, Silva JS, Beuer FF, Edelhoff D (2012) Enhancing the predictability of complex rehabilitation with a removable CAD/CAM-fabricated long-term provisional prosthesis: a clinical report. J Prosthet Dent 107:1–6

15.

Hebel KS, Gajjar RC (1997) Cement-retained versus screw-retained implant restorations: achieving optimal occlusion and esthetics in implant dentistry. J Prosthet Dent 77:28–35

16.

Weber HP, Kim DM, Ng MW, Hwang JW, Fiorellini JP (2006) Peri-implant soft-tissue health surrounding cement- and screw-retained implant restorations: a multi-center, 3-year prospective study. Clin Oral Implants Res 17:375–379

17.

Chu KM, Tredwin CJ, Setchell DJ, Hems E (2005) Effect of screw hole filling on retention of implant crowns. Eur J Prosthodont Restor Dent 13:154–158

18.

Lewis S (1995) Anterior single-tooth implant restorations. Int J Periodontics Restorative Dent 15:30–41

19.

Saba S (1997) Anatomically correct soft tissue profiles using fixed detachable provisional implant restorations. J Can Dent Assoc 63(767–768):770

20.

Breeding LC, Dixon DL (1996) Transfer of gingival contours to a master cast. J Prosthet Dent 75:341–343

21.

Neale D, Chee WW (1994) Development of implant soft tissue emergence profile: a technique. J Prosthet Dent 71:364–368

22.

Capp NJ (1985) The diagnostic use of provisional restorations. Restor Dent 1(92):94–98

23.

Moscovitch MS, Saba S (1996) The use of a provisional restoration in implant dentistry: a clinical report. Int J Oral Maxillofac Implants 11:395–399

24.

Rosentritt M, Hmaidouch R, Behr M, Handel G, Schneider-Feyrer S (2011) Fracture resistance of zirconia FPDs with adhesive bonding versus conventional cementation. Int J Prosthodont 24:168–171

25.

Rosentritt M, Behr M, Gebhard R, Handel G (2006) Influence of stress simulation parameters on the fracture strength of all-ceramic fixed-partial dentures. Dent Mater 22:176–182

26.

Rosentritt M, Behr M, van der Zel JM, Feilzer AJ (2009) Approach for valuating the influence of laboratory simulation. Dent Mater 25:348–352

27.

Rosentritt M, Siavikis G, Behr M, Kolbeck C, Handel G (2008) Approach for valuating the significance of laboratory simulation. J Dent 36:1048–1053

28.

Menini M, Conserva E, Tealdo T, Bevilacqua M, Pera F, Signori A, Pera P (2013) Shock absorption capacity of restorative materials for dental implant prostheses: an in vitro study. Int J Prosthodont 26:549–556

29.

Pjetursson BE, Brägger U, Lang NP, Zwahlen M (2007) Comparison of survival and complication rates of tooth-supported fixed dental prostheses (FDPs) and implant-supported FDPs and single crowns (SCs). Clin Oral Implants Res 18(Suppl 3):97–113

30.

Shembish FA, Tong H, Kaizer M, Janal MN, Thompson VP, Opdam NJ, Zhang Y (2016) Fatigue resistance of CAD/CAM resin composite molar crowns. Dent Mater 32:499–509

31.

de Kok P, Kleverlaan CJ, de Jager N, Kuijs R, Feilzer AJ (2015) Mechanical performance of implant-supported posterior crowns. J Prosthet Dent 114:59–66

32.

Conserva E, Menini M, Tealdo T, Bevilacqua M, Ravera G, Pera F, Pera P (2009) The use of a masticatory robot to analyze the shock absorption capacity of different restorative materials for prosthetic implants: a preliminary report. Int J Prosthodont 22:53–55

33.

Jung RE, Pjetursson BE, Glauser R, Zembic A, Zwahlen M, Lang NP (2008) A systematic review of the 5-year survival and complication rates of implant-supported single crowns. Clin Oral Implants Res 19:119–130

34.

Bijjargi S, Chowdhary R (2013) Stress dissipation in the bone through various crown materials of dental implant restoration: a 2-D finite element analysis. J Investig Clin Dent 4:172–177

35.

Trulsson M, Gunne HS (1998) Food-holding and -biting behavior in human subjects lacking periodontal receptors. J Dent Res 77:574–582

36.

Silva GC, Cornacchia TM, de Magalhães CS, Bueno AC, Moreira AN (2014) Biomechanical evaluation of screw- and cement-retained implant-supported prostheses: a nonlinear finite element analysis. J Prosthet Dent 112:1479–1488

37.

Wittneben JG, Millen C, Bragger U (2014) Clinical performance of screw- versus cement-retained fixed implant-supported reconstructions - a systematic review. Int J Oral Maxillofac Implants 29(Suppl):84–98

38.

Torrado E, Ercoli C, Al Mardini M, Graser GN, Tallents RH, Cordaro L (2004) A comparison of the porcelain fracture resistance of screw-retained and cement-retained implant-supported metal-ceramic crowns. J Prosthet Dent 91:532–537

39.

Gressler May L, Kelly JR, Bottino MA, Hill T (2015) Influence of the resin cement thickness on the fatigue failure loads of CAD/CAM feldspathic crowns. Dent Mater 31:895–900

40.

Rosentritt M, Hahnel S, Engelhardt F, Behr M, Preis V (2016) In vitro performance and fracture resistance of CAD/CAM-fabricated implant supported molar crowns. Clin Oral Investig. doi:10.1007/s00784-016-1898-9

41.

Preis V, Kammermeier A, Handel G, Rosentritt M (2016) In vitro performance of two-piece zirconia implant systems for anterior application. Dent Mater 32:765–774

42.

Varga S, Spalj S, Lapter Varga M, Anic Milosevic S, Mestrovic S, Slaj M (2011) Maximum voluntary molar bite force in subjects with normal occlusion. Eur J Orthod 3:427–433
Acknowledgements
We would like to thank the manufacturers for providing the materials.
Ethics declarations
Conflict of interest
Prof. Dr. Martin Rosentritt declares that he has third-party research projects with all dental companies.
Dr. Philipp Raab declares that he has no conflict of interest.
Prof. Dr. Sebastian Hahnel declares that he has no conflict of interest.
Dr. Matthias Stöckle declares that he has no conflict of interest.
PD Dr. Verena Preis declares that she has no conflict of interest.
Funding
No.
Ethical approval
This article does not contain any studies with human participants or animals performed by any of the authors.
Informed consent
For this type of study, formal consent is not required.
About this article
Cite this article
Rosentritt, M., Raab, P., Hahnel, S. et al. In-vitro performance of CAD/CAM-fabricated implant-supported temporary crowns. Clin Oral Invest 21, 2581–2587 (2017). https://doi.org/10.1007/s00784-017-2057-7
Received:

Accepted:

Published:

Issue Date:
Keywords
CAD/CAM composites

PMMA, temporary

Provisional, chewing simulation

Implant crown

Abutment

Fracture resistance