Abstract
Objectives
CD151 is a plasma membrane protein belonging to the tetraspanin family. CD151 represents a putative therapeutic target and has been suggested as a prognostic marker in several cancer types. The present study aims to investigate the prognostic relevance of immunohistochemical CD151 expression in head and neck squamous cell carcinoma (HNSCC).
Materials and methods
Tissue microarray (TMA) sections containing samples from 667 cancers of oral cavity, oro- and hypopharynx and larynx, for which follow-up data were available, were analyzed for CD151 expression by immunohistochemistry.
Results
Membranous CD151 immunostaining was recorded in 269 (60.3 %) of 446 analyzable cases. Staining was considered weak in 129 (28.9 %), moderate in 98 (22.0 %), and strong in 42 (9.4 %) of cancers. CD151 expression was unrelated to histological grade, tumor stage, nodal status, or surgical margin. There was a tendency towards a somewhat lower prevalence of CD151 expression in tumors of the oral cavity (52.9 % positive) as compared to cancers of the oro-hypopharynx (62.1 %) and larynx (63.3 %; p = 0.0100). CD151 expression had no impact on patient survival.
Clinical relevance
In summary, immunohistochemical analysis of CD151 lacks prognostic utility in HNSCC. The high prevalence of CD151 expression in HNSCC emphasizes its putative relevance as a therapeutic target for further development of anti-CD151 drugs.
This is a preview of subscription content, log in to check access.
Access options
Buy single article
Instant access to the full article PDF.
US$ 39.95
Price includes VAT for USA
Subscribe to journal
Immediate online access to all issues from 2019. Subscription will auto renew annually.
US$ 99
This is the net price. Taxes to be calculated in checkout.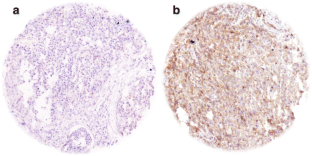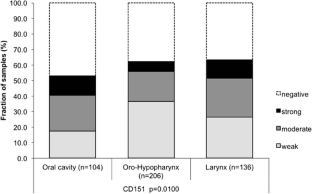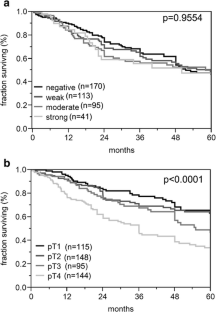 References
1.

Parkin DM, Bray F, Ferlay J, Pisani P (2002) Global cancer statistics. CA Cancer J Clin 55(2):74–1082005

2.

Carvalho AL, Nishimoto IN, Califano JA, Kowalski LP (2005) Trends in incidence and prognosis for head and neck cancer in the United States: a site-specific analysis of the SEER database. Int J Cancer 114(5):806–816

3.

Siegel R, Ma J, Zou Z, Jemal A (2014) Cancer statistics, 2014. CA Cancer J Clin 64(1):9–29

4.

Hasegawa H, Nomura T, Kishimoto K, Yanagisawa K (1998) Fujita S. SFA-1/PETA-3 (CD151), a member of the transmembrane 4 superfamily, associates preferentially with alpha 5 beta 1 integrin and regulates adhesion of human T cell leukemia virus type 1-infected T cells to fibronectin. J Immunol 161(6):3087–3095

5.

Fitter S, Sincock PM, Jolliffe CN, Ashman LK (1999) Transmembrane 4 superfamily protein CD151 (PETA-3) associates with beta 1 and alpha IIb beta 3 integrins in haemopoietic cell lines and modulates cell-cell adhesion. Biochem J 338(Pt 1):61–70

6.

Sterk LM, Geuijen CA, Oomen LC, Calafat J, Janssen H, Sonnenberg A (2000) The tetraspan molecule CD151, a novel constituent of hemidesmosomes, associates with the integrin alpha6beta4 and may regulate the spatial organization of hemidesmosomes. J Cell Biol 149(4):969–982

7.

Yanez-Mo M, Alfranca A, Cabanas C, Marazuela M, Tejedor R, Ursa MA, et al. (1998) Regulation of endothelial cell motility by complexes of tetraspan molecules CD81/TAPA-1 and CD151/PETA-3 with alpha3 beta1 integrin localized at endothelial lateral junctions. J Cell Biol 141(3):791–804

8.

Takeda Y, Kazarov AR, Butterfield CE, Hopkins BD, Benjamin LE, Kaipainen A, et al. (2007) Deletion of tetraspanin Cd151 results in decreased pathologic angiogenesis in vivo and in vitro. Blood 109(4):1524–1532

9.

Sincock PM, Mayrhofer G, Ashman LK (1997) Localization of the transmembrane 4 superfamily (TM4SF) member PETA-3 (CD151) in normal human tissues: comparison with CD9, CD63, and alpha5beta1 integrin. J Histochem Cytochem 45(4):515–525

10.

Karamatic Crew V, Burton N, Kagan A, Green CA, Levene C, Flinter F, et al. (2004) CD151, the first member of the tetraspanin (TM4) superfamily detected on erythrocytes, is essential for the correct assembly of human basement membranes in kidney and skin. Blood 104(8):2217–2223

11.

Ang J, Lijovic M, Ashman LK, Kan K, Frauman AG (2004) CD151 protein expression predicts the clinical outcome of low-grade primary prostate cancer better than histologic grading: a new prognostic indicator? Cancer Epidemiol Biomark Prev 13(11 Pt 1):1717–1721

12.

Tokuhara T, Hasegawa H, Hattori N, Ishida H, Taki T, Tachibana S, et al. (2001) Clinical significance of CD151 gene expression in non-small cell lung cancer. Clin Cancer Res 7(12):4109–4114

13.

Yang XH, Richardson AL, Torres-Arzayus MI, Zhou P, Sharma C, Kazarov AR, et al. (2008) CD151 accelerates breast cancer by regulating alpha 6 integrin function, signaling, and molecular organization. Cancer Res 68(9):3204–3213

14.

Gesierich S, Paret C, Hildebrand D, Weitz J, Zgraggen K, Schmitz-Winnenthal FH, et al. (2005) Colocalization of the tetraspanins, CO-029 and CD151, with integrins in human pancreatic adenocarcinoma: impact on cell motility. Clin Cancer Res 11(8):2840–2852

15.

Ke AW, Shi GM, Zhou J, FZ W, Ding ZB, MY H, et al. (2009) Role of overexpression of CD151 and/or c-Met in predicting prognosis of hepatocellular carcinoma. Hepatology 49(2):491–503

16.

Shi GM, Ke AW, Zhou J, Wang XY, Xu Y, Ding ZB, et al. (2010) CD151 modulates expression of matrix metalloproteinase 9 and promotes neoangiogenesis and progression of hepatocellular carcinoma. Hepatology 52(1):183–196

17.

Suzuki S, Miyazaki T, Tanaka N, Sakai M, Sano A, Inose T, et al. (2011) Prognostic significance of CD151 expression in esophageal squamous cell carcinoma with aggressive cell proliferation and invasiveness. Ann Surg Oncol 18(3):888–893

18.

Hashida H, Takabayashi A, Tokuhara T, Hattori N, Taki T, Hasegawa H, et al. (2003) Clinical significance of transmembrane 4 superfamily in colon cancer. Br J Cancer 89(1):158–167

19.

Li Q, Yang XH, Xu F, Sharma C, Wang HX, Knoblich K, et al. (2013) Tetraspanin CD151 plays a key role in skin squamous cell carcinoma. Oncogene 32(14):1772–1783

20.

Minner S, De Silva C, Rink M, Dahlem R, Chun F, Fisch M, et al. (2012) Reduced CD151 expression is related to advanced tumour stage in urothelial bladder cancer. Pathology 44(5):448–452

21.

Chien CW, Lin SC, Lai YY, Lin BW, Lin SC, Lee JC, et al. (2008) Regulation of CD151 by hypoxia controls cell adhesion and metastasis in colorectal cancer. Clin Cancer Res 14(24):8043–8051

22.

Hirano C, Nagata M, Noman AA, Kitamura N, Ohnishi M, Ohyama T, et al. (2009) Tetraspanin gene expression levels as potential biomarkers for malignancy of gingival squamous cell carcinoma. Int J Cancer 124(12):2911–2916

23.

Romanska HM, Potemski P, Collins SI, Williams H, Parmar S, Berditchevski F (2013) Loss of CD151/Tspan24 from the complex with integrin alpha3beta1 in invasive front of the tumour is a negative predictor of disease-free survival in oral squamous cell carcinoma. Oral Oncol 49(3):224–229

24.

Kononen J, Bubendorf L, Kallioniemi A, Barlund M, Schraml P, Leighton S, et al. (1998) Tissue microarrays for high-throughput molecular profiling of tumor specimens. Nat Med 4(7):844–847

25.

Gröbe A, Eichhorn W, Fraederich M, Kluwe L, Vashist Y, Wikner J, et al. (2014) Immunohistochemical and FISH analysis of EGFR and its prognostic value in patients with oral squamous cell carcinoma. J Oral Pathol Med 43(3):205–210

26.

Gröbe A, Hanken H, Al-Dam A, Cachovan G, Smeets R, Krohn A, et al. (2014) P53 immunohistochemical expression does not correlate with clinical features in 207 carcinomas of the oral cavity and in the head and neck region. Clin Oral Investig 18(1):211–217

27.

Gröbe A, Hanken H, Kluwe L, Schollchen M, Tribius S, Pohlenz P, et al. (2013) Immunohistochemical analysis of p16 expression, HPV infection and its prognostic utility in oral squamous cell carcinoma. J Oral Pathol Med 42(9):676–681

28.

Nankivell P, Williams H, McConkey C, Webster K, High A, MacLennan K, et al. (2013) Tetraspanins CD9 and CD151, epidermal growth factor receptor and cyclooxygenase-2 expression predict malignant progression in oral epithelial dysplasia. Br J Cancer 109(11):2864–2874

29.

Freier K, Joos S, Flechtenmacher C, Devens F, Benner A, Bosch FX, et al. (2003) Tissue microarray analysis reveals site-specific prevalence of oncogene amplifications in head and neck squamous cell carcinoma. Cancer Res 63(6):1179–1182

30.

Ishiguro R, Fujii M, Yamashita T, Tashiro M, Tomita T, Ogawa K, et al. (2003) CCND1 amplification predicts sensitivity to chemotherapy and chemoradiotherapy in head and neck squamous cell carcinoma. Anticancer Res 23(6D):5213–5220

31.

Hanken H, Gröbe A, Cachovan G, Smeets R, Simon R, Sauter G, et al. (2014) CCND1 amplification and cyclin D1 immunohistochemical expression in head and neck squamous cell carcinomas. Clin Oral Investig 18(1):269–276

32.

Freier K, Bosch FX, Flechtenmacher C, Devens F, Benner A, Lichter P, et al. (2003) Distinct site-specific oncoprotein overexpression in head and neck squamous cell carcinoma: a tissue microarray analysis. Anticancer Res 23(5 A):3971–3977

33.

Rodrigo JP, Suárez C, González MV, Lazo PS, Ramos S, Coto E, et al. (2001) Variability of genetic alterations in different sites of head and neck cancer. Laryngoscope 111(7):1297–1301

34.

Testa JE, Brooks PC, Lin JM, Quigley JP (1999) Eukaryotic expression cloning with an antimetastatic monoclonal antibody identifies a tetraspanin (PETA-3/CD151) as an effector of human tumor cell migration and metastasis. Cancer Res 59(15):3812–3820

35.

Kohno M, Hasegawa H, Miyake M, Yamamoto T, Fujita S (2002) CD151 enhances cell motility and metastasis of cancer cells in the presence of focal adhesion kinase. Int J Cancer 97(3):336–343

36.

Zijlstra A, Lewis J, Degryse B, Stuhlmann H, Quigley JP (2008) The inhibition of tumor cell intravasation and subsequent metastasis via regulation of in vivo tumor cell motility by the tetraspanin CD151. Cancer Cell 13(3):221–234

37.

Woegerbauer M, Thurnher D, Houben R, Pammer J, Kloimstein P, Heiduschka G, et al. (2010) Expression of the tetraspanins CD9, CD37, CD63, and CD151 in Merkel cell carcinoma: strong evidence for a posttranscriptional fine-tuning of CD9 gene expression. Mod Pathol 23(5):751–762
Ethics declarations
Conflict of interest
All authors declare that they have no conflict of interest.
Funding
None.
Ethical approval
All procedures performed in studies involving human participants were in accordance with the ethical standards of the institutional and/or national research committee and with the 1964 Helsinki declaration and its later amendments or comparable ethical standards. The usage of archived diagnostic left-over tissues for manufacturing of tissue microarrays and their analysis for purposes as well as patient data analysis has been approved by local laws (HmbKHG, §12,1) and by the local ethics committee (Ethics commission Hamburg, WF-049/09 and PV3652).
Informed consent
For this type of study, formal consent is not required as detailed in the local law (HmbKHG, §12,1).5
Additional information
Julie C. Nienstedt, Alexander Gröbe, Max Heiland, and Christina Pflug, these authors have equally contributed
About this article
Cite this article
Nienstedt, J.C., Gröbe, A., Lebok, P. et al. CD151 expression is frequent but unrelated to clinical outcome in head and neck cancer. Clin Oral Invest 21, 1503–1508 (2017). https://doi.org/10.1007/s00784-016-1911-3
Received:

Accepted:

Published:

Issue Date:
Keywords
CD151

Immunohistochemistry

Prognosis

Head and neck cancer