Abstract
Objectives
Local infections may contribute to the initiation and progression of several clinical diseases in humans. Atherosclerotic plaques of subjects suffering from periodontitis are colonized by periopathogens; however, the presence of bacteria in atherosclerotic plaques in patients without severe forms of periodontitis is of high relevance for the general population.
Materials and methods
Patients who were electively treated for atherosclerotic lesions of the carotid artery and without clinical signs of periodontitis were eligible for the study. Oral and atherosclerotic plaques were sampled, processed, and analyzed for their microbial composition by 454-sequencing.
Results
Seventeen patients were included in the analyses, and 76 % of all atherosclerotic plaque specimens were positive for bacterial DNA. In the oral plaques, 76,532 sequences were identified representing 1 phylum, 17 classes, 112 families, and 263 genera. In atherosclerotic plaques, 6112 sequences representing 1 phylum, 4 classes, 8 families, and 36 genera were found. The bacterial DNAs of the species Gemella haemolysans and Streptococcus mitis were simultaneously found in atherosclerotic as well as oral plaque samples of 3 patients.
Conclusions
These results indicated that in subjects without periodontitis, the transmission of oral bacteria to atherosclerotic plaques of the carotid artery is a feasible event.
Clinical relevance
The prevention of transient bacteremia from the oral cavity requires high levels of oral health.
Access options
Buy single article
Instant access to the full article PDF.
US$ 39.95
Tax calculation will be finalised during checkout.
Subscribe to journal
Immediate online access to all issues from 2019. Subscription will auto renew annually.
US$ 79
Tax calculation will be finalised during checkout.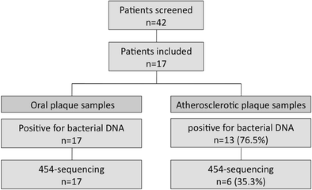 References
1.

Hansson GK, Libby P, Schonbeck U, Yan ZQ (2002) Innate and adaptive immunity in the pathogenesis of atherosclerosis. Circ Res 91:281–291

2.

Libby P, Ridker PM, Maseri A (2002) Inflammation and atherosclerosis. Circulation 105:1135–1143

3.

Kiechl S, Egger G, Mayr M, Wiedermann CJ, Bonora E, Oberhollenzer F, Muggeo M, Xu Q, Wick G, Poewe W, Willeit J (2001) Chronic infections and the risk of carotid atherosclerosis: prospective results from a large population study. Circulation 103:1064–1070

4.

Schenkein HA, Loos BG (2013) Inflammatory mechanisms linking periodontal diseases to cardiovascular diseases. J Periodontol 84:S51–S69

5.

Beck J, Garcia R, Heiss G, Vokonas PS, Offenbacher S (1996) Periodontal disease and cardiovascular disease. J Periodontol 67:1123–1137

6.

Beck JD, Offenbacher S (2005) Systemic effects of periodontitis: epidemiology of periodontal disease and cardiovascular disease. J Periodontol 76:2089–2100

7.

Gaetti-Jardim M, Marcelino SL, Feitosa AC, Romito GA, Avila-Campos MJ (2009) Quantitative detection of periodontopathic bacteria in atherosclerotic plaques from coronary arteries. J Med Microbiol 58:1568–1575

8.

Nakano K, Inaba H, Nomura R, Nemoto H, Takeda M, Yoshioka H, Matsue H, Takahashi T, Taniguchi K, Amano A, Ooshima T (2006) Detection of cariogenic Streptococcus mutans in extirpated heart valve and atheromatous plaque specimens. J Clin Microbiol 44:3313–3317

9.

Aimetti M, Romano F, Nessi F (2007) Microbiologic analysis of periodontal pockets and carotid atheromatous plaques in advanced chronic periodontitis patients. J Periodontol 78:1718–1723

10.

Ericsson JS, Abrahamsson KH, Ostberg AL, Hellstrom MK, Jonsson K, Wennstrom JL (2009) Periodontal health status in Swedish adolescents: an epidemiological, cross-sectional study. Swed Dent J 33:131–139

11.

Li Y, Lee S, Hujoel P, Su M, Zhang W, Kim J, Zhang YP, DeVizio W (2010) Prevalence and severity of gingivitis in American adults. Am J Dent 23:9–13

12.

Guntheroth WG (1984) How important are dental procedures as a cause of infective endocarditis? Am J Cardiol 54:797–801

13.

Parameter on chronic periodontitis with slight to moderate loss of periodontal support. American Academy of Periodontology (2000) J Periodontol 71:853–855

14.

American Academy of Periodontology–Research, Science, and Therapy Committee, American Academy of Pediatric Dentistry (2005) Treatment of plaque-induced gingivitis, chronic periodontitis, and other clinical conditions. Pediatr Dent 27:202–211

15.

Bisdas T, Pichlmaier M, Bisdas S, Haverich A, Teebken OE (2010) Early neurologic outcome after bovine pericardium versus venous patch angioplasty in 599 patients undergoing carotid endarterectomy. Vascular 18:147–153

16.

Kunin V, Hugenholtz P (2010) Pyrotagger: a fast, accurate pipeline for analysis of rRNA amplicon pyrosequence data. Open J 1

17.

Haraszthy VI, Zambon JJ, Trevisan M, Zeid M, Genco RJ (2000) Identification of periodontal pathogens in atheromatous plaques. J Periodontol 71:1554–1560

18.

Zaremba M, Gorska R, Suwalski P, Kowalski J (2007) Evaluation of the incidence of periodontitis-associated bacteria in the atherosclerotic plaque of coronary blood vessels. J Periodontol 78:322–327

19.

Lehtiniemi J, Karhunen PJ, Goebeler S, Nikkari S, Nikkari ST (2005) Identification of different bacterial DNAs in human coronary arteries. Eur J Clin Investig 35:13–16

20.

Ott SJ, El Mokhtari NE, Musfeldt M, Hellmig S, Freitag S, Rehman A, Kuhbacher T, Nikolaus S, Namsolleck P, Blaut M, Hampe J, Sahly H, Reinecke A, Haake N, Gunther R, Kruger D, Lins M, Herrmann G, Folsch UR, Simon R, Schreiber S (2006) Detection of diverse bacterial signatures in atherosclerotic lesions of patients with coronary heart disease. Circulation 113:929–937

21.

Nakano K, Nemoto H, Nomura R, Inaba H, Yoshioka H, Taniguchi K, Amano A, Ooshima T (2009) Detection of oral bacteria in cardiovascular specimens. Oral Microbiol Immunol 24:64–68

22.

Eberhard J, Grote K, Luchtefeld M, Heuer W, Schuett H, Divchev D, Scherer R, Schmitz-Streit R, Langfeldt D, Stumpp N, Staufenbiel I, Schieffer B, Stiesch M (2013) Experimental gingivitis induces systemic inflammatory markers in young healthy individuals: a single-subject interventional study. PLoS One 8:e55265

23.

Dewhirst FE, Chen T, Izard J, Paster BJ, Tanner AC, Yu WH, Lakshmanan A, Wade WG (2010) The human oral microbiome. J Bacteriol 192:5002–5017

24.

Gatibelza ME, Laroye B, Lombard J, Mameli A, Thomas E (2009) Management of a ruptured infected abdominal aortic aneurysm and a spondylodiscitis due to Gemella haemolysans. Ann Vasc Surg 23:536.e13–536.e17

25.

Avgoustidis N, Bourantas CV, Anastasiadis GP, Sipsas N, Pikazis D (2011) Endocarditis due to Gemella haemolysans in a patient with systemic lupus erythematosus. J Heart Valve Dis 20:107–109

26.

Huang IF, Chiou CC, Liu YC, Hsieh KS (2002) Endocarditis caused by penicillin-resistant Streptococcus mitis in a 12-year-old boy. J Microbiol Immunol Infect 35:129–132

27.

Alkhatib B, Schoch PE, Cunha BA (2012) Viridans streptococcal (Streptococcus mitis) biosynthetic aortic prosthetic valve endocarditis (PVE) complicated by complete heart block and paravalvular abscess. Heart Lung 41:610–612

28.

Stinson MW, Alder S, Kumar S (2003) Invasion and killing of human endothelial cells by viridans group streptococci. Infect Immun 71:2365–2372
Ethics declarations
Conflict of interest
The authors declare that they have no conflict of interest.
Funding
The work was supported by the Department of Prosthetic Dentistry and Biomedical Materials Science and the Department of Cardiothoracic, Transplantation and Vascular Surgery, Hannover Medical School, Germany.
Ethical approval
This study was approved by the local Ethics Committee of Hannover Medical School, Germany.
Informed consent
All patients signed a formal informed consent.
About this article
Cite this article
Eberhard, J., Stumpp, N., Winkel, A. et al. Streptococcus mitis and Gemella haemolysans were simultaneously found in atherosclerotic and oral plaques of elderly without periodontitis—a pilot study. Clin Oral Invest 21, 447–452 (2017). https://doi.org/10.1007/s00784-016-1811-6
Received:

Accepted:

Published:

Issue Date:
Keywords
Periodontitis

Atherosclerotic plaques

Oral plaques