Abstract
Objectives
Asymmetries of the jaw and orthodontic abnormalities are suspected as long-term consequences of positional cranial deformity. But only few data exist on this issue. As plagiocephaly is a common problem in infancy, potential functional impairments should be investigated to initiate appropriate measures if necessary. The aim of our study was to compare the orthodontic situation in primary dentition of children with positional plagiocephaly and children without cranial deformities.
Material and methods
Fifty children treated by helmet therapy for plagiocephaly and 50 non-affected children (age 1.98–5.69 years) were examined in a cross-sectional study. Orthodontic parameters of all dimensions were assessed and analyzed.
Results
Children of the plagiocephalic group showed more often orthodontic alterations compared to the others. Especially the frequencies of a class II malocclusion (36 vs. 14 %), an edge-to edge bite (28 vs. 12 %), and deviations of the midline (38 vs. 16 %) were conspicuous. However, none of the differences was significant (p > 0.003). Of all observed mandibular asymmetries, 69 % appeared as a shift to the contralateral side of the former flattened occipital region.
Conclusion
Positional head deformity might be associated in some cases with a higher prevalence of occlusal abnormalities in primary dentition.
Clinical relevance
Positional plagiocephaly interfaces medicine and dentistry. As it is a common disorder, this etiology has to be considered in the prevention and therapy of malocclusion.
Access options
Buy single article
Instant access to the full article PDF.
USD 39.95
Price excludes VAT (USA)
Tax calculation will be finalised during checkout.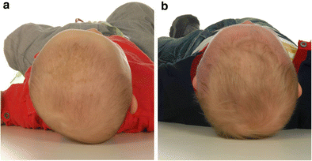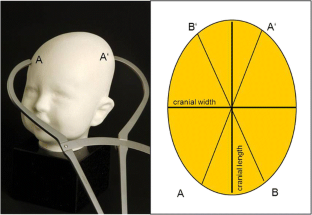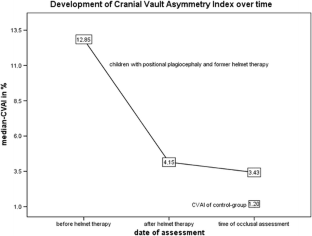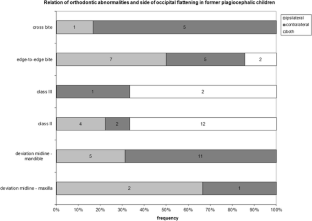 References
Meyer-Marcotty P, Schweitzer T, Linz C, Kunz F, Stellzig-Eisenhauer A, Kübler AC, Ernestus RI, Böhm H (2015) Die interdisziplinäre Therapie von lagebedingten Schädelasymmetrien innerhalb des ersten Lebensjahres. DZZ Deutsche Zahnärztliche Zeitschrift 70:25–32. doi:10.3238/dzz.20150025-0032

Kattwinkel J, Brooks J, Myerberg D (1992) American Academy of Pediatrics AAP Task Force on Infant Positioning and SIDS: positioning and SIDS. Pediatrics 89:1120–1126

van Vlimmeren LA, van der Graaf Y, Boere-Boonekamp MM, L'Hoir MP, Helders PJ, Engelbert RH (2007) Risk factors for deformational plagiocephaly at birth and at 7 weeks of age: a prospective cohort study. Pediatrics 119:e408–e418. doi:10.1542/peds.2006-2012

Dunn PM (1974) Congenital sternomastoid torticollis: an intrauterine postural deformity. Arch Dis Child 49:824–825

Argenta LC, David LR, Wilson JA, Bell WO (1996) An increase in infant cranial deformity with supine sleeping position. J Craniofac Surg 7:5–11

Clarren SK (1981) Plagiocephaly and torticollis: etiology, natural history, and helmet treatment. J Pediatr 98:92–95

Kluba S, Kraut W, Calgeer B, Reinert S, Krimmel M (2013) Treatment of positional plagiocephaly—helmet or no helmet? J Craniomaxillofac Surg. doi:10.1016/j.jcms.2013.09.015

Mortenson P, Steinbok P, Smith D (2012) Deformational plagiocephaly and orthotic treatment: indications and limitations. Childs Nerv Syst 28:1407–1412

Mulliken JB, Vander Woude DL, Hansen M, LaBrie RA, Scott RM (1999) Analysis of posterior plagiocephaly: deformational versus synostotic. Plast Reconstr Surg 103:371–380

Rogers GF, Miller J, Mulliken JB (2008) Comparison of a modifiable cranial cup versus repositioning and cervical stretching for the early correction of deformational posterior plagiocephaly. Plast Reconstr Surg 121:941–947. doi:10.1097/01.prs.0000299938.00229.3e

Teichgraeber JF, Seymour-Dempsey K, Baumgartner JE, Xia JJ, Waller AL, Gateno J (2004) Molding helmet therapy in the treatment of brachycephaly and plagiocephaly. J Craniofac Surg 15:118–123

Knight SJ, Anderson VA, Meara JG, Da Costa AC (2013) Early neurodevelopment in infants with deformational plagiocephaly. J Craniofac Surg 24:1225–1228. doi:10.1097/SCS.0b013e318299777e

Miller RI, Clarren SK (2000) Long-term developmental outcomes in patients with deformational plagiocephaly. Pediatrics 105:E26

Panchal J, Amirsheybani H, Gurwitch R, Cook V, Francel P, Neas B, Levine N (2001) Neurodevelopment in children with single-suture craniosynostosis and plagiocephaly without synostosis. Plast Reconstr Surg 108:1492–1498 discussion 1499-500

Speltz ML, Collett BR, Stott-Miller M, Starr JR, Heike C, Wolfram-Aduan AM, King D, Cunningham ML (2010) Case-control study of neurodevelopment in deformational plagiocephaly. Pediatrics 125:e537–e542. doi:10.1542/peds.2009-0052

Steinbok P, Lam D, Singh S, Mortenson PA, Singhal A (2007) Long-term outcome of infants with positional occipital plagiocephaly. Childs Nerv.Syst. 23:1275–1283

Lee RP, Teichgraeber JF, Baumgartner JE, Waller AL, English JD, Lasky RE, Miller CC, Gateno J, Xia JJ (2008) Long-term treatment effectiveness of molding helmet therapy in the correction of posterior deformational plagiocephaly: a five-year follow-up. Cleft Palate Craniofac J 45:240–245. doi:10.1597/06-210.1

Loveday BP, de Chalain TB (2001) Active counterpositioning or orthotic device to treat positional plagiocephaly? J Craniofac Surg 12:308–313

Bhat SS, Rao HA, Hegde KS, Kumar BK (2012) Characteristics of primary dentition occlusion in preschool children: an epidemiological study. Int J Clin Pediatr Dent 5:93–97. doi:10.5005/jp-journals-10005-1143

Correa-Faria P, Ramos-Jorge ML, Martins-Junior PA, Vieira-Andrade RG, Marques LS (2014) Malocclusion in preschool children: prevalence and determinant factors. Eur Arch Paediatr Dent 15:89–96. doi:10.1007/s40368-013-0069-9

de Sousa RV, Ribeiro GL, Firmino RT, Martins CC, Granville-Garcia AF, Paiva SM (2014) Prevalence and associated factors for the development of anterior open bite and posterior crossbite in the primary dentition. Braz Dent J 25:336–342

dos Santos RR, Nayme JG, Garbin AJ, Saliba N, Garbin CA, Moimaz SA (2012) Prevalence of malocclusion and related oral habits in 5- to 6-year-old children. Oral Health Prev Dent 10:311–318

Pelo S, Marianetti TM, Cacucci L, Di Nardo F, Borrelli A, Di Rocco C, Tamburrini G, Moro A, Gasparini G, Deli R (2011) Occlusal alterations in unilateral coronal craniosynostosis. Int J Oral Maxillofac Surg 40:805–809. doi:10.1016/j.ijom.2011.02.023

Kane AA, Lo L-J, W. Vannier M, L. Marsh J (1996) Mandibular dysmorphology in unicoronal synostosis and plagiocephaly without synostosis. The Cleft Palate Craniof J 33:418–423. doi:10.1597/1545-1569(1996)033<0418:MDIUSA>2.3.CO;2

Baumler C, Leboucq N, Captier G (2007) Mandibular asymmetry in plagiocephaly without synostosis. Rev Stomatol Chir Maxillofac 108:424–430. doi:10.1016/j.stomax.2007.07.005

Dimberg L, Lennartsson B, Arnrup K, Bondemark L (2015) Prevalence and change of malocclusions from primary to early permanent dentition: a longitudinal study. Angle Orthod 85:728–734. doi:10.2319/080414-542.1

Dimberg L, Bondemark L, Soderfeldt B, Lennartsson B (2010) Prevalence of malocclusion traits and sucking habits among 3-year-old children. Swed Dent J 34:35–42

Modeer T, Odenrick L, Lindner A (1982) Sucking habits and their relation to posterior cross-bite in 4-year-old children. Scand J Dent Res 90:323–328

Meyer-Marcotty P, Bohm H, Linz C, Kochel J, Stellzig-Eisenhauer A, Schweitzer T (2014) Three-dimensional analysis of cranial growth from 6 to 12 months of age. Eur J Orthod 36:489–496. doi:10.1093/ejo/cjt010

Wilbrand JF, Schmidtberg K, Bierther U, Streckbein P, Pons-Kuehnemann J, Christophis P, Hahn A, Schaaf H, Howaldt HP (2012) Clinical classification of infant nonsynostotic cranial deformity. J.Pediatr. 161:1120–1125

Plank LH, Giavedoni B, Lombardo JR, Geil MD, Reisner A (2006) Comparison of infant head shape changes in deformational plagiocephaly following treatment with a cranial remolding orthosis using a noninvasive laser shape digitizer. J Craniofac Surg 17:1084–1091. doi:10.1097/01.scs.0000244920.07383.85

Vles JS, Colla C, Web er JW, Beuls E, Wilmink J, Kingma H (2000) Helmet versus nonhelmet treatment in nonsynostotic positional posterior plagiocephaly. J Craniofac Surg 11:572–574
Ethics declarations
Ethical approval
All procedures performed in studies involving human participants were in accordance with the ethical standards of the institutional committee and with the 1964 Helsinki Declaration and its later amendments or comparable ethical standards (institutional review board approval: 203/201BO1).
Conflict of interest
The authors declare that they have no competing interests.
Funding
The work was supported by the Department of Oral and Maxillofacial Surgery, University Hospital Tuebingen, Germany.
Informed consent
Informed consent was obtained from all individual participants included in the study.
About this article
Cite this article
Kluba, S., Roßkopf, F., Kraut, W. et al. Malocclusion in the primary dentition in children with and without deformational plagiocephaly. Clin Oral Invest 20, 2395–2401 (2016). https://doi.org/10.1007/s00784-016-1716-4
Received:

Accepted:

Published:

Issue Date:

DOI: https://doi.org/10.1007/s00784-016-1716-4
Keywords
Positional plagiocephaly

Malocclusion

Helmet therapy

Primary dentition