Abstract
Objectives
The aim of this in vitro study was to investigate the effects of a non-thermal atmospheric pressure plasma jet (NTAPPJ) on the cellular activity of human gingival fibroblasts (HGF) for possible non-surgical application of it during gingival wound healing.
Materials and methods
HGF cells were exposed with NTAPPJ for 1, 2, and 4 min and were investigated for cellular attachment, cell viability, morphology of attached cells, proliferation rate, and messenger ribonucleic acid (mRNA) expression of various growth factors. Also, scavengers for chemicals produced by NTAPPJ were used to identify the chemical species responsible for the effects.
Results
There was no significant change in the number of HGF cells attached or their proliferation following NTAPPJ exposure. Also, high cell viability resulted from exposure of all of HGF cells to NTAPPJ for 1, 2, and 4 min. However, cells were more stretched while the mRNA expressions of transforming growth factor and vascular endothelial growth factor were significantly increased following NTAPPJ exposure. Additionally, the scavenger test showed that nitric oxide is likely to be the chemical responsible for an increase of cellular activity.
Conclusion
The results demonstrated that the NTAPPJ increased mRNA expressions of growth factors in human gingival fibroblasts.
Clinical relevance
Application of NTAPPJ would be useful in gingival wound healing in clinics though additional studies confirming the effects would be needed.
This is a preview of subscription content, log in to check access.
Access options
Buy single article
Instant access to the full article PDF.
US$ 39.95
Price includes VAT for USA
Subscribe to journal
Immediate online access to all issues from 2019. Subscription will auto renew annually.
US$ 99
This is the net price. Taxes to be calculated in checkout.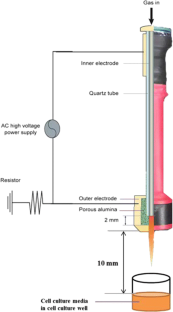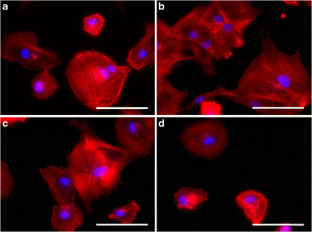 References
1.

Pihlstrom BL, Michalowicz BS, Johnson NW (2005) Periodontal diseases. Lancet 366(9499):1809–1820

2.

Dorn JM, Genco RJ, Grossi SG, Falkner KL, Hovey KM, Iacoviello L, Trevisan M (2010) Periodontal disease and recurrent cardiovascular events in survivors of myocardial infarction (MI): the Western New York Acute MI Study. J Periodontol 81(4):502–511

3.

Ahn YB, Shin MS, Byun JS and Kim HD (2015) The association of hypertension with periodontitis is highlighted in female adults; results from the Fourth Korea National Health and Nutrition Examination Survey (KNHANES IV). J Clin Periodontol doi:10.1111/jcpe.12471. [Epub ahead of print]

4.

Ishikawa I, Baehni P (2004) Nonsurgical periodontal therapy—where do we stand now? Periodontol 2000(36):9–13

5.

Cochran DL, Wozney JM (1999) Biological mediators for periodontal regeneration. Periodontol 2000(19):40–58

6.

Ivanovski S, Haase HR, Bartold PM (2001) Isolation and characterization of fibroblasts derived from regenerating human periodontal defects. Arch Oral Biol 46(8):679–688

7.

Bartold PM, Walsh LJ and Narayanan S (2000) Molecular and cell biology of the gingiva. Periodontol 2000 24:28–55

8.

Yu N, Oortgiesen DAW, Bronckers ALJJ, Yang F, Walboomers XF, Jansen JA (2013) Enhanced periodontal tissue regeneration by periodontal cell implantation. J Clin Periodontol 40(7):698–706

9.

Zeldich E, Koren R, Nemcovsky C, Weinreb M (2007) Enamel matrix derivative stimulates human gingival fibroblast proliferation via ERK. J Dent Res 86(1):41–46

10.

Anitua E, Troya M, Orive G (2012) Plasma rich in growth factors promote gingival tissue regeneration by stimulating fibroblast proliferation and migration and by blocking transforming growth factor-beta 1-induced myodifferentiation. J Periodontol 83(8):1028–1037

11.

Kreisler M, Christoffers AB, Willershausen B, d'Hoedt B (2003) Effect of low-level GaAlAs laser irradiation on the proliferation rate of human periodontal ligament fibroblasts: an in vitro study. J Clin Periodontol 30(4):353–358

12.

Pourzarandian A, Watanabe H, Ruwanpura SMPM, Aoki A, Ishikawa I (2005) Effect of low-level Er:G laser irradiation on cultured human gingival fibroblasts. J Periodontol 76(2):187–193

13.

Izumi Y, Aoki A, Yamada Y, Kobayashi H, Iwata T, Akizuki T, Suda T, Nakamura S, Wara-Aswapati N, Ueda M and Ishikawa I (2011) Current and future periodontal tissue engineering. Periodontol 2000 56(1):166–187

14.

Fridman G, Friedman G, Gutsol A, Shekhter AB, Vasilets VN, Fridman A (2008) Applied plasma medicine. Plasma Process Polym 5(6):503–533

15.

Roth JR (1995) Industrial plasma engineering. Institute of Physics Pub., Bristol; Philadelphia

16.

Kwon JS, Kim YH, Choi EH, Kim KN (2013) Development of ultra-hydrophilic and non-cytotoxic dental vinyl polysiloxane impression materials using a non-thermal atmospheric-pressure plasma jet. J Phys D Appl Phys 46(19):195201

17.

Kalghatgi S, Kelly CM, Cerchar E, Torabi B, Alekseev O, Fridman A, Friedman G, Azizkhan-Clifford J (2011) Effects of non-thermal plasma on mammalian cells. PLoS One 6(1):e16270

18.

Kwon JS, Kim YH, Choi EH, Kim KN (2013) The effects of non-thermal atmospheric pressure plasma jet on attachment of osteoblast. Curr Appl Phys 13:S42–S47

19.

Hakki SS, Bozkurt SB (2012) Effects of different setting of diode laser on the mRNA expression of growth factors and type I collagen of human gingival fibroblasts. Laser Med Sci 27(2):325–331

20.

Lin SJ, Lu HK, Lee HW, Chen YC, Li CL, Wang LF (2012) Nitric oxide inhibits androgen receptor-mediated collagen production in human gingival fibroblasts. J Periodontal Res 47(6):701–710

21.

Nicolescu AC, Li Q, Brown L, Thatcher GRJ (2006) Nitroxidation, nitration, and oxidation of a BODIPY fluorophore by RNOS and ROS. Nitric Oxide-Biol Ch 15(2):163–176

22.

Franco R, Panayiotidis MI, Cidlowski JA (2007) Glutathione depletion is necessary for apoptosis in lymphoid cells independent of reactive oxygen species formation. J Biol Chem 282(42):30452–30465

23.

Nerem RM (1991) Cellular engineering. Ann Biomed Eng 19(5):529–545

24.

Bianco P, Riminucci M, Gronthos S, Robey PG (2001) Bone marrow stromal stem cells: nature, biology, and potential applications. Stem Cells 19(3):180–192

25.

Kieft IE, Kurdi M, Stoffels E (2006) Reattachment and apoptosis after plasma-needle treatment of cultured cells. Ieee T Plasma Sci 34(4):1331–1336

26.

Kalghatgi S, Friedman G, Fridman A, Clyne AM (2010) Endothelial cell proliferation is enhanced by low dose non-thermal plasma through fibroblast growth factor-2 release. Ann Biomed Eng 38(3):748–757

27.

Hynes RO (2002) Integrins: bidirectional, allosteric signaling machines. Cell 110(6):673–687

28.

Geiger B, Bershadsky A, Pankov R, Yamada KM (2001) Transmembrane crosstalk between the extracellular matrix–cytoskeleton crosstalk. Nat Rev Mol Cell Biol 2(11):793–805

29.

Tomikawa K, Yamamoto T, Shiomi N, Shimoe M, Hongo S, Yamashiro K, Yamaguchi T, Maeda H, Takashiba S (2012) Smad2 decelerates re-epithelialization during gingival wound healing. J Dent Res 91(8):764–770

30.

Grazul-Bilska AT, Johnson ML, Bilski JJ, Redmer DA, Reynolds LP, Abdullah A, Abdullah KM (2003) Wound healing: the role of growth factors. Drugs Today 39(10):787–800

31.

Sosnin EA, Stoffels E, Erofeev MV, Kieft IE, Kunts SE (2004) The effects of UV irradiation and gas plasma treatment on living mammalian cells and bacteria: a comparative approach. Ieee T Plasma Sci 32(4):1544–1550

32.

Furchgott RF (1999) Endothelium-derived relaxing factor: discovery, early studies, and identifcation as nitric oxide (Nobel lecture). Angew Chem Int Edit 38(13–14):1870–1880

33.

Isenberg JS, Ridnour LA, Perruccio EM, Espey MG, Wink DA, Roberts DD (2005) Thrombospondin-1 inhibits endothelial cell responses to nitric oxide in a cGMP-dependent manner. P Natl Acad Sci USA 102(37):13141–13146

34.

Daghigh F, Borghaei RC, Thornton RD, Bee JH (2002) Human gingival fibroblasts produce nitric oxide in response to proinflammatory cytokines. J Periodontol 73(4):392–400
Acknowledgments
This research was supported by the National Research Foundation of Korea (NRF) funded by the Korea government (MSIP) (NRF-2010-0027963).
Ethics declarations
Conflict of interest
The authors declare that they have no competing interests.
About this article
Cite this article
Kwon, J., Kim, Y.H., Choi, E.H. et al. Non-thermal atmospheric pressure plasma increased mRNA expression of growth factors in human gingival fibroblasts. Clin Oral Invest 20, 1801–1808 (2016). https://doi.org/10.1007/s00784-015-1668-0
Received:

Accepted:

Published:

Issue Date:
Keywords
Gingival fibroblast

Non-thermal atmospheric pressure plasma

Nitric oxide

Growth factors