Abstract
Aim
This longitudinal study aimed to investigate the prevalence of teething-related pain and fever and the early-life factors that may affect the risk of experiencing these disturbances within the first 1.5 years of life.
Materials and methods
Participants were recruited (n = 1033) through the Growing Up in Singapore Towards healthy Outcomes (GUSTO) birth cohort (n = 1237). Interviews were performed tri-monthly regarding the prevalence of teething pain and fever in children from 6 to 18 months of age. Crude and multivariable analyses were conducted using Poisson-log regression models.
Results
Prevalence rates for teething pain and fever were 35.5 and 49.9 % respectively. Multivariable Poisson regression analysis showed maternal second-hand tobacco smoke (SHS) exposure to increase the risk of both pain (mean ratio = 1.35; p = 0.006) and fever (mean ratio = 1.22; p = 0.025), whereas SHS exposure plus active smoking further increased risk of teething pain in the children (mean ratio = 1.89; p = 0.029). Delivery via Caesarean section increased risk of teething pain (mean ratio = 1.27; p = 0.033), while prenatal plasma vitamin D insufficiency lowered such a risk (mean ratio = 0.62; p = 0.012). Compared to Chinese infants, Indian babies exhibited lower risk of teething pain and fever (both p ≤ 0.001).
Conclusions
Early-life factors such as tobacco smoke exposure and vitamin insufficiency during pregnancy, ethnicity and childbirth via Caesarean section may significantly affect the child's susceptibility to teething-related pain and fever.
Clinical relevance
Knowledge of prevalence and risk factors of teething disturbances may better equip primary caregivers and healthcare professionals to accurately detect teething-related local and/or systemic signs/symptoms and effectively facilitate tobacco cessation among pregnant women.
Access options
Buy single article
Instant access to the full article PDF.
USD 39.95
Price includes VAT (USA)
Tax calculation will be finalised during checkout.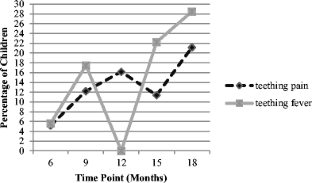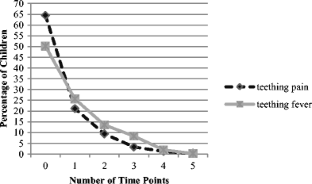 References
1.

Cunha RF et al. (2004) Systemic and local teething disturbances: prevalence in a clinic for infants. J Dent Child (Chic) 71(1):24–26

2.

Noor-Mohammed R, Basha S (2012) Teething disturbances; prevalence of objective manifestations in children under age 4 months to 36 months. Med Oral Patol Oral Cir Bucal 17(3):e491–e494

3.

Kiran K et al. (2011) Prevalence of systemic and local disturbances in infants during primary teeth eruption: a clinical study. Eur J Paediatr Dent 12(4):249–252

4.

Macknin ML et al. (2000) Symptoms associated with infant teething: a prospective study. Pediatrics 105(4 Pt 1):747–752

5.

Barker DJP (1994) Mothers, babies and disease in later life. BMJ Publishing Group, London

6.

Christian LM (2012) Psychoneuroimmunology in pregnancy: immune pathways linking stress with maternal health, adverse birth outcomes, and fetal development. Neurosci Biobehav Rev 36(1):350–361

7.

Reynolds F (2011) Labour analgesia and the baby: good news is no news. Int J Obstet Anesth 20(1):38–50

8.

Lumsden AG (1988) Spatial organization of the epithelium and the role of neural crest cells in the initiation of the mammalian tooth germ. Development 103(Suppl):155–169

9.

Kuh D, Ben-Schlomo Y (1997) A life course approach to chronic disease epidemiology. Oxford University Press, New York

10.

Wise GE, Lin F (1995) The molecular biology of initiation of tooth eruption. J Dent Res 74(1):303–306

11.

Wise GE, Frazier-Bowers S, D'Souza RN (2002) Cellular, molecular, and genetic determinants of tooth eruption. Crit Rev Oral Biol Med 13(4):323–334

12.

Engel MB (1951) Some changes in the connective tissue ground substance associated with the eruption of the teeth. J Dent Res 30(3):322–330

13.

Marcotte H, Lavoie MC (1998) Oral microbial ecology and the role of salivary immunoglobulin A. Microbiol Mol Biol Rev 62(1):71–109

14.

Nelson WE (1983) Textbook of pediatrics. WB Saunders, Philadelphia

15.

Sood M, Sood S (2010) Problems with teething in children. Pediatric Oncall:7(4)

16.

Sopori M (2002) Effects of cigarette smoke on the immune system. Nat Rev Immunol 2(5):372–377

17.

DiFranza JR, Aligne CA, Weitzman M (2004) Prenatal and postnatal environmental tobacco smoke exposure and children's health. Pediatrics 113(4 Suppl):1007–1015

18.

Bruce A, Black M, Bhattacharya S (2014) Mode of delivery and risk of inflammatory bowel disease in the offspring: systematic review and meta-analysis of observational studies. Inflamm Bowel Dis 20(7):1217–1226

19.

Abrams SA, Coss-Bu JA, Tiosano D (2013) Vitamin D: effects on childhood health and disease. Nat Rev Endocrinol 9(3):162–170

20.

Soh SE et al. (2014) Cohort profile: Growing Up in Singapore Towards healthy Outcomes (GUSTO) birth cohort study. Int J Epidemiol 43(5):1401–1409

21.

Mikolajczyk RT et al. (2011) A global reference for fetal-weight and birthweight percentiles. Lancet 377(9780):1855–1861

22.

Ashley MP (2001) It's only teething...a report of the myths and modern approaches to teething. Br Dent J 191(1):4–8

23.

Wake M, Hesketh K, Allen M (1999) Parent beliefs about infant teething: a survey of Australian parents. J Paediatr Child Health 35(5):446–449

24.

Ramos-Jorge J et al. (2011) Prospective longitudinal study of signs and symptoms associated with primary tooth eruption. Pediatrics 128(3):471–476

25.

Niewiesk S (2014) Maternal antibodies: clinical significance, mechanism of interference with immune responses, and possible vaccination strategies. Front Immunol 5:446

26.

Makin J, Fried PA, Watkinson B (1991) A comparison of active and passive smoking during pregnancy: long-term effects. Neurotoxicol Teratol 13(1):5–12

27.

World Health Organization WHO recommendations for the prevention and management of tobacco use and second-hand smoke exposure in pregnancy http://www.who.int/tobacco/publications/pregnancy/guidelinestobaccosmokeexposure/en/index.html, 2013

28.

Lambers DS, Clark KE (1996) The maternal and fetal physiologic effects of nicotine. Semin Perinatol 20(2):115–126

29.

Law KL et al. (2003) Smoking during pregnancy and newborn neurobehavior. Pediatrics 111(6 Pt 1):1318–1323

30.

Shi Y et al. (2010) Smoking and pain: pathophysiology and clinical implications. Anesthesiology 113(4):977–992

31.

Schuetze P, Eiden RD (2007) The association between prenatal exposure to cigarettes and infant and maternal negative affect. Infant Behav Dev 30(3):387–398

32.

Blalock JE (2005) The immune system as the sixth sense. J Intern Med 257(2):126–138

33.

Rohleder N, Kirschbaum C (2006) The hypothalamic-pituitary-adrenal (HPA) axis in habitual smokers. Int J Psychophysiol 59(3):236–243

34.

Zeisberger E (1999) From humoral fever to neuroimmunological control of fever. J Therm Biol 24(5–6):287–326

35.

Shapira J et al. (2003) Cytokine levels in gingival crevicular fluid of erupting primary teeth correlated with systemic disturbances accompanying teething. Pediatr Dent 25(5):441–448

36.

Arend WP, Leung DY (1994) IgG induction of IL-1 receptor antagonist production by human monocytes. Immunol Rev 139:71–78

37.

Fontana VA et al. (2010) Interleukin-1 beta regulates metalloproteinase activity and leptin secretion in a cytotrophoblast model. Biocell 34(1):37–43

38.

Tai ES et al. (2010) Insulin resistance is associated with a metabolic profile of altered protein metabolism in Chinese and Asian-Indian men. Diabetologia 53(4):757–767

39.

Noble PW et al. (1993) Hyaluronate activation of CD44 induces insulin-like growth factor-1 expression by a tumor necrosis factor-alpha-dependent mechanism in murine macrophages. J Clin Invest 91(6):2368–2377

40.

Raz A et al. (1988) Regulation of fibroblast cyclooxygenase synthesis by interleukin-1. J Biol Chem 263(6):3022–3028

41.

Funk CD (2001) Prostaglandins and leukotrienes: advances in eicosanoid biology. Science 294(5548):1871–1875

42.

Kluger MJ (1991) Fever: role of pyrogens and cryogens. Physiol Rev 71(1):93–127

43.

Ushikubi F et al. (1998) Impaired febrile response in mice lacking the prostaglandin E receptor subtype EP3. Nature 395(6699):281–284

44.

Gitau R et al. (2001) Umbilical cortisol levels as an indicator of the fetal stress response to assisted vaginal delivery. Eur J Obstet Gynecol Reprod Biol 98(1):14–17

45.

Mears K et al. (2004) Fetal cortisol in relation to labour, intrapartum events and mode of delivery. J Obstet Gynaecol 24(2):129–132

46.

Schlinzig T et al. (2009) Epigenetic modulation at birth—altered DNA-methylation in white blood cells after Caesarean section. Acta Paediatr 98(7):1096–1099

47.

Crow M, Denk F, McMahon SB (2013) Genes and epigenetic processes as prospective pain targets. Genome Med 5(2):12

48.

Bell JT et al. (2014) Differential methylation of the TRPA1 promoter in pain sensitivity. Nat Commun 5:2978

49.

Kulie T et al. (2009) Vitamin D: an evidence-based review. J Am Board Fam Med 22(6):698–706

50.

Tague SE et al. (2011) Vitamin D deficiency promotes skeletal muscle hypersensitivity and sensory hyperinnervation. J Neurosci 31(39):13728–13738

51.

Hollis BW, Pittard 3rd WB (1984) Evaluation of the total fetomaternal vitamin D relationships at term: evidence for racial differences. J Clin Endocrinol Metab 59(4):652–657

52.

Kidd BL, Urban LA (2001) Mechanisms of inflammatory pain. Br J Anaesth 87(1):3–11

53.

Prietl B et al. (2013) Vitamin D and immune function. Nutrients 5(7):2502–2521

54.

Tiosano D et al. (2011) Calcium absorption, kinetics, bone density, and bone structure in patients with hereditary vitamin D-resistant rickets. J Clin Endocrinol Metab 96(12):3701–3709

55.

Peacock M (2010) Calcium metabolism in health and disease. Clin J Am Soc Nephrol 5(Suppl 1):S23–S30
Acknowledgments
This study was funded by Singapore's National Medical Research Council (NMRC/CIRG/1341/2012: R-221-000-059-511) and supported by the Singapore National Research Foundation under its TCR Flagship Programme on Developmental Pathways to Metabolic Disease (NMRC/TCR/004-NUS/2008 and NMRC/TCR/012-NUHS/2014). A special thanks is extended to the GUSTO sub-domains for their great support, Professor Michael Kramer for his important advice and input and Pang Wei Wei, Izzuddin Bin Mohd Aris, Tan Pei Ting and Priyangi Alwis for their valuable contributions. The continuous and skilful help of the home visitors and the clinical team from the National University Hospital and the KK Women's and Children's Hospital, as well as the database and biostatistics teams, is deeply appreciated.
Ethics declarations
Conflict of interest
The authors declare that they have no competing interests.
About this article
Cite this article
Un Lam, C., Hsu, CY.S., Yee, R. et al. Early-life factors affect risk of pain and fever in infants during teething periods. Clin Oral Invest 20, 1861–1870 (2016). https://doi.org/10.1007/s00784-015-1658-2
Received:

Accepted:

Published:

Issue Date:
Keywords
Tooth eruption

Teething

Pain

Fever

Prenatal

Perinatal

Infants