Abstract
Aim
Citric acid (CA) is a component in beverages responsible for dental erosion. The aim of this study was to examine the influence of CA with different pH, titratable acid and buffer capacity (ß), and the impact of the chelating effect of CA on development of enamel erosions.
Material and methods
In a superfusion model, hydroxy apatite (HAp) dissolution of bovine enamel was measured in four experiments (EXP 1-4) with 27 experimental groups (n = 8 per group). The samples were superfused with different CA variations and respective controls. EXP-1: Dilution series of HCl (pH 2.15–3.02). EXP-2: Dilution series of natural CA (56–1.75 mmol l−1; pH 2.15–3.02). EXP-3: CA solutions (56 and 14 mmol l−1, ß: 39.7 and 10.2 mmol l−1 pH−1, respectively) with different titratable acidity at equal pH values. EXP-4: CA concentrations (56–1.75 mmol l−1) neutralized to pH 7.
Results
CA led to higher HAp-dissolution than HCl. With higher pH, the difference in HAp-dissolution rate between the two acids became increasingly smaller. At equal pH, HAp-dissolution was higher for the CA with the higher amount of titratable acid. However, no clear correlation between erosion and titratable acid or ß could be found. Only minimal amounts of HAp were dissolved by neutralized CA compared to CA with natural pH.
Conclusion
Under the chosen conditions chelating effects of CA do not have a relevant influence of HAp-dissolution of enamel. Moreover, amount of HAp-dissolution by CA is not attributed to a single factor alone. The interplay between the different parameters of CA seems to be responsible for its erosive potential.
Clinical relevance
The erosive potential of solutions containing citric acid with unknown concentrations could not be predicted using a single parameter alone, and should at best determined in experimental set-ups.
Access options
Buy single article
Instant access to the full article PDF.
US$ 39.95
Tax calculation will be finalised during checkout.
Subscribe to journal
Immediate online access to all issues from 2019. Subscription will auto renew annually.
US$ 79
Tax calculation will be finalised during checkout.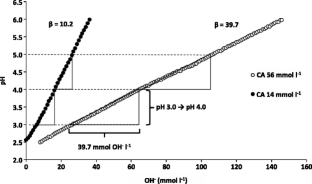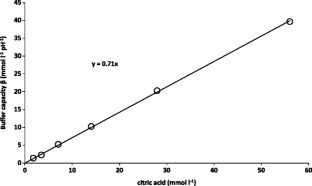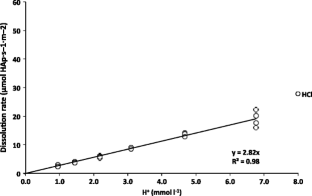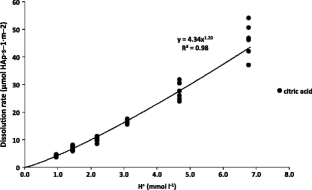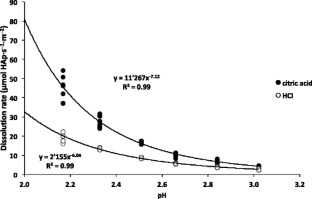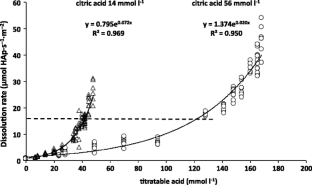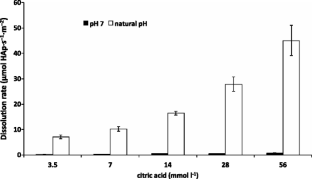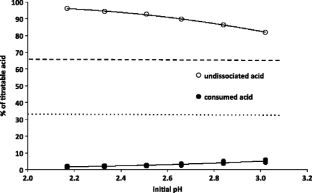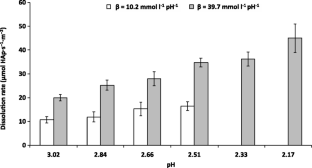 References
1.

Ten Cate JM, Imfeld T (1996) Dental erosion, summary. Eur J Oral Sci 104:241–244

2.

Barbour ME, Lussi A (2014) Erosion in relation to nutrition and the environment. Monogr Oral Sci 25:143–154

3.

Shellis RP, Featherstone JD, Lussi A (2014) Understanding the chemistry of dental erosion. Monogr Oral Sci 25:163–179

4.

Sillén LG, Martell AE (1964) Stability constants of metall-ion complexes. The chemical society, London, Burlington House, W.1

5.

Zheng J, Xiao F, Qian LM, Zhou ZR (2009) Erosion behavior of human tooth enamel in citric acid solution. Tribol Int 42:1558–1564

6.

Heurich E, Beyer M, Jandt KD, Reichert J, Herold V, Schnabelrauch M, Sigusch BW (2010) Quantification of dental erosion–a comparison of stylus profilometry and confocal laser scanning microscopy (CLSM). Dent Mater 26:326–336

7.

Attin T, Becker K, Wiegand A, Taubock TT, Wegehaupt FJ (2013) Impact of laminar flow velocity of different acids on enamel calcium loss. Clin Oral Investig 17:595–600

8.

Attin T, Becker K, Hannig C, Buchalla W, Wiegand A (2005) Suitability of a malachite green procedure to detect minimal amounts of phosphate dissolved in acidic solutions. Clin Oral Investig 9:203–207

9.

Hohenwallner W, Wimmer E (1973) Malachite green micromethod for determination of inorganic-phosphate. Clin Chim Acta 45:169–175

10.

Fathi AR, Krautheim A, Lucke S, Becker K, Steinfelder HJ (2002) Nonradioactive technique to measure protein phosphatase 2A-like activity and its inhibition by drugs in cell extracts. Anal Biochem 310:208–214

11.

Jensdottir T, Holbrook P, Nauntofte B, Buchwald C, Bardow A (2006) Immediate erosive potential of cola drinks and orange juices. J Dent Res 85:226–230

12.

Esser M, Tinschert J, Marx R (1998) Materialkennwerte der zahnhartsubstanz des rindes im vergleich zur humanen zahnhartsubstanz. Dtsch Zahnärztl Z 53:713–717

13.

Attin T, Wegehaupt F, Gries D, Wiegand A (2007) The potential of deciduous and permanent bovine enamel as substitute for deciduous and permanent human enamel: erosion-abrasion experiments. J Dent 35:773–777

14.

Imfeld T (1996) Dental erosion. Definition, classification and links. Eur J Oral Sci 104:151–155

15.

Lussi A, Jaeggi T (2006) Chemical factors. Monogr Oral Sci 20:77–87

16.

Hughes JA, West NX, Parker DM, vanden BMH, Addy M (2000) Effects of pH and concentration of citric, malic and lactic acids on enamel, in vitro. J Dent 28:147–152

17.

Shellis RP, Barbour ME, Jesani A, Lussi A (2013) Effects of buffering properties and undissociated acid concentration on dissolution of dental enamel in relation to pH and acid type. Caries Res 47:601–611

18.

Lussi A, Megert B, Shellis RP, Wang X (2012) Analysis of the erosive effect of different dietary substances and medications. Br J Nutr 107:252–262

19.

Millward A, Shaw L, Harrington E, Smith AJ (1997) Continuous monitoring of salivary flow rate and pH at the surface of the dentition following consumption of acidic beverages. Caries Res 31:44–49

20.

Lussi A, von Salis-Marincek M, Ganss C, Hellwig E, Cheaib Z, Jaeggi T (2012) Clinical study monitoring the pH on tooth surfaces in patients with and without erosion. Caries Res 46:507–512

21.

Aykut-Yetkiner A, Wiegand A, Ronay V, Attin R, Becker K, Attin T (2013) In vitro evaluation of the erosive potential of viscosity-modified soft acidic drinks on enamel. Clin Oral Investig 18:769–773

22.

West NX, Hughes JA, Addy M (2001) The effect of pH on the erosion of dentine and enamel by dietary acids in vitro. J Oral Rehabil 28:860–864

23.

Steiner-Oliveira C, Nobre-dos-Santos M, Zero DT, Eckert G, Hara AT (2010) Effect of a pulsed CO2 laser and fluoride on the prevention of enamel and dentine erosion. Arch Oral Biol 55:127–133

24.

Hughes JA, West NX, Addy M (2004) The protective effect of fluoride treatments against enamel erosion in vitro. J Oral Rehabil 31:357–363

25.

Ganss C, von Hinckeldey J, Tolle A, Schulze K, Klimek J, Schlueter N (2012) Efficacy of the stannous ion and a biopolymer in toothpastes on enamel erosion/abrasion. J Dent 40:1036–1043

26.

Schlueter N, Duran A, Klimek J, Ganss C (2009) Investigation of the effect of various fluoride compounds and preparations thereof on erosive tissue loss in enamel in vitro. Caries Res 43:10–16

27.

Hemingway CA, White AJ, Shellis RP, Addy M, Parker DM, Barbour ME (2010) Enamel erosion in dietary acids: inhibition by food proteins in vitro. Caries Res 44:525–530

28.

Hemingway CA, Shellis RP, Parker DM, Addy M, Barbour ME (2008) Inhibition of hydroxyapatite dissolution by ovalbumin as a function of pH, calcium concentration, protein concentration and acid type. Caries Res 42:348–353

29.

Shellis RP, Barbour ME, Jones SB, Addy M (2010) Effects of pH and acid concentration on erosive dissolution of enamel, dentine, and compressed hydroxyapatite. Eur J Oral Sci 118:475–482
Ethics declarations
Conflict of interest statement
The authors have no conflict of interest.
About this article
Cite this article
Azadi-Schossig, P., Becker, K. & Attin, T. Chelating effect of citric acid is negligible for development of enamel erosions. Clin Oral Invest 20, 1577–1587 (2016). https://doi.org/10.1007/s00784-015-1634-x
Received:

Accepted:

Published:

Issue Date:
Keywords
Citric acid

Erosion

Enamel

Chelation

Buffer capacity

Titratable acidity