Abstract
Objective
The use of methamphetamine (MA), a highly addictive stimulant, is rapidly increasing, with MA being widely abused as the scene drug "Crystal Meth" (CM). CM has been associated with severe oral health effects, resulting in so-called "Meth mouth". This term appeared for the first time in 2005 in the literature and describes the final complex of symptoms including rampant caries, periodontal diseases and excessive tooth wear. The aim of this study was to investigate the effects of chronic CM abuse on teeth and intraoral tissue with respect to potential symptoms of Meth mouth.
Materials and methods
In cooperation with two centres for addiction medicine, we performed clinical intraoral investigations in 100 chronic CM users and 100 matched-pair controls. We undertook a caries and periodontal examination by using the clinical parameters DMF-T/DMF-S, bleeding on probing index (BOP) and periodontal screening index (PSI) and tested individual oral hygiene by using approximal space plaque index (API). All clinical data were analysed by the t test for independent samples.
Results
We found significantly larger numbers of caries (p < 0.001) and higher levels of gingival bleeding (p < 0.001) and periodontal disease (p < 0.001) among CM users. Oral hygiene was significantly lower in CM users (p < 0.024).
Conclusion
Chronic CM use can lead to extensive potential damage within the intraoral cavity. When CM is used over a long period of time and in the absence of treatment, clinical symptoms in terms of Meth mouth syndrome cannot be excluded.
Clinical relevance
Based on our results, we recommend a specific prevention and therapeutic concept including educational campaigns for MA users and specialized dental care for CM patients.
Access options
Buy single article
Instant access to the full article PDF.
USD 39.95
Price excludes VAT (USA)
Tax calculation will be finalised during checkout.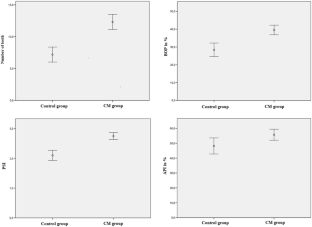 References
Nagai, Nagayoshi (1893) Kanyaku maou seibun kenkyuu seiseki (zoku). Yakugaku Zasshi 13:901

Ogata A (1919) Constitution of ephedrine—desoxyephedrine. J Pharm Soc Jpn 451:751–754

Hamamoto DT, Rhodus NL (2009) Methamphetamine abuse and dentistry. Oral Dis 15:27–37. doi:10.1111/j.1601-0825.2008.01459

Turkyilmaz I (2010) Oral manifestations of "meth mouth": a case report. J Contemp Dent Pract 11:E073–E080

De-Carolis C, Boyd GA, Mancinelli L, Pagano S, Eramo S (2015) Methamphetamine abuse and "meth mouth" in Europe. Med Oral Patol Oral Cir Bucal 20:e205–e210

Bavarian Police (2013) Police Crime Statistics for Upper Franconia. http://www.polizei.bayern.de/oberfranken/kriminalitaet/statistik/index.html/174005. Accessed 21 Aug 2013

Schifano F, Corkery JM, Cuffolo G (2007) Smokable ("ice", "crystal meth") and non smokable amphetamine-type stimulants: clinical pharmacological and epidemiological issues, with special reference to the UK. Ann Ist Super Sanita 43:110–115

Donaldson M, Goodchild JH (2006) Oral health of the methamphetamine abuser. Am J Health Syst Pharm 63:2078–2082. doi:10.2146/ajhp060198

Curtis EK (2006) Meth mouth: a review of methamphetamine abuse and its oral manifestations. Gen Dent 54:125–129 quiz 130

Rhodus NL and Little JW (2005) Methamphetamine abuse and "meth mouth". Northwest Dent 84:29, 31, 33–7.

Shaner JW, Kimmes N, Saini T, Edwards P (2006) "Meth mouth": rampant caries in methamphetamine abusers. AIDS Patient Care STDS 20:146–150. doi:10.1089/apc.2006.20.146

Ravenel MC, Salinas CF, Marlow NM, Slate EH, Evans ZP, Miller PM (2012) Methamphetamine abuse and oral health: a pilot study of "meth mouth". Quintessence Int 43:229–237

Wang P, Chen X, Zheng L, Guo L, Li X, Shen S (2014) Comprehensive dental treatment for "meth mouth": a case report and literature review. J Formos Med Assoc 113:867–871. doi:10.1016/j.jfma.2012.01.016

Naidoo S, Smit D (2011) Methamphetamine abuse: a review of the literature and case report in a young male. SADJ 66:124–127

Lange DE, Plagmann HC, Eenboom A, Promesberger A (1977) Clinical methods for the objective evaluation of oral hygiene. Dtsch Zahnarztl Z 32:44–47

Lange DE (1986) Periodontology in daily practice. Quintessenz, Berlin

Rhodus NL, Little JW (2008) Methamphetamine abuse and "meth mouth". Pa Dent J (Harrisb) 75:19–29

Walter AW, Bachman SS, Reznik DA, Cabral H, Umez-Eronini A, Nath A, Flournoy MW, Young NS (2012) Methamphetamine use and dental problems among adults enrolled in a program to increase access to oral health services for people living with HIV/AIDS. Public Health Rep 127(Suppl 2):25–35

Shetty V, Mooney LJ, Zigler CM, Belin TR, Murphy D, Rawson R (2010) The relationship between methamphetamine use and increased dental disease. J Am Dent Assoc 141:307–318

Goodchild JH, Donaldson M (2007) Methamphetamine abuse and dentistry: a review of the literature and presentation of a clinical case. Quintessence Int 38:583–590

Heng CK, Badner VM, Schiop LA (2008) Meth mouth. N Y State Dent J 74:50–51

Shaner JW (2002) Caries associated with methamphetamine abuse. J Mich Dent Assoc 84:42–47

Backman TK, Larmas MA, Kaar ML, Paavilainen T (1990) Caries incidence in children with acyanotic congenital heart diseases before and after the heart operation. J Clin Pediatr Dent 15:51–54

Eslamipour F, Borzabadi-Farahani A, Asgari I (2010) The relationship between aging and oral health inequalities assessed by the DMFT index. Eur J Paediatr Dent 11:193–199

Feldmann D, Hefti AF, de Crousaz P, Marthaler TM, Hotz P, Menghini GD, Vock P (1993) Dental caries (DMFT) in adults in Switzerland 1988. Schweiz Monatsschr Zahnmed 103:835–843

Mandal KP, Tewari AB, Chawla HS, Gauba KD (2001) Prevalence and severity of dental caries and treatment needs among population in the Eastern states of India. J Indian Soc Pedod Prev Dent 19:85–91

Micheelis W, Bauch J (1996) Oral health of representative samples of Germans examined in 1989 and 1992. Community Dent Oral Epidemiol 24:62–67

Ramezani GH, Valaei N, Eikani H (2004) Prevalence of DMFT and fluorosis in the students of Dayer city (Iran). J Indian Soc Pedod Prev Dent 22:49–53

Tipton DA, Legan ZT, Dabbous M (2010) Methamphetamine cytotoxicity and effect on LPS-stimulated IL-1beta production by human monocytes. Toxicol in Vitro 24:921–927. doi:10.1016/j.tiv.2009.11.015

In SW, Son EW, Rhee DK, Pyo S (2005) Methamphetamine administration produces immunomodulation in mice. J Toxic Environ Health A 68:2133–2145. doi:10.1080/15287390500177156

Talloczy Z, Martinez J, Joset D, Ray Y, Gacser A, Toussi S, Mizushima N, Nosanchuk JD, Goldstein H, Loike J, Sulzer D, Santambrogio L (2008) Methamphetamine inhibits antigen processing, presentation, and phagocytosis. PLoS Pathog 4:e28. doi:10.1371/journal.ppat.0040028

Hellwig E, Klimek J, Attin T (2003) Introduction to restorative dentistry. Urban & Fischer, München

Laslett AM, Crofts JN (2007) Meth mouth. Med J Aust 186:661

Morio KA, Marshall TA, Qian F, Morgan TA (2008) Comparing diet, oral hygiene and caries status of adult methamphetamine users and nonusers: a pilot study. J Am Dent Assoc 139:171–176

Padilla R, Ritter AV (2008) Meth mouth: methamphetamine and oral health. J Esthet Restor Dent 20:148–149. doi:10.1111/j.1708-8240.2008.00167.x

Fox PC (2008) Xerostomia: recognition and management. Dent Assist 77:18, 20, 44–8; quiz 50–1.

Okubo M, Yoshikawa M, Shinomiya T, Kawaguchi M (2013) Methamphetamine-withdrawal stress activates PACAP-DBI pathway in rat salivary gland, resulting in inhibition of salivary secretion. Tokai J Exp Clin Med 38:55–61

Navarro M, Pichini S, Farre M, Ortuno J, Roset PN, Segura J, de la Torre R (2001) Usefulness of saliva for measurement of 3,4-methylenedioxymethamphetamine and its metabolites: correlation with plasma drug concentrations and effect of salivary pH. Clin Chem 47:1788–1795

Buzalaf MA, Hannas AR, Kato MT (2012) Saliva and dental erosion. J Appl Oral Sci 20:493–502

Darling MR (2003) Cannabis abuse and oral health care: review and suggestions for management. SADJ 58:189–190

Chapman CR, Lipschitz DL, Angst MS, Chou R, Denisco RC, Donaldson GW, Fine PG, Foley KM, Gallagher RM, Gilson AM, Haddox JD, Horn SD, Inturrisi CE, Jick SS, Lipman AG, Loeser JD, Noble M, Porter L, Rowbotham MC, Schoelles KM, Turk DC, Volinn E, Von Korff MR, Webster LR, Weisner CM (2010) Opioid pharmacotherapy for chronic non-cancer pain in the United States: a research guideline for developing an evidence-base. J Pain 11:807–829. doi:10.1016/j.jpain.2010.02.019

Zaclikevis MV, D'Agulham AC, Bertassoni LE, Machado MA, de Lima AA, Gregio AM, Azevedo-Alanis LR (2009) Effects of benzodiazepine and pilocarpine on rat parotid glands: histomorphometric and sialometric study. Med Chem 5:74–78

Brand HS, Gonggrijp S, Blanksma CJ (2008) Cocaine and oral health. Br Dent J 204:365–369. doi:10.1038/sj.bdj.2008.244

Cretzmeyer M, Walker J, Hall JA, Arndt S (2007) Methamphetamine use and dental disease: results of a pilot study. J Dent Child (Chic) 74:85–92

Dye BA, Tan S, Smith V, Lewis BG, Barker LK, Thornton-Evans G, Eke PI, Beltran-Aguilar ED, Horowitz AM, Li CH (2007) Trends in oral health status: United States, 1988–1994 and 1999–2004. Vital Health Stat 11:1–92
Acknowledgments
This study was funded by internal funding sources of the Department of Oral and Maxillofacial Surgery, Munich University of Technology. It was also supported by the funding provided by the Koinor Horst Mueller Foundation.
Conflict of interests
The authors declare that they have no competing interests.
About this article
Cite this article
Rommel, N., Rohleder, N.H., Wagenpfeil, S. et al. The impact of the new scene drug "crystal meth" on oral health: a case–control study. Clin Oral Invest 20, 469–475 (2016). https://doi.org/10.1007/s00784-015-1527-z
Received:

Accepted:

Published:

Issue Date:

DOI: https://doi.org/10.1007/s00784-015-1527-z
Keywords