Abstract
Objectives
This study aims to assess possible immediate post-extraction changes in ridge integrity and width.
Methods
Tooth extractions (53 teeth in 30 adults) were performed following atraumatic techniques. Root trunk and ridge width were measured at the crest level in buccolingual direction. Similarly, socket width and buccal plate thickness were also determined. Pre- and post-extraction buccal plate dehiscence, fenestration, or fracture was recorded. Diameter and length of extracted tooth root were also measured. Multinomial logistic regression was used to reveal relationships between ridge outcome (expanded, stable, or collapsed groups) and assessed tooth/site parameters.
Results
Post-extraction, buccal plate fracture developed in 5 (9 %), dehiscence in 15 (28 %), and complete buccal plate loss in 2 sites (4 %). Following extraction, ridge width was expanded in 30 (57 %), collapsed in 12 (23 %), and remained unchanged in 11 (21 %) sites. In most sites (72 %), post-extraction socket size was wider than pre-extraction root trunk width (p < 0.0001). Socket size was a statistically significant predictor for ridge outcome (expansion or collapse compared to stable) (p < 0.01).
Conclusion
Loss of ridge integrity is uncommon, while ridge width expansion is a common finding immediately following tooth extraction. The significance of such expansion compared to integrity of socket walls remains to be established.
Clinical relevance
Tooth extraction approaches that preserve ridge integrity are accompanied by mainly ridge expansion in ridge width. The significance of such immediate changes for the long-term ridge outcomes (i.e., effect on bone remodeling especially in relation to buccal bone integrity) needs further investigation.
Access options
Buy single article
Instant access to the full article PDF.
US$ 39.95
Tax calculation will be finalised during checkout.
Subscribe to journal
Immediate online access to all issues from 2019. Subscription will auto renew annually.
US$ 79
Tax calculation will be finalised during checkout.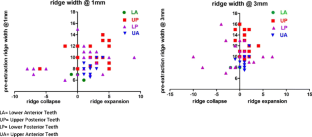 References
1.

Reilly DT, Burstein AH (1975) The elastic and ultimate properties of compact bone tissue. J Biomech 8:393–405

2.

Saha S, Hayes WC (1976) Tensile impact properties of human compact bone. J Biomech 9:243–251

3.

Cardaropoli G, Araújo M, Lindhe J (2003) Dynamics of bone tissue formation in tooth extraction sites. An experimental study in dogs. J Clin Periodontol 30:809–818

4.

Trombelli L, Farina R, Marzola A, Bozzi L, Liljenberg B, Lindhe J (2008) Modeling and remodeling of human extraction sockets. J Clin Periodontol 35:630–639

5.

Nevins M, Camelo M, De Paoli S, Friedland B, Schenk RK, Parma-Benfenati S, Simion M, Tinti C, Wagenberg B (2006) A study of the fate of the buccal wall of extraction sockets of teeth with prominent roots. Int J Periodontics Restorative Dent 26:19–29

6.

Hämmerle CH, Araújo MG, Simion M (2012) Osteology Consensus Group 2011. Evidence-based knowledge on the biology and treatment of extraction sockets. Clin Oral Implants Res 23(Suppl 5):80–82

7.

Leblebicioglu B, Salas M, Ort Y, Johnson A, Yildiz VO, Kim DG, Agarwal S, Tatakis DN (2013) Determinants of alveolar ridge preservation differ by anatomic location. J Clin Periodontol 40:387–395

8.

Tan WL, Wong TL, Wong MC, Lang NP (2012) A systematic review of post-extractional alveolar hard and soft tissue dimensional changes in humans. Clin Oral Implants Res 23(Suppl 5):1–21

9.

Vera C, De Kok IJ, Chen W, Reside G, Tyndall D, Cooper LF (2012) Evaluation of post-implant buccal bone resorption using cone beam computed tomography: a clinical pilot study. Int J Oral Maxillofac Implants 27:1249–1257

10.

Morjaria KR, Wilson R, Palmer RM (2012) Bone healing after tooth extraction with or without an intervention: a systematic review of randomized controlled trials. Clin Implant Dent Relat Res. Mar 8. doi:10.1111/j.1708-8208.2012.00450.x. [Epub ahead of print]

11.

Sanz I, Garcia-Gargallo M, Herrera D, Martin C, Figuero E, Sanz M (2012) Surgical protocols for early implant placement in post-extraction sockets: a systematic review. Clin Oral Implants Res 23(Suppl 5):67–79

12.

Ten Heggeler JM, Slot DE, Van der Weijden GA (2011) Effect of socket preservation therapies following tooth extraction in non-molar regions in humans: a systematic review. Clin Oral Implants Res 22:779–788

13.

Weiss A, Stern A, Dym H (2011) Technological advances in extraction techniques and outpatient oral surgery. Dent Clin N Am 55:501–513

14.

Dym H, Weiss A (2012) Exodontia: tips and techniques for better outcomes. Dent Clin North Am 56:245–266

15.

Hämmerle CH, Chen ST, Wilson TG Jr (2004) Consensus statements and recommended clinical procedures regarding the placement of implants in extraction sockets. Int J Oral Maxillofac Implants 19(Suppl):25–28

16.

Adeyemo WL, Ladeinde AL, Ogunlewe MO (2007) Influence of trans-operative complications on socket healing following dental extractions. J Contemp Dent Pract 8:52–59

17.

Miller SC (1950) Textbook of periodontia; oral medicine, 3rd edition. p. 125, Blackston, Philadelphia

18.

Van der Weijden F, Dell'Acqua F, Slot DE (2009) Alveolar bone dimensional changes of post-extraction sockets in humans: a systematic review. J Clin Periodontol 36:1048–1058

19.

Moya-Villaescusa MJ, Sanchez-Perez A (2010) Measurement of ridge alterations following tooth removal: a radiographic study in humans. Clin Oral Implants Res 21:237–242

20.

Wood R, Sun Z, Chaudry J, Tee BC, Kim DG, Leblebicioglu B, England G (2013) Factors affecting the accuracy of buccal alveolar bone height measurements from cone-beam computed tomography images. Am J Orthod Dentofacial Orthop 143:353–363

21.

Turner PS (1982) A clinical study of "dry socket". Int J Oral Surg 11:226–231

22.

Heasman PA, Jacobs DJ (1984) A clinical investigation into the incidence of dry socket. Br J Oral Maxillofac Surg 22:115–122
Acknowledgments
This study was supported by the Division of Periodontology, The Ohio State University. The authors report no conflict of interest.
Electronic supplementary material
Below is the link to the electronic supplementary material.
About this article
Cite this article
Leblebicioglu, B., Hegde, R., Yildiz, V.O. et al. Immediate effects of tooth extraction on ridge integrity and dimensions. Clin Oral Invest 19, 1777–1784 (2015). https://doi.org/10.1007/s00784-014-1392-1
Received:

Accepted:

Published:

Issue Date:
Keywords
Tooth root

Tooth extraction

Tooth socket

Alveolar process

Treatment outcome