Abstract
Objectives
Previous observational studies have shown that periodontal status is associated with salivary markers of oxidative damage. A direct comparison of periodontitis patients and controls using a wide palette of salivary markers of oxidative stress is lacking. Characteristics of salivary DNA in periodontitis are unknown. The aim of this study was to compare the salivary markers of oxidative stress and characteristics of salivary DNA between patients with chronic periodontitis and periodontitis-free controls.
Materials and methods
Saliva was collected from 23 patients with chronic periodontitis and 19 periodontitis-free controls. All participants underwent a clinical periodontal examination. Markers of oxidative and carbonyl stress were measured in saliva. Human and bacterial DNA was quantified, and human DNA integrity was assessed.
Results
Salivary thiobarbituric acid-reacting substances were higher in patients than in controls; at least in men, the difference was significant (p < 0.01). In women, patients had significantly lower salivary antioxidant status (p < 0.001). No quantitative differences were found regarding salivary DNA. Tendencies towards reduced DNA integrity were found in periodontitis patients.
Conclusions
The results confirmed the association of salivary thiobarbituric acid-reacting substances with periodontitis. Lipid peroxidation in periodontitis seems to be caused by increased production of reactive oxygen species in men and by decreased antioxidant status in women. Whether lower salivary DNA integrity is involved in the pathogenesis of periodontitis remains to be elucidated.
Clinical relevance
Salivary thiobarbituric acid-reacting substances are associated with periodontitis at least on a population level. Sex-specific causes of lipid peroxidation might point towards different pathogenic mechanisms.
This is a preview of subscription content, log in to check access.
Access options
Buy single article
Instant access to the full article PDF.
US$ 39.95
Price includes VAT for USA
Subscribe to journal
Immediate online access to all issues from 2019. Subscription will auto renew annually.
US$ 99
This is the net price. Taxes to be calculated in checkout.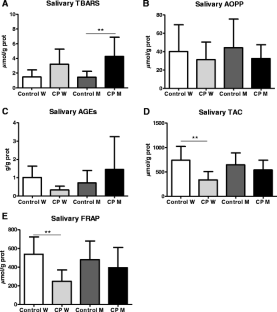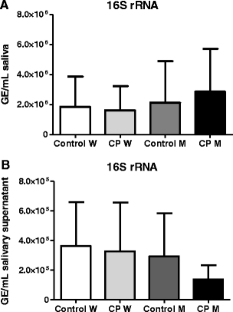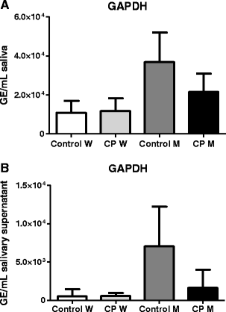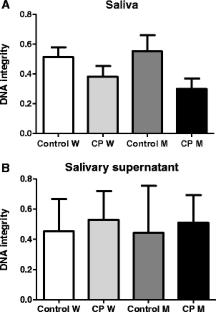 References
1.

Darveau RP (2010) Periodontitis: a polymicrobial disruption of host homeostasis. Nat Rev Microbiol 8:481–490

2.

Suzuki J, Aoyama N, Ogawa M, Hirata Y, Izumi Y, Nagai R, Isobe M (2010) Periodontitis and cardiovascular diseases. Expert Opin Ther Targets 14:1023–1027

3.

Tsioufis C, Kasiakogias A, Thomopoulos C, Stefanadis C (2011) Periodontitis and blood pressure: the concept of dental hypertension. Atherosclerosis 219:1–9

4.

Martinez-Maestre MA, Gonzalez-Cejudo C, Machuca G, Torrejon R, Castelo-Branco C (2010) Periodontitis and osteoporosis: a systematic review. Climacteric 13:523–529

5.

Zhang JC, Sun X, Xiao LM, Xie CJ, Xuan DY, Luo G (2011) Gene polymorphisms and periodontitis. Periodontol 2000 56:102–124

6.

Brett PM, Zygogianni P, Griffiths GS, Tomaz M, Parkar M, D'Aiuto F, Tonetti M (2005) Functional gene polymorphisms in aggressive and chronic periodontitis. J Dent Res 84:1149–1153

7.

Nibali L, Donos N (2013) Periodontitis and redox status: a review. Curr Pharm Des 19:2687–2697

8.

Celecova V, Kamodyova N, Tothova L, Kudela M, Celec P (2013) Salivary markers of oxidative stress are related to age and oral health in adult non-smokers. J Oral Pathol Med 42:263–266

9.

Tothova L, Celecova V, Celec P (2013) Salivary markers of oxidative stress and their relation to periodontal and dental status in children. Dis Markers 34:9–15

10.

Vlkova B, Stanko P, Minarik G, Tothova L, Szemes T, Banasova L, Novotnakova D, Hodosy J, Celec P (2012) Salivary markers of oxidative stress in patients with oral premalignant lesions. Arch Oral Biol 57:1651–1656

11.

Behuliak M, Palffy R, Gardlik R, Hodosy J, Halcak L, Celec P (2009) Variability of thiobarbituric acid reacting substances in saliva. Dis Markers 26:49–53

12.

Hodosy J, Celec P (2005) Daytime of sampling, tooth-brushing and ascorbic acid influence salivary thiobarbituric acid reacting substances—a potential clinical marker of gingival status. Dis Markers 21:203–207

13.

Celec P, Hodosy J, Celecova V, Vodrazka J, Cervenka T, Halcak L, Bozek P, Kopani M, Kudela M (2005) Salivary thiobarbituric acid reacting substances and malondialdehyde—their relationship to reported smoking and to parodontal status described by the papillary bleeding index. Dis Markers 21:133–137

14.

Sezer U, Cicek Y, Canakci CF (2012) Increased salivary levels of 8-hydroxydeoxyguanosine may be a marker for disease activity for periodontitis. Dis Markers 32:165–172

15.

Akalin FA, Baltacioglu E, Alver A, Karabulut E (2007) Lipid peroxidation levels and total oxidant status in serum, saliva and gingival crevicular fluid in patients with chronic periodontitis. J Clin Periodontol 34:558–565

16.

Sawamoto Y, Sugano N, Tanaka H, Ito K (2005) Detection of periodontopathic bacteria and an oxidative stress marker in saliva from periodontitis patients. Oral Microbiol Immunol 20:216–220

17.

Brock GR, Butterworth CJ, Matthews JB, Chapple ILC (2004) Local and systemic total antioxidant capacity in periodontitis and health. J Clin Periodontol 31:515–521

18.

Löe H, Silness J (1963) Periodontal disease in pregnancy I. Prevalence and severity. Acta Odontol Scand 21:533–551

19.

Muhlemann HR, Son S (1971) Gingival sulcus bleeding—a leading symptom in initial gingivitis. Helv Odontol Acta 15:107–113

20.

Witko-Sarsat V, Friedlander M, Capeillere-Blandin C, Nguyen-Khoa T, Nguyen AT, Zingraff J, Jungers P, Descamps-Latscha B (1996) Advanced oxidation protein products as a novel marker of oxidative stress in uremia. Kidney Int 49:1304–1313

21.

Munch G, Keis R, Wessels A, Riederer P, Bahner U, Heidland A, Niwa T, Lemke HD, Schinzel R (1997) Determination of advanced glycation end products in serum by fluorescence spectroscopy and competitive ELISA. Eur J Clin Chem Clin Biochem 35:669–677

22.

Bhatwadekar AD, Ghole VS (2005) Rapid method for the preparation of an AGE-BSA standard calibrator using thermal glycation. J Clin Lab Anal 19:11–15

23.

Erel O (2004) A novel automated direct measurement method for total antioxidant capacity using a new generation, more stable ABTS radical cation. Clin Biochem 37:277–285

24.

Benzie IFF, Strain JJ (1996) The ferric reducing ability of plasma (FRAP) as a measure of "antioxidant power": The FRAP assay. Anal Biochem 239:70–76

25.

Shyu C, Soule T, Bent SJ, Foster JA, Forney LJ (2007) MiCA: a web-based tool for the analysis of microbial communities based on terminal-restriction fragment length polymorphisms of 16S and 18S rRNA genes. Microb Ecol 53:562–570

26.

Birch L, English CA, O'Donoghue K, Barigye O, Fisk NM, Keer JT (2005) Accurate and robust quantification of circulating fetal and total DNA in maternal plasma from 5 to 41 weeks of gestation. Clin Chem 51:312–320

27.

Umetani N, Kim J, Hiramatsu S, Reber HA, Hines OJ, Bilchik AJ, Hoon DSB (2006) Increased integrity of free circulating DNA in sera of patients with colorectal or periampullary cancer: direct quantitative PCR for ALU repeats. Clin Chem 52:1062–1069

28.

Panjamurthy K, Manoharan S, Ramachandran CR (2005) Lipid peroxidation and antioxidant status in patients with periodontitis. Cell Mol Biol Lett 10:255–264

29.

Tsai CC, Chen HS, Chen SL, Ho YP, Ho KY, Wu YM, Hung CC (2005) Lipid peroxidation: a possible role in the induction and progression of chronic periodontitis. J Periodontal Res 40:378–384

30.

Wei D, Zhang XL, Wang YZ, Yang CX, Chen G (2010) Lipid peroxidation levels, total oxidant status and superoxide dismutase in serum, saliva and gingival crevicular fluid in chronic periodontitis patients before and after periodontal therapy. Aust Dent J 55:70–78

31.

Baltacioglu E, Akalin FA, Alver A, Balaban F, Unsal M, Karabulut E (2006) Total antioxidant capacity and superoxide dismutase activity levels in serum and gingival crevicular fluid in post-menopausal women with chronic periodontitis. J Clin Periodontol 33:385–392

32.

Chapple ILC, Brock GR, Milward MR, Ling N, Matthews JB (2007) Compromised GCF total antioxidant capacity in periodontitis: cause or effect? J Clin Periodontol 34:103–110

33.

Su HX, Gornitsky M, Velly AM, Yu HL, Benarroch M, Schipper HM (2009) Salivary DNA, lipid, and protein oxidation in nonsmokers with periodontal disease. Free Radic Biol Med 46:914–921
Acknowledgments
This contribution is the result of the project implementation (ITMS 26240120027) supported by the Research and Development Operational Program funded by the European Regional Development Fund.
Conflict of interest
The authors declare that they have no conflict of interest.
Additional information
Lenka Baňasová and Natália Kamodyová contributed equally to the manuscript.
About this article
Cite this article
Baňasová, L., Kamodyová, N., Janšáková, K. et al. Salivary DNA and markers of oxidative stress in patients with chronic periodontitis. Clin Oral Invest 19, 201–207 (2015). https://doi.org/10.1007/s00784-014-1236-z
Received:

Accepted:

Published:

Issue Date:
Keywords
Malondialdehyde

Saliva

Biomarkers

DNA damage

Oral diseases

TBARS