Abstract
Objectives
Dentin hypersensitivity (DH) is treated by either occlusion of dentin tubules or nerve desensitization. This in situ study compared dentin tubules occlusion by theobromine-containing dentifrices with (Theodent-classic-F®, TCF) and without (Theodent-classic®, TC) fluoride with 1,500 ppm fluoride toothpaste, Colgate®-Regular (Fluoride) and Novamin®-containing toothpaste, Sensodyne®-5000-Nupro (Novamin®).
Methods
Each subject wore four intraoral appliances bearing dentin blocks while using one of four test dentifrices (n = 20/dentifrice) twice daily for 7 days. The four appliances were removed successively after 1, 2, 3, and 7 days. Treated blocks and their control (untreated) blocks were examined with scanning electron microscopy (SEM). Effects were compared statistically (ANOVA/Tukey's) based on percentage of surface area covered by deposited precipitate layer (%DPL) and percentage of fully open (%FOT), partially occluded (%POT), and completely occluded (%COT) tubules in each block calculated relative to the number of tubules in their control blocks.
Results
SEM observation indicated an increased %COT and %DPL over time. After 1 and 2 days, %COT was comparable with TC and TCF, and significantly (p < 0.05) higher compared with Novamin® and Fluoride. Following 3 and 7 days, %COT was comparable among TC, TCF, and Novamin®, but remained significantly lower in Fluoride. At any time, %DPL was significantly (p < 0.05) higher in TC, TCF, and Novamin® compared with Fluoride.
Conclusions
Theobromine-containing toothpastes with and without fluoride have equal potential in occluding dentin tubules within a shorter time period than Novamin®-containing toothpaste; however, the three demonstrated equal potential after 1 week, but not the fluoride toothpaste.
Clinical relevance
Theobromine-containing toothpaste promoted dentin tubule occlusion thus shows potential to relief DH.
Access options
Buy single article
Instant access to the full article PDF.
USD 39.95
Price includes VAT (USA)
Tax calculation will be finalised during checkout.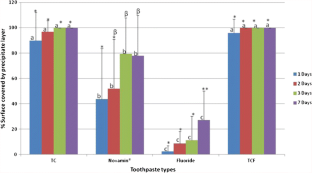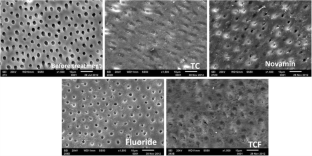 References
1.

Canadian Advisory Board on Dentin Hypersensitivity (2003) Consensus-based recommendations for the diagnosis and management of dentin hypersensitivity. J Can Dent Assoc 69:221–226

2.

Addy M, Hunter ML (2003) Can tooth brushing damage your health? Effects on oral and dental tissues. Int Dent J 53(Suppl 3):177–186

3.

Splieth CH, Tachou A (2013) Epidemiology of dentin hypersensitivity. Clin Oral Invest 17(Suppl 1):S3–S8

4.

Cunha-Cruz J, Wataha JC, Heaton LJ, Rothen M, Sobieraj M, Scott J, Berg J, Northwest Practice-based Research Collaborative in Evidence-based dentistry (2013) The prevalence of dentin hypersensitivity in general dental practices in the northwest United States. J Am Dent Assoc 144:288–296

5.

Schmidlin PR, Sahrmann P (2013) Current management of dentin hypersensitivity. Clin Oral Invest 17(Suppl 1):S55–S59. doi:10.1007/s00784-012-0912-0

6.

Orchardson R, Gillam DG (2000) The efficacy of potassium salts as agents for treating dentin hypersensitivity. J Orofac Pain 14:9–19

7.

Poulsen S, Errboe M, Hovgaard O, Worthington HW (2001) Potassium nitrate toothpaste for dentine hypersensitivity. Cochrane Database Syst Rev 2, CD001476

8.

Orchardson R, Gillam DG (2006) Managing dentin hypersensitivity. J Am Dent Assoc 137:990–998

9.

Dragolich WE, Pashley DH, Brennan WA, O'Neal RB, Horner JA, Van dyke TE (1993) An in vitro study of dentinal tubule occlusion by ferric oxalate. J Periodontol 48:1045–1051

10.

Kakaboura A, Rahiotis C, Thomaidis S, Doukoudakis S (2005) Clinical effectiveness of two agents on the treatment of tooth cervical hypersensitivity. Am J Dent 18:291–295

11.

Schupbach P, Lutz F, Finger WJ (1997) Closing of dentinal tubules by Gluma desensitizer. Eur J Oral Sci 105:414–421

12.

Duran I, Sengun A, Yildirim T, Ozturk B (2005) In vitro dentine permeability evaluation of HEMA-based (desensitizing) products using split-chamber model following in vivo application in the dog. J Oral Rehabil 32:34–38

13.

Schmidlin PR, Zehnder M, Gohring TN, Waltimo TM (2004) Glutaraldehyde in bonding systems disinfects dentin in vitro. J Adhes Dent 6:61–64

14.

Stawarczyk B, Hartmann R, Hartmann L, Roos M, Ozcan M, Sailer I et al (2011) The effect of dentin desensitizer on shear bond strength of conventional and self-adhesive resin luting cements after aging. Oper Dent 36:492–501

15.

Arenholt-Bindslev D, Horsted-Bindslev P, Philipsen HP (1987) Toxic effects of two dental materials on human buccal epithelium in vitro and monkey buccal mucosa in vivo. Scand J Dent Res 95:467–474

16.

Schweikl H, Schmalz G (1997) Glutaraldehyde-containing dentin bonding agents are mutagens in mammalian cells in vitro. J Biomed Mater Res 36:284–288

17.

Cummins D (2010) Recent advances in dentin hypersensitivity: clinically proven treatments for instant and lasting sensitivity relief. Am J Dent 23(Spec No A):3A–13A

18.

Gendreau L, Barlow AP, Mason SC (2011) Overview of the clinical evidence for the use of NovaMin in providing relief from the pain of dentin hypersensitivity. J Clin Dent 22:90–95

19.

Hughes N, Mason S, Jeffery P, Welton H, Tobin M, O'Shea C et al (2010) A comparative clinical study investigating the efficacy of a test dentifrice containing 8 % strontium acetate and 1040 ppm sodium fluoride versus a marketed control dentifrice containing 8 % arginine, calcium carbonate, and 1450 ppm sodium monofluorophosphate in reducing dentinal hypersensitivity. J Clin Dent 21:49–55

20.

Ritter AV, de La Dias W, Miguez P, Caplan DJ, Swift EJJ (2006) Treating cervical dentin hypersensitivity with fluoride varnish: a randomized clinical study. J Am Dent Assoc 137:1013–1020

21.

Gaffar A (1999) Treating hypersensitivity with fluoride varnish. Compend Contin Educ Dent 20(1 Suppl):27–33

22.

Ipci SD, Cakar G, Kuru B, Yilmaz S (2009) Clinical evaluation of lasers and sodium fluoride gel in the treatment of dentine hypersensitivity. Photomed Laser Surg 27:85–91

23.

Aparna S, Setty S, Thakur S (2010) Comparative efficacy of two treatment modalities for dentinal hypersensitivity: a clinical trial. Indian J Dent Res 21:544–548

24.

Swift EJJ, May KNJ, Mitchell S (2001) Clinical evaluation of Prime & Bond 2.1 for treating cervical dentin hypersensitivity. Am J Dent 14:13–16

25.

Schneider F, Hellwig E, Attin T (2008) Influences of acid action and brushing abrasion on dentin protection by adhesive systems. Dtsch Zahnärztl Zeitschr 57:302–306

26.

Amaechi BT, Porteous N, Ramalingam K, Mensinkai PK, Ccahuana-Vasquez RA, Sadeghpour A et al (2013) Remineralization of artificial enamel lesions by theobromine. Caries Res 47:399–405

27.

Nakamoto T, Simmons WB Jr, Falster AU (1999) Products of apatite-forming-systems. US Patent application number: US 5,919,426: http://patft.uspto.gov/netacgi/nph-Parser?Sect2=PTO1&Sect2=HITOFF&p=1&u=/netahtml/PTO/search-bool.html&r=1&f=G&l=50&d=PALL&RefSrch=yes&Query=PN/5919426

28.

Nakamoto T, Simmons WB Jr, Falster AU (2001) Apatite-forming-systems: methods and products. US Patent application number: US 6,183,711 B1; http://patft.uspto.gov/netacgi/nph-Parser?Sect2=PTO1&Sect2=HITOFF&p=1&u=/netahtml/PTO/search-bool.html&r=1&f=G&l=50&d=PALL&RefSrch=yes&Query=PN/6183711

29.

Najibfard K, Ramalingam K, Chedjieu I, Amaechi BT (2011) Remineralization of early caries by nano-hydroxyapatite dentifrice. J Clin Dent 22:139–143

30.

Amaechi BT, Ramalingam K, Mensinksai PK, Narjibfard K, Mackey AC, Karlinsey RL (2010) Remineralization of eroded enamel by a NaF rinse containing a novel calcium phosphate agent in an in situ model: a pilot study. Clin Cosm Invest Dent 2:93–100

31.

Claydon NC, Addy M, MacDonald EL, West NX, Maggio B, Barlow A, Parkinson C, Butler A (2009) Development of an in situ methodology for the clinical evaluation of dentine hypersensitivity occlusion ingredients. J Clin Dent 20:158–166

32.

Strain P, Young WT (2004) Ethylene-oxide sterilisation aids speed to market. Med Device Technol 15:18–19

33.

Mendes GC, Brandão TR, Silva CL (2007) Ethylene oxide sterilization of medical devices: a review. Am J Infect Control 35:574–581

34.

Sreebny LM, Xerostomia VA (1987) A neglected symptom. Arch Intern Med 147:1333–1337

35.

Cohen J (1960) A coefficient of agreement of nominal scales. Psychol Bull 20:37–46

36.

Du Min Q, Bian Z, Jiang H, Greenspan DC, Burwell AK, Zhong J et al (2008) Clinical evaluation of a dentifrice containing calcium sodium phosphosilicate (novamin) for the treatment of dentin hypersensitivity. Am J Dent 21:210–214

37.

Kielbassa AM, Attin T, Hellwig E, Schade-Brittinger C (1997) In vivo study on the effectiveness of a lacquer containing CaF2/NaF in treating dentine hypersensitivity. Clin Oral Invest 1:95–99

38.

Catharina Z, Odile P, Martus P, Andrej MK (2006) Randomized clinical study on the efficacy of a new lacquer for dentine hypersensitivity. Schweiz Monatsschr Zahnmed 116:1232–1237

39.

Burwell AK, Litkowski LJ, Greenspan DC (2009) Calcium sodium phosphosilicate (NovaMin®): remineralization potential. Adv Dent Res 21:35–39
Acknowledgment
We are grateful to Theodent (New Orleans, LA) for their support in providing us with the Theodent toothpastes.
Conflict of interests
All authors declared no conflicts of interests, and no financial relationship with Theodent, (New Orleans, LA) that sponsored this research. Authors have full control of all primary data and agree to allow the journal to review their data if requested.
About this article
Cite this article
Amaechi, B.T., Mathews, S.M. & Mensinkai, P.K. Effect of theobromine-containing toothpaste on dentin tubule occlusion in situ. Clin Oral Invest 19, 109–116 (2015). https://doi.org/10.1007/s00784-014-1226-1
Received:

Accepted:

Published:

Issue Date:
Keywords
Dentin hypersensitivity

Theobromine

Dentifrice

Theodent

Novamin®

Tubule occlusion