Abstract
Objectives
Periodontitis involves a complex interplay of micro-organisms and host immune response via numerous mediator molecules playing strategic roles in its pathogenesis. Soluble CD40L (sCD40L) is one such co-stimulatory molecule which is essential for T-helper cell activation and is a well-known risk indicator of cardiovascular diseases. The levels of this marker in crevicular fluid of patients of chronic periodontitis have been explored in the present study for the first time along with an analysis of its association with levels in serum in otherwise systemically healthy patients.
Methodology
Sixty patients 20 healthy and 40 of chronic periodontitis (18 moderate and 22 severe) participated in the study. Patients of the diseased group underwent non-surgical periodontal therapy. Clinical evaluation and collection of gingival crevicular fluid (GCF) and serum samples was done at baseline, and 6 weeks after phase I periodontal therapy. sCD40L levels were quantified in the fluids using ELISA.
Results
Levels of sCD40L in GCF were significantly higher in the diseased group (p ≤ 0.001) and strongly correlated not only with increasing severity of disease but also with levels in serum. In post-treatment, the levels decreased significantly in both the biological fluids (p ≤ 0.001).
Conclusions
The present study brings to light the role of sCD40L as a novel marker in mediating periodontal destruction and disease progression. Evaluation of local treatment outcomes seems promising in minimizing these effects.
Clinical relevance
Positive association of its local levels with those in serum further implicates the possibility of widespread systemic effects of this infection.
This is a preview of subscription content,
to check access.
Access this article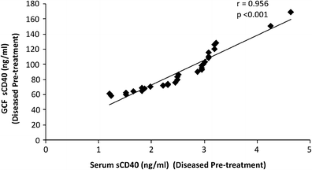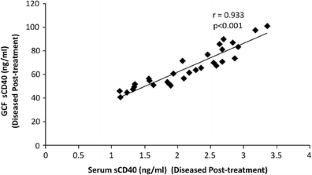 References
Page RC, Kornman KS (1997) The pathogenesis of human periodontitis: an introduction. Periodontol 14:9–11

Offenbacher S (1996) Periodontal diseases: pathogenesis. Ann Periodontol 1:821–878

Azuma M (2006) Fundamental mechanisms of host immune responses to infection. J Periodont Res 41:361–373

Zhang X, Teng YTA (2003) The role of acquired immunity and periodontal disease progression. Crit Rev Oral Biol Med 14:237–252

Yamazaki K, Yoshie H, Seymour GJ (2003) T cell regulation of the immune response to infection in periodontal diseases. Histol Histopathol 18:889–896

Mathur A, Michalowicz BS (1997) Cell-mediated immune system regulation in periodontal diseases. Crit Rev Oral Biol Med 8:76–89

Mosmann TR, Cherwinski H, Bond MW, Giedlin MA, Coffman RL (1986) Two types of murine helper T cell clone. I. Definition according to profiles of lymphokine activities and secreted proteins. J Immunol 136:2348–2357

Gately MK, Renzetti LM, Magram J et al (1998) The interleukin-12/interleukin-12- receptor system: role in normal and pathologic immune responses. Annu Rev Immunol 16:495–521

Grewal IS, Flavell RA (1996) A central role of CD40 ligand in the regulation of CD4+ T-cell responses. Immunol Today 17:410–414

Lenschow DL, Walunas TL, Bluestone JA (1996) CD28/B7 system of T cell costimulation. Annu Rev Immunol 14:233–258

Schonbeck U, Mach F, Libby P (2000) CD154 (CD 40 ligand). Int J Biochem Cell Biol 32:687–693

Clark LB, Foy TM, Noelle RJ (1996) CD40 and its ligand. Adv Immunol 63:43–78

Van Kooten C, Banchereau J (1996) CD 40- CD 40 ligand: a multifunctional receptor—ligand pair. Adv Immunol 61:1–77

Grewal IS, Flavell RA (1998) CD40 and CD 154 in cell mediated immunity. Annu Rev Immunol 16:111–135

Freedman JE (2003) CD40-CD40L and platelet function: beyond hemostasis. Circ Res 92:944–946

Phipps RP (2000) Atherosclerosis: the emerging role of inflammation and the CD40-CD40 ligand system. Proc Natl Acad Sci U S A 97:6930–6932

Schonbeck U, Mach F, Sukhova GK, Murphy C, Bonnefoy JY, Fabunmi RP, Libby P (1997) Regulation of matrix metalloproteinase expression in human vascular smooth muscle cells by T lymphocytes : a role for CD40 signalling in plaque rupture ? Circ Res 81:448–454

Noel RJ (1996) CD40 and its ligand in host defence. Immunity 4:415–419

Zhou L, Stordeur P, de Lavareille A, Theilman K, Capel P, Goldman M et al (1998) CD40 engagement on endothelial cells promotes tissue factor dependent procoagulant activity. Thromb Haemostat 79:1025–1028

Paquette DW, Brodala N, Nichols TC (2007) Cardiovascular disease, inflammation, and periodontal infection. Periodontology 44:113–126

Herzberg MC, Weyer MW (1998) Dental plaque, platelets and cardiovascular disease. Ann Periodontol 3:151–160

Lockhart PB, Bolger AF, Papapanou PN et al (2012) Periodontal disease and atherosclerotic vascular disease: does the evidence support an independent association? A scientific statement from the American Heart Association. Circulation 125:2520–2544

Bahekar AA, Singh S, Saha S, Molnar J, Arora R (2007) The prevalence and incidence of coronary heart disease is significantly increased in periodontitis: a meta-analysis. Am Heart J 154:830–837

Beck JD, Garcia R, Heiss G, Vokonas P, Offenbacher S (1996) Periodontal disease and cardiovascular disease. J Periodontol 67:1123–1137

Matilla KJ, Valle MS, Nieminen MS, Valtonen VV, Hietaniemi KL (1993) Dental infections and coronary atherosclerosis. Atherosclerosis 103:205–211

Aukrust P, Muller F, Ueland T et al (1999) Enhanced levels of soluble and membrane bound CD40 ligand in patients with unstable angina. Possible reflection of T lymphocyte and platelet involvement in the pathogenesis of acute coronary syndromes. Circulation 100:614–620

Heeschen C, Dimmeler S, Hamm CW, van den Brand MJ, Boersma E, Zeiher AM et al (2003) Soluble CD40 ligand in acute coronary syndromes. N Engl J Med 349:1104–1111

Balla J, Magyar MT, Bereczki D, Valikovics A, Nagy E, Barna E et al (2006) Serum levels of platelet released CD40 ligand are increased in early onset occlusive carotid artery disease. Dis Markers 22:133–140

Schonbeck U, Varo N, Libby P, Buring J, Ridker PM (2001) Soluble CD40L and cardiovascular risk in women. Circulation 104:2266–2268

Papapanagiotou D, Nicu EA, Bizzarro S et al (2009) Periodontitis is associated with platelet activation. Atherosclerosis 202:605–611

Marcaccini AM, Meschiari CA, Sorgi CA et al (2009) Circulating interleukin- 6 and high-sensitivity C-reactive protein decrease after periodontal therapy in otherwise healthy subjects. J Periodontol 80:594–602

Dongari- Bagtzoglou AI, Warren WD, Berton MT, Ebersole JL (1997) CD40 expression by gingival fibroblasts: correlation of phenotype with function. Int Immunol 9:1233–1241

Alhashimi N, Frithiof L, Brudvik P, Bakhiet M (2004) CD40–CD40L expression during orthodontic tooth movement in rats. Angle Orthod 74:100–105

Sempowski GD, Chess PR, Moretti AJ, Padilla J, Phipps RP, Blieden TM (1997) CD40 mediated activation of gingival and PDL fibroblast. J Periodontol 68:284–292

Champagne CM, Buchanan W, Reddy MS, Preisser JS, Beck JD, Offenbacher S (2003) Potential for gingival crevice fluid measures as predictors of risk for periodontal diseases. Periodontol 31:167–180

Loe SJ (1963) Periodontal disease in pregnancy. I. prevalence and severity. Acta Odontol Scand 21:533–551

Silness P, Loe H (1964) Periodontal disease in pregnancy. Acta Odontol Scand 22:121

Page RC, Eke PI (2007) Case definitions for use in population-based surveillance of periodontitis. J Periodontol 78:1387–1399

Harris EF, Smith RN (2009) Accounting for measurement error: a critical but often overlooked process. Archives of Oral Biol 54s:s107–s117

Silva TA, Garlet GP, Fukada SY, Silva JS, Cunha FQ (2007) Chemokines in oral inflammatory diseases: apical periodontitis and periodontal disease. J Dent Res 86:306–319

Wassenaar A, Verschoor T, Kievits F, Den Hartog MT, Kapsenberg ML, Everts V, Snijders A (1999) CD40 engagement modulates the production of matrix metalloproteinases by gingival fibroblasts. Clin Exp Immunol 115:161–167

Reyes L, Herrera D, Kozarov E, Rold_an S, Progulske-Fox A (2013) Periodontal bacterial invasion and infection: contribution to atherosclerotic pathology. J Periodontol 84:S30–S50

Jain A, Batista EL Jr, Serhan C, Stahl GL, Van Dyke TE (2003) Role for periodontitis in the progression of lipid deposition in an animal model. Infect Immun 71(10):6012–6018

Willerson JT, Ridker PM (2004) Inflammation as a cardiovascular risk factor. Circulation 109(21 Suppl 1):II2–II10

Bizzarro S, van der Velden U, ten Heggeler JMAG et al (2007) Periodontitis is characterized by elevated PAI-1 activity. J Clin Periodontol 34:574–580

Gupta M, Chaturvedi R, Jain A (2013) Role of monocyte chemoattractant protein-1(MCP-1) as an immune-diagnostic biomarker in the pathogenesis of chronic periodontal disease. Cytokine 61(3):892–897

Wakai K, Kawamura T, Umemura O et al (1999) Associations of medical status and physical fitness with periodontal disease. J Clin Periodontol 26:664–672

Christan C, Dietrich T, Hagewald S, Kage A, Bernimoulin JP (2002) White blood cell count in generalized aggressive periodontitis after nonsurgical therapy. J Clin Periodontol 29:201–206

Andre P, Nannizzi-Alaimo L, Prasad DK, Phillips DR (2002) Platelet derived CD40L: the switch hitting player of cardiovascular disease. Circulation 106:896–899

Schenkein HA, Loos BG (2013) Inflammatory mechanisms linking periodontal diseases to cardiovascular diseases. J Periodontol 84:S51–S69

D'Aiuto F, Orlandi M, Gunsolley JC (2013) Evidence that periodontal treatment improves biomarkers and CVD outcomes. J Periodontol 84:S85–S105

Tonetti MS, D'Aiuto F, Nibali L et al (2007) Treatment of periodontitis and endothelial function. N Engl J Med 356:911–920
Acknowledgment
We would like to thank Mrs. Kusum Chopra who helped us with the statistical analysis of the data and Mr. Mahender Mehra who helped us with the preparation of the graphs.
Conflict of interest
There are no commercial relationship of the authors and no conflicting interests with the funding organization.
About this article
Cite this article
Chaturvedi, R., Gupta, M., Jain, A. et al. Soluble CD40 ligand: a novel biomarker in the pathogenesis of periodontal disease. Clin Oral Invest 19, 45–52 (2015). https://doi.org/10.1007/s00784-014-1216-3
Received:

Accepted:

Published:

Issue Date:

DOI: https://doi.org/10.1007/s00784-014-1216-3
Keywords