Abstract
Objectives
This study was conducted in order to investigate the mode of action and the whitening effect of whitening dentifrices.
Material and methods
Two hundred fifty-six bovine enamel specimens (10 × 10 mm2) were prepared, partially stained, and assigned into eight groups (n = 32): six whitening dentifrices, one nonwhitening and deionized water (negative control), and further divided in two subgroups (n = 16), according to the test model: chemical (dentifrice slurry treatment only) or chemo-mechanical (slurry + toothbrushing). Specimens were treated with dentifrice slurries 2×/day for 1 min and toothbrushed or not, according to each model. In between dentifrice treatments, specimens were artificially stained for 5 h. This protocol was repeated for 5 days and enamel color changes (∆E) were measured after each day (days 1–5). The abrasive level of the dentifrices was determined following the ISO11609 guidelines.
Results
In the chemo-mechanical model, the whitening action of all dentifrices was observed after day 1, being higher than the negative control group (p < 0.05). In days 2–5, nonsignificant changes in color were observed for all groups (p > 0.05). Differences on ∆E among dentifrices were observed, and they seemed to correlate well with their abrasive level (r 2 = 0.80). In the chemical model, no significant differences were observed among groups (p > 0.05), with ∆E remaining constant throughout the study. Higher ∆E values were observed in the chemo-mechanical model compared to the chemical (p < 0.05).
Conclusions
All tested dentifrices were effective in whitening stained enamel and their mode of action showed to be mainly mechanical (toothbrushing abrasion).
Clinical relevance
The abrasive level of dentifrices seems to determine its whitening effectiveness.
Access options
Buy single article
Instant access to the full article PDF.
USD 39.95
Price excludes VAT (USA)
Tax calculation will be finalised during checkout.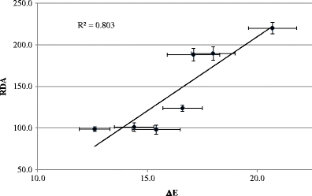 References
Yankell SL, Emling RC, Petrone ME, Rustogi K, Volpe AR, DeVizio W, Chaknis P, Proskin HM (1999) A six-week clinical efficacy study of four commercially available dentifrices for the removal of extrinsic tooth stain. J Clin Dent 10:115–118

Pontefract H, Sheen S, Moran J (2001) The benefits of toothpaste—real or imagined? Review of its role in tooth whitening. Dent Update 28:67–74

Pickles MJ (2006) Tooth wear. Monogr Oral Sci 19:86–104

Meyers IA, McQueen MJ, Harbrow D, Seymour GJ (2000) The surface effect of dentifrices. Aust Dent J 45:118–124

Kielbassa AM, Gillmann L, Zantner C, Meyer-Lueckel H, Hellwig E, Schulte-Monting J (2005) Profilometric and microradiographic studies on the effects of toothpaste and acidic gel abrasivity on sound and demineralized bovine dental enamel. Caries Res 39:380–386

Attin T, Koidl U, Buchalla W, Schaller HG, Kielbassa AM, Hellwig E (1997) Correlation of microhardness and wear in differently eroded bovine dental enamel. Arch Oral Biol 42:243–250

White DJ (2001) Development of an improved whitening dentifrice based upon "stain-specific soft silica" technology. J Clin Dent 12:25–29

White DJ (2002) A new and improved "dual action" whitening dentifrice technology—sodium hexametaphosphate. J Clin Dent 13:1–5

McGaughey C (1983) Binding of polyphosphates and phosphonates to hydroxyapatite, subsequent hydrolysis, phosphate exchange and effects on demineralization, mineralization and microcrystal aggregation. Caries Res 17:229–241

Rykke M, Rolla G (1990) Desorption of acquired enamel pellicle in vivo by pyrophosphate. Scand J Dent Res 98:211–214

Van der Mei HC, Kamminga-Rasker HJ, De Vries J (2003) The influence of a hexametaphosphate-containing chewing gum on the wetting ability of salivary conditioning films in vitro and in vivo. J Clin Dent 14:14–18

Kleber CJ, Putt MS, Nelson BJ (1998) In vitro tooth whitening by a sodium bicarbonate peroxide dentifrice. J Clin Dent 9:16–21

Sharma N, Galustians HJ, Qaqish J, Rustogi K, Zhang YP, Petrone ME, DeVizio W, Proskin HM (2004) Comparative tooth whitening and extrinsic tooth stain prevention efficacy of a new dentifrice and a commercially available tooth whitening dentifrice: six-week clinical trial. J Clin Dent 15:52–57

Moran J, Claydon NCA, Addy M, Newcombe R (2005) Clinical studies to determine the effectiveness of a whitening toothpaste at reducing stain. Int J Dent Hyg 3:25–30

Walsh TF, Rawlinson A, Wildgoose D (2005) Clinical evaluation of the stain removing ability of a whitening dentifrice and stain controlling system. J Dent 33:413–418

Amaral CM, Rodrigues JA, Erhardt MC, Araujo MW, Marchi GM, Heymann HO, Pimenta LA (2006) Effect of whitening dentifrices on the superficial roughness of esthetic restorative materials. J Esthet Restor Dent 18:102–108

Raoufi S, Birkhed D (2010) Effect of whitening toothpastes on tooth staining using two different colour-measuring devices—a 12-week clinical trial. Int Dent J 60:419–423

Stookey GK, Burkhard TA, Schemehorn BR (1982) In vitro removal of stain with dentifrices. J Dent Res 61:1236–1239

Hefferren JJ (1976) A laboratory method for assessment of dentifrice abrasivity. J Dent Res 55:563–573

Gerlach RW, Liu H, Prater ME, Ramsey LL, White DJ (2002) Removal of extrinsic stain using a 7.0% sodium hexametaphosphate dentifrice: a randomized clinical trial. J Clin Dent 13:6–9

Gerlach RW, White DJ (2001) Removal of extrinsic stain using a tartar control whitening dentifrice: a randomized clinical trial. J Clin Dent 2:42–46

Macgregor ID, Rugg-Gunn AJ (1979) Survey of toothbrushing duration in 85 uninstructed English schoolchildren. Community Dent Oral Epidemiol 75:297–298

Duke SA, Forward GC (1982) The conditions occurring in vivo when brushing with toothpastes. Br Dent J 152:52–54

Pfarrer AM, White DJ, Featherstone JD (2001) Anticaries profile qualification of an improved whitening dentifrice. J Clin Dent 12:30–33

Kielbassa AM, Tschoppe P, Hellwig E, Wrbas KT (2009) Effects of regular and whitening dentifrices on remineralization of bovine enamel in vitro. Quintessence Int 40:103–112
Acknowledgments
This manuscript is part of a thesis submitted by Salem Alshara to the Indiana University, in partial fulfillment of the requirements for the Master degree in Preventive Dentistry. This study was supported by the Dental Erosion–Abrasion Research Program, of the Oral Health Research Institute, Indiana University School of Dentistry. The authors would like to thank Drs. Bruce Matis and Jeffrey A. Platt for their insightful comments and discussions.
Conflict of interest
The authors declare that they have no conflict of interest.
About this article
Cite this article
Alshara, S., Lippert, F., Eckert, G.J. et al. Effectiveness and mode of action of whitening dentifrices on enamel extrinsic stains. Clin Oral Invest 18, 563–569 (2014). https://doi.org/10.1007/s00784-013-0981-8
Received:

Accepted:

Published:

Issue Date:

DOI: https://doi.org/10.1007/s00784-013-0981-8
Keywords