Abstract
Objectives
The aim of this study was to verify human papillomavirus (HPV) transmission and genotype concordance among heterosexual couples.
Materials and methods
Thirty-one married couples were evaluated. All male subjects presented with clinically diagnosed HPV-related malignant or potentially malignant lesions and underwent peniscopy and penile swab. Their female counterparts underwent swabs of the uterine cervix and oral mucosa. HPV-DNA detection was performed by polymerase chain reaction and restriction fragment length polymorphism.
Results
HPV-DNA was detected in the penis, vagina/cervix, and oral cavity of 16 couples (51.61 %). Of these, HPV-DNA concordance was observed in 14 couples (87.5 %). HPV-DNA was amplified in penile and oral sites of 14 couples. Of these, 13 couples reported fellatio (92.85 %), most of them (10 couples, 76.9 %) without condom use. HPV-DNA concordance was observed in 7/10 of these couples (70 %). The three couples (100 %) who reported use of condom during fellatio were HPV-DNA discordant (p = 0.025).
Conclusions
Lifetime number of female sexual partners and detection of HPV-DNA in the penile mucosa are surrogate markers of exposure to HPV during marriage. Consistent use of condoms may reduce the risk of HPV transmission.
Clinical relevance
Oral acquisition of HPV from oro-genital contact is influenced by lack of condom use and previous sexual behavior of the male partner. In addition, oral transmission of the virus due to fellatio is as common as genital transmission.
Access options
Buy single article
Instant access to the full article PDF.
US$ 39.95
Tax calculation will be finalised during checkout.
Subscribe to journal
Immediate online access to all issues from 2019. Subscription will auto renew annually.
US$ 79
Tax calculation will be finalised during checkout.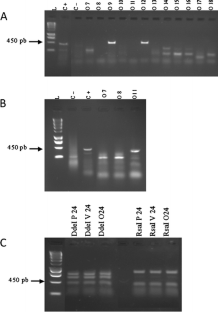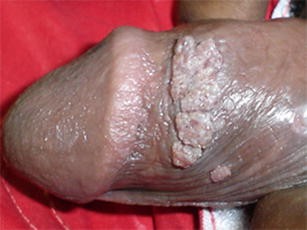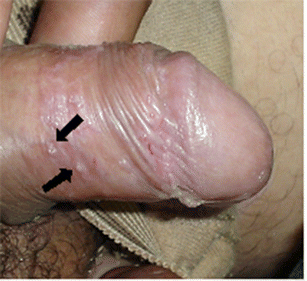 References
1.

Datta SD, Koutsky LA, Ratelle SL (2008) Human papillomavirus infection and cervical cytology in women screened for cervical cancer in the United States, 2003–2005. Ann Intern Med 148:493–500

2.

Gravitt PE (2011) The known unknowns of HPV natural history. J Clin Invest 121(12):4593–4599

3.

Centers for Disease Control and Prevention (CDC) (2012) Human papillomavirus-associated cancers—United States, 2004–2008. MMWR Morb Mortal Wkly 20(61):258–261

4.

Gillison ML, Broutian T, Pickard RK et al (2009) Prevalence of oral HPV infection in the United States, 2009–2010. JAMA 307(7):693–703

5.

Partridge JM, Koutsky LA (2006) Genital human papillomavirus infection in men. Review. Lancet Infect Dis 6:21–31

6.

De Carvalho JJ, Syrjänen KJ, Jacobino M et al (2006) Prevalence of genital human papillomavirus infections established using different diagnostic techniques among males attending a urological clinic. Scand J Urol Nephrol 40:138–143

7.

Miller CS, White DK (1996) Human papillomavirus expression in oral mucosa, premalignant conditions, and squamous cell carcinoma: a retrospective review of the literature. Review. Oral Surg Oral Med Oral Pathol Oral Radiol Endod 82:57–68

8.

Rautava J, Syrjänen S (2011) Human papillomavirus infections in the oral mucosa. J Am Dent Assoc 142(8):905–914

9.

Varnai AD, Bollmann M, Bankfalvi A et al (2009) The prevalence and distribution of human papillomavirus genotypes in oral epithelial hyperplasia: proposal of a concept. J Oral Pathol Med 38:181–187

10.

Sánchez-Vargas LO, Díaz-Hernández C, Martinez-Martinez A (2010) Detection of human papilloma virus (HPV) in oral mucosa of women with cervical lesions and their relation to oral sex practices. Infect Agent Cancer 5(1):25

11.

Tezal M (2012) Interaction between chronic inflammation and oral HPV infection in the etiology of head and neck cancers. Int J Otolaryngol 575:242–243

12.

Collins SI, Mazloomzadeh S, Winter H (2005) Proximity of first intercourse to menarche and the risk of human papillomavirus infection: a longitudinal study. Int J Cancer 114:498–500

13.

Feller L, Wood NH, Khammissa RA, Lemmer J (2010) Human papillomavirus-mediated carcinogenesis and HPV-associated oral and oropharyngeal squamous cell carcinoma. Part 1: human papillomavirus-mediated carcinogenesis. Head Face Med 6:14–17

14.

Feller L, Wood NH, Khammissa RA, Lemmer J (2010) Human papillomavirus-mediated carcinogenesis and HPV-associated oral and oropharyngeal squamous cell carcinoma. Part 2: human papillomavirus associated oral and oropharyngeal squamous cell carcinoma. Head Face Med 6:15–18

15.

Miller CS, Johnstone BM (2001) Human papillomavirus as a risk factor for oral squamous cell carcinoma: a meta-analysis, 1982–1997. Oral Surg Oral Med Oral Pathol Oral Radiol Endod 91:622–635

16.

Winer RL, Koutsky LA (2004) Delivering reassurance to parents: perinatal human papillomavirus transmission is rare. Sex Transm Dis 31:63–64

17.

Hildesheim A, Gravitt P, Schiffman MH (1993) Determinants of genital human papillomavirus infection in low-income women in Washington, D.C. Sex Transm Dis 20:279–285

18.

Rama CH, Roteli-Martins CM, Derchain SF (2008) Prevalence of genital HPV infection among women screened for cervical cancer. Rev Saude Publica 42:123–130

19.

Cañadas MP, Bosch FX, Junquera ML (2004) Concordance of prevalence of human papillomavirus DNA in anogenital and oral infections in a high-risk population. J Clin Microbiol 42:1330–1332

20.

Coutlée F, Trottier AM, Ghattas G (1997) Risk factors for oral human papillomavirus in adults infected and not infected with human immunodeficiency virus. Sex Transm Dis 24:23–31

21.

Bleeker MC, Hogewoning CJ, Berkhof J (2005) Concordance of specific human papillomavirus types in sex partners is more prevalent than would be expected by chance and is associated with increased viral loads. Clin Infect Dis 41:612–620

22.

Winer RL, Hughes JP, Feng Q (2006) Condom use and the risk of genital human papillomavirus infection in young women. N Engl J Med 354:2645–2654

23.

Nonnenmacher B, Breitenbach V, Villa LL, Prolla JC, Bozzetti MC (2002) Genital human papillomavirus infection identification by molecular biology among asymptomatic women. Rev Saude Publica 36:95–100

24.

Derchain SFM, Jorge JPN, Andrade L, Pinto-Neto AM, Silva JP (1995) Infection by human papillomavirus in teenagers sexually active: clinic and subclinic manifestations. Rev Paul Med 113:948–952

25.

Xi LF, Koutsky LA, Castle PE et al (2009) Relationship between cigarette smoking and human papilloma virus types 16 and 18 DNA load. Cancer Epidemiol Biomarkers Prev 18(12):3490–3496

26.

Syrjänen K, Shabalova I, Petrovichev N (2007) Smoking is an independent risk factor for oncogenic human papillomavirus (HPV) infections but not for high-grade CIN. Eur J Epidemiol 22:723–735

27.

Burk RD, Ho GY, Beardsley L, Lempa M, Peters M, Bierman R (1996) Declining prevalence of cervicovaginal human papillomavirus infections with age is independent of other risk factors. Sex Transm Dis 23:333–341

28.

Rintala MA, Grénman SE, Puranen MH (2005) Transmission of high-risk human papillomavirus (HPV) between parents and infant: a prospective study of HPV in families in Finland. J Clin Microbiol 43:376–381

29.

Gutiérrez EIC, Garza CHL (2001) Papillomavirus humano.Biología molecular y patogénesis. Rev Salud Publi Nutr 2(2):78–80

30.

Castro TMP, Neto CER, Scala KA, Scala WA (2004) Manifestações orais associada ao papilomavírus humano (HPV) conceitos atuais: uma revisão bibliográfica. Rev Bras Otorrinolaringol 70:546–550

31.

Ragin C, Edwards R, Larkins-Pettigrew M et al (2011) Oral HPV infection and sexuality: a cross-sectional study in women. Int J Mol Sci 12(6):3928–3940

32.

Giraldo PC, Gonçalves AK, Pereira AS (2006) Human papillomavirus in the oral mucosa of women with genital human papillomavirus lesions. Eur J Obstet Gynecol Reprod Biol 126:104–106

33.

Bosch FX, Castellsague X, Munoz N (1996) Male sexual behavior and human papillomavirus DNA: key risk factors for cervical cancer in Spain. J Natl Cancer Inst 88:1060–1067

34.

Muñoz N, Castellsague X, Bosch FX (1996) Difficulty in elucidating the male role in cervical cancer in Colombia, a righ-risk area for the disease. J Natl Cancer Inst 88:1068–1075

35.

Hippeläinen MI, Yliskoski M, Syrjänen S (1994) Low concordance of genital human papillomavirus (HPV) lesions and viral types in HPV-infected women and their male sexual partners. Sex Transm Dis 21:76–82

36.

Kyo S, Inoue M, Koyama M, Fujita M, Tanizawa O, Hakura A (1994) Detection of high-risk human papillomavirus in the cervix and semen of sex partners. J Infect Dis 170:682–685

37.

Strand A, Rylander E, Wilander E, Zehbe I (1995) HPV infection in male partners of women with squamous intraepithelial neoplasia and/or high-risk HPV. Acta Derm Venereol 75:312–316

38.

Castellsagué X, Ghaffari A, Daniel RW, Bosch FX, Muñoz N, Shah KV (1997) Prevalence of penile human papillomavirus DNA in husbands of women with and without cervical neoplasia: a study in Spain and Colombia. J Infect Dis 176:353–361

39.

Franceschi S, Castellsagué X, Dal Maso L (2002) Prevalence and determinants of human papillomavirus genital infection in men. Br J Cancer 86:705–711

40.

Giovannelli L, Bellavia C, Capra G (2007) HPV group- and type-specific concordance in HPV infected sexual couples. J Med Virol 79:1882–1888

41.

Kreimer AR, Alberg AJ, Daniel R (2004) Oral human papillomavirus infection in adults is associated with sexual behavior and HIV serostatus. J Infect Dis 189:686–698

42.

Rintala M, Grénman S, Puranen M, Syrjänen S (2006) Natural history of oral papillomavirus infections in spouses: a prospective Finnish HPV Family Study. J Clin Virol 35:89–94

43.

Chow VT, Loh E, Yeo WM, Tan SY, Chan R (2000) Identification of multiple genital HPV types and sequence variants by consensus and nested type-specific PCR coupled with cycle sequencing. Pathology 32:204–208

44.

Nelson JH, Hawkins GA, Edlund K (2000) A novel and rapid PCR-based method for genotyping human papillomaviruses in clinical samples. J Clin Microbiol 38:688–695

45.

Rolón PA, Smith JS, Muñoz N (2000) Human papillomavirus infection and invasive cervical cancer in Paraguay. Int J Cancer 85:486–491

46.

Wright TC Jr, Denny L, Kuhn L, Pollack A, Lorincz A (2000) HPV DNA testing of self-collected vaginal samples compared with cytologic screening to detect cervical cancer. JAMA 283:81–86

47.

Leão JC, Hinrichsen SL, de Freitas BL, Porter SR (1999) Human herpes virus 8 and Kaposi's sarcoma. Rev Assoc Med Bras 45:55–62

48.

Cartwright NH, Cassia LJ, Easton AJ, Morris AG (1996) Detection of human papillomavirus in vulval carcinoma using semi-nested PCR and restriction enzyme typing: a rapid and sensitive technique. Clin Mol Pathol 49:236–239

49.

Lorenzato F, Ho L, Terry G (2000) The use of human papillomavirus typing in detection of cervical neoplasia in Recife (Brazil). Int J Gynecol Cancer 10:143–150

50.

Kaneshima EM, Bidoia CCG, Gabriel M, Suzuki LE, Consolaro MEL (2001) Aplicação do método PCR-RFLP para tipagem em infecções cervicais de pacientes atendidas no Lepac, Universidade Estadual de Maringá. Maringá 23:731–737

51.

Sand L, Jalouli J, Larsson PA, Hirsch JM (2000) Human papilloma viruses in oral lesions. Anticancer Res 20:1183–1188
Conflict of interest
The authors declare no conflict of interest.
About this article
Cite this article
Beder Ribeiro, C.M., Ferrer, I., Santos de Farias, A.B. et al. Oral and genital HPV genotypic concordance between sexual partners. Clin Oral Invest 18, 261–268 (2014). https://doi.org/10.1007/s00784-013-0959-6
Received:

Accepted:

Published:

Issue Date:
Keywords
Sexually transmitted diseases

Viral transmission

Sexual partners

DNA probes

HPV

Polymerase chain reaction

Polymorphism restriction fragment length