Abstract
Objectives
The main purpose of this study is the detection of amoxicillin and clindamycin concentrations in teeth.
Materials and methods
Eleven patients received 2 g of amoxicillin, and 11 patients received 600 mg of clindamycin in a single dose of oral medication at least 60 min prior to tooth extraction due to systemic diseases. The concentrations were determined in crowns and roots separately using liquid chromatography–tandem mass spectrometry (LC-MS-MS).
Results
Amoxicillin (13 samples) and clindamycin (12 samples) were detected in the samples of the root and crown preparations of the extracted teeth. The mean concentration of amoxicillin was 0.502 μg/g in the roots and 0.171 μg/g in the crowns. The mean concentration of clindamycin was 0.270 μg/g in the roots and 0.064 μg/g in the crowns.
Conclusions
A single dose of oral amoxicillin and clindamycin leads to concentrations of both antibiotics in teeth which exceed the minimal inhibition concentration of some oral bacteria.
Clinical relevance
The proof of antibacterial activity in dental hard tissue after oral single-dose application is new. The antimicrobial effect of amoxicillin and clindamycin concentrations in roots of teeth may be of clinical relevance to bacterial reinfection from dentinal tubules.
Access options
Buy single article
Instant access to the full article PDF.
USD 39.95
Price includes VAT (USA)
Tax calculation will be finalised during checkout.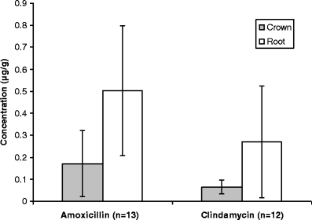 References
1.

Wilson W, Taubert KA, Gewitz M, Lockhart PB, Baddour LM, Levison M et al (2007) Prevention of infective endocarditis: guidelines from the American Heart Association. J Am Dent Assoc 138:739–760

2.

Tong DC, Rothwell BR (2000) Antibiotic prophylaxis in dentistry: a review and practice recommendations. J Am Dent Assoc 131:366–374

3.

Lamprecht JT (2007) Antibiotic prophylaxis and therapy in oral surgery: a review. Quintessence Int 38:689–697

4.

Laskin DM (2011) Should prophylactic antibiotics be used for patients having removal of erupted teeth? Oral Maxillofac Surg Clin North Am 23:537–9

5.

Landersdorfer CB, Bulitta JB, Kinzig M, Holzgrabe U, Sörgel F (2009) Penetration of antibacterials into bone. Clin Pharmacokinet 48:89–124

6.

Stewart SM, Anderson IM, Jones GR, Calder MA (1974) Amoxycillin levels in sputum, serum, and saliva. Thorax 29:110–114

7.

Tenenbaum H, Jehl F, Gallion C, Dahan M (1997) Amoxicillin and clavulanic acid concentrations in gingival crevicular fluid. J Clin Periodontol 24:804–807

8.

Walker CB, Gordon JM, Cornwall HA, Murphy JC, Socransky SS (1981) Gingival crevicular fluid levels of clindamycin compared with its minimal inhibitory concentrations for periodontal bacteria. Antimicrob Agents Chemother 19:867–887

9.

Weismeier K, Adam D, Heilmann HD, Koeppe P (1989) Penetration of amoxicillin/clavulanate into human bone. J Antimicrob Chemother 24:93–100

10.

Otten JE, Weingart D, Hilger Y, Adam D, Schilli W (1991) Penicillin concentration in the compact bone of the mandible. Int J Oral Maxillofac Surg 20:310–312

11.

Akimoto Y, Kaneko K, Tamura T (1982) Amoxicillin concentrations in serum, jaw cyst, and jawbone following a single oral administration. J Oral Maxillofac Surg 40:287–293

12.

Landersdorfer CB, Kinzig M, Bulitta JB, Henning FF, Holzgrabe U, Sörgel F, Gusinde J (2009) Bone penetration of amoxicillin and clavulanic acid evaluated by population pharmacokinetics and Monte Carlo simulation. Antimicrob Agents Chemother 53:2569–2578

13.

Bystedt H, Dahlbäck A, Dornbusch K, Nord CE (1978) Concentrations of azidocillin, erythromycin, doxycycline and clindamycin in human mandibular bone. Int J Oral Surg 7:442–449

14.

Nicholas P, Meyers BR, Levy RN, Hirschman SZ (1975) Concentration of clindamycin in human bone. Antimicrob Agents Chemother 8:220–221

15.

Mueller SC, Henkel K-O, Neumann J, Hehl EM (1999) Perioperative antibiotic prophylaxis in maxillofacial surgery: penetration of clindamycin into various tissues. J Craniomaxillofac Surg 27:172–176

16.

Wang MM, Hoover J, Ludington JR JR, White RR (1988) Presence of systemic ampicillin in pulp-extirpated root canals. J Endod 14:502–507

17.

Eick S, Pfister W, Straube E (1999) Antimicrobial susceptibility of anaerobic and capnophilic bacteria isolated from odontogenic abscesses and rapidly progressive periodontitis. Int J Antimicrob Agents 12:41–46

18.

Takemoto T, Kurihara H, Dahlen G (1997) Characterization of Bacteroides forsythus isolates. J Clin Microbiol 35:1378–1381

19.

Järvinen H, Tenovuo J, Huovinen P (1993) In vitro susceptibility of Streptococcus mutans to chlorhexidine and six other antimicrobial agents. Antimicrob Agents Chemother 37:1158–1159

20.

Baker PJ, Slots J, Genco RJ, Evans RT (1983) Minimal inhibitory concentrations of various antimicrobial agents for human oral anaerobic bacteria. Antimicrob Agents Chemother 24:420–424

21.

Citron DM, Appleman MD (2001) Comparative in vitro activities of ABT-773 against 362 clinical isolates of anaerobic bacteria. Antimicrob Agents Chemother 45:345–348

22.

Koeth LM, Good CE, Appelbaum PC, Goldstein EJ, Rodloff AC, Claros M, Dubreuil LJ (2004) Surveillance of susceptibility patterns in 1297 European and US anaerobic and capnophilic isolates to co-amoxiclav and five other antimicrobial agents. J Antimicrob Chemother 53:1039–1044

23.

Phillips I, Warren C, Harrison JM, Sharples P, Ball LC, Parker MT (1976) Antibiotic susceptibilities of streptococci from the mouth and blood of patients treated with penicillin or lincomycin and clindamycin. J Med Microbiol 9:393–404

24.

Teng LJ, Hsueh PR, Chen YC, Ho SW, Luh KT (1998) Antimicrobial susceptibility of viridans group streptococci in Taiwan with an emphasis on the high rates of resistance to penicillin and macrolides in Streptococcus oralis. J Antimicrob Chemother 41:621–627

25.

Ahmed NA, Petersen FA, Scheie AA (2009) AI-2/LuxS is involved in increased biofilm formation by Streptococcus intermedius in the presence of antibiotics. Antimicrob Agents Chemother 53:4258–4263

26.

Eick S, Seltmann T, Pfister W (2004) Efficacy of antibiotics to strains of periodontopathogenic bacteria within a single species biofilm—an in vitro study. J Clin Periodontol 31:376–383

27.

Akimoto Y, Komiya M, Kaneko K, Fujii A, Tamura T (1986) Ampicillin concentrations in human serum, gingiva, mandibular bone, dental follicle, and dental pulp following a single oral administration of bacampicillin. J Oral Maxillofac Surg 44:107–112
Acknowledgments
We gratefully acknowledge Heike Jahnke for the skillful technical assistance.
Ethical standard
The study was performed in agreement with the Ethics Commission of the Medical Faculty of Freiburg University, Germany: Antrags-Nr. EK-Freiburg 55/09.
Conflict of interest
The authors declare that they have no conflict of interest.
About this article
Cite this article
Schüssl, Y., Pelz, K., Kempf, J. et al. Concentrations of amoxicillin and clindamycin in teeth following a single dose of oral medication. Clin Oral Invest 18, 35–40 (2014). https://doi.org/10.1007/s00784-013-0958-7
Received:

Accepted:

Published:

Issue Date:
Keywords
Amoxicillin

Clindamycin

Tissue concentration

Teeth

Single oral dose

Liquid chromatography–tandem mass spectrometry (LC-MS-MS)