Abstract
Objectives
This study aimed to determine the brushing forces applied during in vivo toothbrushing with manual and sonic toothbrushes and to analyse the effect of these brushing forces on abrasion of sound and eroded enamel and dentin in vitro.
Materials and methods
Brushing forces of a manual and two sonic toothbrushes (low and high frequency mode) were measured in 27 adults before and after instruction of the respective brushing technique and statistically analysed by repeated measures analysis of variance (ANOVA). In the in vitro experiment, sound and eroded enamel and dentin specimens (each subgroup n = 12) were brushed in an automatic brushing machine with the respective brushing forces using a fluoridated toothpaste slurry. Abrasion was determined by profilometry and statistically analysed by one-way ANOVA.
Results
Average brushing force of the manual toothbrush (1.6 ± 0.3 N) was significantly higher than for the sonic toothbrushes (0.9 ± 0.2 N), which were not significantly different from each other. Brushing force prior and after instruction of the brushing technique was not significantly different. The manual toothbrush caused highest abrasion of sound and eroded dentin, but lowest on sound enamel. No significant differences were detected on eroded enamel.
Conclusion
Brushing forces of manual and sonic toothbrushes are different and affect their abrasive capacity.
Clinical significance
Patients with severe tooth wear and exposed and/or eroded dentin surfaces should use sonic toothbrushes to reduce abrasion, while patients without tooth wear or with erosive lesions confining only to enamel do not benefit from sonic toothbrushes with regard to abrasion.
This is a preview of subscription content, log in to check access.
Access options
Buy single article
Instant access to the full article PDF.
US$ 39.95
Price includes VAT for USA
Subscribe to journal
Immediate online access to all issues from 2019. Subscription will auto renew annually.
US$ 99
This is the net price. Taxes to be calculated in checkout.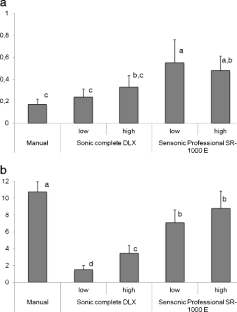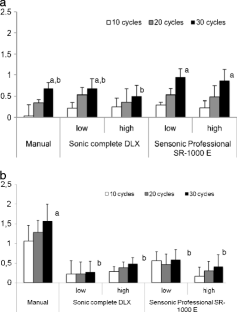 References
1.

Addy M, Hunter ML (2003) Can tooth brushing damage your health? Effects on oral and dental tissues. Int Dent J 53(Suppl 3):177–186

2.

Brandini DA, de Sousa ALB, Trevisan CL, Pinelli LAP, Santos SCD, Pedrini D, Panzarini SR (2011) Noncarious cervical lesions and their association with toothbrushing practices: in vivo evaluation. Oper Dent 36:581–589

3.

Jiang H, Du MQ, Huang W, Peng B, Bian Z, Tai BJ (2011) The prevalence of and risk factors for non-carious cervical lesions in adults in Hubei Province, China. Community Dent Health 28:22–28

4.

Lussi A, Schaffner M (2000) Progression of and risk factors for dental erosion and wedge-shaped defects over a 6-year period. Caries Res 34:182–187

5.

Smith WA, Marchan S, Rafeek RN (2008) The prevalence and severity of non-carious cervical lesions in a group of patients attending a university hospital in Trinidad. J Oral Rehabil 35:128–134

6.

Wiegand A, Schwerzmann M, Sener B, Magalhaes AC, Roos M, Ziebolz D, Imfeld T, Attin T (2008) Impact of toothpaste slurry abrasivity and toothbrush filament stiffness on abrasion of eroded enamel—an in vitro study. Acta Odontol Scand 66:231–235

7.

Wiegand A, Kuhn M, Sener B, Roos M, Attin T (2009) Abrasion of eroded dentin caused by toothpaste slurries of different abrasivity and toothbrushes of different filament diameter. J Dent 37:480–484

8.

Franzo D, Philpotts CJ, Cox TF, Joiner A (2010) The effect of toothpaste concentration on enamel and dentine wear in vitro. J Dent 38:974–979

9.

Wiegand A, Lemmrich F, Attin T (2006) Influence of rotating-oscillating, sonic and ultrasonic action of power toothbrushes on abrasion of sound and eroded dentine. J Periodontal Res 41:221–227

10.

Wiegand A, Begic M, Attin T (2006) In vitro evaluation of abrasion of eroded enamel by different manual, power and sonic toothbrushes. Caries Res 40:60–65

11.

Parry J, Harrington E, Rees GD, McNab R, Smith AJ (2008) Control of brushing variables for the in vitro assessment of toothpaste abrasivity using a novel laboratory model. J Dent 36:117–124

12.

Ganss C, Hardt M, Blazek D, Klimek J, Schlueter N (2009) Effects of toothbrushing force on the mineral content and demineralized organic matrix of eroded dentine. Eur J Oral Sci 117:255–260

13.

Wiegand A, Kowing L, Attin T (2007) Impact of brushing force on abrasion of acid-softened and sound enamel. Arch Oral Biol 52:1043–1047

14.

Van der Weijden FA, Campbell SL, Dorfer CE, Gonzalez-Cabezas C, Slot DE (2011) Safety of oscillating-rotating powered brushes compared to manual toothbrushes: a systematic review. J Periodontol 82:5–24

15.

Robinson PG (2011) The safety of oscillating-rotating powered toothbrushes. Evid Based Dent 12:69

16.

Knezevic A, Nyamaa I, Tarle Z, Kunzelmann KH (2010) In vitro assessment of human dentin wear resulting from toothbrushing. J Calif Dent Assoc 38:109–113

17.

Sorensen JA, Nguyen HK (2002) Evaluation of toothbrush-induced dentin substrate wear using an in vitro ridged-configuration model. Am J Dent 15 Spec No: 26B-32B

18.

Fraleigh CM, Mc Elhaney JH, Heiser RA (1967) Toothbrushing force study. J Dent Res 46:209–214

19.

Boyd RL, McLey L, Zahradnik R (1997) Clinical and laboratory evaluation of powered electric toothbrushes: in vivo determination of average force for use of manual and powered toothbrushes. J Clin Dent 8:72–75

20.

McLey L, Boyd RL, Sargod S (1997) Clinical and laboratory evaluation of powered electric toothbrushes: laboratory determination of relative abrasion of three powered toothbrushes. J Clin Dent 8:76–80

21.

Heasman PA, Stacey F, Heasman L, Sellers P, Macgregor ID, Kelly PJ (1999) A comparative study of the Philips HP 735, Braun/Oral B D7 and the Oral B 35 Advantage toothbrushes. J Clin Periodontol 26:85–90

22.

Völk W, Mierau HD, Biehl P, Dornheim G, Reithmayer C (1987) On the etiology of wedge-shaped defects. Dtsch Zahnärztl Z 42:499–504

23.

Klimek J, Hellwig E, Ahrens G (1982) Fluoride taken up by plaque, by the underlying enamel and by clean enamel from 3 fluoride compounds in vitro. Caries Res 16:156–161

24.

Attin T, Becker K, Roos M, Attin R, Paque F (2009) Impact of storage conditions on profilometry of eroded dental hard tissue. Clin Oral Investig 13:473–478

25.

Ganss C, Schlueter N, Preiss S, Klimek J (2009) Tooth brushing habits in uninstructed adults—frequency, technique, duration and force. Clin Oral Investig 13:203–208

26.

van der Weijden GA, Timmerman MF, Reijerse E, Snoek CM, van der Velden U (1996) Toothbrushing force in relation to plaque removal. J Clin Periodontol 23:724–729

27.

Schlueter N, Klimek J, Saleschke G, Ganss C (2010) Adoption of a toothbrushing technique: a controlled, randomised clinical trial. Clin Oral Investig 14:99–106

28.

Schlueter N, Klimek J, Ganss C (2012) Relationship between plaque score and video-monitored brushing performance after repeated instruction—a controlled, randomised clinical trial. Clin Oral Investig (in press)

29.

Wiegand A, Attin T (2011) Design of erosion/abrasion studies—insights and rational concepts. Caries Res 45(Suppl 1):53–59

30.

Laurance-Young P, Bozec L, Gracia L, Rees G, Lippert F, Lynch RJ, Knowles JC (2011) A review of the structure of human and bovine dental hard tissues and their physicochemical behaviour in relation to erosive challenge and remineralisation. J Dent 39:266–272
Acknowledgements
The authors wish to thank all volunteers for their participation in the study. We also thank the companies Biomed AG, Switzerland and Procter & Gamble GmbH, Germany, for providing the toothbrushes.
Conflicts of interest
The authors declare that they have no conflicts of interest.
About this article
Cite this article
Wiegand, A., Burkhard, J.P.M., Eggmann, F. et al. Brushing force of manual and sonic toothbrushes affects dental hard tissue abrasion. Clin Oral Invest 17, 815–822 (2013). https://doi.org/10.1007/s00784-012-0788-z
Received:

Accepted:

Published:

Issue Date:
Keywords
Abrasion

Dentin

Enamel

Erosion

Toothbrushing force

Tooth wear