Abstract
Objectives
The purpose of this prospective study was to evaluate the clinical outcome of anterior and posterior crowns made of a lithium-disilicate glass–ceramic framework material (IPS e.max Press, Ivoclar Vivadent).
Materials and methods
A total of 104 single crowns were placed in 41 patients (mean age, 34 ± 9.6 years; 15 male, 26 female). Eighty-two anterior and 22 posterior crowns were inserted. All teeth received a 1-mm-wide chamfer or rounded shoulder preparation with an occlusal/incisal reduction of 1.5–2.0 mm. The minimum framework thickness was 0.8 mm. Frameworks were laminated by a prototype of a veneering material combined with an experimental glaze. Considering the individual abutment preconditions, the examined crowns were either adhesively luted (69.2 %) or inserted with glass–ionomer cement (30.8 %). Follow-up appointments were performed 6 months after insertion, then annually. Replacement of a restoration was defined as failure.
Results
Four patients (10 crowns) were defined as dropouts. For the remaining 94 crowns, the mean observation time was 79.5 months (range, 34–109.7 months). The cumulative survival rate according to Kaplan–Meier was 97.4 % after 5 years and 94.8 % after 8 years. Applying log rank test, it was shown that the location of the crown did not significantly have an impact on the survival rate (p = 0.74) and that the cementation mode did not significantly influence the occurrence of complications (p = 0.17).
Conclusions
The application of lithium-disilicate framework material for single crowns seems to be a reliable treatment option.
Clinical relevance
Crowns made of a lithium-disilicate framework material can be used clinically in the anterior and posterior region irrespective of an adhesive or conventional cementation when considering abutment preconditions.
This is a preview of subscription content, log in to check access.
Access options
Buy single article
Instant access to the full article PDF.
US$ 39.95
Tax calculation will be finalised during checkout.
Subscribe to journal
Immediate online access to all issues from 2019. Subscription will auto renew annually.
US$ 99
Tax calculation will be finalised during checkout.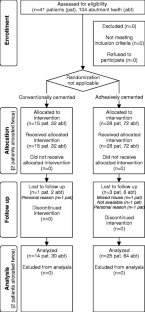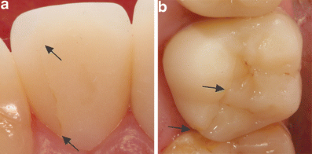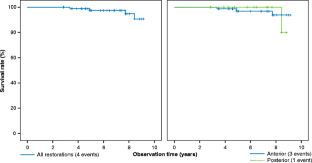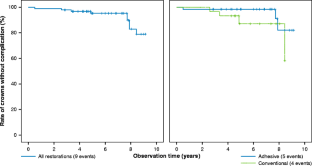 Abbreviations
FDPs:

Fixed dental prostheses

NRT:

Number of restored teeth

Rest:

Restoration

Compl:

Complication

Estim. surv:

Estimated survival rate

cem:

Cementation

endo:

Endodontical
References
1.

Kelly JR, Nishimura I, Campbell SD (1996) Ceramics in dentistry: historical roots and current perspectives. J Prosthet Dent 75:18–32

2.

Wall JG, Cipra DL (1992) Alternative crown systems. Is the metal-ceramic crown always the restoration of choice? Dent Clin North Am 36:765–782

3.

Raptis NV, Michalakis KX, Hirayama H (2006) Optical behavior of current ceramic systems. Int J Periodontics Restorative Dent 26:31–41

4.

Chan C, Weber H (1986) Plaque retention on teeth restored with full-ceramic crowns: a comparative study. J Prosthet Dent 56:666–671

5.

Sjogren G, Sletten G, Dahl JE (2000) Cytotoxicity of dental alloys, metals, and ceramics assessed by millipore filter, agar overlay, and MTT tests. J Prosthet Dent 84:229–236

6.

Manicone PF, Rossi Iommetti P, Raffaelli L (2007) An overview of zirconia ceramics: basic properties and clinical applications. J Dent 35:819–826

7.

Drummond JL (2003) Ceramic behavior under different environmental and loading conditions. In: Eliades G, Theodore E, Brantley WA, Watts DC (eds) Dental materials in vivo: aging and related phenomena. Quintessence Publ, Chicago, pp 35–45

8.

Jung RE, Pjetursson BE, Glauser R, Zembic A, Zwahlen M, Lang NP (2008) A systematic review of the 5-year survival and complication rates of implant-supported single crowns. Clin Oral Implants Res 19:119–130

9.

Schley JS, Heussen N, Reich S, Fischer J, Haselhuhn K, Wolfart S (2010) Survival probability of zirconia-based fixed dental prostheses up to 5 yr: a systematic review of the literature. Eur J Oral Sci 118:443–450

10.

Pjetursson BE, Sailer I, Zwahlen M, Hammerle CH (2007) A systematic review of the survival and complication rates of all-ceramic and metal-ceramic reconstructions after an observation period of at least 3 years. Part I: single crowns. Clin Oral Implants Res 18(Suppl 3):73–85

11.

Della Bona A, Kelly JR (2008) The clinical success of all-ceramic restorations. J Am Dent Assoc 139(Suppl):8S–13S

12.

Kassem AS, Atta O, El-Mowafy O (2010) Survival rates of porcelain molar crowns—an update. Int J Prosthodont 23:60–62

13.

Spear F, Holloway J (2008) Which all-ceramic system is optimal for anterior esthetics? J Am Dent Assoc 139(Suppl):19S–24S

14.

Heffernan MJ, Aquilino SA, Diaz-Arnold AM, Haselton DR, Stanford CM, Vargas MA (2002) Relative translucency of six all-ceramic systems. Part II: core and veneer materials. J Prosthet Dent 88:10–15

15.

Heintze SD, Rousson V (2010) Fracture rates of IPS Empress all-ceramic crowns–a systematic review. Int J Prosthodont 23:129–133

16.

Bindl A, Mormann WH (2004) Survival rate of mono-ceramic and ceramic-core CAD/CAM-generated anterior crowns over 2–5 years. Eur J Oral Sci 112:197–204

17.

Fradeani M, Aquilano A, Corrado M (2002) Clinical experience with In-Ceram Spinell crowns: 5-year follow-up. Int J Periodontics Restorative Dent 22:525–533

18.

Marquardt P, Strub JR (2006) Survival rates of IPS empress 2 all-ceramic crowns and fixed partial dentures: results of a 5-year prospective clinical study. Quintessence Int 37:253–259

19.

Valenti M, Valenti A (2009) Retrospective survival analysis of 261 lithium disilicate crowns in a private general practice. Quintessence Int 40:573–579

20.

Steeger B (2010) Survival analysis and clinical follow-up examination of all-ceramic single crowns. Int J Comput Dent 13:101–119

21.

Kinnen B, Spiekermann H, Edelhoff D (2006) Five year clinical evaluation of IPS Empress 2 restorations. In: IADR Meeting June 28th-July 1st, Brisbane, Australia

22.

Zitzmann NU, Galindo ML, Hagmann E, Marinello CP (2007) Clinical evaluation of Procera AllCeram crowns in the anterior and posterior regions. Int J Prosthodont 20:239–241

23.

Kokubo Y, Sakurai S, Tsumita M, Ogawa T, Fukushima S (2009) Clinical evaluation of Procera AllCeram crowns in Japanese patients: results after 5 years. J Oral Rehabil 36:786–791

24.

Ortorp A, Kihl ML, Carlsson GE (2009) A 3-year retrospective and clinical follow-up study of zirconia single crowns performed in a private practice. J Dent 37:731–736

25.

Beuer F, Stimmelmayr M, Gernet W, Edelhoff D, Guh JF, Naumann M (2010) Prospective study of zirconia-based restorations: 3-year clinical results. Quintessence Int 41:631–637

26.

Wolfart S, Eschbach S, Scherrer S, Kern M (2009) Clinical outcome of three-unit lithium-disilicate glass-ceramic fixed dental prostheses: up to 8 years results. Dent Mater 25:e63–e71

27.

Etman MK, Woolford MJ (2010) Three-year clinical evaluation of two ceramic crown systems: a preliminary study. J Prosthet Dent 103:80–90

28.

Nyman S, Lindhe J, Lundgren D (1975) The role of occlusion for the stability of fixed bridges in patients with reduced periodontal tissue support. J Clin Periodontol 2:53–66

29.

Bewick V, Cheek L, Ball J (2004) Statistics review 12: survival analysis. Crit Care 8:389–394

30.

Bindl A, Richter B, Mormann WH (2005) Survival of ceramic computer-aided design/manufacturing crowns bonded to preparations with reduced macroretention geometry. Int J Prosthodont 18:219–224

31.

Galindo ML, Hagmann E, Marinello CP, Zitzmann NU (2006) Long-term clinical results with Procera AllCeram full-ceramic crowns. Schweiz Monatsschr Zahnmed 116:804–809

32.

Odman P, Andersson B (2001) Procera AllCeram crowns followed for 5 to 10.5 years: a prospective clinical study. Int J Prosthodont 14:504–509

33.

Oden A, Andersson M, Krystek-Ondracek I, Magnusson D (1998) Five-year clinical evaluation of Procera AllCeram crowns. J Prosthet Dent 80:450–456

34.

Naert I, Van der Donck A, Beckers L (2005) Precision of fit and clinical evaluation of all-ceramic full restorations followed between 0.5 and 5 years. J Oral Rehabil 32:51–57

35.

California Dental Association (1977) Quality evaluation for dental care: guidelines for the assessment of clinical quality and professional performance. CDA, Los Angeles

36.

Cvar JF, Ryge G (2005) Reprint of criteria for the clinical evaluation of dental restorative materials. 1971. Clin Oral Investig 9:215–232

37.

Walton TR (2009) Changes in the outcome of metal-ceramic tooth-supported single crowns and FDPs following the introduction of osseointegrated implant dentistry into a prosthodontic practice. Int J Prosthodont 22:260–267

38.

Edelhoff D, Ozcan M (2007) To what extent does the longevity of fixed dental prostheses depend on the function of the cement? Working group 4 materials: cementation. Clin Oral Implants Res 18(Suppl 3):193–204

39.

Pospiech P (2002) All-ceramic crowns: bonding or cementing? Clin Oral Investig 6:189–197

40.

Kleinbaum D, Klein M (2005) Survival analysis: a self-learning text. Springer, New York
Acknowledgments
This study was supported by Ivoclar Vivadent, Schaan, Principality of Liechtenstein. The authors would like to thank the participating patients, technicians, and dentists for their kind cooperation.
Conflict of interest
The authors declare that they have no conflict of interest.
About this article
Cite this article
Gehrt, M., Wolfart, S., Rafai, N. et al. Clinical results of lithium-disilicate crowns after up to 9 years of service. Clin Oral Invest 17, 275–284 (2013). https://doi.org/10.1007/s00784-012-0700-x
Received:

Accepted:

Published:

Issue Date:
Keywords
All-ceramic

Single crowns

Lithium-disilicate

Survival rate

Clinical performance

Cementation mode