Abstract
The aim of this study was to evaluate the effect of different concentrations of triethylene glycol dimethacrylate (TEGDMA) on the inhibition of matrix metalloproteinase 2 (MMP-2). Mouse gingival explants were cultured overnight in DMEM and the expression of secreted enzymes was analyzed by gelatin zymography in buffers containing 5 mM CaCl2 (Tris-CaCl2) in 50 mM Tris-HCl buffer with the addition of TEGDMA at different concentrations (0.62%, 1.25%, 2.5%, or 5.0% (v/v)). The gelatinolytic proteinase present in the conditioned media was characterized as matrix metalloproteinase by means of specific chemical inhibition. The matrix metalloproteinases present in the conditioned media were characterized as MMP-2 by immunoprecipitation. The eletrophoretic bands were scanned and the transmittance values were analyzed. Data was plotted and submitted to linear regression to investigate MMP-2 inhibition as a function of TEGDMA concentration. Three major bands were detected in the zymographic assays. These bands were characterized as MMP-2. Zymogene (72 kDa), intermediate (66 kDa) and active forms of MMP-2 (62 kDa) were inhibited by TEGDMA in a dose-dependent way. These findings suggest that TEGDMA could inhibit MMP-2 expression even at small concentrations.
This is a preview of subscription content,
to check access.
Access this article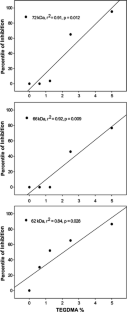 Similar content being viewed by others
References
Michelsen VB, Moe G, Skalevik R, Jensen E, Lygre H (2007) Quantification of organic eluates from polymerized resin-based dental restorative materials by use of GC/MS. J Chromatogr B 850:83–91

Sideridou ID, Achilias DS (2005) Elution study of unreacted Bis-GMA, TEGDMA, UDMA, and Bis-EMA from light-cured dental resins and resin composites using HPLC. J Biomed Mater Res B Appl Biomater 74:617–626

Michelsen VB, Lygre H, Skalevik R, Tveit AB, Solheim E (2003) Identification of organic eluates from four polymer-based dental filling materials. Eur J Oral Sci 111:263–271

Geurtsen W, Leyhausen G (2001) Chemical-biological interactions of the resin monomer triethyleneglycol-dimethacrylate (TEGDMA). J Dent Res 80:2046–2050

Emmler J, Seiss M, Kreppel H, Reichl FX, Hickel R, Kehe K (2008) Cytotoxicity of the dental composite component TEGDMA and selected metabolic by-products in human pulmonary cells. Dent Mater 24:1670–1675

Breschi L, Mazzoni A, Ruggeri A, Cadenaro M, Di Lenarda R, De Stefano DE (2007) Dental adhesion review: aging and stability of the bonded interface. Dent Mater 24:90–101

De Munck J, Van Meerbeek B, Yoshida Y, Inoue S, Vargas M, Suzuki K et al (2003) Four-year water degradation of total-etch adhesives bonded to dentin. J Dent Res 82:136–140

Pashley DH, Tay FR, Yiu C, Hashimoto M, Breschi L, Carvalho RM et al (2004) Collagen degradation by host-derived enzymes during aging. J Dent Res 83:216–221

Bode W, Maskos K (2003) Structural basis of the matrix metalloproteinases and their physiological inhibitors, the tissue inhibitors of metalloproteinases. Biol Chem 384:863–872

Gusman H, Santana RB, Zehnder M (2002) Matrix metalloproteinase levels and gelatinolytic activity in clinically healthy and inflamed human dental pulps. Eur J Oral Sci 110:353–357

Hebling J, Pashley DH, Tjaderhane L, Tay FR (2005) Chlorhexidine arrests subclinical degradation of dentin hybrid layers in vivo. J Dent Res 84:741–746

Carrilho MR, Carvalho RM, de Goes MF, di Hipolito V, Geraldeli S, Tay FR et al (2007) Chlorhexidine preserves dentin bond in vitro. J Dent Res 86:90–94

Brackett WW, Tay FR, Brackett MG, Dib A, Sword RJ, Pashley DH (2007) The effect of chlorhexidine on dentin hybrid layers in vivo. Oper Dent 32:107–111

de Souza AP, Gerlach RF, Line SR (2000) Inhibition of human gingival gelatinases (MMP-2 and MMP-9) by metal salts. Dent Mater 16:103–108

Souza AP, Gerlach RF, Line SR (2001) Inhibition of human gelatinases by metals released from dental amalgam. Biomaterials 22:2025–2030

Santos MC, de Souza AP, Gerlach RF, Trevilatto PC, Scarel-Caminaga RM, Line SR (2004) Inhibition of human pulpal gelatinases (MMP-2 and MMP-9) by zinc oxide cements. J Oral Rehabil 31:660–664

Carvalho RV, Ogliari FA, de Souza AP, Silva AF, Petzhold CL, Line SR et al (2009) 2-hydroxyethyl methacrylate as an inhibitor of matrix metalloproteinase-2. Eur J Oral Sci 117:64–67

Inokuma S, Ide H, Yonekura T, Funaki T, Kondo S, Shiobara S et al (2005) Synthesis and complexing properties of [2.n](2, 6)Pyridinocrownophanes. J Org Chem 70:1698–1703

Ijeri VS, Srivastava AK (2001) The complexation behaviour of crown ethers with some divalent transition metal and silver ions in a 40%(v/v) ethanol plus water medium. Eur J Inorg Chem 4:943–947

Matsuyama H, Arimura T, Miyake Y, Teramoto M (1991) Equilibrium and kinetic-studies on complex-formation reaction between crown ethers and bivalent transition-metal Ions. Bull Chem Soc Jpn 64:2027–2029

Halime Z, Lachkar M, Toupet L, Coutsolelos AG, Boitrel B (2007) Coordination and structural studies of crowned-porphyrins. Dalton Trans 33:3684–3689

Solomon JJ (1994) DNA adducts of lactones, sultones, acylating agents and acrylic compounds. IARC Sci Publ 125:179–198

Schweikl H, Spagnuolo G, Schmalz G (2006) Genetic and cellular toxicology of dental resin monomers. J Dent Res 10:870–877

Martin-De Las Heras S, Valenzuela A, Overall CM (2000) The matrix metalloproteinase gelatinase A in human dentine. Arch Oral Biol 45:757–765

Tjaderhane L, Larjava H, Sorsa T, Uitto VJ, Larmas M, Salo T (1998) The activation and function of host matrix metalloproteinases in dentin matrix breakdown in caries lesions. J Dent Res 77:1622–1629

Salo T, Makela M, Kylmaniemi M, Autio-Harmainen H, Larjava H (1994) Expression of matrix metalloproteinase-2 and -9 during early human wound healing. Lab Invest 70:176–182

Murphy G, Knauper V (1997) Relating matrix metalloproteinase structure to function: why the "hemopexin" domain? Matrix Biol 15:511–518

Zheng L, Amano K, Iohara K, Ito M, Imabayashi K, Into T et al (2009) Matrix metalloproteinase-3 accelerates wound healing following dental pulp injury. Am J Pathol 175:1905–1914

Gendron R, Grenier D, Sorsa T, Mayrand D (1999) Inhibition of the activities of matrix metalloproteinases 2, 8, and 9 by chlorhexidine. Clin Diagn Lab Immunol 6:437–439

Nishitani Y, Yoshiyama M, Wadgaonkar B, Breschi L, Mannello F, Mazzoni A et al (2006) Activation of gelatinolytic/collagenolytic activity in dentin by self-etching adhesives. Eur J Oral Sci 114:160–166

Tay FR, Pashley DH, Loushine RJ, Weller RN, Monticelli F, Osorio R (2006) Self-etching adhesives increase collagenolytic activity in radicular dentin. J Endod 32:862–868

Birkedal-Hansen H (1995) Proteolytic remodeling of extracellular matrix. Curr Opin Cell Biol 7:728–735
Acknowledgements
The authors are grateful to CAPES (Coordenação de Aperfeiçoamento de Pessoal de Nível Superior) for the scholarship, to Esstech Inc., for the donation of the reagents, and to Angelus Science and Technology for partial financial support for the research project.
Conflict of Interest
The authors declare that they have no conflict of interest.
About this article
Cite this article
de Carvalho, R.V., Ogliari, F.A., Marques, M.R. et al. Inhibition of the activity of matrix metalloproteinase 2 by triethylene glycol dimethacrylate. Clin Oral Invest 15, 643–648 (2011). https://doi.org/10.1007/s00784-010-0443-5
Received:

Accepted:

Published:

Issue Date:

DOI: https://doi.org/10.1007/s00784-010-0443-5
Keywords