Abstract
In a demographic survey, 300 residents of a German city were questioned to determine the prevalence of dental anxiety. The correlation between the amount of dental anxiety and the age, sex, and education of the subjects was examined and the reasons for avoiding dentist's appointments, the duration of this avoidance, and what the subjects desire from future dental treatment. The Hierarchical Anxiety Questionnaire (HAQ) was used to measure the amount of dental anxiety. The average level of anxiety was 28.8±10.1 according to the HAQ. Young people were more afraid than older people (p=0.007), and women were more anxious than men (p=0.004). Of the women, 72% go to the dentist regularly, but only 60% of the men do (p=0.020). A painful experience while receiving dental treatment was given by 67% as the main reason for their dental anxiety, followed by a fear of needles (35%). The people wished for the most accurate information available about the dental treatment they receive (69%), followed by a compassionate dentist (62%), and treatment that is free of pain (62%). Of the people, 11% [95% CI: (7.5%; 14.5%)] suffer from dental phobia. All dental phobics were able to state the cause of their fear and more urgently wished for help from the dentist in overcoming their anxiety than the non-phobics (p=0.030). To satisfy the needs of the phobic patients, it appears necessary to screen the phobics out of the group of all patients and then offer them adequate therapy, or refer these patients to specialised treatment centres.
This is a preview of subscription content, log in to check access.
Access options
Buy single article
Instant access to the full article PDF.
US$ 39.95
Price includes VAT for USA
Subscribe to journal
Immediate online access to all issues from 2019. Subscription will auto renew annually.
US$ 99
This is the net price. Taxes to be calculated in checkout.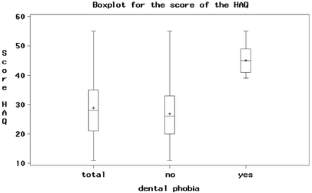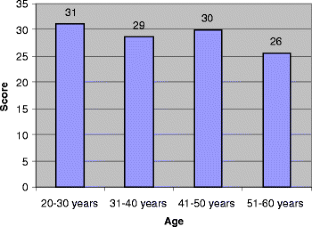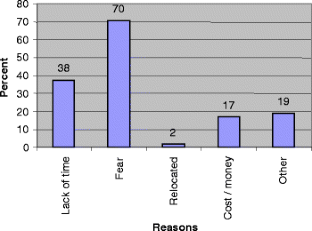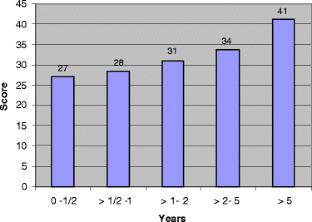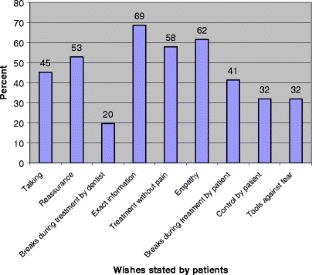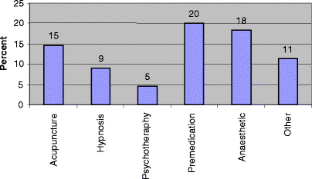 References
1.

(1994) Diagnostic and statistical manual IV: diagnostic criteria from DSM-IV. American Psychiatric Association, Washington, D.C

2.

Agras S, Sylvester D, Oliveau D (1969) The epidemiology of common fears and phobia. Compr Psychiatry 10:151–156

3.

Azrak B, Willershausen B, Keller G (1998) Befragung der Patienten zur Akzeptanz der zahnärztlichen Behandlung in der Universitätsklinik 6:171–186

4.

Barkowski D, Bartsch N, Bauch J (1996) Lebenslage, Salutogenese und erhöhtes Kariesrisiko. Prävention 19:103–106

5.

Berggren U (1984) Dental fear and avoidance. Thesis, University of Gotenburg, Sweden

6.

Berggren U, Carlsson SG (1984) A psychological therapy for dental fear. Behav Res Ther 22:487–492

7.

Berggren U, Linde A (1984) Dental fear and avoidance: a comparison of two modes of treatment. J Dent Res 63:1223–1227

8.

Corah NL (1969) Development of a dental anxiety scale. J Dent Res 48:596–602

9.

Corah NL, Gale EN, Illig SJ (1978) Assesment of a dental anxiety scale. J Am Dent Assoc 97:816–819

10.

De Jongh A, Muris P, Ter Horst G, Van Zuuren F, Schoenmakers N, Makkes P (1995) One-session treatment of dental phobia: preparing dental phobics for treatment by reconstructuring negative cognitions. Behav Res Ther 33:947–954

11.

Doerr PA, Lang WP, Nyquist LV, Ronis DL (1998) Factors associated with dental anxiety. J Am Dent Assoc 129:1111–1119

12.

Duivenvoorden HJ, Schuurs AH, Thoden v, V, Verhage F, Makkes PC, Eijkman MA (1985) Influence of repression upon the measurement of dental anxiety. Community Dent Oral Epidemiol 13:315–318

13.

Fiset L, Milgrom P, Weinstein P, Melnick S (1989) Common fears and their relationship to dental fear and utilization of the dentist. Anesth Prog 36:258–264

14.

Fuks AB, Steinbock N, Zadik D (1993) The influence of social and ethnic factors on dental care habits and dental anxiety: a study in Israel. Int J Paediatr Dent 3:3–7

15.

Gale EN (1972) Fears of the dental situation. J Dent Res 51:964–966

16.

Gatchel RJ, Ingersoll BD, Bowman L, Robertson MC, Walker C (1983) The prevalence of dental fear and avoidance: a recent survey study. J Am Dent Assoc 107:609–610

17.

Hakeberg M (1992) Dental anxiety and health. Thesis, University of Gotenburg, Sweden

18.

Hakeberg M, Berggren U, Carlsson SG (1992) Prevalence of dental anxiety in an adult population in a major urban area in Sweden. Community Dent Oral Epidemiol 20:97–101

19.

Hakeberg M, Gustafsson JE, Berggren U, Carlsson SG (1995) Multivariate analysis of fears in dental phobic patients according to a reduced FSS-II scale. Eur J Oral Sci 103:339–344

20.

Jöhren P (1999) Validierung eines Fragebogens zur Erkennung von Zahnbehandlungsangst. Zahnärzteblatt 108:104–114

21.

Jöhren P, Enkling N, Sartory G (2005) Prädiktoren des Vermeidungsverhalten bei Zahnbehandlungsphobie. Dtsch Zahnärztl Z 60:161–165

22.

Jöhren P, Gängler P (1999) Die Diagnostik der Zahnbehandlungsangst und der Zahnbehandlungsphobie. Zahnärztl Welt 108:668–685

23.

Jöhren P, Margraf-Stiksrud J (2002) Zahnbehandlungsangst und Zahnbehandlungsphobie bei Erwachsenen. Stellungnahme der DGZMK. Deutsch Zahnärztl Z 57:9–10

24.

Kleinknecht RA, Klepac RK, Alexander DA (1973) Origins and characteristics of fear of dentistry. J Am Dent Assoc 86:842–847

25.

Kunzelmann K-H, Dünninger P (1990) Dental fear and pain: effect on patient's perception of the dentist. Community Dent Oral Epidemiol 18:264–266

26.

Lindsay SJE, Jackson C (1993) Fear of routine dental treatment in adults: its nature and management. Psychol Health 8:135–153

27.

Malamed SF (1993) Pain and anxiety control in dentistry. J Calif Dent Assoc 21:35–39

28.

McNally RJ (1987) Preparedness and phobias: a review. Psychol Bull 101:283–303

29.

Mehrstedt M, Tönnies S, Eisentraut I (2002) Zahnbehandlungsängste, Gesundheitszustand und Lebensqualität. Verhaltenstherapie und Verhaltensmedizin 23:329–340

30.

Micheelis W, Bauch J (1991) Mundgesundheitszustand und -verhalten in der BRD. Deutscher Ärzteverlag, Köln

31.

Milgrom P, Fiset L, Melnick S, Weinstein P (1988) The prevalence and practice management consequences of dental fear in a major US city. J Am Dent Assoc 116:641–647

32.

Mineka S, Ohman A (2002) Phobias and preparedness: the selective, automatic, and encapsulated nature of fear. Biol Psychiatry 52:927–937

33.

Moore R, Birn H, Kirkegaard E, Brodsgaard I, Scheutz F (1993) Prevalence and characteristics of dental anxiety in Danish adults. Community Dent Oral Epidemiol 21:292–296

34.

Neverlien PO (1990) Normative data for Corah's Dental Anxiety Scale (DAS) for the Norwegian adult population. Community Dent Oral Epidemiol 18:162

35.

Pierce KA, Kirkpatrick DR (1992) Do men lie on fear surveys? Behav Res Ther 30:415–418

36.

Ragnarsson E (1998) Dental fear and anxiety in an adult Icelandic population. Acta Odontol Scand 56:100–104

37.

Schwarz E, Birn H (1995) Dental anxiety in Danish and Chinese adults—a cross-cultural perspective. Soc Sci Med 41:123–130

38.

Slovin M (1997) Managing the anxious and phobic dental patient. N Y State Dent J 63:36–40

39.

Stouthard ME, Hoogstraten J (1990) Prevalence of dental anxiety in The Netherlands. Community Dent Oral Epidemiol 18:139–142

40.

Strauss A, Fagerhough S, Suczek B, Wiener C (1980) Gefühlsarbeit. Ein Beitrag zur Arbeits- und Berufssoziologie. KZfSS 32:629–651

41.

Thomson WM, Stewart JF, Carter KD, Spencer AJ (1996) Dental anxiety among Australians. Int Dent J 46:320–324

42.

Wetzel W-E, Hüge I, Ehret R (1984) Soziostrukturelle Einflüsse auf die Gebißgesundheit 13-14 jähriger Schulkinder. Dtsch Zahnärztl Z 39:456–460

43.

Willershausen B, Azrak A, Wilms S (1999) Fear of dental treatment and its possible effects on oral health. Eur J Med Res 4:72–77

44.

Zerfowski M, Koch MJ, Niekusch U, Staehle HJ (1997) Caries prevalence and treatment needs of 7- to 10-year-old schoolchildren in southwestern Germany. Community Dent Oral Epidemiol 25:348–351
About this article
Cite this article
Enkling, N., Marwinski, G. & Jöhren, P. Dental anxiety in a representative sample of residents of a large German city. Clin Oral Invest 10, 84–91 (2006). https://doi.org/10.1007/s00784-006-0035-6
Received:

Accepted:

Published:

Issue Date:
Keywords
Dental anxiety/phobia

Prevalence

Hierarchical anxiety questionnaire