Abstract
This paper aims to assess radiographic changes after incomplete carious dentine removal and tooth sealing. Thirty-two teeth with deep caries lesions were studied. The treatment consisted of incomplete excavation, application of a Ca(OH)2 layer, sealing temporarily for a 6- to 7-month period and then restoration. Standardised bitewing radiographs were taken immediately after the temporary sealing and at 6- to 7- and 14- to 18-month intervals. The digitised images were analysed blind by image subtraction. The quantitative analyses subtractions were performed in the radiolucent zone (RZ) beneath the restoration and in two adjacent control areas (CA). Two cases were lost during the 6- to 7-month period (one pulp necrosis and one pulp exposure during removal of the provisional sealing). No difference (p>0.05) was observed in the radiographic density of the CA and the RZ in the two experimental periods. The mean and standard deviation (grey tonalities scale) were 129.42±5.83 and 127.65±4.67 (control areas) and 132.96±7.41 and 132.90±5.99 (RZ) for the first and second experimental periods, respectively. The radiographic density of the CA differed from the RZ (Tukey test, p<0.001). Interference in environmental conditions by partial dentine caries removal and tooth sealing arrests lesion progression, suggesting that complete dentine caries removal is not essential to control caries progression.
This is a preview of subscription content, log in to check access.
Access options
Buy single article
Instant access to the full article PDF.
US$ 39.95
Price includes VAT for USA
Subscribe to journal
Immediate online access to all issues from 2019. Subscription will auto renew annually.
US$ 99
This is the net price. Taxes to be calculated in checkout.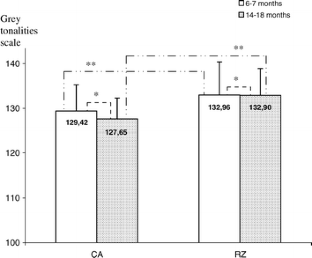 References
1.

Al-Zayer MA, Straffon LH, Feigal RJ, Welch KB (2003) Indirect pulp treatment of primary posterior teeth: a retrospective study. Pediatr Dent 25:29–36

2.

Anderson BG (1938) Clinical study of arresting dental caries. J Dent Res 17:443–452

3.

Aponte A, Hartsook J, Crowley M (1966) Indirect pulp capping success verified. J Dent Child 33:164–166

4.

Backer Dirks O (1966) Posteruptive changes in dental enamel. J Dent Res 45:503–511

5.

Besic FC (1943) The fate of bacteria sealed in dental cavities. J Dent Res 22:349–354

6.

Bjørndal L, Larsen T, Thylstrup A (1997) A clinical and microbiological study of deep carious lesions during stepwise excavation using long treatment intervals. Caries Res 31:411–417

7.

Bjørndal L, Thylstrup A (1998) A practice-based study on stepwise excavation of deep carious lesions in permanent teeth: a 1-year follow-up study. Community Dent Oral Epidemiol 26:122–128

8.

Bjørndal L (2002) Dentin caries: progression and clinical management. Oper Dent 27:211–217

9.

Brägger U, Hämmerle CHF, Mombelli A, Bürgin W, Lang NP (1992) Remodelling of periodontal tissues adjacent to sites treated according to the principles of guided tissue regeneration (GTR). J Clin Periodontol 19:615–624

10.

Carvalho JC, Ekstrand KR, Thylstrup A (1989) Dental plaque and caries on occlusal surfaces of first permanent molars in relation to stage of eruption. J Dent Res 68:773–779

11.

Christgau M, Hiller K-A, Schmalz G, Kolbeck C, Wenzel A (1998) Accuracy of quantitative digital subtraction radiography for determining changes in calcium mass in mandibular bone: an in vitro study. J Periodontal Res 33:138–149

12.

Eberhard J, Hartman B, Lenhard M, Mayer T, Kocher T, Eickholz P (2000) Digital subtraction radiography for monitoring dental demineralization. An in vitro study. Caries Res 34:219–224

13.

Eidelman E, Finn SB, Koulourides T (1965) Remineralization of carious dentin treated with calcium hydroxide. J Dent Child 32:218–225

14.

Elwood RP, Davies RM, Worthington HV (1997) Evaluation of a dental subtraction radiography system. J Periodontal Res 32:241–248

15.

Falster CA, Araujo FB, Straffon LH, Nor JE (2002) Indirect pulp treatment: in vivo outcomes of an adhesive resin system vs calcium hydroxide for protection of the dentin–pulp complex. Pediatr Dent 24:241–248

16.

Formousis I, Brägger U, Bürgin W, Tonetti M, Lang NP (1994) Digital image processing. I. Evaluation of gray level correction methods in vitro. Clin Oral Implants Res 5:37–47

17.

Handellman SL, Leverett DH, Solomon ES, Brenner SM (1981) Use of adhesive sealants over occlusal carious lesions: radiographic evaluation. Community Dent Oral Epidemiol 9:256–259

18.

Held-Wydler E (1964) "Natural" (indirect) pulp capping. J Dent Child 31:107–113

19.

Holmen L, Thylstrup A, Artun J (1987) Clinical and histological features observed during arrestment of active enamel carious lesions in vivo. Caries Res 21:546–554

20.

Jaeger RG (1988) Comportamento biológico da dentina cariada humana após o capeamento pulpar indireto. Estudo morfológico pela microscopia de luz e eletrônica. Thesis, University of São Paulo, Brazil

21.

Jeffcoat MK, Reddy MS, Webber RL, Williams RC, Ruttimann UE (1987) Extraoral control of geometry for digital subtraction radiography. J Periodontal Res 22:396–402

22.

Jordan RE, Suzuki M (1971) Conservative treatment of deep carious lesions. J Can Dent Assoc 37:337–342

23.

Kerkhov JR, Herman SC, Klein A, Macdonald RE (1967) A clinical and television densitometric evaluation of the indirect pulp capping technique. J Dent Child 34:193–201

24.

Khademi JA (1996) Digital images & sound. J Dent Educ 60:41–46

25.

Kidd EAM, Joyston-Bechal S, Beighton D (1993) The use of a caries detector dye during cavity preparation: a microbiological assessment. Br Dent J 174:245–248

26.

Kidd EAM (2004) How "clean" must a cavity be before restoration? Caries Res 38:305–313

27.

King JB, Crawford JJ, Lindall RL, Hill C (1965) Indirect pulp capping: a bacteriologic study of deep carious dentine in human teeth. Oral Surg Oral Med Oral Pathol 20:663–671

28.

Kuwabara R, Massler M (1966) Pulpal reactions to active and arrested carious lesions. J Dent Child 33:190–204

29.

Leksell E, Ridell K, Cvek ME, Mejare I (1996) Pulp exposure after stepwise versus direct complete excavation of deep carious lesions in young posterior permanent teeth. Endod Dent Traumatol 12:192–196

30.

Maltz M, Oliveira EF, Fontanella V, Bianchi R (2002) A clinical, microbiologic, and radiographic study of deep caries lesions after incomplete caries removal. Quintessence Int 33:151–159

31.

Massara MLA, Alves JB, Brandão PRG (2002) Atraumatic restorative treatment: clinical, ultrastructural and chemical analysis. Caries Res 36:430–436

32.

Massler M (1978) Treatment of profound caries to prevent pulpal damage. J Pedod 2:99–105

33.

Mertz-Fairhurst EJ, Curtis Jr, Ergle JW, Rueggeberg FA, Adair SM (1998) Ultraconservative and cariostatic sealed restorations: results at year 10. J Am Dent Assoc 129:55–66

34.

Mjör IA, Moorhead JE, Dahl JE (2000) Reasons for replacement of restorations in permanent teeth in general dental practice. Int Dent J 50:361–366

35.

Murray PE, Hafez AA, Windsor LJ, Smith AJ, Cox CF (2002) Comparison of pulp responses following restoration of exposed and non-exposed cavities. J Dent 30:213–222

36.

Nyvad B, Fejerskov O (1986) Active root surface caries converted into inactive caries as a response to oral hygiene. Scand J Dent Res 94:281–284

37.

Pashley EL, Talman R, Horner JA, Pashley DH (1991) Permeability of normal versus carious dentin. Endod Dent Traumatol 7:207–211

38.

Ribeiro CC, Baratieri LN, Perdigão J et al (1999) A clinical, radiographic, and scanning electron microscopic evaluation of adhesive restorations on carious dentin in primary teeth. Quintessence Int 30:591–599

39.

Ruttimann EU, Webber RL, Schmidt E (1986) A robust digital method for film contrast correction in subtraction radiography. J Periodontal Res 21:486–495

40.

Sarnat H, Massler M (1965) Microstructure of active and arrested dentinal caries. J Dent Res 44:1389–1401

41.

Shovelton DS (1968) A study of deep carious dentine. Int Dent J 18:392–405

42.

Tziafas D, Smith AJ, Lesot H (2000) Designing new treatment strategies in vital pulp therapy. J Dent 28:77–92

43.

Vandre RH, Webber RL (1995) Future trends in dental radiology. Oral Surg Oral Med Oral Pathol Oral Radiol Endod 80:471–478

44.

Weerheijm KL, Kreulen CM, de Soet JJ, Groen HJ, van Amerongen WE (1999) Bacterial counts in carious dentine under restorations: 2-year in vivo effects. Caries Res 33:130–134

45.

Wenzel A, Anthonisen PN, Juul MB (2000) Reproducibility in the assessment of caries lesion behaviour: a comparison between conventional film and subtraction radiography. Caries Res 34:214–218
Acknowledgements
We gratefully acknowledge the support from the Brazilian Ministry of Science and Technology through its agency National Council of Research (CNPq), Kulzer (São Paulo, Brazil), Jon (São Paulo, Brazil) and Sérgio Kato for statistical analysis.
About this article
Cite this article
Oliveira, E.F., Carminatti, G., Fontanella, V. et al. The monitoring of deep caries lesions after incomplete dentine caries removal: results after 14–18 months. Clin Oral Invest 10, 134–139 (2006). https://doi.org/10.1007/s00784-006-0033-8
Received:

Accepted:

Published:

Issue Date:
Keywords
Carious dentine removal

Deep caries lesion

Remineralisation