Abstract
With approximately 8.2 million Echo family devices sold since 2014, Amazon controls 70% of the intelligent personal assistant market. Amazon's Alexa Voice Service (AVS) provides voice control services for Amazon's Echo product line and various home automation devices such as thermostats and security cameras. In November 2017, Amazon expanded Alexa services into the business intelligent assistant market with Alexa for Business. As corporations integrate Alexa into their corporate networks, it is important that information technology security stakeholders understand Alexa's audio streaming network behavior in order to properly implement security countermeasures and policies. This paper contributes to the intelligent personal assistant knowledge domain by providing insight into Amazon Voice Services behavior by analyzing the network traffic of two Echo Dots over a 21-day period. The Echo Dots were installed in a private residence, and at no time during the experiment did family members or house guests purposely interact with the Echos. All recorded audio commands were inadvertent. Using a k-mean cluster analysis, this study established a quantifiable AVS network signature. Then, by comparing that AVS signature and logged Alexa audio commands to the 21-day network traffic dataset, this study confirmed disabling the Echo's microphone, with the on/off button, prohibits audio recording and streaming to Alexa Voice Service. With 30–38% of Echo Dots' spurious audio recordings were human conversations, these findings support the Echo Dot recorded private home conversations and not all audio recordings are properly logged the Alexa Application. While further Alexa network traffic studies are needed, this study offers a network signature capable of identifying AVS network traffic.
Access options
Buy single article
Instant access to the full article PDF.
US$ 39.95
Tax calculation will be finalised during checkout.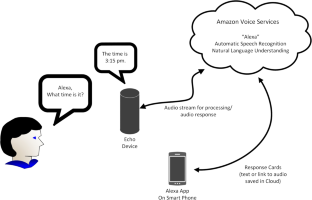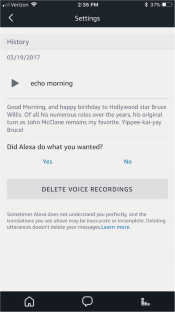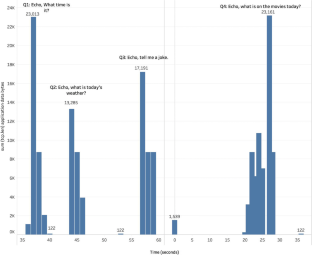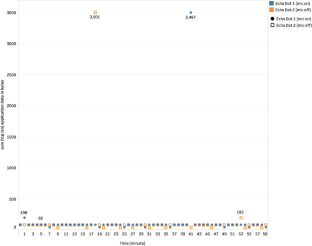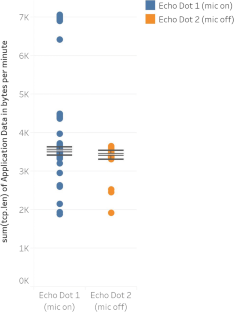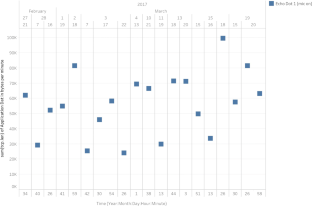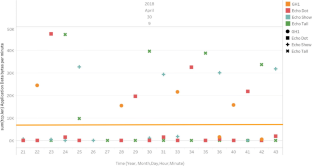 References
1.

Alexa, say what?! Voice-enabled speaker usage to grow nearly 130% this year. (2017). https://www.emarketer.com/Article/Alexa-Say-What-Voice-Enabled-Speaker-Usage-Grow-Nearly-130-This-Year/1015812. Accessed October 2017

2.

Mcgee M (2017) Sales, awareness of Amazon Echo skyrocket in Q4, analysts say. http://marketingland.com/sales-awareness-amazon-echo-skyrocket-q4-analysts-say-204298. Accessed October 2017

3.

Levy N (2017) Amazon's smart assistant Alexa now tops 7,000 skills, a 7X increase in 7 months. https://www.geekwire.com/2017/amazons-alexa-now-tops-7000-skills-a-7x-increase-in-7-months/. Accessed October 2017

4.

Hetzner C (2017) VW joins Ford, BMW to offer Amazon's 'Alexa' voice service. http://www.autonews.com/article/20170120/copy01/301209965/vw-joins-ford-bmw-to-offer-amazons-alexa-voice-service. Accessed October 2017

5.

Amazon Web Services Incorporated (2017) Announcing Alexa for Business: using Amazon Alexa's voice enabled devices for workplaces. https://aws.amazon.com/blogs/aws/launch-announcing-alexa-for-business-using-amazon-alexas-voice-enabled-devices-for-workplaces/. Accessed December 4 2017

6.

Kharpal A (2017) Amazon's voice assistant Alexa could be a $10 billion 'mega-hit' by 2020: Research. https://www.cnbc.com/2017/03/10/amazon-alexa-voice-assistan-could-be-a-10-billion-mega-hit-by-2020-research.html. Accessed October 2017

7.

Vanian J (2017) This is Amazon's latest effort to get Alexa into more devices. FortuneMagazine. http://fortune.com/2017/08/17/amazon-alexa-devices-software-kit/. Accessed November 2017

8.

Luger E, Rodden T (2013) An informed view on consent for UbiComp. Proceedings of the 2013 ACM international joint conference on pervasive and ubiquitous computing:529–538

9.

Hong JI, Landay JA (2004) Proceedings of the 2nd international conference on mobile systems, applications, and services. New York, NY, USA

10.

Clinton I, Cook L, Banik S. A survey of various methods for analyzing the Amazon Echo https://vanderpot.com/Clinton_Cook_Paper.pdf. Accessed September 14 2017

11.

Chung H, Park J, Lee S (2017) Digital forensic approaches for Amazon Alexa ecosystem. Digit Investig 22:S15–S25

12.

Padilla M (2017) The Amazon Echo Dot has a dump-ramdump.sh script. vol 2017

13.

Micaksica (2017) Exploring the Amazon Echo Dot, part 1: intercepting firmware updates. Medium

14.

Apthorpe N, Reisman D, Feamster N (2017) A smart home is no castle: privacy vulnerabilities of encrypted IoT traffic. arXiv preprint arXiv:170506805

15.

Beran B (2016) Understanding clustering in Tableau 10. https://boraberan.wordpress.com/2016/07/19/understanding-clustering-in-tableau-10/. Accessed April 24 2018

16.

Tableau Support Page How clustering works. https://onlinehelp.tableau.com/current/pro/desktop/en-us/clustering.html#HowItWorks. Accessed April 26 2018

17.

na (2014) K3 WiFi with no Internet access. http://www.mobileread.mobi/forums/showthread.php?t=237799

18.

Edwards HS (2017) Alexa takes the stand: listening devices raise privacy issues. Time Magazine. http://time.com/4766611/alexa-takes-the-stand-listening-devices-raise-privacy-issues/. Accessed September 16 2017

19.

Statt N (2017) Amazon may give app developers access to Alexa audio recordings. https://www.theverge.com/2017/7/12/15960596/amazon-alexa-echo-speaker-audio-recordings-developers-data. Accessed January 7 2018
Acknowledgements
This research project did not receive specific or general grant funding from agencies in the public, commercial, or not-for-profit sectors.
About this article
Cite this article
Ford, M., Palmer, W. Alexa, are you listening to me? An analysis of Alexa voice service network traffic. Pers Ubiquit Comput 23, 67–79 (2019). https://doi.org/10.1007/s00779-018-1174-x
Received:

Accepted:

Published:

Issue Date:
Keywords
Intelligent personal assistant

Internet of things

Consumer privacy

Privacy policy

Amazon Alexa

Home automation

Amazon voice services