Abstract
Over the past few years, the semantics community has developed several ontologies to describe concepts and relationships for internet of things (IoT) applications. A key problem is that most of the IoT-related semantic descriptions are not as widely adopted as expected. One of the main concerns of users and developers is that semantic techniques increase the complexity and processing time, and therefore, they are unsuitable for dynamic and responsive environments such as the IoT. To address this concern, we propose IoT-Lite, an instantiation of the semantic sensor network ontology to describe key IoT concepts allowing interoperability and discovery of sensory data in heterogeneous IoT platforms by a lightweight semantics. We propose 10 rules for good and scalable semantic model design and follow them to create IoT-Lite. We also demonstrate the scalability of IoT-Lite by providing some experimental analysis and assess IoT-Lite against another solution in terms of round trip time performance for query-response times. We have linked IoT-Lite with stream annotation ontology, to allow queries over stream data annotations, and we have also added dynamic semantics in the form of MathML annotations to IoT-Lite. Dynamic semantics allows the annotation of spatio-temporal values, reducing storage requirements and therefore the response time for queries. Dynamic semantics stores mathematical formulas to recover estimated values when actual values are missing.
This is a preview of subscription content, log in to check access.
Access options
Buy single article
Instant access to the full article PDF.
US$ 39.95
Price includes VAT for USA
Subscribe to journal
Immediate online access to all issues from 2019. Subscription will auto renew annually.
US$ 99
This is the net price. Taxes to be calculated in checkout.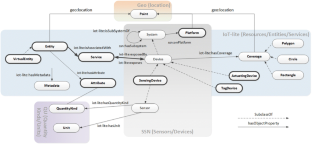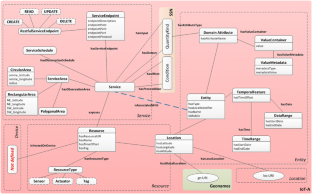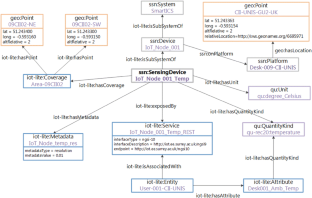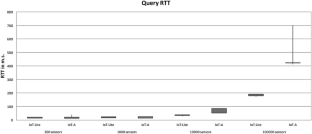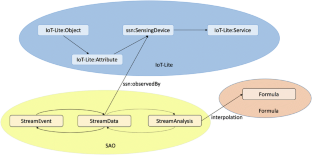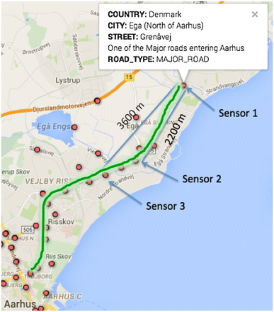 Notes
1.

2.

3.

4.

5.

6.

7.

8.

9.

10.

11.

12.

13.

14.

15.

16.

17.

18.

19.

20.

21.

22.

23.

24.

25.

26.

27.

28.

29.
References
1.

Baader F, Ghilardi S, Lutz C (2012) LTL over description logic axioms. ACM Trans Comput Logic (TOCL) 13(3):21

2.

Barnaghi P, Bermudez-Edo M, Tönjes R (2015) Challenges for quality of data in smart cities. J Data Inf Qual (JDIQ) 6(2):6

3.

Bermudez-Edo M, Noguera M, Hurtado-Torres N, Hurtado MV, Garrido JL (2013) Analyzing a firms international portfolio of technological knowledge: a declarative ontology-based owl approach for patent documents. Adv Eng Inform 27(3):358–365

4.

Bermudez-Edo M, Elsaleh T, Barnaghi P, Taylor K (2015) Iot-lite ontology. W3C Member Submission. World Wide Web Consortium (W3C), MIT Massachusetts, USA. http://www.w3.org/Submission/iot-lite/

5.

Bonte P, Ongenae F, Schaballie J, De Meester B, Arndt D, Dereuddre W, Bhatti J, Verstichel S, Verborgh R, Van de Walle R, et al (2015) Evaluation and optimized usage of OWL 2 reasoners in an event-based ehealth context. In: 4e OWL reasoner evaluation (ORE) workshop. pp 1–7

6.

Bornstein BJ, Keating SM, Jouraku A, Hucka M (2008) LibSBML: an API library for SBML. Bioinformatics 24(6):880–881

7.

Botts M, Percivall G, Reed C, Davidson J (2008) OGC sensor web enablement: overview and high level architecture. In: GeoSensor networks. Springer, Heidelberg, pp 175–190. doi:10.1007/978-3-540-79996-2_10

8.

Compton M, Barnaghi P, Bermudez L, García-Castro R, Corcho O, Cox S, Graybeal J, Hauswirth M, Henson C, Herzog A et al (2012) The SSN ontology of the W3C semantic sensor network incubator group. Web Semant Sci Serv Agents World Wide Web 17:25–32

9.

Cox SJ (2016) Ontology for observations and sampling features, with alignments to existing models. Semant Web 8(3):453–470. doi:10.3233/SW-160214

10.

De S, Barnaghi P, Bauer M, Meissner S (2011) Service modelling for the internet of things. In: Federated conference on computer science and information systems (FedCSIS). IEEE, pp 949–955

11.

De S, Elsaleh T, Barnaghi P, Meissner S (2012) An internet of things platform for real-world and digital objects. Scalable Comput Pract Exp 13(1):45–58

12.

Haller S (2010) The things in the internet of things. Poster at the (IoT 2010) Tokyo, November 5, p 26

13.

Henson CA, Pschorr JK, Sheth AP, Thirunarayan K (2009) Semsos: semantic sensor observation service. In: International symposium on collaborative technologies and systems CTS'09. IEEE, pp 44–53

14.

Hucka M, Bergmann F, Keating SM, Schaff JC, Smith LP (2010) The systems biology markup language (sbml): language specification for level 3 version. Nature proceedings

15.

Janowicz K, Bröring A, Stasch C, Schade S, Everding T, Llaves A (2013) A RESTful proxy and data model for linked sensor data. Int J Digit Earth 6(3):233–254

16.

Kolozali S, Bermudez-Edo M, Puschmann D, Ganz F, Barnaghi P (2014) A knowledge-based approach for real-time iot data stream annotation and processing. Internet of Things (iThings), IEEE International conference on, and green computing and communications (GreenCom). IEEE and cyber, physical and social computing (CPSCom) IEEE. IEEE, pp 215–222

17.

Kolozali S, Elsaleh T, Barnaghi P (2014) A validation tool for the W3C SSN ontology based sensory semantic knowledge. Terra cognita and semantic sensor, networks. p 83

18.

Kolozali S, Puschmann D, Bermudez-Edo M, Barnaghi P (2016) On the effect of adaptive and non-adaptive analysis of time-series sensory data. IEEE Internet Things J. doi:10.1109/JIOT.2016.2553080

19.

López MF, Gómez-Pérez A, Sierra JP, Sierra AP (1999) Building a chemical ontology using methontology and the ontology design environment. IEEE Intell Syst 14(1):37–46

20.

Müller H, Cabral L, Morshed A, Shu Y (2013) From RESTful to SPARQL: a case study on generating semantic sensor data. In: SSN@ ISWC. pp 51–66

21.

Nati M, Gluhak A, Abangar H, Headley W (2013) Smartcampus: a user-centric testbed for internet of things experimentation. In: 16th International symposium on wireless personal multimedia communications (WPMC). IEEE, pp 1–6

22.

Nati M, Gluhak A, Domaszewicz J, Lalis S, Moessner K (2014) Lessons from smartcampus: external experimenting with user-centric internet-of-things testbed. Wirel Personal Commun 1–15. doi:10.1007/s11277-014-2223-z

23.

OneM2M (2014) Study of abstraction and semantics enablement v.0.7.0. study of existing abstraction and semantic capability enablement technologies for consideration by OneM2M. Technical Report OneM2M (TR 0007)

24.

Pautasso C (2014) Restful web services: principles, patterns, emerging technologies. In: Web services foundations. Springer, New York, pp 31–51. doi:10.1007/978-1-4614-7518-7_2

25.

Sanchez L, Muñoz L, Galache JA, Sotres P, Santana JR, Gutierrez V, Ramdhany R, Gluhak A, Krco S, Theodoridis E et al (2014) Smartsantander: IoT experimentation over a smart city testbed. Comput Netw 61:217–238

26.

Sheth A, Henson C, Sahoo SS (2008) Semantic sensor web. IEEE Internet Comput 12(4):78–83

27.

Stocker M, Shurpali N, Taylor K, Burba G, Rönkkö M, Kolehmainen M (2015) Emrooz: a scalable database for SSN observations. In: Joint proceedings of the 1st joint international workshop on semantic sensor networks and terra cognita (SSN-TC 2015) and the 4th international workshop on ordering and reasoning (OrdRing 2015) co-located with the 14th international semantic web conference (ISWC 2015), Bethlehem, 11–12 Oct 2015, pp 1–12. http://ceur-ws.org/Vol-1488/paper-01.pdf

28.

Taylor K, Parsons E (2015) Where is everywhere: bringing location to the web. IEEE Internet Comput 19(2):83–87

29.

Vermesan O, Friess P, Guillemin P, Gusmeroli S, Sundmaeker H, Bassi A, Jubert IS, Mazura M, Harrison M, Eisenhauer M et al (2011) Internet of things strategic research roadmap. Internet Things Glob Technol Soc Trends 1:9–25

30.

Wang W, De S, Toenjes R, Reetz E, Moessner K (2012) A comprehensive ontology for knowledge representation in the internet of things. In: IEEE 11th international conference on trust, security and privacy in computing and communications (TrustCom). IEEE, pp 1793–1798
Acknowledgements
The research leading to these results has received funding from the European Commission's in the Seventh Framework Programme for the FIWARE project under Grant Agreement No. 632893 and in the H2020 for FIESTA-IoT project under Grant Agreement No. CNECT-ICT-643943.
About this article
Cite this article
Bermudez-Edo, M., Elsaleh, T., Barnaghi, P. et al. IoT-Lite: a lightweight semantic model for the internet of things and its use with dynamic semantics. Pers Ubiquit Comput 21, 475–487 (2017). https://doi.org/10.1007/s00779-017-1010-8
Received:

Accepted:

Published:

Issue Date:
Keywords
Internet of things

Semantics

Linked sensor data

Knowledge management

Dynamic semantics