Abstract
We draw on ethnographic studies to understand the collaborative nature of network policies or rules in domestic settings. We outline the technical nature of network policy in enterprise domains and how this contrasts with the social or collaborative nature of rules in everyday life. We then consider the deployment of network control and policy system interfaces in domestic settings, highlighting the ways in which household members collaboratively exploited these to support network governance. Our results suggest that an important feature of network policy in domestic contexts is that rules about network activity are shaped by and answerable to the moral reasoning that governs domestic life. This reframes our understanding of how rules are oriented to and used in the home and has significant implications for the design of home network policy systems.
Access options
Buy single article
Instant access to the full article PDF.
USD 39.95
Price includes VAT (USA)
Tax calculation will be finalised during checkout.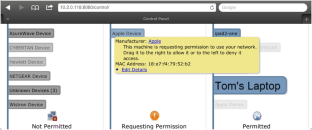 References
1.

Bauer L, Cranor L, Reiter M, Vaniea K (2007) Lessons learned from the deployment of a smartphone-based access-control system, Proc. of SOUPS. ACM, Pittsburgh, pp 64–75

2.

Bittner E (1965) The concept of organisation. Social Research 32:230–255

3.

Brundell P et al (2011) The network from above and below, Proc. of SIGCOMM W-MUST. ACM, Toronto, pp 1–6

4.

Chetty M et al (2010) Who's hogging the bandwidth? Proc. of CHI. ACM, Atlanta, pp 659–668

5.

Crabtree A et al (2012) Unremarkable networking, Proc. of DIS. ACM, Newcastle, pp 554–563

6.

Durkheim E (1933) The division of labour in society. Free Press, New York

7.

Feamster N, Balakrishnan H (2005) Detecting BGP configuration faults with static analysis, Proc. of the 2nd NSDI Symposium. USENIX, Boston, pp 43–56

8.

Grinter R, et al. (2009) The ins and outs of home networking, ACM ToCHI, 16 (2), Article No. 8

9.

Hilbert R (1992) The status of rules in moral life, the classical roots of ethnomethodology. University of North Carolina Press, North Carolina, pp 27–45

10.

Hughes J et al (1994) Moving out of the control room, Proc. of CSCW. ACM, Chapel Hill, pp 429–438

11.

Hutchinson H et al (2003) Technology probes: inspiring design for and with families, Proc. of CHI. ACM, Fort Lauderdale, pp 17–24

12.

Mortier R et al (2012) Homework: putting interaction into the infrastructure, Proc. of UIST. ACM, Cambridge, pp 197–206

13.

Randall D, Harper R, Rouncefield M (2007) Fieldwork for design: theory and practice. Springer, Berlin

14.

Rawls A (2002) Editor's introduction, ethnomethodology's program. Rowman & Littlefield, New York, pp 1–64

15.

Rodden T et al (2009) Homebase, Proc. of CHI, Workshop on home behaviour datasets. ACM, Boston

16.

Tolmie P et al (2007) Digital housekeeping, Proc. of ECSCW. Springer, Limerick, pp 331–350

17.

Tolmie P, Crabtree A (2008) Deploying research technology in the home, Proc. of CSCW. ACM, New York, pp 639–648

18.

Wieder DL (1974) Language and social reality. Mouton & Co, The Hague

19.

Yang J, Edwards K, Haslem D (2010) Eden, Proc. of UIST. ACM, New York, pp 109–118

20.

W3 policy language review, www.w3.org/Policy/pling/wiki/PolicyLangReview

21.

Zimmerman D (1970) The practicalities of rule use. In: Douglas JD (ed) Understanding everyday life. Aldine Publishing Co, Chicago, pp 221–238
Acknowledgments
RCUK EP/F064276/1, EP/F064225/1, EP/F064446/1.
About this article
Cite this article
Crabtree, A., Rodden, T., Tolmie, P. et al. House rules: the collaborative nature of policy in domestic networks. Pers Ubiquit Comput 19, 203–215 (2015). https://doi.org/10.1007/s00779-014-0771-6
Received:

Accepted:

Published:

Issue Date:
Keywords
Home networks

Network policy and rules

Moral order

Collaborative interfaces

Ethnography