Abstract
Illiteracy is often associated with people in developing countries. However, an estimated 50 % of adults in a developed country such as Canada lack the literacy skills required to cope with the challenges of today's society; for them, tasks such as reading, understanding, basic arithmetic, and using everyday items are a challenge. Many community-based organizations offer resources and support for these adults, yet overall functional literacy rates are not improving. This is due to a wide range of factors, such as poor retention of adult learners in literacy programs, obstacles in transferring the acquired skills from the classroom to the real life, personal attitudes toward learning, and the stigma of functional illiteracy. In our research we examined the opportunities afforded by personal mobile devices in providing learning and functional support to low-literacy adults. We present the findings of an exploratory study aimed at investigating the reception and adoption of a technological solution for adult learners. ALEX© is a mobile application designed for use both in the classroom and in daily life in order to help low-literacy adults become increasingly literate and independent. Such a solution complements literacy programs by increasing users' motivation and interest in learning, and raising their confidence levels both in their education pursuits and in facing the challenges of their daily lives. We also reflect on the challenges we faced in designing and conducting our research with two user groups (adults enrolled in literacy classes and in an essential skills program) and contrast the educational impact and attitudes toward such technology between these. Our conclusions present the lessons learned from our evaluations and the impact of the studies' specific challenges on the outcome and uptake of such mobile assistive technologies in providing practical support to low-literacy adults in conjunction with literacy and essential skills training.
Access options
Buy single article
Instant access to the full article PDF.
USD 39.95
Price includes VAT (USA)
Tax calculation will be finalised during checkout.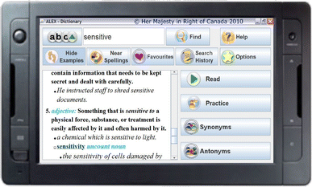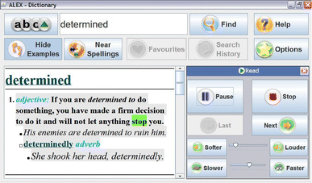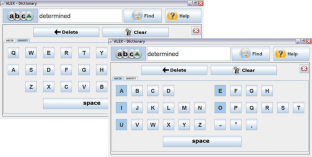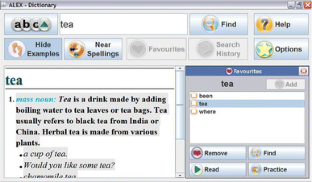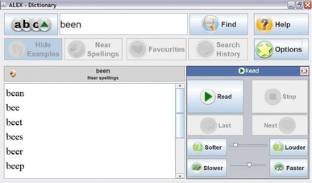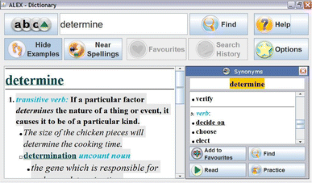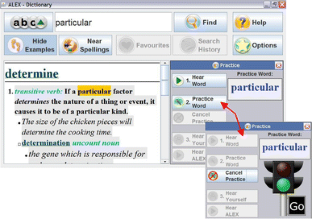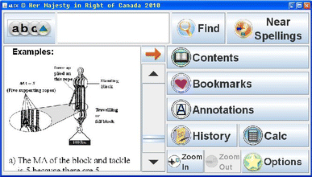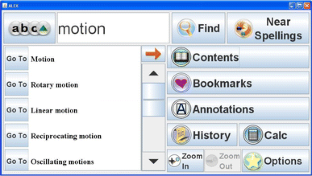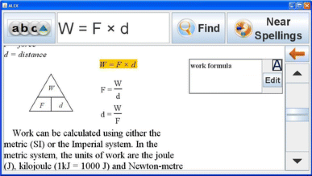 Notes
1.

For the study presented later in this paper, the "Collins Cobuild Advanced Dictionary of American English" 1st Edition © HarperCollins Publishers 2007, and the "Collins Gem Thesaurus" 6th Edition © HarperCollins Publishers 2009 were embedded in ALEX©, although any XML-based dictionaries can be uploaded.

2.

The students who participated in the initial design sessions were not the same as those in the longitudinal study.

3.

We will refer to the participants in the apprenticeship study by using the A-prefix in front of the participant ID (e.g., A-P1). Similarly, the teachers will be referred to as A-T1 (the main teacher) and A-T2 (the substitute teacher).

4.

We have since ported ALEX© to both iOS and Android.

5.

An extensive analysis of these factors and detailed design recommendations can be found in [24].
References
1.

ABC Canada (2001) Who wants to learn? ABC Canada Literacy Foundation report

2.

ABC Canada (2005) Learning living: first results of the adult literacy and life skills (all) survey

3.

Ally M et al (2007) Use of mobile learning technology to train ESL adults. In: Proceedings of the 6th international conference on mobile learning, pp 7–12

4.

Attewell J, Savill-Smith C (2004) Mobile learning and social inclusion: focusing on learners and learning. In: Attewell J, Savill-Smith C (eds) Learning with mobile devices: research and development, pp 3–12

5.

Bidwell NJ et al (2010) Designing with mobile digital storytelling in rural Africa. In: Proceedings of ACM SIGCHI 2010. ACM Press, pp 1593–1602

6.

Conference Board of Canada (2010) Adult literacy rate—low-level skills. Education report

7.

Davis FD (1989) Perceived usefulness, perceived ease of use, and user acceptance of information technology. MIS Q 13(3):319–340

8.

Dhakhwa S et al (2007) Sambad—computer interfaces for non-literates. In: Proceedings of the HCI International, pp 721–730

9.

Gorman T, Rose E, Yaaqoubi J, Boyer A, Kolko B (2011) Adapting usability testing for oral, rural users. In: Proceedings of the ACM SIGCHI

10.

Hasegawa K et al (2008) Learning effects of self-made vocabulary learning materials. In: Proceedings of the conference on cognition and exploratory learning in digital age, pp 153–159

11.

Jones M et al (2009) Mobility, digital libraries and a rural Indian village. In: JCDL '09, pp 309–312

12.

Joseph S et al (2005) PhotoStudy: vocabulary learning and collaboration on fixed and mobile devices. In: Proceedings of the 3rd international workshop on wireless and mobile technologies in education, pp 206–210

13.

Joseph S, Uther M (2008) Mobile language learning with multimedia and multi-modal interfaces. In: Proceedings of the 4th international workshop on wireless, mobile and ubiquitous technology in education, pp 124–128

14.

Le Dantec CA, Edwards WK (2008) Designs on dignity: perceptions of technology among the homeless. In: Proceedings of the ACM SIGCHI (CHI '08), pp 627–636

15.

Leung R et al (2006) Accommodating special needs users in the evaluation of an m-learning application: a case study. In: Proceedings of the IADIS conference on mobile learning, pp 177–184

16.

Leung R, Lumsden J (2008) Reflections on challenges and guidelines for designing and evaluating assistive mobile technologies. In: Lumsden J (ed) Handbook of research on user interface design and evaluation for mobile technology. Idea Group, pp 609–623. doi:10.4018/978-1-59904-871-0

17.

Lumsden J et al (2005) Designing a mobile transcriber application for adult literacy education: a case study. In: Proceedings of the IADIS conference on mobile learning, pp 16–23

18.

Lumsden J et al (2010) ALEX: a mobile adult literacy experiential learning application. Int J Mobile Learn Organ 4(2):172–191

19.

Marsden G (2003) Using HCI to leverage communication technology. ACM Interact 10(2):48–55

20.

Marsden G (2008) New users, new paradigms, new challenges. ACM Interact 15(1):59–60

21.

Marsden G et al (2008) People are people, but technology is not technology. Philos Trans R Soc A 366:3795–3804

22.

Munteanu C et al (2010) ALEX: mobile language assistant for low-literacy adults. In: Proceedings of the MobileHCI, pp 427–430

23.

Munteanu C et al (2011) Showing off your mobile device: adult literacy learning in the classroom and beyond. In: Proceedings of the MobileHCI, pp 95–104

24.

Munteanu C et al (2012) A tale of two studies: challenges in field research with low-literacy adult learners in a developed country. In: Proceedings of the ACM SIGCHI (CHI '12), pp 489–504

25.

Ogata H, Yano Y (2004) Knowledge awareness map for computer-supported ubiquitous language-learning. In: Proceedings of the 2nd international workshop on wireless and mobile technologies in education, pp 19–26

26.

Oreglia E et al (2011) Designing for emerging rural users: experiences from China. In: Proceedings of ACM SIGCHI 2011. ACM Press, pp 1433–1436

27.

Paredes RGJ et al (2005) LOCH: supporting informal language learning outside the classroom with handhelds. In: Proceedings of the 3rd international workshop on wireless and mobile technologies in education, pp 182–186

28.

Petersen SA, Markiewicz JK (2008) PALLAS: personalised language learning on mobile devices. In: Proceedings of the 5th international conference on wireless, mobile, and ubiquitous technology in education, pp 52–59

29.

Ramachandran D et al (2010) Mobilizing health workers in rural India. In: Proceedings of the ACM SIGCHI (CHI '10), pp 1889–1898

30.

Satchell C, Dourish P (2009) Beyond the user: use and non-use in HCI. In: Proceedings of the OzCHI 2009, pp 9–16

31.

Siegel DA, Dray SM (2006) Analyzing qualitative data from field studies. In: CHI course notes

32.

Stats Canada (2003) Building on our competencies: Canadian results of the international adult literacy and skills survey. In: Human resources and skills development Canada catalogue, no. 89-617-XIE

33.

Stewart G, Kerr A (2010) A backgrounder on apprenticeship training in Canada. Can Apprenticesh J 1:1–18

34.

Thornton P, Houser C (2005) Using mobile phones in English education in Japan. J Comput Assist Learn 21(3):217–228

35.

Todd RW, Tepsuriwong S (2008) Mobile mazes: investigating a mobile phone game for language learning. CALL-EJ Online 10(1)

36.

Watanabe WM (2009) Facilita: reading assistance for low-literacy readers. In: Proceedings of the SIGDOC, pp 29–36

37.

Watanabe WM et al (2010) Adapting web content for low-literacy readers by using lexical elaboration and named entities labeling. In: Proceedings of the W4A, pp 8:1–8:9
About this article
Cite this article
Munteanu, C., Molyneaux, H., Maitland, J. et al. Hidden in plain sight: low-literacy adults in a developed country overcoming social and educational challenges through mobile learning support tools. Pers Ubiquit Comput 18, 1455–1469 (2014). https://doi.org/10.1007/s00779-013-0748-x
Received:

Accepted:

Published:

Issue Date:
Keywords
Mobile computing

Educational interfaces

Mobile learning

Assistive technology

Evaluation methodology