Abstract
Participatory sensing is an emerging field in which citizens are empowered by technologies to monitor their own environments. Harvesting and analysing data gathered in response to personal or local enquiries can be seen as an antidote to information provided by official sources. Democratising sensing means that ordinary people can learn about and understand the world around them better and can be a part of the decision-making in improving environments for all. In this paper, we review and describe participatory sensing and discuss this in relation to making a series of prototype tools and applications for mobile users—Located Lexicon, Where's Fenton? and Tall Buildings. In the first of these projects, Located Lexicon, we wanted to find out whether a lexicon of terms derived from user-generated content could enable the formation of Twitter like groups that allow users to engage in finding out more about their location. In the second project, Where's Fenton? we made a publicly available app that involves users in counting the abundance and logging the location of deer in a park. This project focused specifically on anonymity of the user in collecting data for a specific enquiry. In the last project, Tall Buildings, we experimented with using dimensions of altitude, distance and speed to encourage users to physically explore a city from its rooftops. In all of these projects, we experiment with the pedestrian as a human sensor and the methods and roles they may engage in to make new discoveries. The underlying premise for our work is that it is not possible to calibrate people to be identical, so experimenting with crowd-sourced data opens up thinking about the way we observe and learn about the physical environment.
Access options
Buy single article
Instant access to the full article PDF.
USD 39.95
Price includes VAT (USA)
Tax calculation will be finalised during checkout.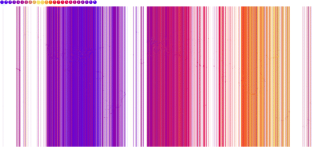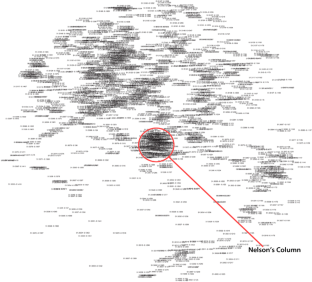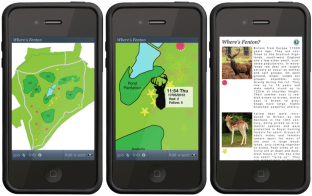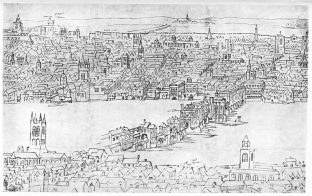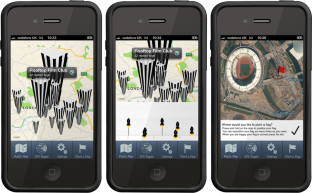 Notes
1.

Boulos et al. have produced a set of points that help to clarify important elements of horizontally shared data and requirements of technologies that we have found useful in designing opportunities for mobilised learning into projects, especially when considering issues of anonymity and authenticity. http://www.ij-healthgeographics.com/content/10/1/67. Accessed 12 June 2012.

2.

Royal River: Power, Pageantry and the Thames exhibition at the National Maritime Museum, London. April–September 2012.
References
1.

Boulos M (2005) Web GIS in practice III: creating a simple interactive map of England's Strategic Health Authorities using Google Maps API, Google Earth KML, and MSN Virtual Earth Map Control. Int J Health Geogr 4:22. doi:10.1186/1476-072X-4-22

2.

Sprake J (2012) Learning-through-touring: mobilising learners and touring technologies to creatively explore the built environment. Sense Publishers, Rotterdam/Boston/Taipei, pp 149–183

3.

Sprake J (2012) Learning-through-touring: mobilising learners and touring technologies to creatively explore the built environment. Sense Publishers, Rotterdam/Boston/Taipei, p 25

4.

Rodaway P (1994) Sensuous geographies: body, sense and place. Routledge, London

5.

Sprake J (2012) Learning-through-touring: mobilising learners and touring technologies to creatively explore the built environment. Sense Publishers, Rotterdam/Boston/Taipei, p 150

6.

Boulos M, Resch B, Crowley DN, Breslin JG, Sohn G, Burtner R, Pike WA, Jezierski E, Chuang KS (2011) Crowdsourcing, citizen sensing and sensor web technologies for public and environmental health surveillance and crisis management: trends, OGC standards and application examples. Int J Health Geogr 10:67. doi:10.1186/1476-072X-10-67

7.

Nold C (ed) (2009) Emotional cartography: technologies of the self. http://emotionalcartography.net/. Accessed 8 June 2012

8.

Haque U, Borden E (2011) Volume #28: internet of things. http://volumeproject.org/blog/2011/11/16/data-and-owner/. Accessed 14 July 2012

9.

Surowiecki J (2004) The wisdom of crowds. Little Brown, London

10.

http://www.geograph.org.uk/. Accessed Aug 2012

11.

Lane ND, Miluzzo E, Hong L, Peebles D, Choudhury T, Campbell AT (2010) A survey of mobile phone sensing. IEEE Commun Mag 48:9

12.

Engeström Y (2009) Wildfire activities: new patterns of mobility and learning. Int J Mobile Blended Learn 1.2:1–18

13.

Goodchild MF (2007) Citizens as sensors: the world of volunteered geography. GeoJournal 69:211–221

14.

Bird L (2010) An interview with Michel Bauwens founder of foundation for P2P alternatives. Further afield. http://www.furtherfield.org/interviews/interview-michel-bauwens-founder-foundation-p2p-alternatives. Accessed 12 June 2012

15.

Cheng Z, Caverlee J, Lee K (2010) You are where you tweet: a content based approach to geo-locating twitter users. In: 19th ACM international conference on information and knowledge management, ACM 978-1-4503-0099-5/10/10

16.

Sprake J, Rogers P (2011) Located Lexicon: a project that explores how user generated content describes place. In: Sonvilla-Weiss S, Kelly O (eds) Future learning spaces: designs on eLearning proceedings. Aalto University Publications, Helsinki, pp 219–234

17.

Robertson N (2010) Halfnimity. The Trada Blog. http://www.trada.com/blog/anonymity-in-crowdsourcing/. Accessed Aug 2012

18.

Zardini M (ed) (2006) Sense of the City. Lars Muller Publishers, Quebec, pp 24–25
About this article
Cite this article
Sprake, J., Rogers, P. Crowds, citizens and sensors: process and practice for mobilising learning. Pers Ubiquit Comput 18, 753–764 (2014). https://doi.org/10.1007/s00779-013-0715-6
Received:

Accepted:

Published:

Issue Date:
Keywords
Crowd sourcing

Citizen

Location-based learning

Participatory sensing